POV Holder:
Shane
Next POV:
July 28 (Saturday)
POV Used
Yes
POV Ceremony
July 23rd (Monday)
HOH Winner:
Frank
Next HOH:
July 26 (Thurs)
Original Nominations:
JOJO and Shane
Current Nominations:
JOJO and Danielle
Have Nots /Slop
Willie, Shane, JOJO, Ian
Coach Competition Winner
Janelle
Next Coaches Competition
July 27 (Friday)
Last Evicted Houseguest
Kara, Willie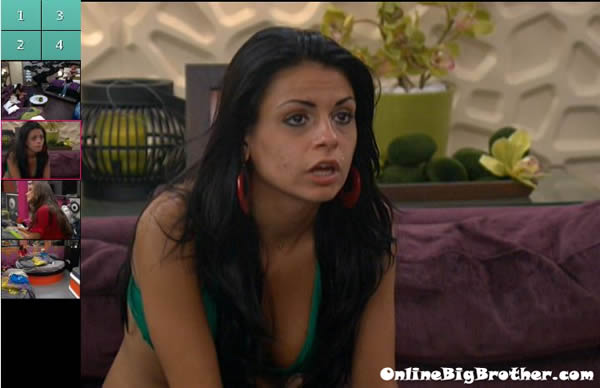 12:40pm Up in the HOH room Britney tells Jojo to calm it down and stop talking game with people. Britney says that Danielle thinks you are talking bad about her. Jojo wonders why. Britney says because you brought up her name. Jojo says that she was just trying to tell them that they had options. Britney says yeah but you know how this house is if you bring up people's names. Britney says Danielle is down there all buddy, buddy and laughing with Janelle. Britney tells her to stop talking about sex with Ian too. Jojo says that was all of us though. Britney says it doesn't matter you know how people spin it. Don't say anything bad about anybody… because they find out 100%. I feel bad for you, I feel like you are depressed. Jojo says that she isn't, and she isn't going to pull a Willie. Britney says if you get voted out it is 100% personal, if you don't it is 100% game. It is more beneficial for everyone to get Danielle out. Britney says that Danielle told her twice that you are talking bad about her.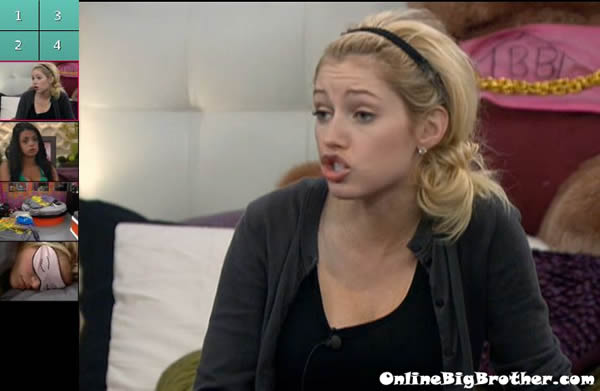 Britney says that Frank came up to the HOH and says is Jojo freaking kiddin me she wanted to vote me out last week and now she is pitching a deal to me. Britney says and that is how he really feels because he knows you are on my team and he still said it. Britney says that she needs to separate herself from Shane too. Integrate yourself with the rest of the house. I will let you know what is going on later in the week, but right now it doesn't look good because right now she is laughing with Janelle right now. Don't repeat this to anyone. Britney explains the votes and how Mike won't leave Janelle for our team. From their perspective 6 on 2 is good for them. Why would they throw away 3 for 2? Jojo says because they would gain two strong players. Britney says but Janelle has 3 strong players. Jojo tells Britney thank you, you are the only one with a heart.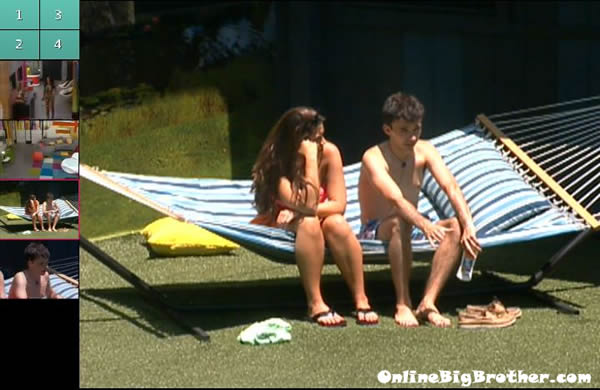 12:55pm – 1:25pm
Ian and Danielle are sitting in the hammock talking about random stuff. Ian says that if things go as planned she should still be here. Danielle says she hopes so.. Ian says if things change I will let you know. Ian talks about maybe moving to Tuscaloosa for grad school. Danielle tells him that she can help him with finding a place there. Ian says that he has been offered a $26000 a year stipend to go there on top of them paying for his tuition. The conversation turns to talking about sports teams. Danielle says that she is worried she will be voted out to get Dan out. Ian says that he would make a case for her .. that Jojo is the last limb of Willie and that he has a moral apprehension about voting someone out that didn't get to play for the veto. Ian says as of yesterday at 3pm Jojo was the one being voted out. If you were to go, that would be a complete fluke ..that something got fu*ked up. I would not give up hope just yet because the way I see it we are in for a bit of a shift. Ian says that if he gets HOH she would not be a target.
1:30pm Britney and Shane are in the bathroom. Shane says that he thinks Jojo is going home 100%. Britney says yeah me too. Why do you think that? Shane says because he heard Frank say that she was a strong competitor. He says that they you would be down to one person, you've lost two people in a week. Shane wonders if he should vote for Danielle or not. Britney says I don't think anyone is depending on your vote, if you want to vote against Jojo then vote against her. Britney says no matter what you are going to be up next week. Shane says yeah unless I win HOH or the POV. Britney heads outside. Jojo joins Shane in the bathroom. She tells him that she was told that she made Ian uncomfortable talking about sex. Jojo says that it was Ian telling her about rubbing one out if he got HOH.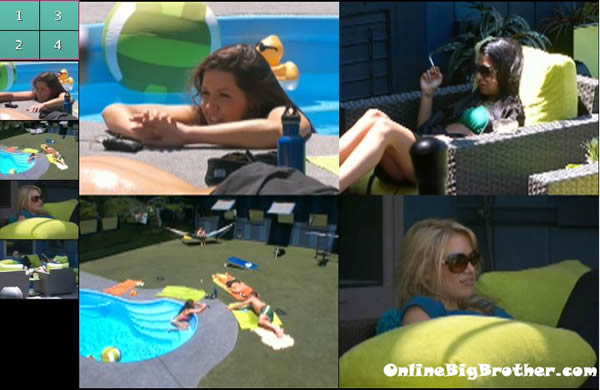 1:45pm – 2:10pm Joe, Frank and Danielle are out by the pool. Joe asks Frank if a romance is in the cards for him in the bb house. Frank says no, he doesn't want anything getting in the way of his game. The conversation changes to talking about manscaping and hair on guys and girls. Ashley, Britney and Dan are on the backyard couches talking about random stuff like high school. Jojo joins them.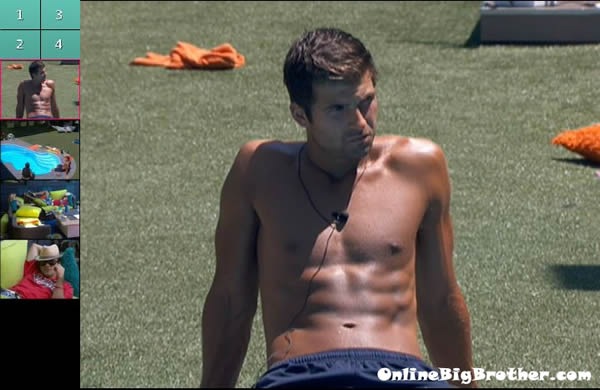 2:15pm – 3pm Joe and Frank head up to the HOH room. Joe asks any thoughts on your week. Frank says the best option might be to split up JOjo and Shane. Joe says yeah he is 50/50, it would be nice to get rid of Dan. Frank says yeah, it might be nice to knock both coaches (Britney and Dan) down to one leg. Joe says worse case Shane wins HOH, he will put me and you up or Wil. Frank says yeah. Joe then we need to make sure Danielle know if we keep her safe that she need to vote to save us. Frank says if it is you and me it would be a hard vote for you. If its me and Wil it's a split vote. They say that they will talk at 6pm. Frank and Joe comment on how they are going to try and play the game with the most integrity that they possibly can. Joe and Frank talk about when to get out the floaters. They say that they will vote out the floaters (Ian, Jenn and Ashley) when they get down to the final six. Joe mentions that they can't trust Shane not to put them up if he wins HOH. They talk about him getting too cocky, asking people if anyone has ever won 3 POV's in a row. They comment on how they are in a great position. Frank is still pissed that Jenn almost flipped and was mad at him for farting in the bed. They say again that its better to get out Jojo because if she stays she will stick with Shane. Joe says don't even give Jojo a hint about her going home, just say we are hanging in there for ya. They say that they will tell Danielle that she will be safe but that she needs to keep it quiet. Joe says that he thinks either someone will come back or they will shuffle the teams. Joe and Frank say that they don't think the coaches will be dropped into the game. Frank heads downstairs. Joe stays to listen to the music.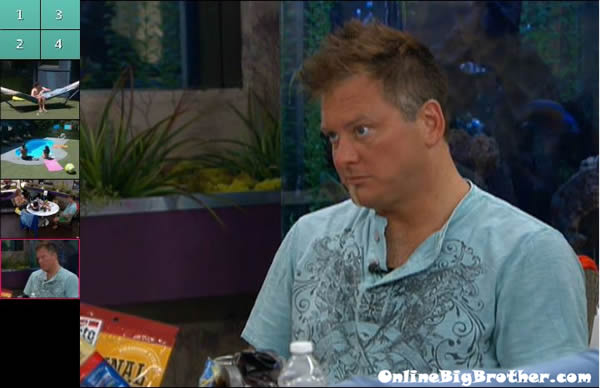 3:20pm Everyone lounging around in the backyard.. random chating. Shane and JOJO plan to watch Jenn city perform when the show is over.
Share it YO!
Tweet