POV Holder:
Next POV:
Aug 11 (Saturday)
POV Used
POV Ceremony
Aug 13 (Monday)
HOH Winner:
Frank
Next HOH:
Aug 16 (Thursday)
Original Nominations:
Wil / Joe
Current Nominations:
Have Nots Cod fish/Candy Canes
Joe, Shane, Danielle, Britney
Last Evicted Houseguest
Janelle
2:10pm – 2:25pm Frank and Dan are up in the HOH room talking about what the competition might be like and about different work out routines. Dan and Frank head downstairs. In the kitchen, Shane, Joe, Frank, Ashley and Ian are hanging out. Frank tells Shane and Joe that since yesterday's game was a classic game today it will be something totally new. Ian agrees and says that the last 4 competitions have been classic games. Meanwhile Britney and Danielle build a bed in the middle of the have-not room. Britney talks about last night Joe beat off in bed and that it woke her from her slumber. Britney imitates the noises she heard and then heard him go Hmmm, Hmmm after a long time. Britney gets called to the diary room. Britney gets up and tells Danielle that she left her in here in the line of fire. She says that she swears she was so close that she could smell it. I was in the line of fire of his sperm. Britney leaves the room. Britney comes back after a few minutes. Danielle says that she can't believe Joe did that and says that she hopes he washed his hands after. Danielle asks if they can tell Dan. Britney says not until after Joe is evicted. Britney leaves the room.
FUNNY STUFF – Watch it ALL on FlashBack: August 11th, 2:15pm, Camera 3 & 4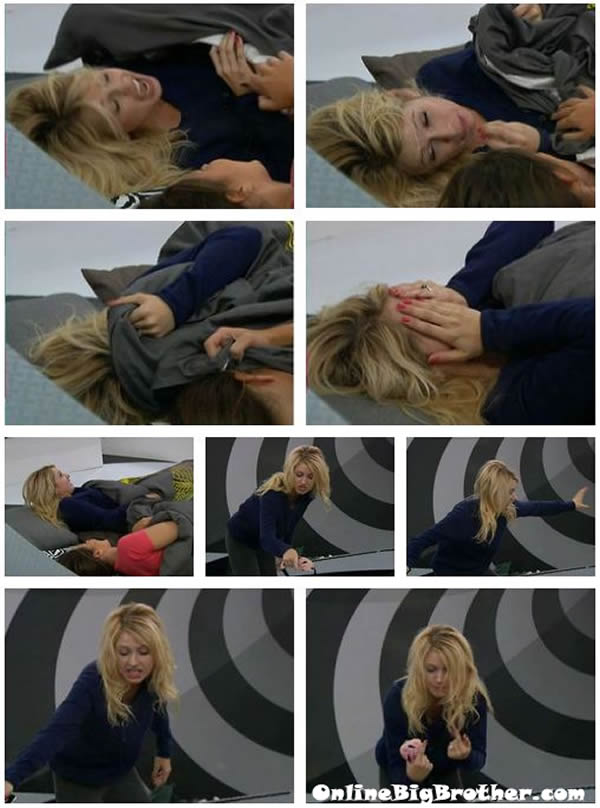 2:30pm – 2:40pm Britney comes back and says certainly a certain spice only Joe can bring to the house. Danielle says that is so gross, I can't even imagine listening to a guy jerk off. Britney tells Danielle that she wished it was Shane but that it wasn't. Britney says that she could tell from the grunting that it was Joe. If he hadn't made a noise she would not have known it was him. She says he tried to mask it with a cough. Britney says it was sick. He was probably thinking about you in your bikini sitting out by the pool. Danielle asks why me? Britney says because you are his type. Britney asks how do you know what his type is. Britney says that she is going to wake up Danielle if she hears it again because she is not going through that alone again. Danielle says that she will says STOP THAT! Danielle starts talking about Shane. Britney says don't worry in about a month you and him will be broken up. She says that she can't stand his sour attitude trying to get her in trouble. Britney and Danielle roll over to take a nap. Britney says that she wants to be well rested to watch the competition later.
2:45pm Frank, Joe, Shane and Ashley are in the kitchen talking about how long they have been in the house and how they are already at the half way point.
2:55pm Joe asks Ashley if can talk to her in the arcade room. He tells her that no matter what happens I don't expect you to use the veto on me, I would only ask if you win please don't use it to save Wil and take him down. Ashley says yeah. Joe says hopefully it won't be too overly active. Ashley says I know. Ashley tells Joe that when he and her were on the block before, Janelle was going around trying to get votes for me. Joe asks really?! Ashley says yeah, I can't believe you didn't know that.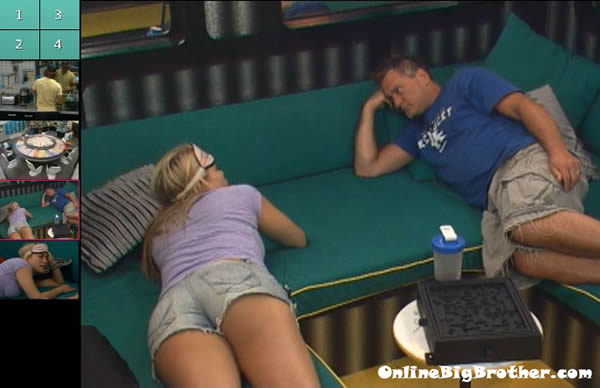 3:19pm Cam 3-4 Danielle getting ready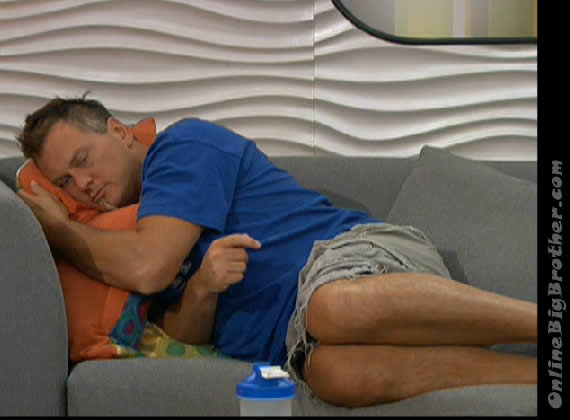 3:50pm Really nothing happening on the feeds.. scattered conversations about nothing.. Power House takes a nap conserves his energy for the POV Competitions that is Slated to start at any minute. (If the competition is Hauling Bricks Eagle EYE wins this hands down)
3:55pm Ashley, Ian and Jenn Ashley asks him if this was the first time he tried out for big brother. Ian says yes. Ashley says that she applied for Big Brother when she was 21 but didn't get far. She goes on to explain how she was trying to get on a dating show and they suggested she go on Big Brother. (Danielle applied for the same dating show)
4:18pm Cam 3-4 Jenn, Ian, Dan and Ashley They are talking about the fans and all the crazy art work they do for Big Brother.
4:29pm Cam 3-4 Dan, Ashley, Jenn and Ian Ian's Bear asks Ashley's bear out on a date.
Dam is controlling the bears.
Ian's bear: "So I was wondering… Umm.."
Ashley's Bear: 'Cmon what so yo want to ask me"
Ian's bear: "I want to know if you will go on a date with me"
Ashley's Bear: "Sure.. I would just like desert to start"
Ian's bear: "Ceya tonight at 9"
Dan: "Later that day while Chef Joe prepared a nice slop desert"
Dan goes through the entire date with the bears.. and continues with the Bears life stories as ian and Ashley get married and have children.
4:56pm Everyone waiting around for the POV to start.. Wil is studying the Memory Wall (Images included in the gallery below)
5:13pm Cam 1-2 Ian tells Frank in the HOH that it's going to be a night Competition (I think this is just speculation on Ian's Part. Earlier T!Ts and Pwoer House Joe were studying the memory wall looking for facial patterns. Face Morphing? Seems a bit early for that one.. If it is in fact face morphing It'll be a long night)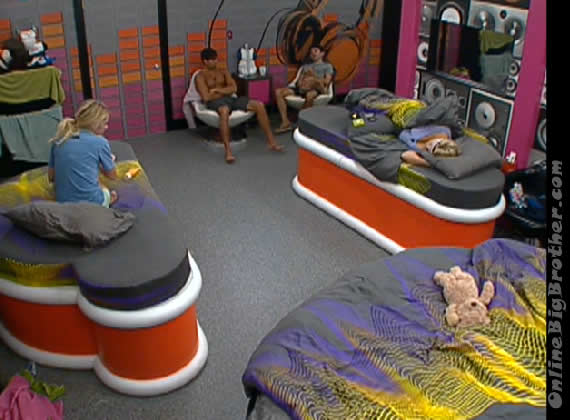 5:54pm Shane, Ian, Britney
Britney is wondering how many people participate in Media Day. Ian says there is 8-10 people. Shane doesn't know anything about Media Day. Ian goes on to explain that it's a bunch of people from online media that spend a day in the Big Brother House. Ian explains that they don't even stay for a full 24 hours it's more like start in the morning leave in the evening.
Talk moves to the Power of Veto Competition, Britney is pissed having to wait for so long.
Ian tells them the POV will either start at any minute or it'll be at midnight because they cannot show the competition during Big Brother After Dark.
Ian starts looking around the room points out all the decorations that were in the Big Brother 12 house. Ian: 'Nice to see they are re-using props.. Those orbs up there were in the Taj room (BB12)" Ian points out that there is some damage on the floor and you and underneath you can see carpet from Britney's season.
Ian says that Big Brother 13 was his least favorite season. Britney asks what he thought about the twist, both the player coming back and the Pandora's box.
Ian: "The return of the player was done horribly" Ian brings up the Pandora's box twist coming back when they were down to 6 players.
Ian says the one Season he usually recommends to people is Season 10, "season 10 is old school but it has a modern twist.. the only thing it doesn't have is have nots"
6:13 Cam 1-2 HOH Frank, Britney
Britney tells Frank that everyone is bored and getting stir crazy. Britney: " Ian had a good point if we don't do this in the next 15 minutes we won't do it until midnight because of showtime.. They can't show the competitions on Showtime and there's nothing they can cut to"
Frank: "Wil wasn't in a good mood this morning"
Britney: "Ya.. "
Britney had talked to Wil earlier in the day and told him the draws for the POV really benefited him. Wil grumped back to her saying something along the lines as "If I win POV Ashley will just go up"
Britney: "I'm not trying to be mean or rude but he's just being snappy"
Frank brings up that Wil is a much better target than Joe. A) Wil can win the next HOH B) Joe's got no game C) Joe is really easy to read and has no connection with other people
Britney is pretty sure it'll be double eviction this week. Frank says things will eventually get sticky with their silent 6 (Shhhhhhh.. he holds his finger to his mouth) Britney knows.. Frank is happy they have the silent 6 because it gives them a bit of security for a few weeks. Britney adds that it'll all be about winning comps, "If you can win a cmop you don't go home"
Frank doesn't feel bad sending Wil home but he did feel bad sending JoJo home. The reason was that Jojo didn't do anything to him except for voting against him week one. Wil constantly lies and schemes against him.
Britney: 'getting rid of Janelle last week was a HUGE HUGE HUGE move… Game Changer"
Britney says that Wil and Joe are not working together but Wil and Ashley are.
Frank: "Wil is working with her as much as a person can work with ashley"
Britney: "She's a vote.. and POV"
Frank tells her that AShley told him in the HOH yesterday that she would not use the POV if she won it.
Frank: "It just looks too good for us if Wil goes home… the next HOH.. Joe?"
Britney mentions that Joe would always play up his physical strength and what happens during the Have Nots "He's wheezing with a lemon costume on"
Frank brings up how there are so many players that have no idea how this game is played
Who do you think you'll be paired up with if there was no coaches..
Frank :"I can see me and Shane.. Could have been Shane, Willie and I"
ZA ZA ZING … Trivia
8:04pm Trivia
8:36pm Trivia
And here we thought the Zing Bot wasn't coming back
Big Brother 14 Live Feeds –
FREE for 3 Days then only $14.99 to watch the last month of BB14!
Watch what happens, as it happens! Plus if you miss any of the action you can use the Flashback feature to watch what you missed. You can pick the Day, Time and Camera to watch!
Not sure if you should get the live feeds, read up on them here: Superpass Live Feeds

Share it YO!!
Tweet