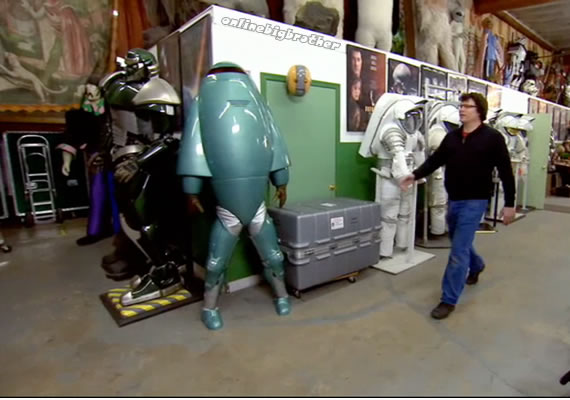 Love it or hate it the Zingbot's future is in question. The once great Zingbot 3000 has been spotted in the back of a props room on show Hollywood Treasures on SyFy (Episode 6 Season 2 "Vampires, Swords and the Queen of the Night"). The power cells appear drained and there is no more sass coming from it's voice modulator. In case you forgot the ZingBot enters the Big Brother House and "zings" the Houseguests they are then later asked questions about these "Zings" during a Competition.
Here are some choice Zings from last season of Big Brother
"Porsche, shouldn't you be named after a car with a roomier trunk?"
"Hey Jordan, the only reason Jeff hasn't proposed yet is because he knows you're terrible at answering questions."
"Daniele, do you own a car? Or do you still prefer to just rid your daddy's coattails?"
The last tweet from Zingbot was on the 21st..
I'm back bitchbots… come meet me at #comicCon this Sunday at the @CBS booth. #Zingbot3000
hmm maybe things didn't go well at Comic Con and CBS sold it to the prop shop. ;)
If this is the end of the zingbot I've added a video in memory of zingbot
https://youtu.be/YXsxeC2n0vI?t=6m25s
Share it YO!!
Tweet