POV Holder:
Shane
Next POV:
July 20 (Friday)
POV Used
No
POV Ceremony
July 15 (Sunday)
HOH Winner:
Willie
Next HOH:
July 19 (Thurs)
Original Nominations:
Frank and Kara
Current Nominations:
Frank and Kara
Have Nots /Slop
Danielle, Shane, Ashley, Ian
Coach Competition Winner
Boogie, Ian is safe

Superpass Live Feeds: 3 Day Trial!
10am Joe and Willie take a walk in the backyard to have a quick chat. Joe tells Willie that Frank and Mike are still coming at him about making an alliance. Willie tells Joe that they will keep coming at you, they want to divide us. Joe then goes and talks to Shane in the storage room about how Frank told him that Boogie keeps trying to get pull us. Joe tells Shane that Willie told him that Mike is going to keep on us and keep trying to pull us to their side. Joe says I just wanted to let you know what's going on, I just told Willie too. Shane says yeah thanks, maybe I should make them think I am going to go with them and then vote out Frank on Thursday. Shane and Joe then go out to the backyard and they discuss with Willie how Mike is trying to divide them. Shane says that they came to me with the brigade talk about Me, Joe and Frank aligning. They all talk about sticking to the plan this week.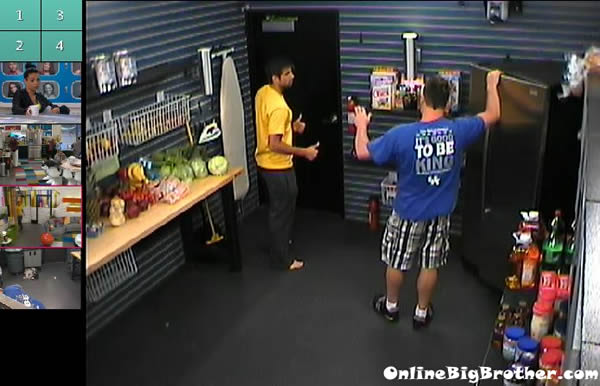 10:40am The house guests are just relaxing. Janelle, Joe, Wil and Janelle are sitting around the hot tub talking about random things. Joe tells Janelle that last night Frank told him that Mike is trying to get Shane and Wil in their alliance. Joe says that he really doesn't understand why they tell him this stuff. Janelle says that she doesn't understand it, they are just trying to cause confusion. Meanwhile, Frank and Jojo are playing a game of pool. In the kitchen, Ian is cleaning up the kitchen by himself.
Sign-up for the Big Brother Live Feeds and get the MOBILE Feeds for FREE!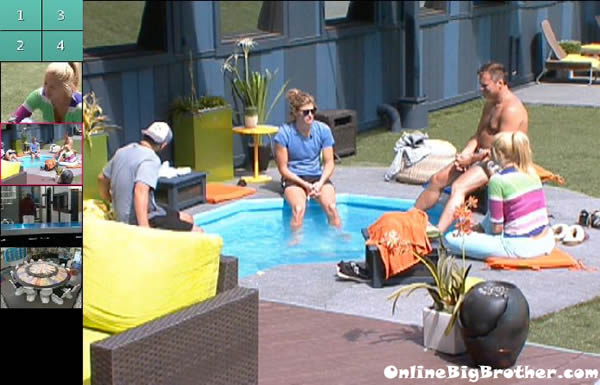 11am
In the kitchen, Dan is asking Janelle questions about her selling Mary Kay makeup on the side to make some extra money. They talk about how she got a car from them after hitting a certain sales target that she said was really easy to hit. Meanwhile out on the backyard couch, Frank, Willie and Ian are talking about all the clothes that Big Brother took from them when they came in the house.
11:15am Up in the HOH, Britney and Willie are talking. Willie is telling Britney that Shane will be someone that will flip over coming up. Willie says that he doesn't want to get rid of Frank, he thinks Kara is way for of a threat down the line. Willie and Britney are going over the same conversation about who to vote out and what the votes would be this week. Britney worried that Frank is the bigger target. Willie thinks its Kara because she is going to fu*ck them in the long run and she is connected to Janelle and that will hurt us in the long run. Willie says that Frank isn't connected to anyone like that. Britney and Willie both agree that if they get out Frank this week no one will go after Kara next week, but if they get out Kara everyone will go after Frank next week. Willie says that Kara doesn't talk game play, but that Shane and Joe both come to him talking game.
11:35am – 11:50am They joke about how Ashley always looks high. Britney jokes about how they must give her weed in the diary room. They both agree that they won't say anything about voting out Kara until Wednesday night. Britney thinks that Kara would go after Jojo, if she kept her deal with Willie to not nominate him for the next week. Britney thinks that when Kara was in the Arcade room with Janelle that they are working together. Willie says that he needs to talk to Frank and tell him to calm the fu*ck down and stop talking to people, you are going to get yourself voted out. Britney says that if we get rid of Kara this week, I want to get out Danielle next week to knock Dan out of this competition. Britney says that she really trusts Janelle to a certain point but I know she is looking out for herself too. Britney says okay we need to get rid of Kara! We need to hope Dan sets off some more fireworks. Willie says he is going to tell Frank to shut the Fu*k up! I think he would be willing to do anything .. he tried out 3 times to get here … and now he is hustling. Janelle comes up to join them. Janelle says that she doesn't care who we vote out this week, either way its good. Dan come up and start giving Janelle plugs for her Mary kay makeup. Willie and Dan head back down stairs. Willie want to go talk to the diary room about them taking all his clothes from him.
Share it YO!
Tweet