POV Holder:
Jeremy
Next POV
July 13th
POV Used
YES
POV Ceremony
July 8
HOH Winner:
Aaryn
Next HOH:
MVP:
Elissa
Original Nominations:
Elissa, Helen and Jeremy (MVP nom)
Current Nominations:
Elissa, Helen and Nick (MVP nom)
Last Evicted Houseguest
David
Have Nots
Helen, Elissa, Candice, and Andy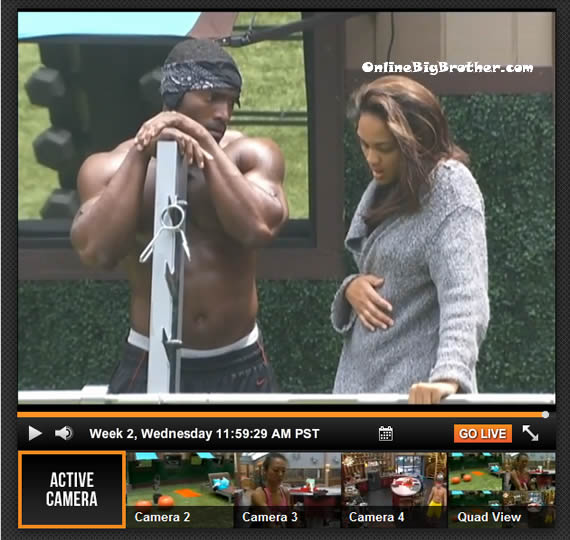 11:59Am backyard Howard and Candace
Candace tells him that Amanda is saying he's not going to vote out Nick and it's causing the group to fall apart. Helen wants Spencer to go to Amanda and confirm with her that he's voting NIck out this week.
Candace: 'They think you are with Spencer and Spencer is on the other side of the house"
Howard: "OK"
Candace: "But don't tell Spencer that.. Amanda made up this big story.. Amanda is going off the loose end"
12:05pm Bedroom Spencer and Howard
Howard relays what is happening to Spencer says Amanda is telling her side that Howard and Spencer are flipping the vote.
Spencer: "Now heres the thing.. she's voting Elissa out.. she's just trying to set up her side for next week so she can make me look bad when the votes come out" Spencer adds that Elissa is going home this week.. he'll come out and they can talk after his shower.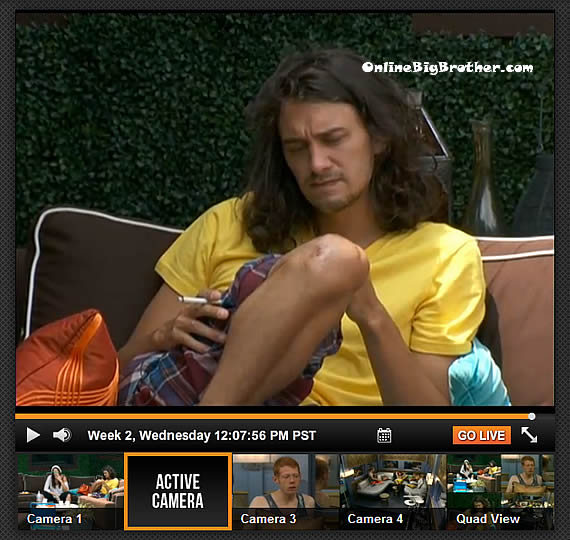 12:06pm Mccrea and Amanda Backyard
Amanda feeling good about the position they are in. She says they're good with Jeremy And Aaryn plus they have all the people on their side as well, "The odds right now seem to be in our favor.. as far as we know"
Amanda she says this time they won't look like the vote flipper.
Amanda mentions that Howard doesn't want to win the HOH because he wants to be seemed as weak. He told amanda he threw the first two competitions.
MC: "i knew it He's so fu***ng shady"
Amanda says she will put up Spencer.. not sure about Howard.. She thinks it will be spencer and Jessie on the block if she wins HOH. She mentions Candace isn't a target anymore because Amanda "Has her"
McCrea: 'Back door Jeremy"
Amanda: "It's risky.. I have to make sure I have the numbers"
MCCrea: "Then you have to have Jeremy up with someone that will vote for him"
They wonder if they have the numbers to take out Jeremy next week. Amanda wants McCrea to throw the next HOH to her she's worried he's coming off too strong. McCrea: "Thats why I think I'm going up for MVP"
Candace joins them Amanda asks her who she would put up if she wins HOH. Candace: "Definitely someone from the other side that's racist.. I'll be like Aaryn shaniqua you on the f*** block"
Candace says her and Howard were talking in bed last night and he told her the plan is the same. vote Nick out. Candace wants to know where their heads are at and if they have talked to Spencer.
Amanda says the plan is the same she asks if Candace is close with Spencer
Candace: "I'm close to Spencer a bit.. You know I sleep with Howie" (LOL Candace has been telling everyone around the house that she 'Slept with Howie" )
12:50pm Pool Amanda and McCrae
Amanda tells him she's thinking about voting out Helen. By doing so it means she's not lying to Elissa or Aaryn. She wonders who the house guests will pin the Helen vote on.
Amanda says McCrae isn't a good liar so he needs to vote Elissa out, he couldn't vote Helen and say he voted Elissa.
After some vote counting Amanda now saying McCrae should vote out Helen.
Amanda: "Strategically I'm telling you to vote out Helen"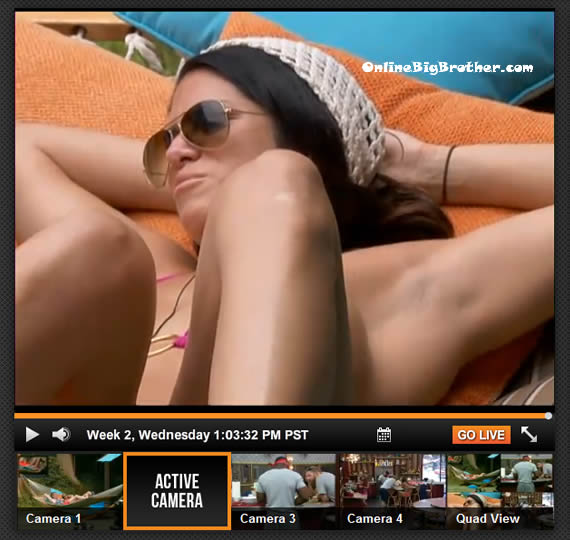 1:02pm Andy and amanda
Amanda tells him she's been thinking. There is no way that Helen is leaving and she's worried when McCrea votes out Elissa it will hurt his chances for MVP. She's thinking that maybe McCrea should vote out Helen.
Amanda says they (Amanda, Andy, Judd) will all vote out Nick and this way they know where Howard and Spencer are at.
Andy isn't sure about the plan because everyone will know he voted Nick out because there is no way he would vote against Helen. Andy: 'Helen's my girl"
Amanda: "Somehow we need to throw a random vote in there"
She 100% doesn't trust Howard and Spencer. Andy: "Spencer doesn't talk game with me anymore.. ever" Amanda: "Ya thats the thing"
Andy doesn't like the idea of tossing in a random vote because if Elissa does go and they take a gamble hope is lost for some of them.
Amanda wonders if they can get Jessie to vote for Helen.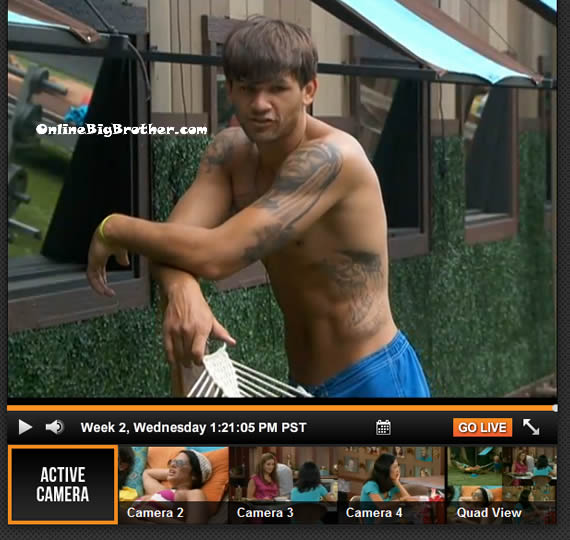 1:21pm Hammock Judd, McCrea, Jeremy, Amanda
Amanda was taking a Xanax to go to sleep and Elissa came up to her and said "Thats not fair do you think they would give me one" Amanda: "i was like.. You're the one saying we shouldn't take any pills .. Ya Elissa they are going to give you one of my Xanax's.. I'm not going to give you one I have like 30 for the whole summer". (Elissa had said the only reason Aaryn won the HOH was because she takes adderall. Amanda pointed out to Elissa that she also takes adderall)
Amanda mentions Elissa's excuse for why Jeremy won the POV competition. He won because his arms are longer.
Jeremy: "I bet her sister is pissed off because she has such a horrible playing sister"
Amanda: "Ya she's not very strategic"
Jeremy tells them the only reason Elissa made it this far is because she cut deals with people for mvp safety.
Judd: "Ohh she's gone tomorrow night so.. "
[polldaddy poll=7235287]