POV Holder:
Shane
Next POV:
July 28 (Saturday)
POV Used
?
POV Ceremony
July 23rd (Monday)
HOH Winner:
Frank
Next HOH:
July 26 (Thurs)
Original Nominations:
Current Nominations:
JOJO and Shane
Have Nots /Slop
Willie, Shane, JOJO, Ian
Coach Competition Winner
Janelle
Next Coaches Competition
July 27 (Friday)
Last Evicted Houseguest
Kara, Willie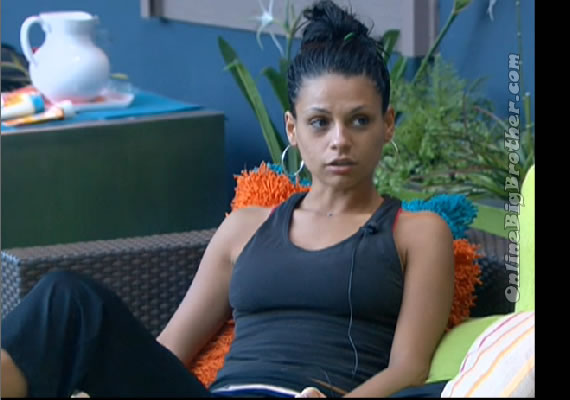 7:20pm Cam 1-2 Frnak and Jojo Jojo tells him she wants to build her booty up. Frank starts giving her some workout advice says he built his "booty" up doing step ups.
Boogie joins them they start chatting about food. Frank leaves and the Food talk continues. Jojo mentions how it sucks that the players cannot compete in the Have nots Challenges . Jojo asks him how long he lasted during season 2. Boogie says he didn't make it far he lasted 33 days.
Boogie says he messed up in season 2 he got HOH early and took out a pawn and the girl he was targeting was super good at building personal relationships with people and they took him out. Just small talk, Boogie: "Frank has the worst CD in the HOH.. it's soo mellow"
Frank and Joe join them. random chats
Watch what happens, AS it happens: Big Brother 14 Live Feeds!
Subscribe today for your FREE 3 DAY TRIAL!
7:43pm Cam 3-4 Jaenlle showering, Brintey and Danielle Britney asks Janelle if she's ever worried about people seeing her chest in the shower. Janelle says no, it's the same shower that has been in the house since Season 6 and there has never been a nip slip yet. She points out there has been more nip slips from her suntanning. (There is also full frontals of Janelle all over the itnernets)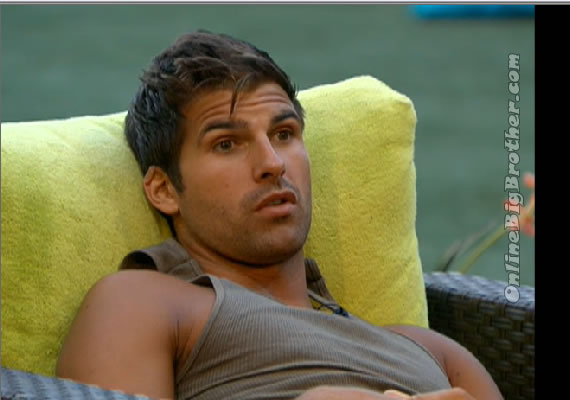 7:45pm Cam 1-2 Shane and Frank Shane saying he can't play for his coaches. Shane brings up that they can get switched up at any moment and both him and Frank will be the ones traded for because they are the strongest players in the game. Sure Shane would like it if Britney won but he's not bound to her in any way. Frank agrees says they came close to being switched this week. Frank has taken a good look at his player under boogie and he's really worried that they won't be able to win any competitions. Shane tells him he is serious about him and Frank going to "top 2". Shane says he knows Franks is a straight shooter, Shane once trusted Frank and he now trusts him again. Shane understands why Frank nominated him just like he hopes Frank understands why he sided with Frank.. Shane adds that he feels sorry for JoJO because Willie was suppose to go home this week. Shane brings up that CBS is going to have to do something to shake the game up he doesn't think they have enough players to end it the way it is. Frank hasn't been giving the twist much thought he hasn't been basing his strategy around any twists. Frank tells him that they don't want to go final 6 with Janelle's group he's more looking for a 4 on 3.
Jenn and Boogie join them.
8:10pm Backyard Britney, Boogie, Shane, Jenn, Jojo, Wil Britney says she's going to have kids soon. Boogie explains that his baby's mother had a very hard pregnancy. the baby was 6 weeks early. They named the baby's middle name after their Doctor. Boogie explains that the mother was bed ridden for 4 months, but after that she started working hard to get back to work. He explains that she owns a hair salon but the bulk of her money comes from high end clients that she does her self. She was worried she would lose them so she really pushed herself to get back to work. Boogie talks about how he misses his son, Boogie jokes that he wants Jenn to win the next HOH so he gets another picture of Brady. (Brady is his son)
8:31pm Cam 1-4 Backyard They are planning to do another dance tonight.
8:44pm Cam 1-2 Wil and Joe Joe saying they need to get Frank out.. he loves him to death but he's just way too strong of a player. Joe and Wil both agree that Frank is much more dangerous then Shane. They do not think Shane is very smart. Wil is worried that some of the competitions Shane will be hard for Wil to beat. Joe doesn't think so he thinks that the later physical competitions are more endurance.
Wil: "Sooner or later we're going to need to take out these floaters.. Ashley will need to go she floats around"
Joe asks what do they do if CBS mixes the players up. Wil says he doesn't think about twists. Joe explains that they need to still stick together, Wil agrees.
Joe has a feeling that no one is going to let a coach go into the final with 2 players they will all be after them. Wil agrees. Wil wants them to set Shane aside and tell him they want to work with him and hopefully Shane wins the Next HOH and puts 2 of Boogies players up. Joe thinks it's a great idea, but they'll need to get him to vote out JoJO. Wil thinks they should take Ian or Frank out next week and after that start taking out the pawns. He doesn't want to be in the final game with players like Jenn who do nothing for their team bur lay around.
Wil adds if he wins HOH he's going to try and backdoor Frank. Wil plans on putting up Ian and Jenn and if POV is played then he'll take out Frank and if it's not, Ian will go home.
Share it YO!
Tweet