POV Holder:
Jeremy
Next POV
July 13th
POV Used
YES
POV Ceremony
July 8
HOH Winner:
Aaryn
Next HOH:
MVP:
Elissa
Original Nominations:
Elissa, Helen and Jeremy (MVP nom)
Current Nominations:
Elissa, Helen and Nick (MVP nom)
Last Evicted Houseguest
David
Have Nots
Helen, Elissa, Candice, and Andy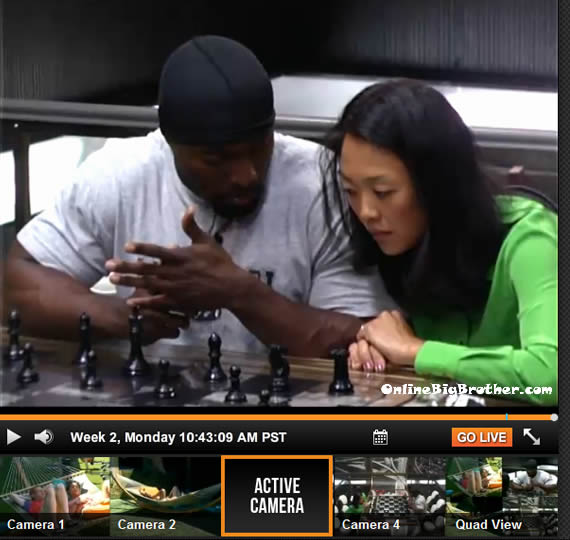 10:41am HOH Kaitlin, Howard and Aaryn
Howard sneaks in says he's just going to act like he's using the restroom. He tells them that Elissa is trying to get Jessie's vote she was really working her yesterday.
10:42AM Cam 3-4 Howard and Helen Chess board

Howard says he talked to Jeremy and he wants to use Helen on the other side, "He owes you two favours.. he's coming after you and he's going to make sure they're not coming after you"
Helen: 'Do you think he can be helpful to us at some point"
Howard: "No.. because he's too friggin braggadocious.. he's going to win everything which is fine with us as long as we're not the target"
Helen: "OK"
11:40AM Feeds come back.. Nick is nominated.
Nick: 'Take a minute compose ourselves than get to work.. we have 2 full days 48 hours… "
Gina: "Do I look like a Barbie doll"
Nick: "mmm hmm"
Gina: "Thanks.. why Nick.. "
Nick: 'We were a target from the beginning.. "
Gina: "It's my fault"
Nick: "We're strong"
Gina: "I don't want to compete against weak people I want the best people.. just like in pageants I don;'t want to compete against ugly people just the best"
Nick asks her to wake him in 30 minutes he's going to take a nap.
Jessie comes in says that Gina looks like a Barbie.. they start chatting about nonsense.
11:50am working out in the backyard Spencer and Jeremy
Spencer: 'McCrae.. Any grip he says he has on Amanda is non existent.. "
Jeremy: "I know.. I heard about everything Howard told me this morning "
Spencer: "Did you hear that she threatened me today"
Jeremy: "Today"
Spencer: "here I'll tell you"
*** Feeds flip to the HOH WTF***
HOH Aaryn, Kaitlin and Gina
Gina thinks they have Judd and Andy this week.
Kaitlin: "I don't know about Andy but we have Judd"
Aaryn: 'For sure we have Andy"
Andy comes in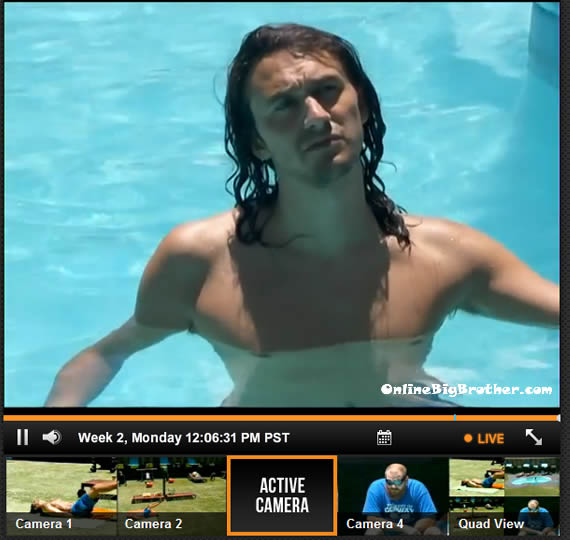 12:03pm Backyard pool McCrea and Spencer
(It's hard to understand this conversation because they are out in the pool, whispering and planes are flying overhead.. some lines might make less sense than usual)
Basically spencer is telling McCrae how nervous the MC is about Amanda he wants McCrae to offer Amanda a 4 person alliance (Jeremy, Spencer and McCrea) this way Amanda is part of their larger group.
Spencer: "Tell her she can trade Judd and Andy for Jeremy and Nick"
Spencer is saying that Amanda hates him and he's getting worried about her loyalty. McCrae still thinks he can influence her.
Spencer: "You are in a good position you know the truth"
Spencer: "I'm being serious with I I trust you completely from the outside looking it it doesn't look too great that's just me talking to you like a dude"
(Planes flying over head can't hear everything)
S: "As far as the MC goes everyone is worried about her the most.. I know you will cut her off but if we can't bring her into a larger group it's a liability"
S: "I'm loyal to you and i'm loyal to her out of respect to you"
Spencer: "I always have your back and I have MC's back .. having a parachute is a good idea but not if it's full of sand"
Spencer says if they can get Amanda they can pick off Andy, Judd, Jessie and Helen. McCrae says it's tough to push that on Amanda because it might arise suspicions plus she really trusts Helen and Andy. Spencer suggests he brings it up in passing say you're just brainstorming different possibilities.
Spencer: "This is how Nick, Howard, Jeremy and myself feel.. if she is to stay she has to have the same goals"
Jeremy and Howard join them.
Spencer: "This is something Howard and I figured out last night" They tell Amanda that their 4 (Howard, McCrea, Spencer and Amanda) team up with Jeremy's five (Nick, Gina, kaitlin, Jeremy, Aaryn) to take all the "Scrubs" out (Andy, Jessie, Candace, Helen, Judd)
Jeremy thinks it's risky it'll expose the Moving Company
Howard is nervous about that plan he ;oles the numbers early later in the game but early on it's risky. Either way he'll stick by the MC decision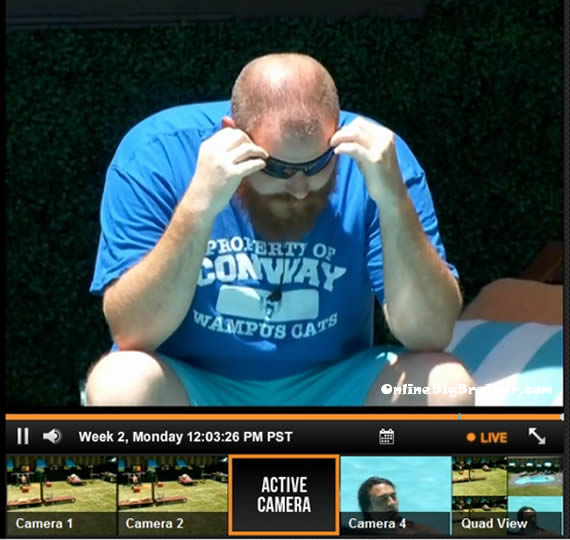 Jeremy says that Amanda needs to stop stirring the sh!t up in the house.. Jeremy: "Candace is throwing my under the bus to everybody"
Spencer says that ?Amanda? (hard to hear who this was 12:21pm Cam 3 I suspect Amanda since Spencer has been talking this morning that she threatened him) came up to him said she knows he's shady and if doesn't vote with the group he's gone next week. Spencer: "Don't worry i'm straight
Spencer says to them that one fear he has is someone will put Amanda and McCrae up to break up a group and She'll stay because she is such a big target.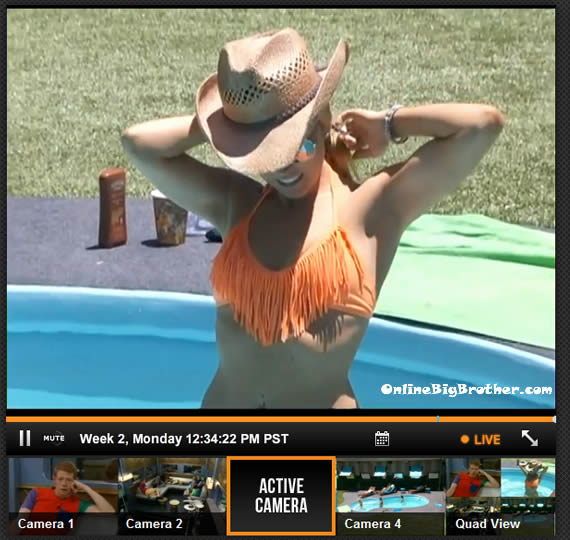 12:36pm Bikini time @ the pool
[polldaddy poll=7235287]