POV Holder:
Jeremy
Next POV
July 13th
POV Used
YES
POV Ceremony
July 8
HOH Winner:
Aaryn
Next HOH:
MVP:
Elissa
Original Nominations:
Elissa, Helen and Jeremy (MVP nom)
Current Nominations:
Elissa, Helen and Nick (MVP nom)
Last Evicted Houseguest
David
Have Nots
Helen, Elissa, Candice, and Andy
Amanda, McCrea, Amanda and Jeremy (Lots of random pool side chit chat)
Jeremy talking about his mother how she gave birth to 4 HUGE kids.
Jeremy: "I was like a one year old coming out.. 11 pounds 10 oz"
McCRea: Came out walking:"
Jer: Came out walking talking.. "
Jeremy Leaves ..
Aaryn starts talking about Kaitlin and Jeremy. She says that Kaitlin is getting really emotionally close to Jeremy. Aaryn thinks that it's having a negative effect on KAitlin's game because people see how close they have come and a couple is dangerous.
McCrea Leaves…
Amanda asks her where she's ast with Spencer because he's freaking Amanda out. Aaryn says that Spencer only talks to Jeremy.
McCrea comes back..
Aaryn is complaining that everyone thinks Jeremy won the HOH when she contributed just as much as him. McCrea says that being HOH sucks because of all the responsibility. Amanda brings up that she hates it when people keep someone in the game just to be the target then they make it far. Aaryn: "I feel the same way we are not going to do that.. "
Amanda saying that she wants Nick out Eventually.
(Again this conversation is hard to hear because it's in the pool)
1:30pm Pool Elissa, McCrea, Aaryn and Amanda
Talking about a tea plantation normal conversation. McCrea mentiosn how Elissa had it hard being a have nots for two week.
Elissa: "I don't really mind being a have nots except that I can't poop"
Aaryn heads inside..
Elissa is saying that JEremy has lucked out in this game and hopefully his luck runs out. Elissa thinks that this game is like that the person with the bad luck in the beginning has good luck near the end.
McCrea and Amanda head inside Elissa goes back to the Hammock.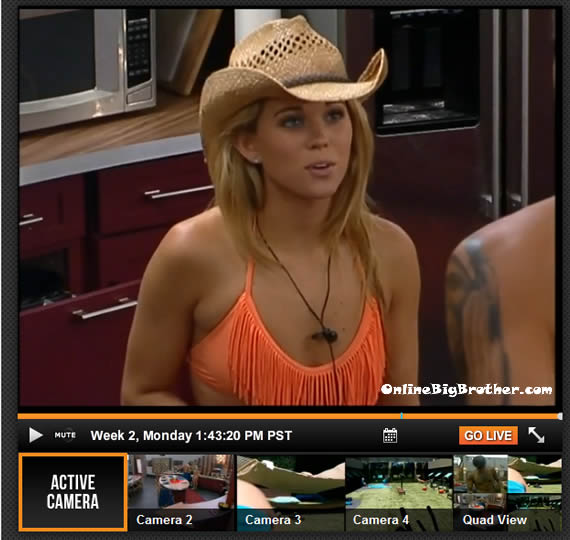 1:43pm Kitchen Jeremy, Howard and Aaryn
Aaryn to Jeremy: 'I forgot to tell you something.. so apparently Elissa is telling everyone that Nick through their name out for MVP so they vote him out.. Just a little tidbit"
Jeremy: "Ya.. it's not going to work though."
Aaryn: 'It;s smart though"
Jeremy: 'It's not going to work.. everyone knows she's gone"
Aaryn looks at Howard, "If Elissa comes up to you and says Nick through you name out here for the MVP.. that's her strategy to get him out.. it;s not true.. Everyone is coming up with the same thing that she's going around telling them Nick tried to get them put up. "
1:45pm Cam 3-4 Aaryn, Gina and Nick
Aaryn tells him what Elissa is doing so he needs to get out there and counteract, "Thats a smart thing that she did.. I can't think of anything else she could do". Nick needs the names so he can address it. Aaryn says it must have been Amanda, McCrea and Howard.
Nick tells them his strategy is to be nice to people during the day and then after 4 he's pulling people in and talking to them One on One.
1:57pm Cam 3-4 Nick, Howard and Andy Andy tells him he's safe this week and leaves..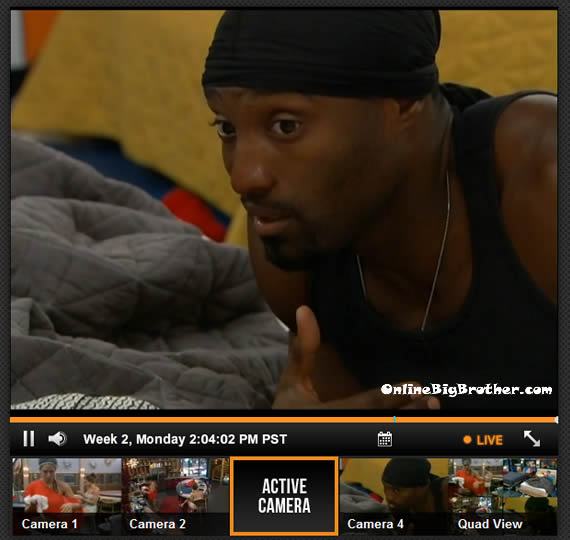 1:58pm Howard and Nick
Howard saying that they talked to McCrea and he's really not keen on taking out Amanda. Nick says him and Jeremy are thinking is next week they will put up Candace and Amanda.
Nick says tomorrow they are going to start giving out deals for people on the fence. the Andy's and the Judd's.. Nick is going to take advantage of the situation and pick people's brains to see who they are working with and try to pave the way for the following week.
They both seem very confident that Elissa is going home.
Nick: "My list is David, Elissa and Amanda once we need to cut the heads off the people that can start parties.. Amanda, Elissa and Helen.. "
Howard: 'We got Helen we have no problem.. once Elissa is gone Helen is scared.. "
Nick: "as soon as we get rid of Amanda we're so money no one else has the balls or the smarts"
H: 'If Amanda stays she is going to figure it out she was freaking out last night spence and I had to talk her down"
Howard explains that Amanda has got to go and McCrea must deal with it she's too dangerous for the group. McCrea says he controls her but it's not the case.
H: "He's going to have to drop his nuts.. If we have to become 4 and bring in a girl that's something we gotta do.. I don't want to do that"
Neither of them want to cut McCrea out but it's gotten to the point where the MC is considering it if McCrea doesn't see that Amanda is using him.
N: "why is he so attached to her"
H: "I think it's more of a personal thing.. It's those t!ties in his face every night and he's not use to it" Howard adds that they know Amanda doesn't like McCrea personally they just need McCrea to understand that, "It can't be personal it kinda make him look shady"
Nick says he has a easy pass this week because he can talk to everybody and not get people suspicious, "I can call you and McCrea in the Cockpit"
Howard thinks that Spencer's plan to form the 5 alliance with the 4 alliance is fine but it means there is 5 guys vs 4 girls and the girls are going to figure it out sooner or later. Howard would rather they do what they have planned and take a slow steady approve, "It's only week two"
Nick plans on using his time as a nominee to get things straightened out with McCrea
2:16pm backyard couch Amanda, Andy, Jessie
Andy saying he's being edited out of the show because he never gets called to the Diary room.
Jessie says she creeped Nick out when he caught her shaving her legs in the shower.
Andy says he's curious to see how Nick reacts to being on the block because he talks no game. Amanda and Jessie agree. Jessie: "Well his first move was to go take a nap"
Amanda: "Which is out of the nirm"
Jessie: "Maybe he won't do anything"
Andy think that right now that is a good plan it worked for Jessie last week.
2:28pm Backyard Jeremy and McCrae
MC: "What's the word.. nothing
Jer: "these people are freaking out cause their alliance is falling apart.. I love it"
MC: "I just need to figure out how to get Amanda onboard"
Jer: 'I thought you had her onboard"
MCCrea brings up the 'Candace' thing and she freaks out. Jeremy tells him he needs to remind Amanda that Candace is running her mouth around the house trying to get Jeremy she has to stop believing Candace and start believing McCrea and Jeremy.
McRea is going to tell Amanda that Jeremy Swore on his mom and gave something for collateral.
Jer: 'I really don't have anything"
MC: 'You have a ring or something"
Jer: 'I do have a ring .. the cherokee ring.. my pinky ring"
Mc says that he won't actually take the ring but just tell Amanda that it was offered.
MC: "I'll work that in today"
[polldaddy poll=7235287]