POV Holder:
?
Next POV
?
POV Used
?
POV Ceremony
?
HOH Winner:
Aaryn
Next HOH:
MVP:
?
Original Nominations:
Elissa and Helen
Current Nominations:
?
Last Evicted Houseguest
David
Have Nots
Helen, Elissa, Candice, and Andy
7:41pm Cam 3-4 Have Nots Helen and Elissa
Andy comes in "Both of you stay strong" he leaves..
Elissa apologizing to Helen because she thinks Helen is up because of her.
H: "Hopefully we get MVP if not I have a couple tricks up my sleeve'
They agree they save themselves if they get the veto. Helen is hoping on them getting the MVP but even if they don't she has a "Couple THoughts"
Helen says theres a play out there for them they still have a lot of time. . Right now they have to wait it out and be cool because if Elissa causing drama it's not good. Helen wants them to wait it out until the POV and MVP is known.
Helen: 'You can't win this game without going on the block,.. I wanted David out we got david out.. it's worth it.. we got a big strong player out and that is why we're on the block we need to win POV and MVP and change it all"
E: "She wants this to be a frat house.."
H: "No jabbing at her"
E: OK":
Elissa very apologetic to Helen apparently Aaryn's speech to Helen said that HElen was on the block because she was close to Elissa. Elissa feels responsible for Helen's nomination.
Helen wants Eliisa to triple check if MVP gets to pick the replacement nominee if their nominee is taken off the block with the Power Of Veto. Elissa is certain they do.
Elissa: "Who would they blame if i'm gone.. I will take the brunt end of this I'm so sorry Helen"
Elissa starts crying says that Aaryn wants everyone to be mean to her.. Helen: "Don't let them see you break down" (Helen is crying when she says this)
Helen: "I know this sounds crazy but I'm kinda excited about being on the block."
Helen asks "america" for MVP because they need to to survive.
Elissa mentions how Aaryn was saying David deserved to be in the house. "If he deserved to be in the house then he should have won the Veto"
They head into the kitchen to eat some Big Brother slop
Elissa keeps telling Helen that she is not going home. Helen is being very positive says all they need to do is get MVP and she'll figure it out. Helen: "GOD I Wish I had a glass of wine right now"

.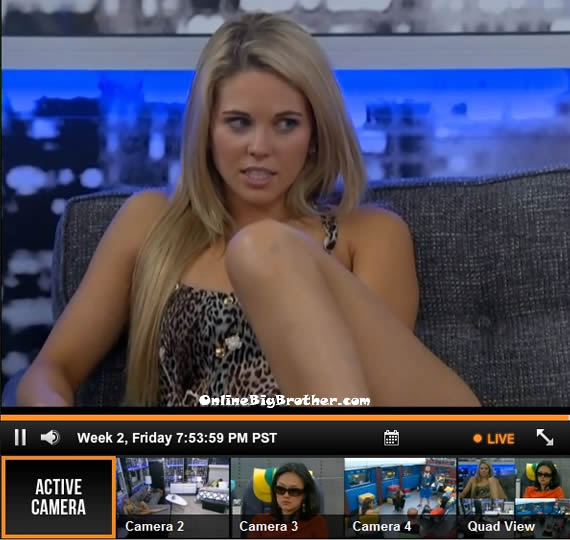 7:59pm HOH Andy, Jeremy, Aaryn, Kaitlin and Jessie
Andy asking them who would they put up if VETO is played.
Jeremy: "Sh1t in my drawers win HOH and put her a$$ right back up"
Andy: "Who would go up"
Aaryn: "Candace"
Andy is happy to hear this tells them that Candice is the best choice.
Andy says he feels if you have to put someone up that is the person that will piss the least number of people off
Aaryn points out how nervous Amanda looked. She wonders why because her and Amanda had such a great talk this morning.. Amanda looking nervous worries her.
Jeremy says he hopes he gets picked for MVP because he'll win the POV and solidify Elissa going home.
Andy has trouble gauging how smart Elissa is.
Kailtin: 'Because she plays so dumb"
Andy: 'ya"
They agree that Elissa has to go home this week.
Andy Leaves
Kaitlin: 'I hope Elissa can't poop for the next 5 days.. she had me feel her stomach and it's rock hard"
Aaryn: "Her stomach is rock hard because she has no body fat.. lets get real"
Kaitlin questions Andy's trust.
Aaryn: I trust Andy.. you know when you look someone in the eyes and they are telling you something and you know they are not being genuine.. Thats how I felt last week" Aaryn explains that this week after David went home Andy talked to her and told her if her group does not target him he won't target her group.
Kaitlin says they can't trust Howard she thinks Helen and Howard are together.
Aaryn: 'Howard told me to put her up "
Kaitlin: 'We can't trust Howard"
8:10pm CAm 3-4 Gina and Nick
Gina is telling him that the way he looks at her is the same way he looks at Kaitlin.
Nick tries to tell her he's not interested in KAitlin. He keeps saying to her "GINA look at me GIna look at me" Gina just whimpers no.. Finally she looks at Nick.
Nick: "There is nothing between me and kAitlin and I do not look at her like that.. she is an attractive girl and I'm a guy and i have no feelings for her"
Nick keeps repeating to Gina "THAT is not my kind of girl" Gina whimpers that she's not his type of girl either. Nick says he is closest to Gina than anybody else in the house he thinks she's a great person.. etc etc etc..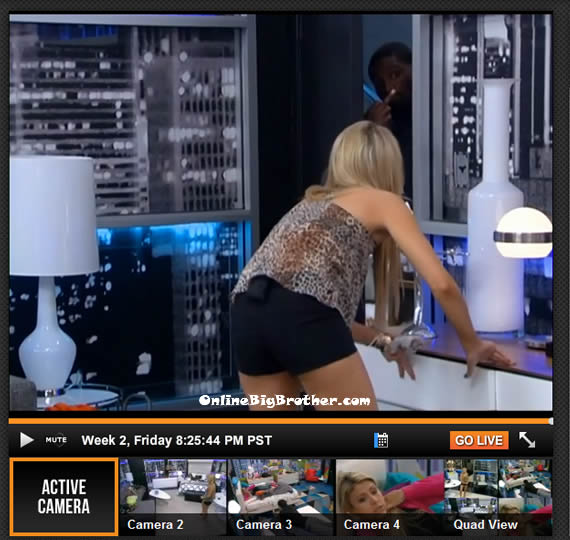 Howie joking around fingers Kaitlin because she gave him a funny look.
You can re-watch ever second on the feeds using their flashback feature.. It's super easy to use click this link for a free trial —> Big Brother Live Feeds
HUGE improvement over last year