POV Holder:
?
Next POV
July 6th
POV Used
?
POV Ceremony
?
HOH Winner:
Aaryn
Next HOH:
MVP:
Elissa
Original Nominations:
Elissa and Helen
Current Nominations:
?
Last Evicted Houseguest
David
Have Nots
Helen, Elissa, Candice, and Andy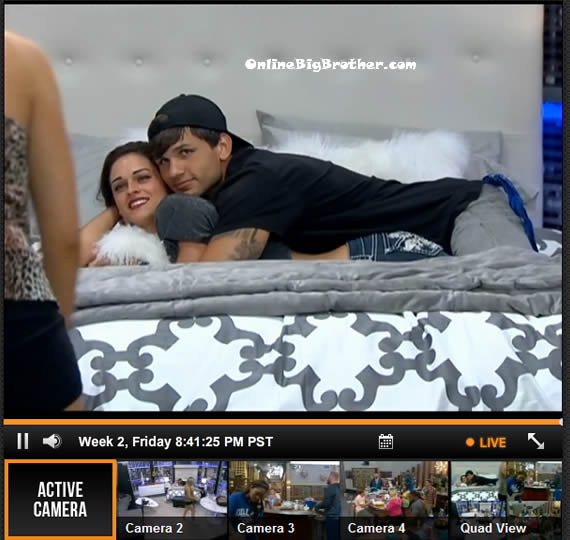 8:40 Cam 1-2
Kaitlin think I may have been better off without Jeremy.
Aaryn thinks Kaitlin would have been one of the first 3 to go because the prettiest girls always leave early in Big Brother. Aaryn cites the last couple seasons as proof.
Kaitlin: "I am not the prettiest girl in the house"
Aaryn: "Look at who went home David and he's gorgeous.. "
Aaryn: "You've seen Big Brother you know"
Kaitlin: "I never have heard of Big Brother before"
Kaitlin: "She found me at a bar and said I need you I didn't even apply to this.. I didn't even try out the first round she sent me straight to Finale "
Jessie storms in "Stop eating your burger.. because they are not done"
Aaryn :"No mine was done" (aaryn ate around half her burger)
Jeremy barges in Don't eat that burger.. "
Everyone but JEremy and Kaitlin head downstairs.. Big Make out session starts..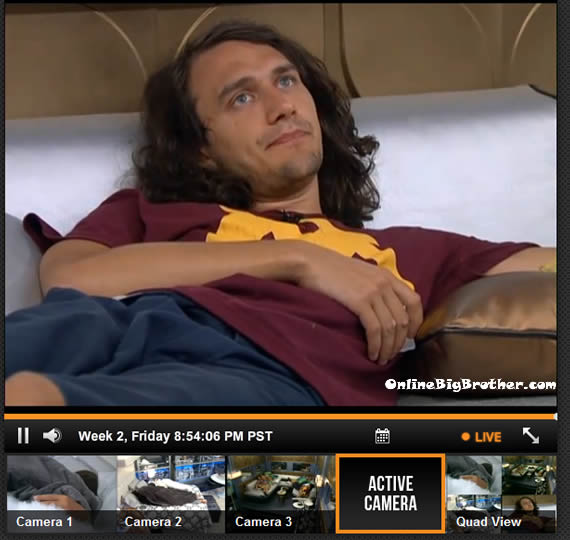 8:52pm lounge McCrae and Nick
They are in lockdown as production gets ready for the veto. Nick mentions how they are "Hammering" outside
Nick says he can't stand his "Side"
Nick says he doesn't care about the MVP really
McCrae is worried if Elissa gets MVP Jeremy will go up.
Nick says it doesn't matter MC have the votes.
Nick: 'It's like Playing a game with Cheat Codes"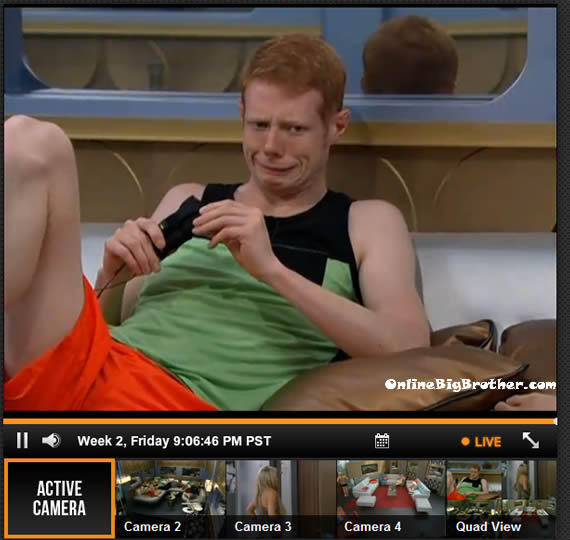 9:04pm Cam 1-2 Lounge
Amanda: "What's our alliance called"
McCrae: "The babymakers"
Andy joins them closes the door to the lounge. Amanda says he should have left the lounge door open. She makes him get up and open it. Andy says he accidentally damaged it. (The image the face he made when he told them he broke the microphone)
Amanda starts singing little tunes.. "Shady as F**** .. shady as F***.. stereotypes.. stereotypes
Amanda: "Hey HElen bet you can't drive.. stereotypes stereotypes"
Amanda: "Hey HElen you must be good at math.. stereotypes stereotypes"
Andy starts bringing up some examples of stereotypes. His first one is when he lived by a bar that had a hip hop night and every weekend there was a stabbing.
Andy: "Black people if you don't want to be seen as violent you have to stop stabbing your selfs"
Andy then brings up the gay bar he would drive by and every night there was shirtless gay men have 3 way make out sessions outside a bar.
Andy: "gay men if you don't want to be made out slutty you have to stop have three way make outs"
Andy mentions how nervous he is about next week.. he's in really deep with the other side.
Andy leaves to check his food.
Amanda tells McCrea she want to makeout
McCrea: "I want to f*** you brains out"
Amanda:L 'I want you to F*** my brains out"
Amanda: "I want to go outside and give you blue balls.. do you get blue balls"
McCrea: "Ya kinda.. I can handle it right now"
Judd mumbles his way into the lounge.. Amanda asks them who has had sex in the Big Brother House.
McCrae and Judd go through he list, They come to Jessie and Lydia.
Amanda "Ehh that busted girl that came from New York.. she's friggin ugly"
They start talking about Stereotypes again
Amanda lists off a couple more Aisan's can't drive, Jews are cheap, hillbillies have sex with their sisters etc etc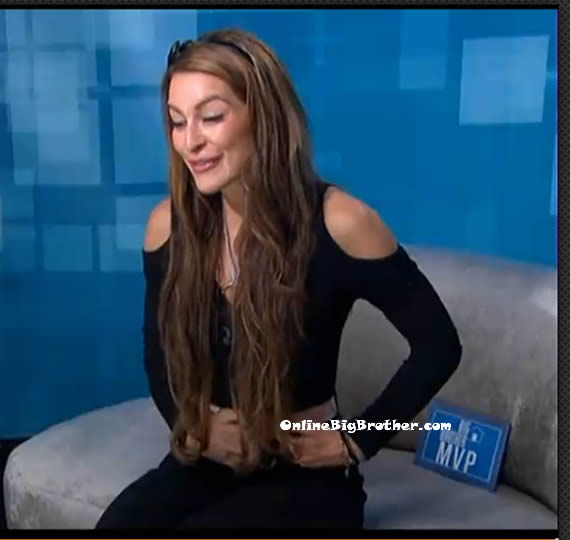 Feed Leak shows Elissa getting the MVP..
FYI you can re-watch ever second on the feeds using their flashback feature.. It's super easy to use click this link for a free trial —> Big Brother Live Feeds
HUGE improvement over last year