POV Holder:
McCrae
Next POV
June 27
POV Used
?
POV Ceremony
?
HOH Winner:
McCrae
Next HOH:
Wed July 3rd
MVP:
Elissa
Original Nominations:
Current Nominations:
Jessie, David and Candace
Last Evicted Houseguest
?
Have Nots
Andy, Elissa, Jessie, Howard, Helen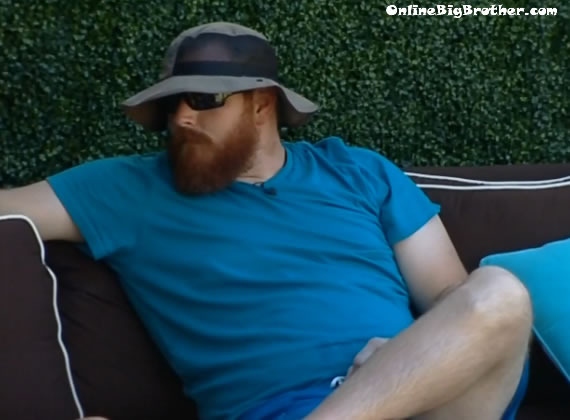 3:20pm Backyard couch Cam 3-4 Spencer and McCrae
MC: "Nick said he wants to get out David"
Spencer: "Nick is a schemer.. which is OK "
Spencer: "we have the numbers for sure.." (Numbers to take out David)
They mention the advantages of having Elissa on their side, THey know that the girls don't like her so she'll be easy to sway onto their side.
Spencer "Elissa controls the third vote.. She can be a monster weapon for us"
MC: "I don't think she wants to stay here.." (Elissa)
Spencer: "She has Helens Ear.."
MC = "Fu*** Amanda is always all over me.. you guys have to talk it through.. I swear if David stays this week he's gunning for me"
McCrae says he's all about wiping out but he's worried about hurting himself and messing up his chances in competitions. Spencer mentions how Jeremy was doing back flips earlier today. They both think it's not worth the risk. MC points out that at home he's the "Weak guy" so the friends back home are probably wondering what is going on.
Howard joins them…
Spencer to MC: "WE're all in this.. i'm protecting your game like it's my game.. we all got each others back.. Share your fears with me bro"
Spencer: "We need to get the girls infighting which has already started.. then we need to just chill and cover each others backs"
Howard: "So what's the plan.. she's going up? if she's going up she's going home"
McCrae: "Ya"
Spencer brings up how Nick is hard to talk game with. McCrae: "He's really good at not talking game with anyone.. he's really smart"
Spencer: "He's coming across as shady"
McCrae agrees thinks as long as Nick doesn't talk game with people he can slide under the radar for awhile.
Spencer is worried if they vote David out they expose their numbers.
MCRae: "I feel like If She doesn't go I'm screwed". Howard is worried if Elissa doesn't get sent packing this week the girls will think the guys are against them. Howard and Spencer mention that right now may not be a good time to expose who is working with who.
Judd joins them .. they start talking about napping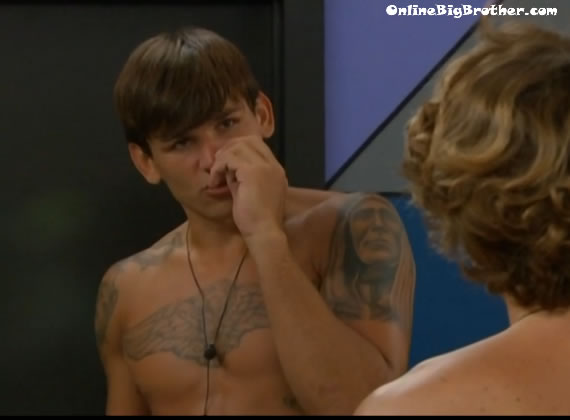 3:28pm Bedroom David and Jeremy CAM 1-2
Jeremy brings up that there could be a twist that some people are connected to each other. Jeremy: "Aaryn told be early that Jessie lives like 20 minutes away from her" He thinks they need to start reducing how much game they share with people. Jeremy: "I don't want to jump to conclusions.. I may be just getting paranoid because that is what this house does to you" David: "We have to rely on the guys this week.. plain and simple or I will be gone" Jeremey: "I think 100% you are safe" Aaryn joins them says she doesn't want David to go home because she trusts him. She explains that it's very difficult to find people in this game they can trust and as the weeks go by they will be able to tell where the loyalties are.
Aaryn points out that next week MVP will be fair game. They discuss what Elissa put David up. Aaryn thinks it's because she didn't want Aaryn to compete in the POV, "It was a shot at me" Jeremey: "I don't know Elissa is pretty F**** retarded" Aaryn: "She knew if she put me up everyone would know it's her"
Aaryn tells Jeremy he can talk to her anytime. Jeremy:L "We sat with this 4 for a reason.. hopefully it sticks like that"
Aaryn: "McRae tolds Jessie he's talking her down and he told Candace.. He told me he's taking one of them down for the shear fact that they don't freak out"
Jeremy: "I don't know I'm going to lay low for awhile.. This house makes you f&&& paranoid"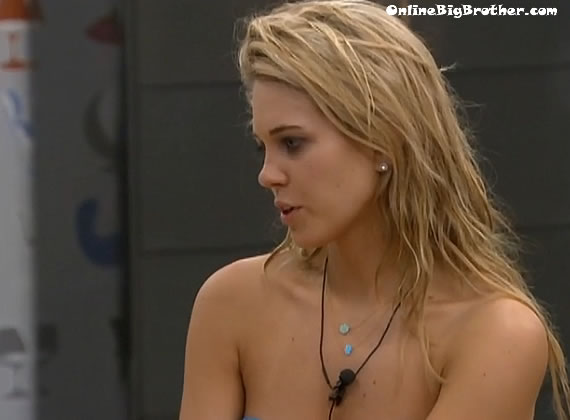 4:00pm Cam 1-2 storage room Nick and Spencer
Spencer tell him they need to start getting votes. Nick: "All we need is one vote"
Spencer : "But I don't want your numbers to be outed"
Spencer: "McCrae is going to campaign to keep David"
Nick: "Right.. he has to.."
Spencer outlines the plan, They vote out David, POV is used on Candace and they make Candace swear to vote out David if they save her. Elissa will be the replacement nominee.
Spencer: "Candace has a fucking loud mouth who is going to tell her to do that"
NIck: "MC.. He's making the deal"
Nick: "Right now it's a house full of floaters no one knows what is going on.. We need to create two side alliance and create havoc among the house and sit back"
Nick explains that Howard, Spencer and MC side with Judd, Amanda and Helen, Andy. Nick and Jeremy side with Kaitlin, Jessie and Aaryn.
Both sides will fight each other next week trying to figure out who voted out David. Every week they will bounce back and forth taking out players on each side.
Nick: "Helen and Amanda are watching us.. hardcore"
Spencer: "Lets not start the division until after vote time.. "
Nick: "Yes but start gravitating"
4:"24pm Cam 3-4 David and Jeremy working out David says "Bro.. this happens all the time.. they go after the strong guys on reality shows" Jeremy agrees says the only girl he trusts out of the bunch is GIGI, "She's pretty much a guy anyways" (LOL) David is worried he doesn't have the votes. Jeremy thinks their best bet is to work on Howard and Judd.
Jeremy says if he wins HOH he's going to put "One of them up.. I'll put up Kaitlin.. I don't give a f*** I'm here to play"
4:30pm Helen teaches Elissa how to play chess
4:32pm Cam 3-4 Spencer and Amanda Hammock Spencer says he's not on this show to start a acting career after this he's going back to his old job win or lose.
Amanda mentions that they have to wait in the sidelines until they can "Out power the Beiber fever" She mentions that Elissa is a wildcard and dangerous. Spencer points out that Elissa doesn't want to be in the game but she could be useful while she stays. Spencer says that if Elissa does win every MVP she could be nurtured essentially giving you control of one Nomination every week.
They both agree that Kaitlin is cool. Spencer: "Is it even on the table to put Aaryn up.. I don't want to take out someone out that is useful"
They joke that none of the guys want to hook up with Jessie, Nick and Jeremy have turned her down. Next she'll try Spencer. Spencer laughs "Maybe we should leave her here for awhile"
Spencer: "She'll start rubbing on Andy soon"
Amanda: "how do you feel about Andy"
Spencer: "I like him.. this is the thing he wants to talk game with me all the time"
Amanda: "I thought you guys were aligned"
Spencer: "No"
Amanda warns Spencer that the Beiber fever alliance will be targeting Him and McCrae if they win HOH next week.
Amanda thinks that Nick is pulling a "dan thing" by staying out of the Drama. "He doesn't have a strong relationship with anybody.. I don't think anyone would care if he goes.. All he does is want information never dishes it"
Spencer: "I don't have a lot of INFO to give"
4:41pm CAm 1-2 david and NIck Nick tells David not to worry.. LOL
Share it YO!!
Tweet