POV Holder:
Jeremy
Next POV
July 13th
POV Used
YES
POV Ceremony
July 8
HOH Winner:
Aaryn
Next HOH:
MVP:
Elissa
Original Nominations:
Elissa, Helen and Jeremy (MVP nom)
Current Nominations:
Elissa, Helen and Nick (MVP nom)
Last Evicted Houseguest
David
Have Nots
Helen, Elissa, Candice, and Andy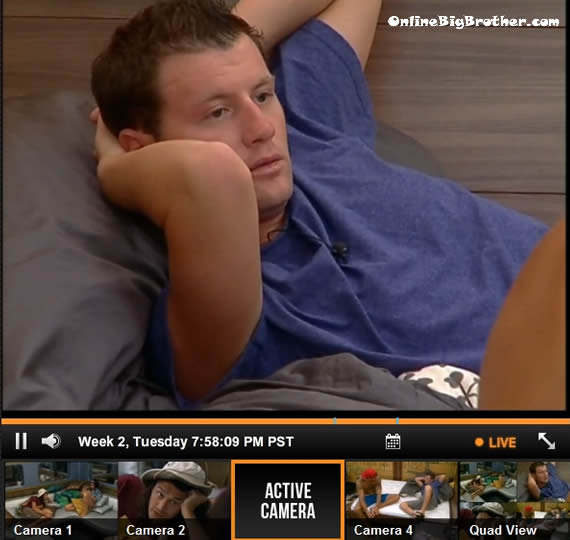 7:56pm Judd and Jeremy bedroom
Jeremy asks him about Spencer
Judd: "I see him whispering all day long and when you walk by him he talks about some random subject"
Jeremy tells Judd that Elissa came to him and told him Judd, Jessie and Candace were coming after him.
Judd: "Jess I don't really talk game with Jess and sure as hell don't talk game with Candace"
Jeremy wants to come to Judd and find out what the deal is because he thought they were working together.
Jeremy: "You can go far bro stick with me"
Judd: "Somebody must have told her that.. if not it's just a blatant lie.. sounds like somebody told her"
Jeremy wants to know who told Elissa that .. wonders if its spencer "He'll go up next on my radar if it was.. I don't want people coming after me"
Judd says spencer has never mentioned Jeremy's name all he does is whisperers all the time and it's freaking Judd out
Jeremy: "Are you voting for nick or are you voting for Elissa"
Judd says he's voting out elissa hes already told Nick they are good
Jeremy: 'I hope so man.. you deserve to be here and she doesn't"
Jeremy says he has ears in every corner he'll know where the votes are. Judd asks him who voted David but lied, Jeremy: "Nick and candace" (wtf don't tell him that)
Jeremy don't go back on your word bro.. Jeremy will vote whoever Judd wants to when Judd wins the HOH. Judd says he's going to make a "Ballsy move" when he gets the HOH, "GAme on Motherf***"
Jeremy reminds him he's tried for two week to get elissa out of the house and if this last time fails he's going after the people that kept her.
You can re-watch ever second on the feeds using their flashback feature.. It's super easy to use click this link for a free trial —> Big Brother Live Feeds
The CBS feeds are a HUGE improvement over the super pass feeds and they are 30% cheaper with no subscription to cancel. You pay a flat fee for the season.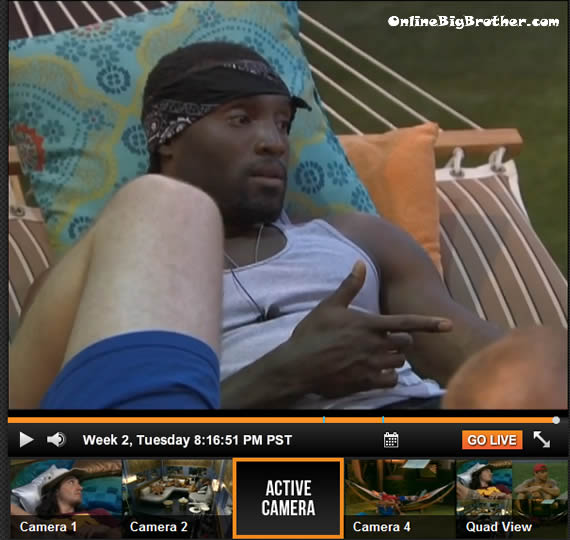 8:08pm Hammock Spencer and Howard
Spencer telling him that AManda is going around saying there is a minorities alliance. Howard brings up the storage room conversation with Amanda. He says he just wants to avoid it and get back to the game.
Spencer says that McCrae told Amanda that he was not to be trusted so they are using that as a reason to join the other side. This leaves Andy, Judd, Spencer and Howard flapping in the wind.
What they are going to have to tell Jeremy, nick, McCrea is that a hour before the eviction they go to Andy and Judd tell them McCrae and Amanda flipped their vote so we all need to vote Eliisa. Spencer adds that in this case they do not expose the numbers..
Spencer: "In the aftermath they will trust us and will put the target on Amanda for flipping "
Spencer hopes this takes some of the heat off "The boys alliance" rumors
Spencer: "To be honest dude I want him to cut her (Amanda) loose.. she is making Aaryn not trust me either"
Jeremy joins them "Judd is a little crazy"
J: "I asked him what the flip out was about "
Judd says he feel like there was a bunch of shady F** around here,..
Jeremy thinks he was talking about Amanda.
Spencer hopes so it'll make it easier after the votes come out on Thursday.
The three are super worried about Amanda. Jeremy mentions that she's already pulling the girls away. Spencer points out constantly that she's targeting him and Jeremy
Jermey brings up Amanda getting in aaryn's head earlier in the day saying that Helen and Spencer were scheming together playing chess. He had too talk Aaryn down but it's "All Cool" now.
Spencer and Jeremy both think McCrae went too far telling Amanda Spencer could not be trusted. It's good that it helped keep MC under wraps but wasn't good for Spencer's game.
Spencer: "MCrae says it he has amanda under wraps"
Howard :"He's got sh!t underwraps:"
Jeremy: "I got Kaitlin and Aaryn under key and lock.. and for aaryn having Amanda around is beneficial"
Jeremy wants Spencer and Howard to do some damage control on their side because he's feeling like the number one target. Spencer wants Jeremy to do some damage control for him because he's feelign the heat.
Howard says they've been feeding their group the idea that in order to get a powerful player like Jeremy out they have to have the timing right and right now isn't the time. (Like having HOH and POV) Howard thinks it's working with HElen and Andy.
Jeremy says Amanda is not as worrisome to him as Andy, Helen and Candace. Howard thinks Amanda has to go next week. Spencer thinks the most dangerous thing to them is letting Amanda know about the MC.
They agree if they get MVP they will put up Amanda and not tell McCrea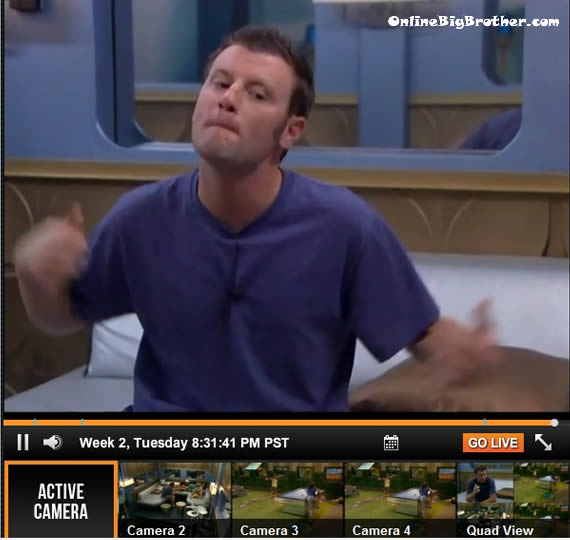 8:31pm Cam 1-2 Cockpit Judd, Amanda and McCrea
Judd is telling them that Spencer has flipped the vote.
MCrea says if that is the case they should all vote out Elissa and try to secure themselves for the following week.
Amanda and Judd is pissed at spencer for all the whispering and lies.
Judd: 'Spencer Is so f*** disgusting .. mother F**** .. "
Amanda brings up how spencer lied to her then denied it only to later admit to the lies.
Judd: 'Why is he playing such a bizarre game
A: "He's lying a lot"
Judd: "And just on random stuff that doesn't make any sense"
Judd: "If I win HOH i'm putting that motto f***er up with one of the four.. Kaitlin .. Aaryn"
Judd: "Spencer needs to go"
Judd: "from Arkansa you piece of sh!t .. beat the fu** out of your face" (See gallery for his hand movements)
Amanda tells him that Andy doesn't trust Spencer. she says she only trusts McCrae, Judd, and Andy. She reassures Andy that he's not on the other groups radar so she's probably safe next week.
Judd: "JLKAH DSKJADH FKADH FKJHAKJFHAKLJFHD KA" (OK)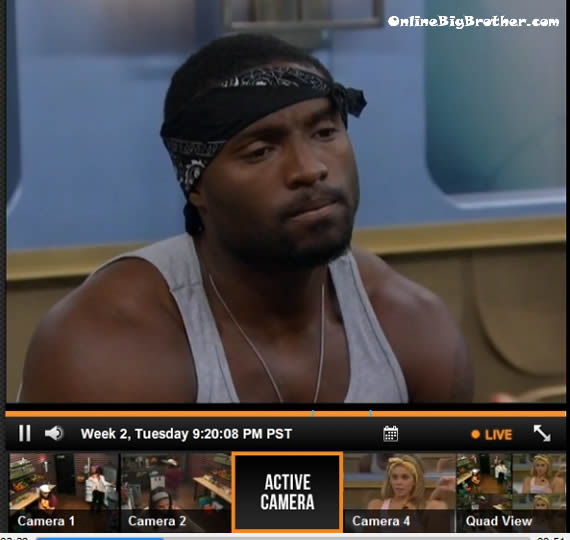 9:18pm Cam 3-4 Lounge Howard and Aaryn
Howard wanted to talk to her about Amanda and McCrae, he really doesn't trust Amanda and thinks she has too much influence with McCrae. Howard: "She's uses his weaknesses against him"
howard adds that Amanda thinks he's in an alliance with Helen and Candace (The minority alliance) he wants her to know that is not the case.
Howard says she is the strongest girl in the house from a physical and mental standpoint. She's going to have a big target on her back and he wants her to know that he's not targeting her.
Aaryn says that Candace is going around telling people she made these horrible comments.
Aaryn: "I have never made any comment in any derogatory way.. EVER..and the fact that Candace took it that way. Candace is making stories up and saying things that are not true.. it's to the point I am not approaching Candace about it because it is so much about lies.. people are thinking i am racist that is ridiculous… I will look yo in the eye and say that.. ."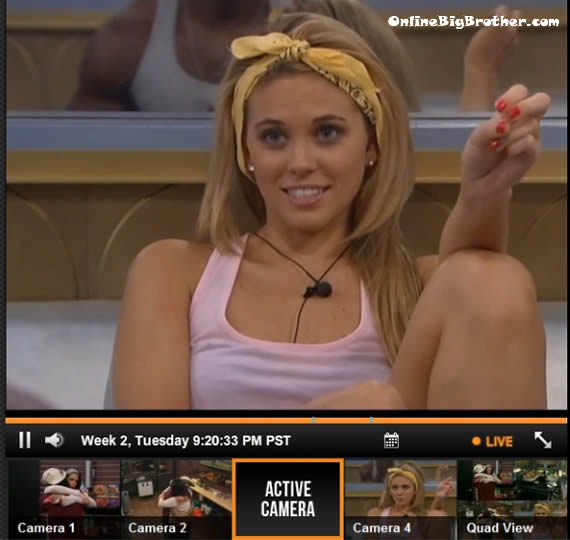 Howard says he walked in on the back end of the conversation last night. "I'm not going to lie outside of this game sometimes things can be misconstrued and is said in a joking way and you don't really mean it like that from a racial standpoint.. It might have caught my attention but I don't think the intent was meant to be malicious ,.. I look over it it's like blonde joke to me.. HA HA.. LAst night I thought it was a conversation in general.. Thats where I was coming from"
Howard says he thought last night's conversation was a social conversation not a personal one and he feels that Amanda blew it up and turned it into something to use for her game.
Aaryn asks if Spencer Is cool
howard says he likes Spencer.. "I trust him more now.. maybe not long term but now.. maybe more than Nick cause I don't' know if he's coming or going"
Howard says he's 100% voting Elissa out to make the game fair and give them all a chance to win MVP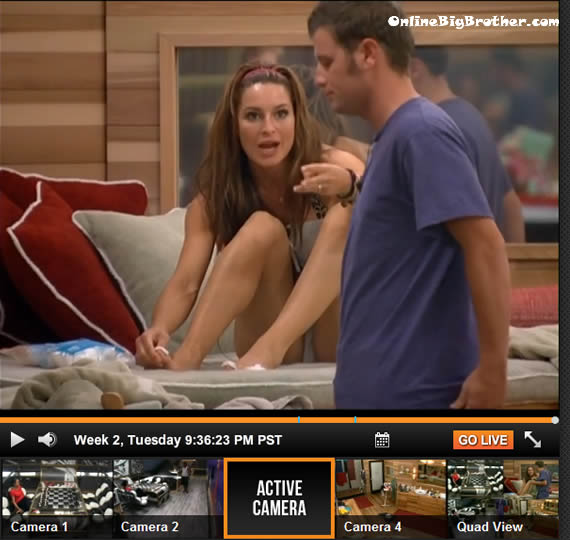 9:35pm bathroom Elissa and Judd
Elissa: "Hey Judd.. I gotta tell you something.. If I go and Nick stays you guys have lost.. they are going to start picking our side off.. Jessie, Candace, McCrae, Andy"
Andy joins them Judd nods and Elissa and Leaves.
Elissa: "I saw Aaryn talking to Howard and i'm worried if I go and Nick stays they are going to pick you all off one by one" Andy: "Don't worry we're on the same page.. don't worry.. " Andy leaves right away
It's pretty apparent that Andy wants nothing to do with Elissa.
[polldaddy poll=7235287]