Here we go another Live Big Brother 14 Eviction and HOH Competition. Lots of rumors that it's double eviction with this week's HOH probably getting a Pandora's Box.. Finally maybe some excitement! Tonight there is the potential for a major Power Shift in the house. One big move during the Double Eviction can easily take out a dominating player like Dan, Boogie, Frank, Britney or Shane. Either Quack Pack or Chilltown will take a hit soon and when the dust settles there will be Drama. (I know what you are thinking Drama.. on big Brother 14/ WTF are you smoking) These next 2 weeks are usually the best in terms of game play. If you are going to watch the feeds but only want the best now is the time to give the free trial a shot and see what you think. Remember if you like OBB consider getting the feeds by clicking on one of our links.. Just got a tweet from CBS a HOH competition tonight will be the fish bowl.. So expect it to run late a couple hours into the feeds. (The Tweeted image also is a strong indicator that tonight isn't double eviction since the fish bowl comp takes hours to complete)
Speculated Vote results
Wil Goes Home
Tonight on the live feeds
We're all expecting this to be a double eviction.. expect the house to be crazy tonight with a huge power shift. Tonight may be the when the Silent 6 finally break or it would be Joe's Powerhouse alliances time to shine.
Live Feeds Free Trial
Actual Votes
Ashley Votes to Evict Joe
Danielle Votes to Evict Wil
Boogie Votes to Evict Wil
Jenn Votes to Evict Joe
Dan Votes to Evict Wil
Britney Votes to Evict Wil
Shane Votes to Evict Wil
Ian Votes to Evict Wil
Wil is evicted from the Big Brother House
HOH Winner is Shane
CBS Throws a new twist in the Head of Household competition this week. They're running a twitter poll "what temptation do you want to be added to the HOH"
A) 10 000
B) Have nots pass for the season
There are 3 barrell to fill up they are labelled, HOH, Safety for next week and 10 thousand dollars.
Boogie is trying to get the the 10 Grand, Julie Chen says 4 houseguests are trying for Safety 4 are going for the Head Of Household.
7:01pm Cam 1-4 Trivia Feeds will come on soon
7:09pm Cam 1-4 Feeds up
I'll update the Gallery below with images..
7:12pm
Dan: "These are the ones on TV I would Never want to do"
Shane going for HOH.. Appears he's in the lead.
Britney going for Safety … She's in the lead for that
Boogie going for money
Ian going for HOH
Joe going for Safety
Jenn going for safety
Dan is going for Safety
Danielle is going for HOH
Frank: "Britney is going to win safety in the next 10-15 minutes"
Shane: "This is so much better than the pirate ship"
Danielle: "No way.. Put me back on the pirate ship"
7:22pm cam 1-4
Shane has a comfortable lead in the HOH contest.
Brintey just won Safety for this week!!
Frank tells her she could Have won HOH if she went for it.. Her pace was faster than Shane's.

7:28pm
Looks like all the players going for safety have switched over to HOH..
Shane well in the lead Danielle is second.. Ian way behind
7:40pm
As you can see from this picture.. Ian is way behind. Shane would need to twist a ankle to not win HOH..
Who is he going to nominate?
Here's a shot of Danielle's HOH bowl.. Looks like she's pretty far behind as well.
7:51pm Boogie gets the 10 grand. Boogie says it's for Brady's college fund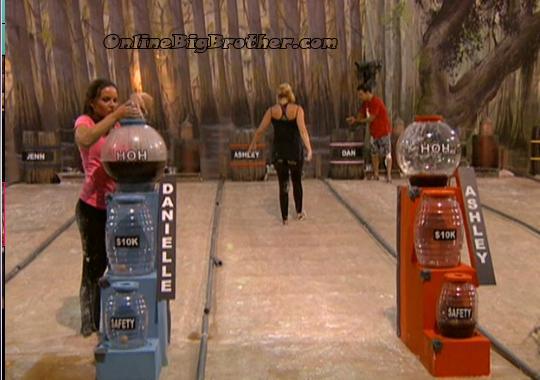 8:02pm
Unless Shane twists a ankle he will win HOH. Danielle is Struggling she asks Britney how she's doing. Britney tells her she's got to pic up the pace if she wants to win. Frank is screaming to motivate Joe.. "You're Hauling Bricks"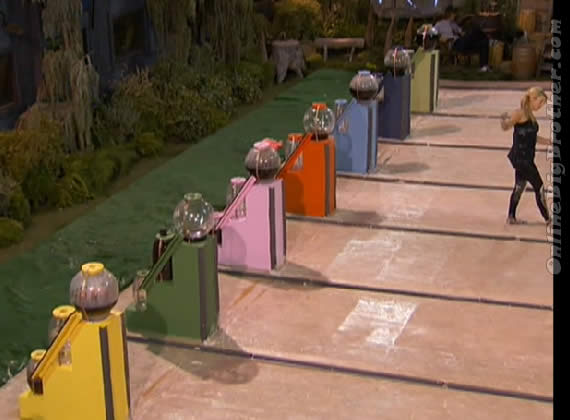 8:11pm
Not sh!ting you Ashley is actually moving backwards..
8:22pm Cam 1-4 Comp is still underway.
Shane has almost won it followed by Danielle and Dan.
Who is he going to nominate? Ashley and Joe with a possible backdoor Backdoor?
8:30pm Shane win HOH
Share it YO!!
Tweet