POV Holder:
Frank
Next POV:
Aug 18 (Saturday)
POV Used
NO
POV Ceremony
Aug 20 (Monday)
HOH Winner:
Frank
Next HOH:
Aug 16 (Thursday)
Original Nominations:
Wil / Joe
Current Nominations:
Wil / Joe
Have Nots Cod fish/Candy Canes
Joe, Shane, Danielle, Britney
Last Evicted Houseguest
Janelle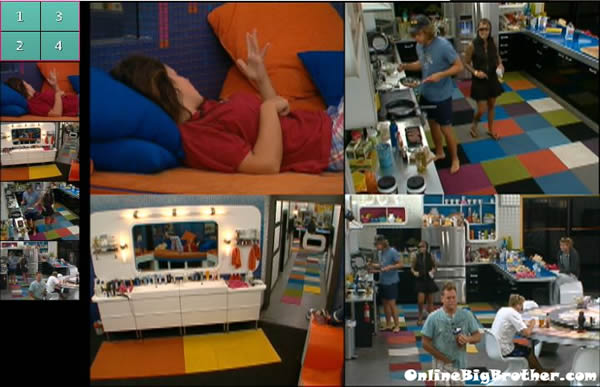 9:35am – 10am Big Brother wakes up the house guests. When the live feeds come back, Wil and Frank are in the kitchen making breakfast. Joe Jenn and Mike join them. Danielle is in the bathroom studying the events of the house, competitions and evictions. Frank goes to shake the hot sauce and the top wasn't on it and it goes everywhere. Boogie says that it might have been him, what happened? Frank says yeah I know it was you. I always give it a shake before I squirt it out and the cap came off. Joe goes back to bed.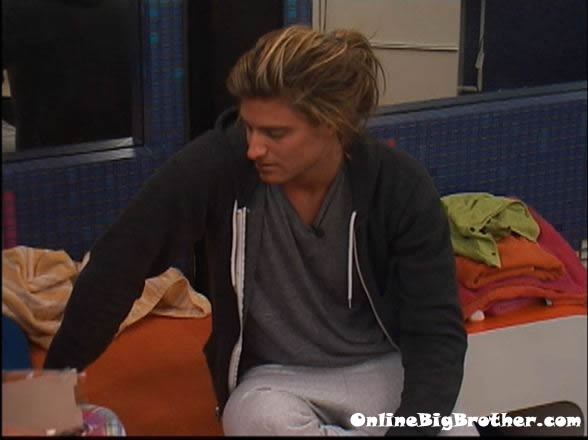 Big Brother Live Feeds FREE 3 Day TRIAL: Try them and see what's happening right now!

10am – 10:30am Wil joins Danielle in the bathroom and tells Wil that he doesn't want to give Frank the satisfaction of sending him home. Danielle thinks it doesn't look good and she thinks it will be a tie vote. Wil says that he doesn't want to give Frank the satisfaction of sending him out the door. Danielle says that she doesn't want Wil to leave. Wil says its okay I don't want to be here if people don't want me here. It's only three more weeks anyways. Wil asks what the name of the guy she likes is, Trey? Danielle says yeah trey Gorman. Wil says lets write it down with nail polish. Danielle says yeah let's make him something. They grab a box and go back to the bathroom. Big Brother cuts the live feeds. (They are getting in trouble for writing something) When they come back, Danielle heads to the kicks bedroom and puts a piece of card board in a big brother bag. She leaves and Big Brother tells her to center her mic. Wil says they're after you today. Danielle says yeah it's Thursday's crew, I didn't even say anything.
10:40am – 10:55am Frank brings his things down from the HOH room. Jenn getting pissed in the kitchen saying she isn't washing anyone's fu*cking dishes today, fu*k it! Danielle, Dan, Ashley, Frank and Wil head up to the HOH bedroom to get a good spot before the lock down. Dan asks Frank when the lock down is over if he can listen to track 2 again. Frank says yeah we can listen to it together. Dan says two guys one headphone. Danielle says Dan!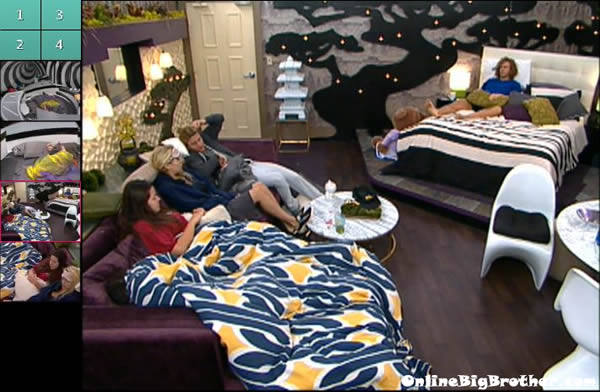 Boogie starts asking Dan if his cd is going to be horrible if he wins HOH. Dan starts listing off cds he might get. Danielle asks Boogie if her cd was bad. Boogie says no, yours was probably the best. I would not mind you winning again… just don't put me up.
11am Big Brother tells the house guests to report to the HOH room for a lock down. Shane, Ian and Britney join them. They ask Ian how his arm pits are feeling. He says better, that it feels like a sun burn now.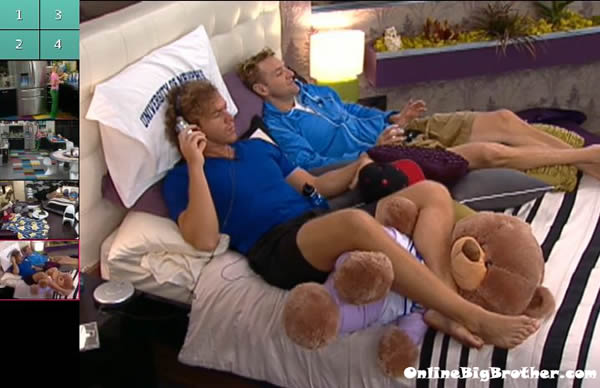 11:10am Jenn is bleaching Boogie's hair in the HOH bathroom while Britney puts on a facial mask.
11:30am – 12:05pm Big Brother switches the live feeds to TRIVIA..
12:30pm Still TRIVIA..
1pm – 1:20pm The live feeds come back from TRIVIA, Joe and Ashley are in the arcade room. Joe comments on how he thinks the votes will go his way. Joe says I think loyalty turned out to be in my favour because when I got to them they were like… Big Brother cuts the feeds back to TRIVIA. Joe says that I think if we do this we need to knock out someone big. If we don't win HOH, they still have to live up to their deal. It is more likely that they will win HOH and when it comes down to it the voting is behind closed doors. Joe says that he will go talk to them. Ashley says maybe we should wait until we find out what happens tonight because we don't want them to say Joe is making deals. Joe agrees. Ashley says that she trusts Britney but that she thinks it's better to wait. Joe says that Boogie and Frank told me if I win they wanted me to put up you and Jenn. Joe says that he will keep his mouth shut until after the HOH and we will have to decide because we need protection. If we don't win HOH then we don't need to make a deal. If they win they are going to try and take out Boogie or Frank. They have a deal but it is getting ready to blow up! Ashley tells Joe congratulations. Joe says it's not for sure yet. Janelle was promised votes too and she walked out the door. Ashley says yeah but no one is promising Wil votes, that's the difference. Ashley says that Wil is fine and wanting to go. Joe says that it benefits him that Janelle is gone because he can play his own game. Joe tells Ashley that they need to stick together and to get protection because we can get picked off any second. They say she (Not sure who they are talking about) might get pissed off and want to rebel against them but right now we can't tell her sh*t. Joe and Ashley both leave the room.
1:25pm Dan, Ian and Boogie are in the kitchen. Ian is talking to Dan says that he had a funny conversation, they asked him about Big Brother 16 and who he thought would be asked back for it. I said you and Shane. Ashley and Shane join them. Frank is in the living room trying to fix the vacuum with Danielle.
1:30pm – 1:55pm Britney and Dan are talking in the bathroom. Britney says that Joe told them that he would put up Frank and Boogie but Ian told her this morning that Joe told Frank and Boogie that he wants to work with them. Britney says that Danielle wants to put up Frank and Boogie and wants Dan too as well. Dan says who are we voting out. Britney says Wil. This is just if there is a double eviction tonight. Britney says that Shane is a liability, if you had been in the room you would have been crapping your pants, Shane told Joe way too much information. Shane told Joe to put up Frank and Boogie and that he would basically throw it to give it to him. Britney says luckily, Joe's word is dirt and we will deny, deny, deny but Shane doesn't realize that if this comes out then he has no chance. Britney says that we all just need to know what to do if there is a double eviction. Shane says that he is worried about who they would put up. Britney tells him that he should be, you told Joe way too much. Shane says no I didn't I let him do the talking. Dan asks Britney if she told Joe that he has her vote. Britney says yes, for a week of safety. Dan says he needs to tell Joe that then. Britney says that she didn't just come out and offer their vote.
Big Brother Live Feeds FREE 3 Day TRIAL: Watch what HAPPENS after the LIVE SHOW Tonight!
2:15pm – 2:30pm Frank and Boogie are in the arcade room talking about if there is a double eviction tonight. Boogie says if I win, I would put up Joe and Ashley, win Power of Veto and then put up Britney and vote her out. Boogie says if we get her a$$ out of here, there will be less coffee cups at the sink. They both laugh. Frank says if my name got drawn and I win the veto should I use it. They talk about trying to get Shane to work with them. Frank says that he thinks the only person to have to get on board will be Shane because they think Dan and Danielle would be on board already. Boogie says that Dan is more leaning towards getting Shane out. Boogie says that he thinks it's too early for that and that Shane can help them. Frank says that if we scumbag Britney she will be a negative force in the jury. Boogie says that's why I don't want her in there, unless we don't scumbag her. Boogie says that he is nervous about telling people about it right now. Boogie says that he wonders if he should tell Joe ahead of time about nominating him so that he knows there's more to the plan. Frank says no because if we don't win veto, we can get rid of Joe. Frank says that he thinks that they should tell Dan because he needs to do some work. Boogie says that Dan is a pu$$y and won't because he feels safe. Frank says that Dan keeps talking about wanting to see a picture in the HOH. Boogie says he thinks he's lying because he feels safe. Boogie says that it needs to be a backdoor just in case it doesn't work because it's the best time to do it now during a Fast Forward so there is not 3 days of hell. They both agree that Britney could rally for votes better than Janelle if she had the time. Boogie laughs at the thought of Julie Chen having to navigate Ashley through a live eviction fast forward. Britney joins them.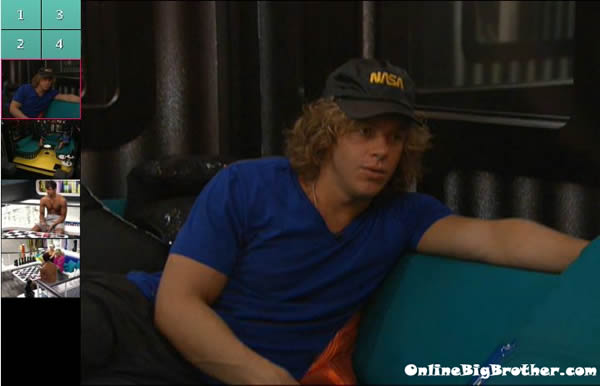 2:40pm Boogie says that Joe dodged a big bullet and he might still go home tonight. Boogie asks if there has been any more late night rub outs. Britney says there might have been another one last night but that she isn't sure. Frank didn't hear about Britney tells him. They talk about Joe changing in the have-not room and showing his junk in the mirror when he forgot cameras were on him. Britney comments on how there should be a luxury competition soon, it usually happens week 4 or 5. Dan Joins them. Dan talks about how he was trying to take a pair of shoes off the kicks room wall. He says the camera zoomed in on him so he ran out of the room. Boogie talks about his ear saying that he thought the doctor said it would get better in a few days but he miss heard him. He says that doctor said the bad ear would take 10 days to get better and the other ear 3 days..
2:47pm Britney and Dan try and break into the carnival game. Big Brother says Dan, Britney knock it off! Britney and Dan keep working on the lock. Big Brother switches the live feeds to TRIVIA..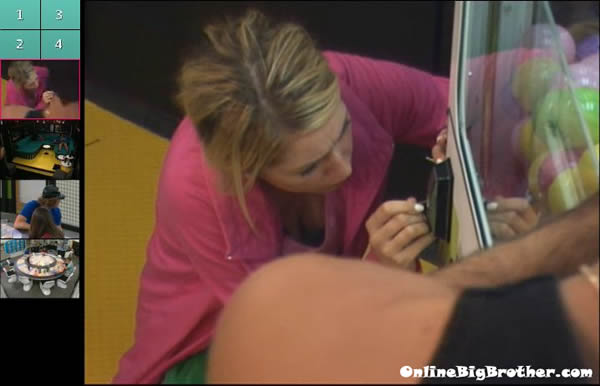 2:50pm – 3pm In the kicks room, Boogie tells Dan that he would personally like to back door Britney. Dan says because you think we can get Shane in. Boogie says yeah and that we would only do it if it was a double eviction because she could get the votes if she had time. Dan says that he would definitely be open to it. Danielle joins them. Boogie asks Danielle if she is prepared to make moves if it is a double eviction. Danielle says of course I am. Who are you thinking? Boogie says he is just throwing out food for thought. Dan says he doesn't think two people will go tonight; it will either be a beast of a competition or a short week. Dan comments on how their stipend doesn't really change, he says it adds one more week. Boogie says that he ripped that hard the morning after. Big Brother cuts the feeds. They continue to talk about what they think the HOH competition will be like.
3:30pm Trivia for the past 20minutes
3:57pm Trivia
4:46pm Trivia