POV Holder:
Jeremy
Next POV
July 13th
POV Used
YES
POV Ceremony
July 8
HOH Winner:
Aaryn
Next HOH:
MVP:
Elissa
Original Nominations:
Elissa, Helen and Jeremy (MVP nom)
Current Nominations:
Elissa, Helen and Nick (MVP nom)
Last Evicted Houseguest
David
Have Nots
Helen, Elissa, Candice, and Andy
5:56pm HOH McCrea, Andy and Amanda
Andy is worried about Howard and SPencer he thinks those two would be stupid to not stick with the plan to get Nick out. Andy told Howard
Amanda asks him who he would put up . Andy: "I would put up Jeremy and Kaitlin"
McCrea says that would be a stupid plan. Aaryn wins POV takes off Jeremy and then swings the votes and they are all left in the house.
Andy: "But if we all stay solid we have the votes"
Amanda: "We're not all solid Andy"
McCrea says this weeks vote will expose everything that is going, "Theres no hiding the votes this week"
Andy: "It's so f*** stupid to get rid of Elissa.. we've been handed on a silver platter a vote nominee every week.. America loves Elissa.. and to keep Nick in here is so dumb"
Amanda agrees asks McCrea what he thinks.
McCrea: "Too risky"
Amanda: "It's scary because I feel like one of the main targets"
Spencer rolls in
Andy: "If you were voting right now what would you do"
Spencer: 'Nick would go it's a shame you're not up (Andy).. did you stick a finger in my b***hols when I was sleeping "
Andy: "huh… ya .. no actually.. I see fractures in our group.. which sucks because it's such an amazing fool proof plan.
Andy says Judd is going to vote with them. Amanda asks spencer is he was talking game with Helen. he says no Helen beat him in chess.
McCrea and Amanda leave. Andy tells Spencer that he's getting very stressed out by what is going on in the goupe. Spencer mentions that the group is so large this is what happens people become paranoid.
Andy wants to pull the whole 6 person alliance in and talk it all out. Spencer says that is not going to happen since McCrea isn't HOH.. Aaryn comes in..
5:58pm Cam 3-4 Jeremy, Kaitlin and Aaryn
Aaryn wondering why everybody sleeps all day it's so dead outside.
Jeremy says everyone knows Elissa is going so nobody cares. Aaryn asks if Nick knows she;s going
Kaitlin: 'Nicks confident as Sh!t"
Jeremy has talked to Nick it's all good.
Aaryn is just worried that something will happen and Nick goes home.
Jere: I got this sh!t locked in"
Aaryn thinks the fact that Nick is so confident is one of the reason he's staying. Aaryn says people get themselves in Sh!t when they act too worried. She leaves.
6:20pm Backyard collection of hosueguests random chit chat.. the picture of Candace says it all.
6:25pm Andy and Aaryn HOH
Aaryn says that her being in the game will benefit Andy and Andy being in the game will benefit her. Andy agrees.
Aaryn says that Jeremy is not targeting Andy, all he's concerned about is getting out Elissa and Candace because those are the people trying to get him out. Andy is worried that Jeremy will win HOH and put him up with Candace or Candace with Howard and the POV is played.
Aaryn thinks he'll put up Jessie because Jessie is the one person not making any deals.
Aaryn thinks nobody talks to Jessie because of what she was doing with the guys. She points out that Jessie disappeared for 24 hours, 'When it all comes down to it.. you can't read her.. where's her head at"
Andy says before coming on the show he warned himself to not let a strong group of guys steamroll through the house, "What if Jeremy, Howard, and Nick have something.. and boom the second they have power I'm gone"
Aaryn: "Howard.. he'll go soon.. he doesn't talk"
Andy: "I will vote Elissa out I just wish I felt more confident about Jeremy"
Aaryn tells him that no one has come up to HOH and said "I don't know about Andy.. I don't trust him" but a lot of people comes up and questions Spencer, Amanda, howard, Nick and Candce.
Aaryn tells him she doesn't think NIck will put up Andy. She thinks it will be Spencer and Amanda or Howard and Amanda, "He doesn't like Amanda."
Aaryn: "If he gets MVP he's going after Jeremy.. but don't tell Jeremy that.. he never said that to me these are just my assumptions..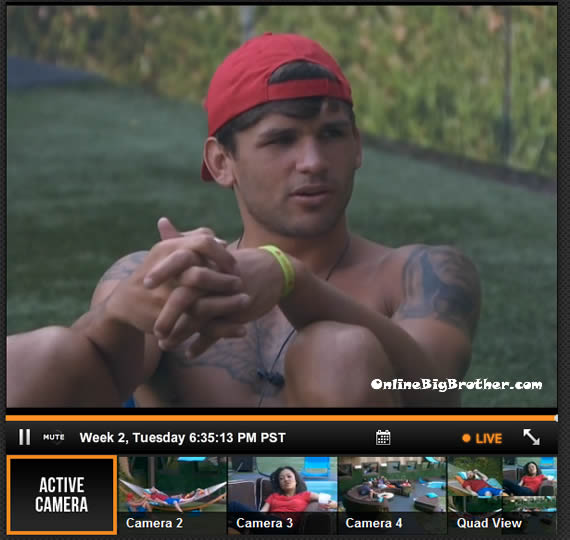 6:33pm Cam 1-2 Hammock Spencer and McCrea
Spencer is saying he's worried about going on the block right now before Jury. He tells him a jury house filled with MC means one of them are going to win it. Spencer knows for McCrea if he has MC's vote and Amanda in the Jury he's won Big Brother 15. McCrea tries to reassure him that he's 100% MC and he'll cut Amanda the second anything come up. Spencer: 'Can I have your word on this dude.. If it gets down to a way to get her out and there is no blood on your hands or moving company.. would you consider cutting her loose before jury"
McCrea: "if we have to we have to.. "
Jeremy joins them.. Say that Aaryn is sketched out because she say Spencer and Helen playing chess thought they were making deals. Jeremy had to tell her it's not about Elissa staying because she's going.
Jeremy: 'Aaryn is starting some rumor than aryan is a racist.."
Spencer: "ya I heard that.. Sh!t"
J: "Why would you start that on national TV"
S: "That's the got to"
J: "That really makes me want to put her up next"
S: "When Elissa goes this week she is going to go get the brenchel army and get them to vote Helen MVP"
Spencer says they need to get Helen out if she starts winning MVP. Jeremy: 'She's way too smart to be here"
S: "we need to get rid of the smart players first"
Jeremy cannot believe that the Rachel fans would be supporting Elissa because "She su***s such a fat d*** in this game"
McCrea: "They don't give any sh1ts about the game"
Spencer: 'Nerds on twitter"
McCrea thinks they should keep Andy in the dark with the vote. Spencer wants to give Andy some insider info that's harmless but will help Andy rebuild the trust with Spencer.
Spencer explains that his side of the house the 7 can pick the other side off one by one because of Elissa's MVP. "We're arguing against peoples commons sense.. these people really do have a good strategy but the Moving Company is f***ing things up for everybody.. which is the point"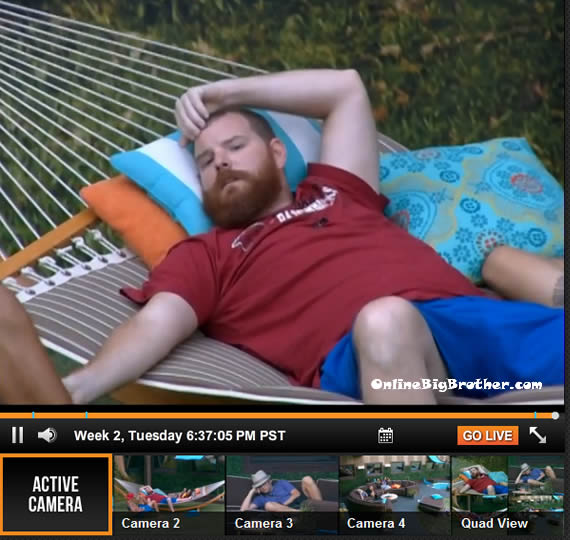 Spencer wants Helen gone next week than Andy or maybe Judd. Jeremy says that Judd is not bouncing back and forth he's voting out Elissa.
Spencer: "Judd is voting Nick out I'm tellin you.. "
Jeremy is shocked
Spencer: "The only people you can trust is moving Company and whatever trust you have built with Aaryn and kaitlin"
Jeremy: "If we all stay in cahoots together we're top 5 no doubt "
Spencer says that means theres 3 moving company in the Jury and two in the final 2
Spencer points out even if one of them doesn't make it to the final two and it's one Moving company vs a scrub they have the four votes in the jury house to win.
Spencer says the only glitch in his game is Amanda.
McCrae: "I've been telling Amanda that you are shady and using that as a reason to work with the other side" (aaryn and JEremy's side)
Spencer wants to know about the final 4 deal Amanda, aaryn jeremy and mccrea
Jeremy: 'Thats a solid little deal"
Spencer says that's good because if he can mend things with Aaryn this week by voting Elissa out Jeremy and McCrae can work on Amanda.
Jeremy: "I promise you if MC sticks together we are final 5"
Jeremy: "I control my side y'all control your side.. my side will listen to every f***ing thing I say.. and they will vote for any f**** person I tell them to"
Spencer: "After this vote goes down my side will not trust me any longer"
Jeremy: "I have made my self the principal.. the president of my side.. "
Spencer: "We got to keep HOH on your side for now.. we need to pick off Candace, Helen, Andy, Judd, Jessie "
McCrae and Jeremy agree.
Jeremy: "I'll cut heads off of everyone here except for moving company"
McCrea, Spencer and Jeremy all say they are 100% on board with the MC "We're moving them the f*** out"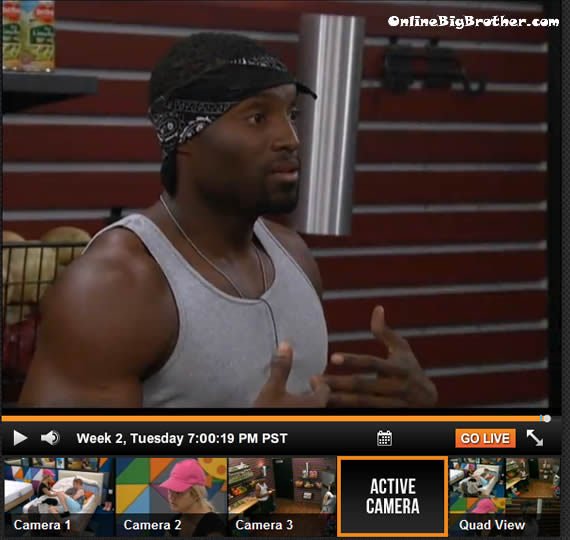 6:54pm Storage room Amanda and Howard
Amanda says she went to Aaryn and told her about the racial comments she says, "She victimized herself .. saying ugh people make fun of blonde hair"
Amanda just wanted Howard to know that Aaryn isn't going to apologizing
Howard says she didn't have to go do that he appreciates that.. "It is what it is"
Howard: "I just pray for her.. " The things he would like to say to her would just screw his game up so he's going to be quiet. Amanda makes it sound like she never says anything racist and how shocked she is of Aaryn.
Howard tells her the way Gina and Amanda make jokes it's fine because it's slick and said to the persons face. The "Jokes" that Aaryn says are different.
Howard says he's going to me more nice to Aaryn if anything because otherwise it messes up his game. He doesn't even know that CBS would air the things Aaryn says. Either way he's praying for her and her family and sticking to what he said, "She's got a great heart Bright future and bless her.. and that's all my mouth will allow me to say and that's all my spirit will allow me to say"
7:24pm cam 1-2 storage room Aaryn and Gina
Gina: "What did Jessie say"
Aaryn explains that Jessie asked Elissa to "Throw her sheets in" when doing laundry.
A: "i can't beleive.. I don't have the balls to ask Elissa to throw my sheets in.. You have to be friends with Elissa … that's what crossed my mind.
Gina starts getting mad at Jessie, "We told her to not be friggin shady c'mon bro"
[polldaddy poll=7235287]