POV Holder:
Jeremy
Next POV
July 13th
POV Used
YES
POV Ceremony
July 8
HOH Winner:
Aaryn
Next HOH:
MVP:
Elissa
Original Nominations:
Elissa, Helen and Jeremy (MVP nom)
Current Nominations:
Elissa, Helen and Nick (MVP nom)
Last Evicted Houseguest
David
Have Nots
Helen, Elissa, Candice, and Andy
4:35pm cam 1-2 Bathroom McCrea and Helen
hard to hear Helen but says "… … .. Nick "
McCrea nods
Helen: "that will be huge means we have taken out two strong guys and Jeremy will go next"
4:49pm CAm 1-2 Amanda and Aaryn
Amanda wants her to know and be mindful of something. Amanda: 'I know you are joking when some sort of racial things comes out of your mouth I do the same thing.. But I think the people who are of different race are taking it offensively.. I walked in on Howard, Candace, Helen and a couple more people.. THere was some fish comment made and they took it the wrong way"
Aaryn: "The fish ..UGH"
Amanda: "People will look for any type of excuse to villainize you.. just be careful"
A: "that's the most obnoxious annoying thing i ahve ever heard. Who started that conversation "
Amanda: "I don't know.. I just wanted you to know.. Be mindful of it" Amanda says she was defending Aaryn's fish comment but the people are saying multiple comments have been made by her. Amanda adds that it was not only Aaryn that has made comments and the conversation was mostly about racism in general.
Amanda says she has to be more mindful of what she's saying and she should pull Howard off to the side and apology.
Amanda: "I'm sure you're not racist.. but you should be mindful of it"
Aaryn: "I don't feel like I need to pull anyone up here"
Amanda keeps suggesting that Aryn need to be mindful of her remarks because people in the house have been discussing it.
Amanda: "Sometimes people are hypersensitive"
Aaryn: "But I never said that they were on the bottom where they belong.. ever"
Amanda: "It was probably telephone.. Candace said it was malicious intent"
Amanda: 'Just be mindful of it.. I don't want you getting flak for something you are kidding about"
Amanda: "People take any reason to become offended"
Aaryn: "I know.. they make blonde jokes and call be barbie and ken all the time"
McCrea joins them
You can re-watch ever second on the feeds using their flashback feature.. It's super easy to use click this link for a free trial —> Big Brother Live Feeds
The CBS feeds are a HUGE improvement over the super pass feeds and they are 30% cheaper with no subscription to cancel. You pay a flat fee for the season.
Amanda fills McCrae in on the conversation they are having.. feeds go to fish..
Amanda keeps reiterating to be mindful. McCrea points out that they will use whatever ammunition they can, "Like even if it's just the smallest comment they'll use it against you"
5:00:30 Aaryn: "But I haven't said anything racist they are just putting words into my mouth"
McCrea: "Exactly.. I wouldn't worry about it too much"
Amanda: "Just don't make any funny jokes especially around Candace because she'll relay it as the most racist.. and be like WE have a Black President"
Aaryn :"We'll I didn't vote for him"
Amanda: "Because you are from Texas"
Aaryn: "Just saying"
Amanda: 'I didn't vote for him either"
McCrea leaves
Aaryn: "I appreciate you telling me that but that is the more immature thing EVER they call be barbie and all sorts of sh!t about me being blonde al;l the time.. whats the difference"
Amanda: 'Because there is not… Feeds cut ****
Aaryn thanking Amanda for telling her she's going to take her advice. Amanda knew Aaryn would appreciate to know says if she's every coming on as a slut she would like Aaryn to tell her.
(So production hasn't told her to stop and it looks like she got the message from Amanda)
They start talking about Elissa. Amanda says that Elissa still makes snarky comments about Aaryn here and there, "I usually say just drop it.. Hopefully she is gone but just in case I don't want her coming after me"
Amanda mentions that Nick talked to her today.
Aaryn says her and NIck are not really in an alliance she's only in an alliance with Jeremy, Amanda and McRea. She adds that JEremy is really nervous about Amanda but is cool with McCrea.
Amanda: "I would never never never will go against what McCrea wants to do"
Aaryn: 'He thinks you controls McCrea"
Amanda: "If anything he controls me"
Aaryn says it seems that Jeremy has side deal with everyone in the house. Amanda is questioning if this alliance with Jeremy is for real because she's hearing that Jeremy has a side alliance with Spencer and Nick.
They looks that HOH TV at Spencer and Helen playing chess, Amanda: "I don't trust them worth sh!t"
Aaryn: "Is Helen trying to still get someone other than Elissa evicted in the house other than Elissa.. "
Amanda: "Ya "
Aaryn :"Ugh"
Amanda keeps saying she doesn't trust Spencer and the entire house doesn't either. She mentions how Spencer told her that He would put up Candace and Jeremy.
They compare notes about Spencer and both confirm that Spencer is one of the biggest liars in the house.
Amanda is certain that Helen and Spencer are scheming and not playing chess. She thinks they are talking about splitting her and McCrea up.
Amanda confirms her and McCrae are voting out Elissa. McCrea joins them again..
Tehy start talking about Jessie. McCrea is becoming very annoyed by her lately.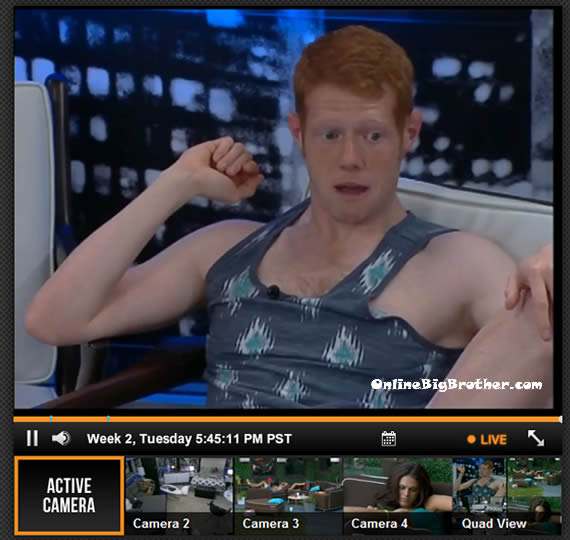 5:46pm Andy, Amanda and McCrea
Talking about his conversation with Nick where Nick told him he's aligned with Kaitlin, Aaryn, Gina and Jeremy. Andy: "I believe him"
Feeds cut..
Andy: "Helen wants Nick out so badly" He adds that Helen is saying that the Diary room is trying to get him to figure something out about Nick.
Andy is still fighting to keep Elissa. He thinks Spencer is in a terrible position because he's not trusted by any group. Amanda warns them about Spencer and how defensive he gets when called out for lies.
[polldaddy poll=7235287]