POV Holder:
Shane
Next POV:
July 28 (Saturday)
POV Used
Yes
POV Ceremony
July 23rd (Monday)
HOH Winner:
Frank
Next HOH:
July 26 (Thurs)
Original Nominations:
JOJO and Shane
Current Nominations:
JOJO and Danielle
Have Nots /Slop
Willie, Shane, JOJO, Ian
Coach Competition Winner
Janelle
Next Coaches Competition
July 27 (Friday)
Last Evicted Houseguest
Kara, Willie
Cam 3-4 5:20pm BBT Arcade room Danielle, Britney, Jenn, JOJO
Britney is explaining to them what is wrong with the season she says any time you have 6 vs 2 what you get is a boring show. She adds that producers will shake the house up one way or another because right now the show is boring. Danielle thinks there will be a shake up soon, "What if Shane wins HOH then things will get dirty"
Britney points out that it's 1 vs 5 in the HOH next Thursday so the odds are he's not going to win. Britney tells them when production was planning out this season they didn't expect it to turn into 2 teams destroying the other 2 teams and they didn't expect Willie going nuts and getting removed.
Get The Live Feeds for your iPhone or Android Phone! Comes with a regular subscription to the Live Feeds Subscription Link
5:37pm BBT Arcade room Jojo, Jenn and Ashley
JOJO starts campaigning telling them that the girls are dropping like flies and she thinks the girls need to do something about it.
Jenn says she believes jojo to a certain degree she points out that they've really had only 2 Head of Household competitions. She says that the last HOH comp wasn't physical they all just screwed up.. if the last HOH was physical Jenn would be all about boys versus girls but now how it stands Jenn sees the last 2 HOH's to be pretty fair. Ashley tells them she's going to take the next couple days off from game talk or she'll get in trouble.. Jojo leaves to let Ashley and Jenn to talk about what happened last night.
Jenn tells her that she never blew it out of proportions that is not the type of person she is. Ashley: "You know it's said but it's probably my team that blew it out of proportion"
Jenn: "that's what I'm thinking"
Ashley doesn't want Britney, Danielle and Shane to think they are all allied so that is why she said and did what she did in the bathroom. Ashley and Jenn both agree that this game will be completely different if it was without coaches. Ashley: "Kara went home because of her coach"
Ashley says that Wil is telling people that she is a floater.. Sometime she feels that after what Wil did to Kara he will do it to her 10 times stronger. Ashley doesn't want to see the guys team up so she's trying to keep them fighting. Jenn wants to nominate Jojo because she is so strong in competitions, Ashley and Jenn really like JOJO but she has to go. Ashley warns Jenn that Wil is extremely paranoid and extremely cutthroat. Ashley really wants Shane to go up next week she wishes they would have backdoored him this week. Jenn explains that Frank only had 5 minutes to decide who to nominate because of all the "Willie Drama" happening that day. (Jenn and Ian freaked out about the idea of putting them up as pawns against JOJO with the plan to backdoor frank. Ian being the most vocal against it)
Jenn is positive if Shane wins HOH he'll gun for the guys, her and Ashley just have to hold on tight and let them go after each other. Ashley points out that Shane and Frank are getting closer but she's not sure.
6:25pm Dinner
7:00pm Cam 1-2 Kitchen Janelle and Dan Doing the dishes and talking about their spouses. Janelle asks Dan if he has a "Man Cave". Dan asks Janelle what she does to make her husband happy. Janelle: "Keep his belly full and his P P empty".. Later in the conversation Janelle asks Dan when the twist is coming. Dan says next week nor this week. Janelle asks him what they are going to do to beat Boogie he's a beast he works out 3 hours a day.
7:30pm Cam 1-2 Janelle, Danielle All the girls have sore stomachs. Danielle asks them if she's going home. Janelle says that her players want to keep Danielle over JOJO. Ashley joins them she has a sore stomach. Janelle tells them that she was up in the HOH and she saw a jar of medicine but the label was covered. Feeds cut.. When they come back Janelle is talking about someone who had the genital warts removed on Dr. Will's shows. The girls are trying to figure out why there stomachs hurt so much.. Janelle thinks it's her period, Danielle thinks it's the rich Food. ( I hope it's Joe trying to get a leg up on the competition)
Danielle starts talking about her weight and how she needs to stop eating Janelle's Baking. She wants to do her laundry before tomorrow because she thinks the backyard will be closed for the setup of the endurance comp.
Janelle: "It's not going to be endurance week 3 it's going to be a crapshoot or Q&A"
Danielle explains that they are 25% done the game she doesn't think anyone is coming back.
8:00pm Danielle Tells Janelle she's not into Shane at all, "he's lost 15 pounds".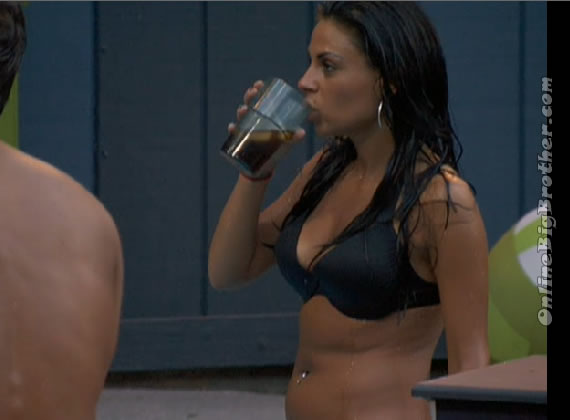 8:03pm Danielle and Janelle still have sore stomachs pains from joe's cooking.. Janelle blow a giant fart.
Watch what happens, AS it happens: Big Brother 14 Live Feeds!
Subscribe today for your FREE 3 DAY TRIAL!


Share it YO!!
Tweet