POV Holder:
?
Next POV
July 13th
POV Used
?
POV Ceremony
July 15
HOH Winner:
Helen
Next HOH:
July 18
MVP:
?
Original Nominations:
Kaitlin and Aaryn
Current Nominations:
Last Evicted Houseguest
David, Nick
Have Nots
? Judd, Jessie, McCrea, Amanda ?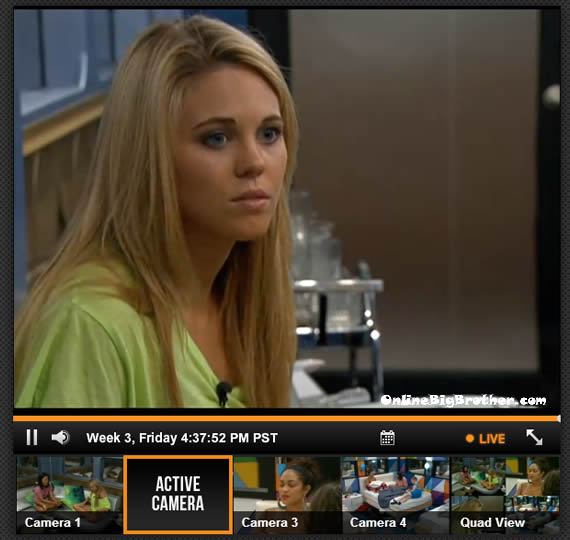 4:30pm Cockpit Helen and Aaryn
Helen tells her she is going up as a pawn and if she wins POV she is going to back d**r somebody, The third nominee will be where she does the flipping. Helen: "If POV isn't used I will probably send home someone from my side of the house.. it's going to be a huge f*** and people are going to freak out but I want to play with people that are honest with me and I want to be honest with them"
Helen says she feels like she's been duped and know that Aaryn's been duped. Aaryn says that every single person in the house said to her they are voting Elissa out.
Aaryn says Andy, Judd, Jessie, Amanda and McCrea were always up in the HOH they all swore up and down to her that they would never vote against her.
Aaryn: "All along the way they were playing behind my back"
Helen brings up the 4 guy alliance (Doesn't include Howard in this alliance)
Helen tells her that Andy likes Kaitlin and her. Helen: 'I have 3 people I want to back d**r and they are all guys"
Helen: 'I need all you girls to protect me the following week because they will be gunning after me"
Helen says that the only guys she trusts is McCrea.
Aaryn mentions that KAitlin and Jeremy are a powerful thing in this game, "If kaitlin goes on the block she is going to freak out" Aaryn pretty much says her alliance is done for they can't dig themselves out unless they get a HOH and MVP in the same week, "I don't know what to do"
Helen: "you can win competitions and you are smart.. The thing I like is nobody will suspect we are working together"
Aaryn says she's got nobody in the game except for maybe Gina. Aaryn adds that Jeremy has drifted away with Kaitlin. She sees Kaitlin and Amanda whispering in corners now.
Aaryn: "I'm about to be singular."
She brings up Howard who switched to be on their side then switched back so she can't trust him.
Helen tells her she is not the target. "I have people on my side that didn't vote my way" Explains that Aaryn isn't as big of a threat in the house now that her side of the house is dead.
Helen adds that she know there was people in her own alliance that lied to her and she wants to scare those people to make sure that nobody lies to her ever again. Helen: "I don't like people that l keep lying to me even though the truth is out"
Aaryn mentions that week one Spencer and Howard did the same thing to her they lied about the vote even though everyone knew where the votes were.
Helen: 'How aligned and loyal are you to Jeremy"
Aaryn: 'You can totally get him on your side 100%.. Jeremy and I are close but since kaitlin's been around we've gotten farther apart" Aaryn adds that Jeremy is looking for someone to work with at this point.
Helen says that she's always been loyal to Elissa and because of that it has been rough for her in the game.
Aaryn points out it's worked alright for her so far..
Helen suggests that Aaryn gets rid of all the drama in her game and she will do much better.
You can re-watch ever second on the feeds using their flashback feature.. It's super easy to use click this link for a free trial —> Subscribe to the Big Brother Live Feeds
The CBS feeds are a HUGE improvement over the super pass feeds and they are 30% cheaper with no subscription to cancel. You pay a flat fee for the season.
4:52pm Aaryn and Kaitlin
Aaryn tells her that she is being nominated with a unknown, "I'm going up because I out her up and she wants to put up a rat" Aaryn says that Helen like the fact that the three of them stayed loyal to each other whereas there was people in her group that are not loyal. Aaryn :'She doesn't want us to go home she want to work with us" Aaryn adds that Helen knows there are a few people in her alliance that have been working both sides. They agree that it's Spencer and Howard, Aaryn: "The target is off of us right now".
Aaryn: "She only has a select few people that she can trust.. she doesn't trust a lot of people in her alliance.. she respect the fact we are not brown nosing" They agree it's Spencer and Howard that are brown nosing up in the HOH. Both Kaitlin and Aaryn promised Helen if they got HOH they would not put her up. They both say they will protect Helen and respect her.
Aaryn says she's going to go up to Elissa and talk it out, 'This catty stuff has got to stop.. I know we won't be friends but she has to stop making comments and I will stop making comments"
Aaryn: 'I'm not trying to align with her.."
Kaitlin: "When you do that you know she is still going to be catty.. you have to be the bigger person 100% that will work to your benefit"
Kaitlin says Amanda has been telling her that Jeremy threw her under the bus, "Amanda says that every time Jeremy talks to McCrea and her he says he doesn't give a sh!t if I go home or not.. I know that's not true"
Aaryn: 'the one thing that can kill us if if they think we are trying to switch sides.. I've been thinking about this. All we can do is be like look the cards have fallen where they have but lets try to make amends" Aaryun thinks if they start trying to pull people off from the other group or join a subset of Helen's group it will ruin the chances of the "RAT" from going home.
They agree to start being super nice to everybody in the house.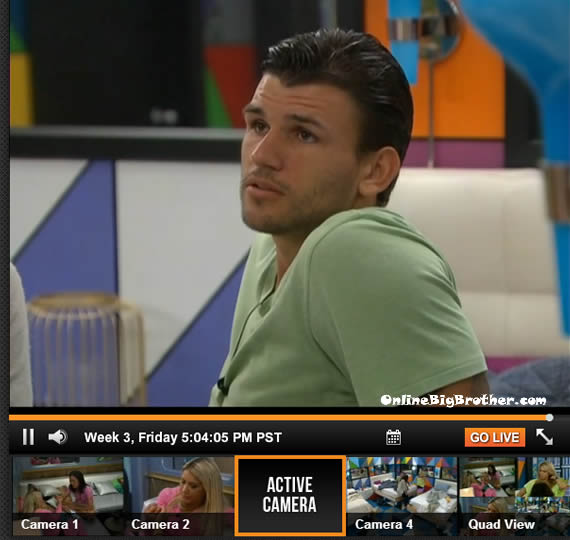 Jeremy rolls in. They tell him Jeremy isn't going up at all even as a replacements.
Jere: "Huh you sure"
Aaryn: "Ya"
Jeremey: "I'm nervous I don't trust her"
Aaryn explains that Helen wants to play with them but doesn't want her side to know. Helen is really disturbed about the Rats in her side.
Aaryn: "She said.. I'm not puttin Jeremy up I'm getting rid of people that are moles"
Jermey: "Can I tell you something.. I threw spencer and Howard under the bus"
Aaryn and Kaitlin both say they did the same.
Aaryn: "those are her top two targets she doesn't want any of us to go.. she wants us to stay because she thinks she can use them later"
Aaryn: "But Pawns go home sometimes.. don't be sad"
Aaryn says she's going to go through the house and start apologizing to people. Jeremy says he's been doing the same. He went up to Elissa and told her she's not his target anymore he's tried to get her out for 2 weeks and failed he's giving up. He doesn't care if she targets him he's not coming after her any longer. Aaryn: "I'm going to bite my tongue and be super nice"
Aaryn tells them that "Helen is going to Flip Sh!t in the house". She's going to tell them that a mole is going to go home and if Aaryn ends up going home Helen will know she can't trust even more people. Aaryn mentions that Helen will want to work with Jeremy and Kaitlin at that point.
Aaryn: 'I'm trying to look at the positive side.. I feel like if any of you win I win to cause y'all on my team"
Jeremy says he played this game honest and has tried hard in every competition he wanted to align with the strongest players in the game and he thinks he's done that. "It's bullshit some weak ass punks get to stay here"
They all agree to stick together through all this and hopefully the rat goes home.
Aaryn leaves.. Kaitlin wonders if Helen is telling the truth she thinks Jeremy is going to be Backd**rd. Kaitlin says she feels bad, "I feel like i have thrown Aaryn under the bus"
5:50pm Cockpit Helen and Gina
Helen tells her she's not a target.. Her and Nick really liked Helen they thought she was super smart and super loyal. Gina still crying up a storm. Gina says that everyone but Spencer came to her and told her
6:34pm Feeds on trivia.. Nominations ceremony underway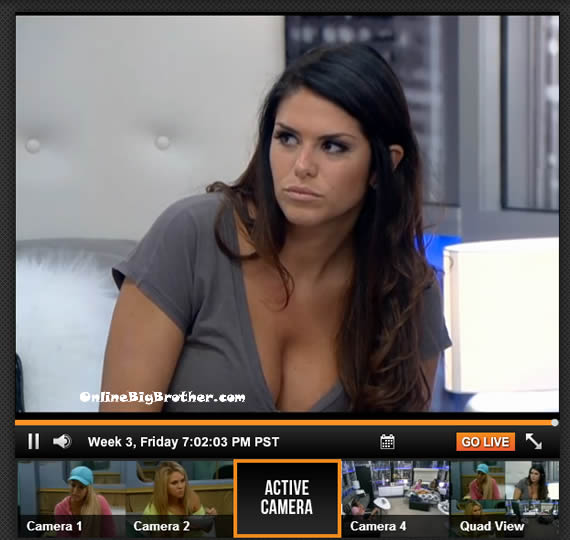 7:00pm HOH Amanda, Helen and McCrea
Helen asks them if Howard was part of the Moving Company. McCrae swears Howard was part of it. Helen: "Oh my god he lied to my face"
Helen says they need to go tell Elissa what she should do with the MVP.
Helen: "all we need to tell her is Howard voted to keep Nick here.. he lied to her face.. What is wrong with him"
McCrea: "He came to play"
Helen wonders if she should tell Candace about it. Amanda advises against it. Says she once told Candace that Howard lied and Candace flipped out "He's a good christian man"
McCrea says that the next HOH is going to be girls endurance so if Jeremy doesn't leave this week they should get rid of aaryn so she doesn't win the HOH
Amanda: "I think Howard is more dangerous than Aaryn" Her reasoning is that Howard still has alliances and Aaryn has nothing.
Helen mentions that Aaryn was telling her that everyone lied to her "Oh well this is big brother"
Big Brother nomination results
Aaryn and Kaitlin are nominated
They want Elissa to use the MVP on Howard (It's not confirmed that Elissa got it again)
They want to backdoor Jeremy