POV Holder:
?
Next POV
June 27
POV Used
?
POV Ceremony
?
HOH Winner:
McRae
Next HOH:
Wed July 3rd
MVP:
Elissa
Original Nominations:
Current Nominations:
Jessie, David and Candace
Last Evicted Houseguest
?
Have Nots
Andy, Elissa, Jessie, Howard, Helen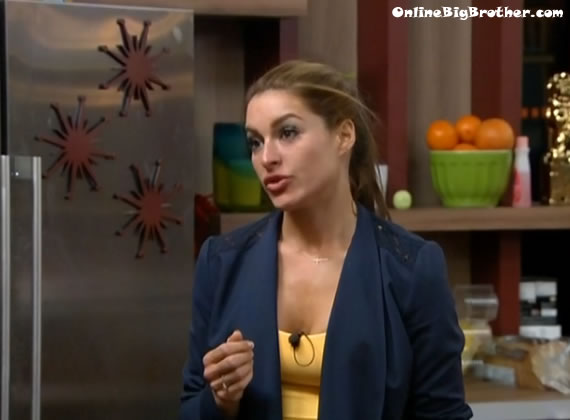 5:01pm David and Elissa Kitchen
Elissa explains the conversation she had with Jeremy in the HOH. She says when Jeremy asked her who her sister was she made a joike and said Gisele Bündchen. (Previous post HOH conv)
Elissa tells him that she's not the MVP in fact she would be "Completely Shocked" that people liked her she was never in pageants, doesn't have fans, or a large group of social friends. "I'm a mom and a wife" Elissa starts to tear up.
Elissa: "I don't understand why everyone is being so mean to me"
David says she's tripping him out right now because this is the first conversation them have had in awhile.
David asks her up front if she was the MVP would she nominate him and tell him.
Elissa: "I just feel like everything in this game is used against you.. Nobody is focusing on the other lies"
Elissa tells David he needs to win the POV and get himself off the block.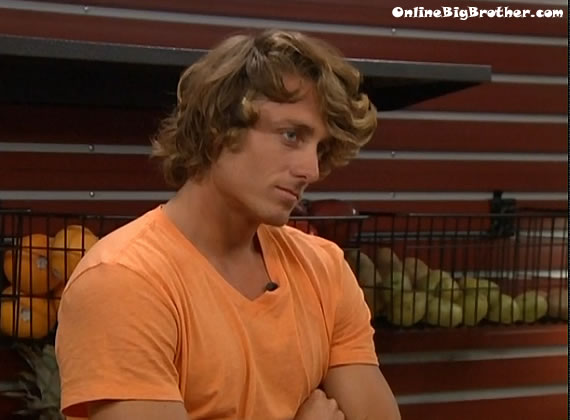 5:15pm Cam 1-2 Storage room David and Aaryn
David recaps his conversation with Elissa. Aaryn is pissed at David for chatting with Elissa. David says he's going to stop talking to Elissa, Aaryn doesn't care because he's already talked to her. (She treats this like a HUGE betrayal to their alliance)
David doesn't understand why she's so mad he was just talking to her and listening to what she had to say. Aaryn is furious tells him he doesn't understand the game "There is no reason to talk to her" Aaryn points out that David listens to what Jeremy tells him why didn't he listen to her. (apparently she gave him orders not to talk to Elissa earlier in the day)
Aaryn: "I just know if you come off the block i'm going up.. and now I hear that you want talk to her and she's telling you she didn't put you up and that you should get yourself off the block"
David: "What.. I cared about you since the minute we came into the house.. you know how I feel about you.. everyone in this house is telling me what to do but with us we're on the same wavelength"
David explains to her that he wanted to talk to Elissa to see if she was the MVP. Aaryn scolds him says that Elissa wants him to use the POV on himself so that Aaryn can be the replacement nominee. David says he has already promised her taht if he wins the POV he'll use it to save Jessie.
Aaryn: "I don't want you talking to her.. I'm walking out right now.."
David: "What why what are you doing"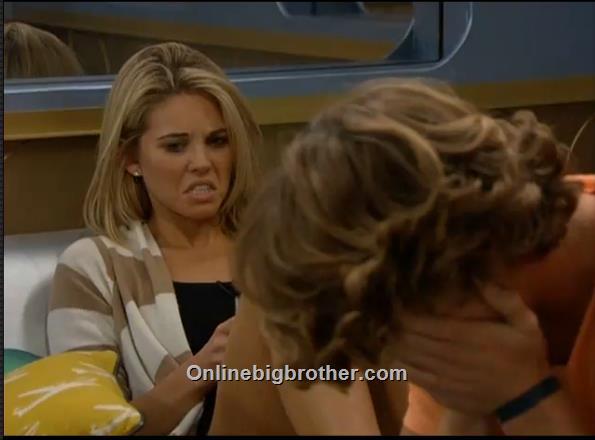 She goes into the lounge where the conversation continues.
Aaryn: "I put all my trust in you and you are not listening to me.. I told you she is a liar.. if you trusted me and listened to me you would not have gone and talked to her"
Aaryn goes on and on about Elissa going around spreading lies and targeting Aaryn.
David: "Sorry I made a mistake"
Aaryn: "whatever goes in one ear comes out another.. why do I have to tell you what to do all the time.. you should be smart enough on your own"
Aaryn: "I told you this girl is my biggest enemy in the house.. she made Helen cry.. why do you think she would be faithful to you.. I know i'm getting mean but you just don't know how serious it is"
She continues to Harp on him about not caring that she will be nominated if he uses the POV on himself. This goes on for well over a hour..
They finally hug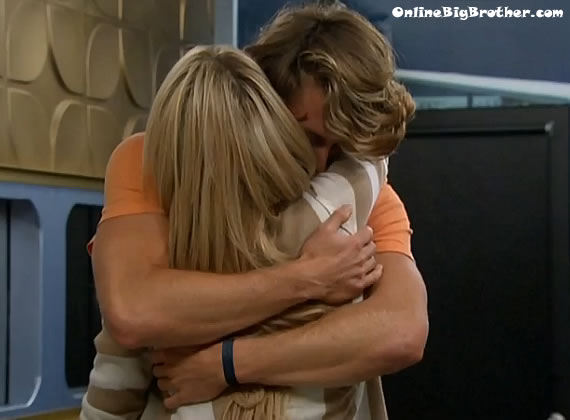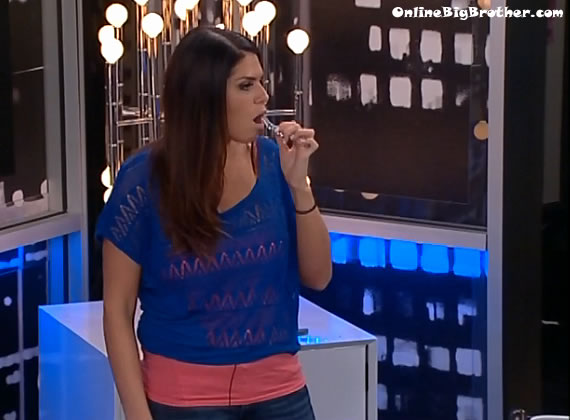 5:47pm HOH Amanda, Andy, Candace, McRae, Judd Amanda is telling them she wants Elissa gone.
Amanda: "It's a Game we don't need to be mean to her"
GiGi:"I don't think anybody is mean"
Amanda: "I think we are all on the same page and we're all being honest with each other"
Amanda points out that Elissa is trying to make and alliance here and there because she is desperate, "She's in the middle of the f***ing ocean and she's drowning"
Amanda: "She's isolated.. we want her out.. I feel bad.. it sucks you know what I mean.. she put herself in that position .. we all agree on this one"
GiGi says she's glad she is the host. Andy jokes that the Host usually goes home.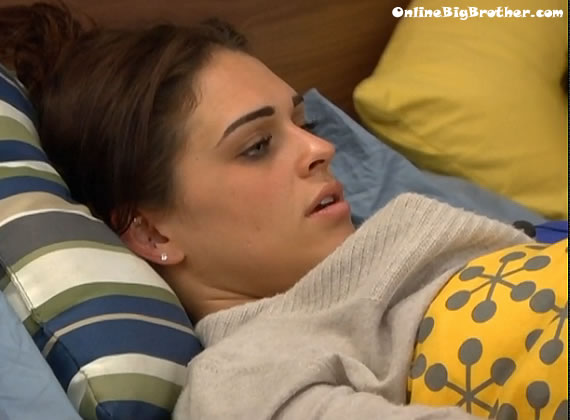 5:50pm Cam 3-4 Bedroom Jeremy and Kaitlin
Kaitlin is a bit worried that Elissa is going to stay in the house. She knows the "entire" house wants Elissa out but the POV still needs to be played. Kaitlin: "That B!tch needs to leave but if it's not her it's Candace.. I could handle another week of Candace in the house"
Jeremy: "Whoever stays goes up next week with Amanda"
Kaitlin: 'It's sad because she think we are in an alliance" (Amanda and kaitlin)
Kaitlin telling him that she would have put Candace and Amanda on the block if she one Head of Household. Kaitlin: "Amanda is all over the place.."
Kaitlin calls Amanda a floater.
Jeremy: 'She's playing CRA CRA"
She find it funny that Elissa goes around telling everyone that having Rachel as a sister doesn't matter when at the beginning she was hiding it from everyone.
Spencer and Candace join them and they start talking about weed.. Spencer shares a story about when he had no weed so went to the bar to get a drink (Blamo see twitter pic below)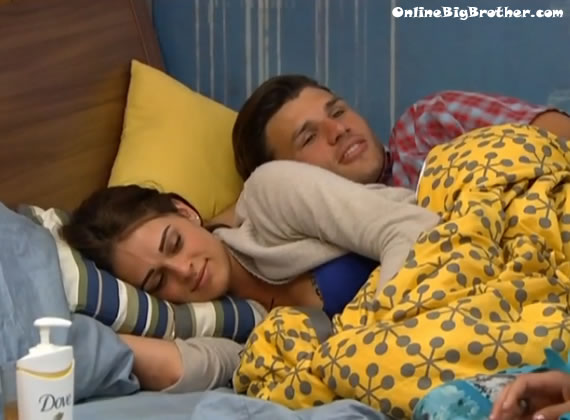 #BB15 Blamo pic.twitter.com/PM8tiL1dqB

— OnlineBigBrother.com (@bigbspoilers) June 28, 2013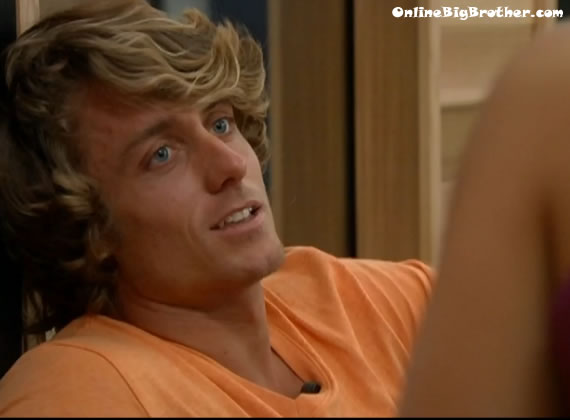 6:43pm Bathroom David and Jessie
David explain his conversation with Aaryn. Jessie thinks that David should be allowed to talk to Elissa, "You have to do your own research" David claims he only talked to Elissa for a couple minutes because he wanted to know if she was the MVP
Jessie tells him that Elissa wants David to be evicted.
David: "I know for a fact McRae is going to back door her" (Elissa)
Jessie: "He is.. he's told the entire house if he doesn't he'll look shady"
David: "Why did I go up"
Jessie: "I just want to tell you because we've been cool since day one.. please don't repeat this.. this is just a hunch .. I do not really trust Nick"
David: "I don't either"
Jessie: "He's really smart.. He's the only other person I think would have put you up.. Can HOH stil get MVP?" (Elissa and Nick would be her predictions for MVP)
David: "Yes I think so.. "
Jessie: "I don't think he would have been MVP though.. it's either Elissa or Nick"
David is still unclear why he was put up if they were trying to Backdoor Elissa. Jessie thinks it's because David has a good chance to win the POV, "It was either you or Jeremy that was going to be nominated"
Candace joins them.. Jessie tells David is in a tough spot right now.
(David isn't as dumb as I thought.. he really plays up the surfer dude act)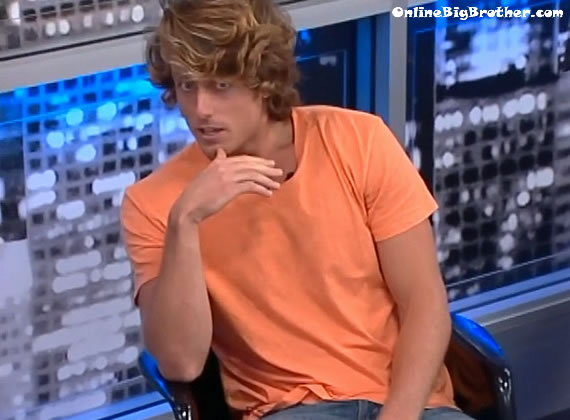 6:53pm HOH, Cam 3-4 David and McRae
David: "So.. I need to know.. me and you haven't really talked strategy.."
David: "you are for sure going to backdoor her"
McRae: 'Yeah.. cause if I don't put her up" FEEDS CUT to Trivia mid sentence.. it's the Power of Veto competition yo!
7:47pm Trivia