POV Holder:
?
Next POV
July 6th
POV Used
?
POV Ceremony
?
HOH Winner:
Aaryn
Next HOH:
MVP:
Elissa
Original Nominations:
Elissa and Helen
Current Nominations:
?
Last Evicted Houseguest
David
Have Nots
Helen, Elissa, Candice, and Andy
9:50pm Cam 1-2 Candice and Helen
Candice is saying that she's certain Kaitlin, Me, Gina, Nick and Jeremy. Candice really thinks that Spencer voted to evict Elissa, "So I think Jeremy and NIck voted David out.. "
Candice says that the guys are working together "There is a boy alliance in this house 100% 4 sure"
C: "It could be Jeremy, Nick and Spencer.. I like spencer.. he's really smart and calculating"
H: "But physically he's incapable we can get him out"
C: "Right now he has both sides of the house eating out of the palm of his hands"
Helen agrees that Spencer's gotta go but he's OK to keep in the house right now, "The key to spencer is don't be on his radar kiss hi a$$"
Candice adds that she has no idea why they told her to vote out Elissa when they all voted out David.
Helen says she has to be wary of the guys.
Helen: "I need the guys to help keep me here.. I have to trust them"
Candace doesn't think Jeremy is smart enough to master mind anything so it must be Nick.
Helen: "But I like Nick"
Nick: "I do to"
Elissa comes in gives Helen a wink..
9:59pm Elissa tells Helen
Helen: "You think we should put JEremy up" She instructs Elissa that she mustn't tell anybody that she has MVP. Elissa agrees.
They thank the fans for voting for Elissa to win the MVP.
If we put up Kaitlin and throw the comp then Kaitlin uses the POV they put Jeremy up. Elissa wants to put Jeremy up Helen thinks there may be a better play.
Helen wants Elissa to go in the Diary room and run through scenarios with them to make sure they know the rules of the MVP.
Helen wonders if Kaitlin is nominated and Jeremy wins POV and used it to save Kaitlin could Elissa nominate Jeremy in her place? Helen wants Elissa to ask the DR. (The answer is no)
Elissa: "I think so"
Helen and Elissa are worried if Jer plays in POV he'll win it so they are trying to work out a plan to backdoor him.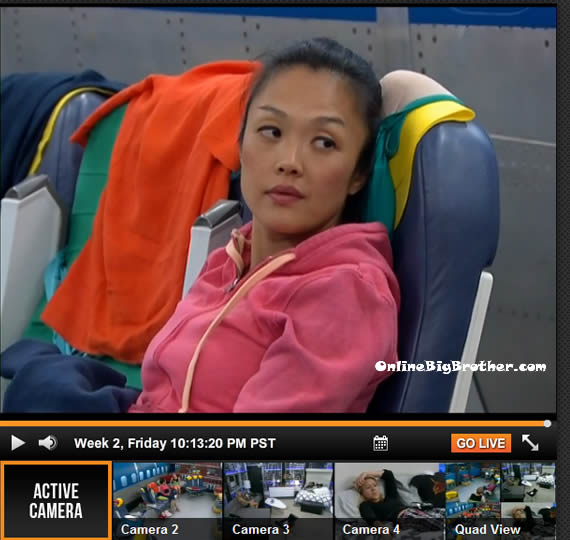 10:13pm Andy and Helen
Andy is warning her that she is spending too much time scheming in the have nots, "Your safe you know that."
Helen says that people keep coming in to talk to her.
Helen asks him if they can trust Judd. Andy is 100% positive.
Helen says either her or Elissa will win MVP and it'll probably be Elissa if Elissa puts up "One of those People" (KAit, Jer) is Andy willing to vote them out.
Andy: "Of course"
Andy says that he is in "DEEP DEEP" with the other group so next week is going to be rough for him when they (Kait, Jer, Aaryn, Gina) find out he's not with them.
Helen asks if he thinks Spencer is linked up with Jeremy at all.
Andy: 'NO the only thing that can kill our group is suspicious if anyone tells you anything about the group don't believe it"
Helen: "If you get picked for POV you need to throw it"
Andy: 'If I win it I won't use it"
Helen: 'Don't use it on me"
Helen says she's been trying to tell Elissa to BAckdoor Jeremy but she just want to put him up"
Andy: "No no that's worst case scenario.. put him up immediately"
They agree that putting Jeremy up is the best plan if Elissa wins the MVP.
Andy keeps saying "We have the numbers.. we have the numbers"
Andy: "If Elissa doesn't win MVP I say we vote her out"
Andy: 'Don't get mad but Elissa is expendable"
Andy likes Elissa and wants to keep her around but.. Elissa walks in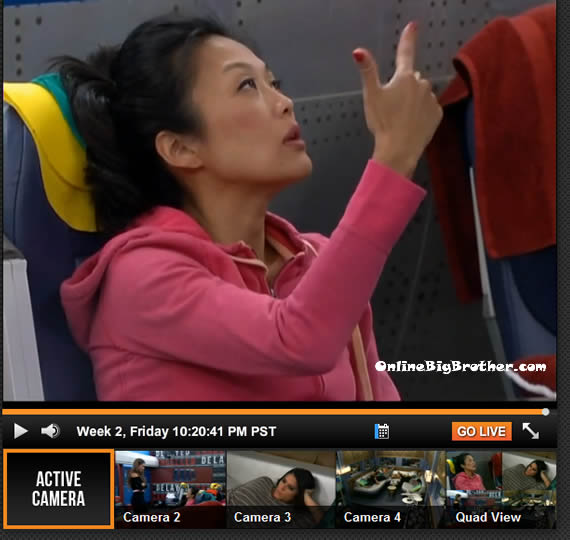 10:20pm Cam 1-2 Elissa and Helen
Elissa wants to put Nick up, "This way we win either way"
Helen: "NO just put Jeremy up it's too risky.."
Helen mention if they put Jeremy up the worst that could happen is he wins POV takes himself off the block and Kaitlin goes up and home.
Helen: "taking Kaitlin out of the game is better because it weakens Jeremy" Helen doesn't want Nick to go.
Elissa says that Kaitlin is nice and really doesn't cause problems she would rather Kaitlin in the house than Nick.
Helen says they already know they have the votes as longs as he doesn't win POV he's going home .. (This is going to be the MC's first test)
Helen: "Do you know how pissed Aaryn will be if one of her people go.. "
Helen adds that even if Jeremy stays he doesn't have the votes the following week they control the game.
(So nick may be going up.. ugh this week is going to be awesome on the feeds as the Moving company's loyalty will be tested)
You can re-watch ever second on the feeds using their flashback feature.. It's super easy to use click this link for a free trial —> Big Brother Live Feeds
Take it from someone that has watched a lot of feeds CBS has done a fantastic job HUGE improvement over last year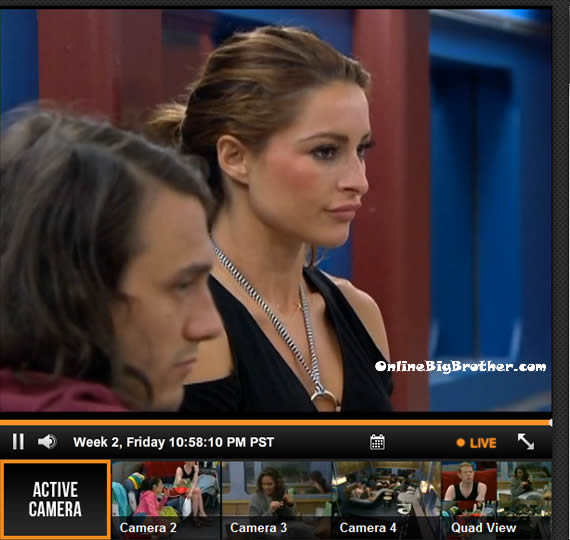 10:58pm Cam 1-2 Elissa, Helen and McCrae
Mini meeting about what to do if they win the MVP.. Elissa is really watching McCrae she asks him who he would put up if he won the MVP.
McCrae: "There is something fishy going on in our ranks.. something feels weird"
Andy joins them says they have to get rid of Kaitlin or Jeremy "We have to weaken Aryan's army"
Andy: "PUT HIM UP"
Helen: 'Put him up"
Elissa: 'So everyone here agrees if you won MVP you would put up Jeremy.
McCrae: "Yup"
Andy and McRae leave, Elissa, Helen: 'We can trust them"
Elissa: "I think I have to decide soon they told me 2 hours"
Helen: 'We have the numbers.. "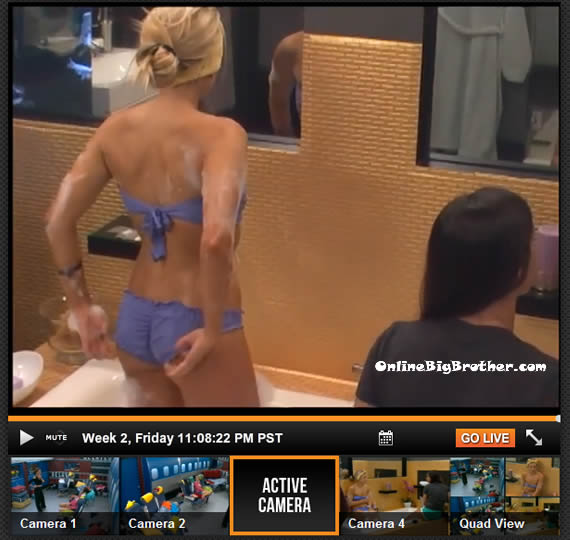 FEEDS!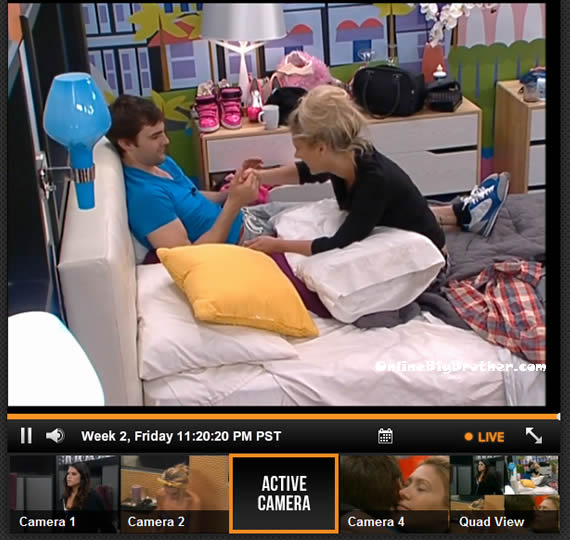 Gina and Nick make a deal to make it to the end together.