POV Holder:
Jeremy
Next POV
July 13th
POV Used
YES
POV Ceremony
July 8
HOH Winner:
Aaryn
Next HOH:
MVP:
Elissa
Original Nominations:
Elissa, Helen and Jeremy (MVP nom)
Current Nominations:
Elissa, Helen and Nick (MVP nom)
Last Evicted Houseguest
David
Have Nots
Helen, Elissa, Candice, and Andy
1:43pm Hammock McCrae and Amanda
Amanda is saying she brought up with Jeremy about voting for Helen and he got pissed, "He shouldn't' care as long as who he wants out goes out"
McCrae tells her she can't vote for Helen now he'll know. Amanda agrees.
McCrae about Jeremy: 'He's easily the worst game player I have ever seen.. has no idea what is going on"
Amanda is trying to figure out how they can pull Jessie in to vote out Nick. She thinks they should tell her all the sh!t aaryn and KAitlin say about them. McCrae thinks Andy might be the best one to do it.
Amanda: "Andy won't do it"
McCrae: "Andy can do it"
Amanda: "It'll probably be Judd"
McCrae says howard scares him, "The way he talks to me pisses me off.. he's a d!ck to me"
AManda: "If Jessie knows Nick wants to put her up why doesn't she want Elissa to stay"
Mc: "They (Aaryn's group) have her under their thumb.."
Amanda tells him to go talk to Judd and see if he can sway Jessie to vote out Nick, "I have to pee.. if you think about it we need to keep her here"
2:10pm Cam 3-4 Storage Room Amanda and Howard
Howard: "Whatever you want to do lets do it"
Amanda: "I want Elissa to stay really badly.. I trust you.. you saw the way Jeremy f*** spoke to Helen and about Helen in the words that Aaryn uses.,., Why would anybody want get rid of the power cause we'll have it next week"
Amanda is worried they are throwing MVP to the win, Why don't they keep it with Elissa so they can control it, "If you know NIck is coming after you why are you not more adamant about getting him out of the house"
Howard: "I'm with that"
Amanda: "Everything McCrae says I'm going to do"
Howard says Nick only started talking game to be when his butt was on the block, "I'm not really listening to him.. everybody is after everybody.. now it doesn't matter that Jeremy disrespected some person if he didn't do it he would still be the same person he'll still be strong"
Amanda: "If we have the numbers I would like to vote out Nick"
Howard tells her he's on board with getting Nick out she just needs to chill out because all her panicking is causing people to think she's sketchy.
You can re-watch ever second on the feeds using their flashback feature.. It's super easy to use click this link for a free trial —> Big Brother Live Feeds
The CBS feeds are a HUGE improvement over the super pass feeds and they are 30% cheaper with no subscription to cancel. You pay a flat fee for the season.
2:20pm Cam 3-4 HOH Nick, aaryn and Kaitlin
Aaryn is thinking that perhaps Jessie went to the dark side.. Nick says he's going to talk to her later today he thinks the way it works is the more birds in everyones ears, "If you say something and someone reconfirms it"
Nick says someone like Jessie will go wherever the power is so they have to make it clear she knows this is where the power is.
They got through the list of confirmed votes to get rid of Elissa.
Amanda. Jeremy, Spencer, Jessie, Gina, McCrae, Kaitlin, Howard, Andy. Judd, "Thats ten"
Nick laughs "so everyone"
Aaryn: "No the people I don't trust are Candace, Jessie and potentially Andy "
Nick: "Ya those are my swing votes to"
Aaryn tells him that Howard and Jeremy might have a thing
Kaitlin tells Nick to watch out for Amanda she's sketchy as F***.
Aaryn says most of the house is sketchy.
Kaitlin: "Howard and Spencer are good.. We'll talk later.. they're good"
Aaryn: "Why"
Kaitlin says Jeremy has given them the OK
Nick: "I think I need to talk to Jeremy"
Kaitlin: "Jeremy has everyone on lock"
Aaryn says that worries her.
Kaitlin tells Nick that Jeremy scared the sh!t out of Judd and Judd feels really bad for last week, "He's on lock" Kaitlin leaves.
Aaryn: "That's the way she talks to everyone"
Nick: "Which may or may not be a good thing"
Aaryn: "The way she talks to people I don't like it it's condescending.. she'll wake up and be real sweet then as the day goes on she gets c*cky.. She turning in ta Jeremy"
Aaryn mentions that all the girls in teh house are starting to get pissed with Kaitlin even Gina.
2:52pm Hammock Amanda and McCrae Amands is scheming hard to keep Elissa. She says if they can get Jessie they have the votes to get rid of Nick, Amanda's votes to Evict Nick are as follows (McCrea, Amanda, Candace, jessie, Andy, Judd)
Amanda: "I don't trust Jeremy.. I don't trust any of those people.. If Judd can make Jessie feel that she's wanted and is part of ta group.. it's solid"
Amanda: "the longer she stays.. you and I can make it to sequester guaranteed"
Mc: "Hmm mmmh hhm " (eating his nails)
Amanda: "Me you Judd and Andy are solid.. if we can make this work"
Mc: "Hmm mmmh hhm " (eating his nails)
Amanda: "you need to tell Howard tell him I'm going to do whatever you do and we are going to vote out Nick"
Mc: "Hmm mmmh hhm " (eating his nails)
A: "You target people that are targeting you.. I took so much Adderall and I don't even feel it"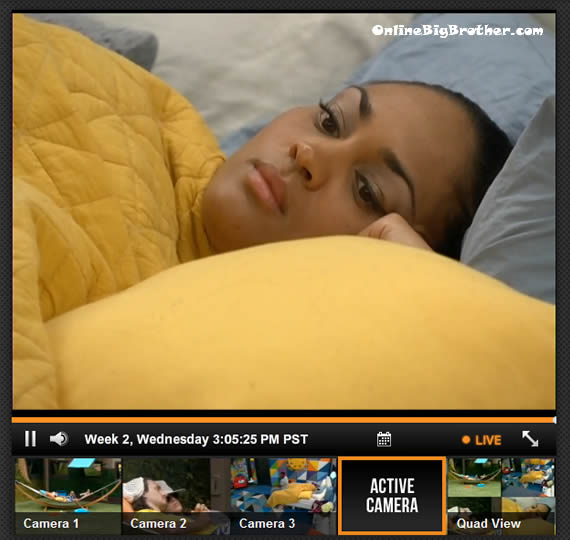 3:04pm Cam 3-4 Howard and Candace
(Hard to hear the first part of this conversation.. Howard is trying to pull Candace away from Amand)
Howard says that Amanda is tripping says she's over thinking things. Candace: "I just need to win HOH now"
howard: "I trust SPencer more than I trust her" (amanda)
Candace agreed.
Howard: "I trust McCrea more without her than I trust him with her"
Candace: "She's just scary.. she has no heart"
Howard: "she goes to the power.. she's over thinking herself.. you over think yourself in this game you find yourself at home"
Candace thinks Amanda is in panic mode because she says she has nothing to go home to. She points out that Amanda has sold her out before she's sure she'll do it again.
Candace still cannot understand why Spencer told who to vote out last week. Howard doesn't know either but says in the grand scheme of it all it help her.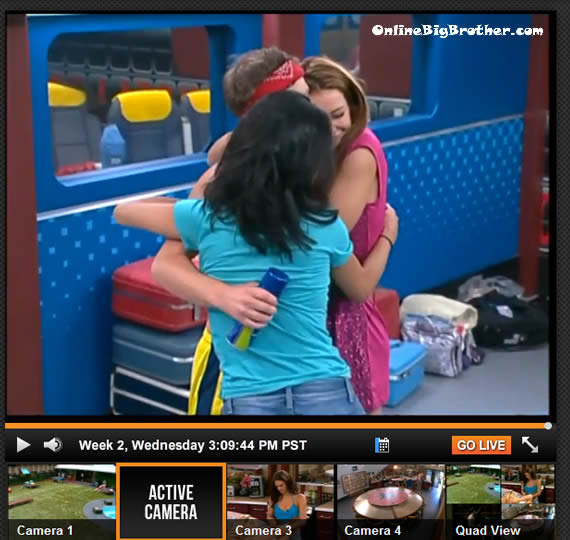 3:09pm cam 1-2 Helen, Judd and Elissa
They are telling Judd to get Jessie's vote by telling her they won't use MVP against her. (The problem with this is Jessie thinks she's a front runner for winning MVP if Elissa leaves)
Judd leaves you can hear Helen in the background "Good job Judd"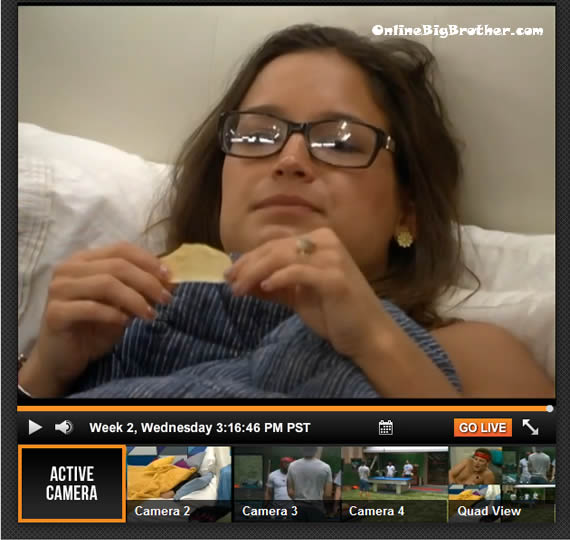 Judd searches around for Jessie and finds her in bed eating potato chips and reading the bible. It's hard to hear what he says as he's just mouthing out the words. I assume he's telling her if Jessie votes to evict Nick they promise to not use the MVP on her and she can roll with their alliance.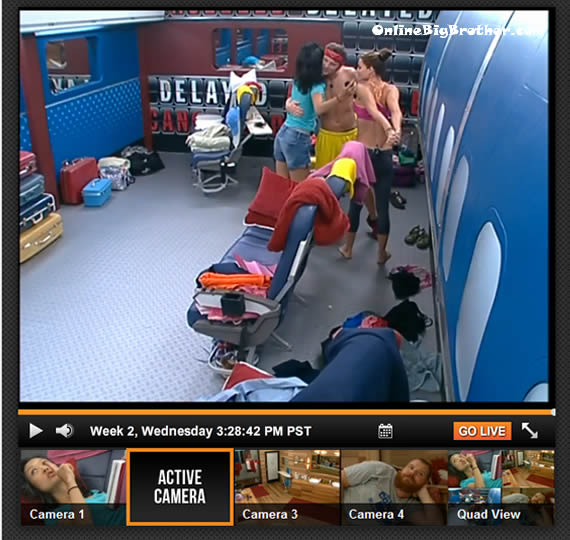 3:28pm havenots Judd comes in tells them they have Jessie's vote, "I told you I would take care of it" Helen is jumping around saying this like "We're going to win this thing"
[polldaddy poll=7235287]