POV Holder:
McCrae
Next POV
June 27
POV Used
Yes
POV Ceremony
June 29th
HOH Winner:
McRae
Next HOH:
Wed July 3rd
MVP:
Elissa
Original Nominations:
Candice, David, Jessie
Current Nominations:
Jessie, Elissa and David
Last Evicted Houseguest
?
Have Nots
Andy, Elissa, Jessie, Howard, Helen
8:11pm Cam 1-2 HOH Amanda and Elissa
FYI you can re-watch ever second on the feeds using their flashback feature.. It's super easy to use Big Brother Live Feeds
HUGE improvement over last year
Elissa accuses Aaryn of saying racial slurs she doesn't want to be around her anymore.
Amanda: 'Fine then she goes"
Elissa: "What she said was really offensive"
Amanda: "What did she say"
Elissa: "She was just making fun of people"
Amanda: 'In front of you"
Elissa: "Ya like in front of everyone"
Amanda: "She make fun of Rachel in front of you"
Elissa: "Yeah.. you heard all the things she said"
Elissa claims that when she went into casting they told her to not put on a show they want it to be real.
Amanda cannot stand Jeremy, Aaryn and Kaitlin she wants them gone. She is disgusted in the way Jeremy was talking to Elissa a couple days ago when he called her out for saying her sister was a supermodel. Amanda about Jeremy "He's so full of testosterone and overbearing.. and he thinks he's so f**in gsmart when he's so f***ing dumb"
Elissa says she cannot take another week of the bullying. Amanda: "You know they are nasty.. there nasty nasty.. we're going to shock them into reality tell them this is our game and they're just pawns playing in it "
Amanda says she's going to eat a cookie and have a cigarette.. they head downstairs.
Animated Gif of Jeremy doing some funny face here
8:24pm lounge Cam 3-4 Aaryn, Jeremy, David, Kaitlin Aaryn
David: 'Has there ever been a power 4 before.. couples"
Jeremy: "Yes"
Aaryn: "Obviously we are going to be final four"
Kaitlin brings up the final 6 which includes GIGI and Nick
Aaryn is thinking that out of all of them Nick is the one most likely to be a turncoat, "Cause he kinda floats around"
Kaitlin doesn't think so says that GIGI has nick in her back pocket.
Aaryn: 'No she thinks she does"
Kaitlin looks at David "Maybe you should have a bromance"
Aaryn: "He love David.. LOVES david"
Kaitlin: "I wonder why.. cause he likes C****k in his mouth"
Jeremy: 'HUH.. well well"
Aaryn explains to Kaitlin that some nights they got to let the boys do things together and so they can do girl things together.. She suggests that when they win HOH they alternate sleeping with their guys and each other.
David points out that Judd only follows the HOH around or whoever has the power. Kaitlin thinks that Judd is a nice guy.
Jeremy: 'Watch he is really this well spoken person and he fooled us all"
Kaitlin: "Jess is going to flip if she sees us 4 together in here"
They start chatting about the Jessie liking Jeremy..
8:48pm Cam 3-4 HOH McCrae and Amanda
Talking about Candace being a useless player. Amanda mentions that every year there is a player that does nothing but slips through the cracks.
McRae thinks they will have no problem getting rid of Candace when the time is right. 'we'll have an easy week"
Amanda: 'Ya"
McCrae: "Thats how we pitch her going home.. we'll have a easy week she'll freak out have a fit"
Amanda: "I want all the teeny bopper group out first"
McCrae: "Ya"
Spencer: "If I make it to jury house and Candace is there it's going to fu** nuts"..
Amanda: "I know"
Amanda runs through the boot list.. David, Jeremy, Kaitlin, Aaryn, Candace and then Jessie.
Amanda: 'We'll maybe not in that order cause we still have Nick to take out"
MC: "Spencer not getting on your nerves is he"
A: "spencer is always on my nerves .. "
MC: "He gave you that back rub.. he can be a gentle bear sometimes"
A: "He tells the most long winded story"
McCrae: "He's our fu**in Joe"
A: "his story is long and isn't interesting"
A: "my boyfriend is going to kill me but you are my only comfort"
MC: "I know exactly how you feel because you are my only comfort .. you being upset bothers me."
Judd and Andy join them say that beiber fever is in the lounge. They all start sharing stories of why they dislike Jeremy
Amanda: "I want to step on his face with a metal soccer cleat"
Nick briefly comes in to use the bathroom.. Andy mentions that he's obsessed with NIck's and GIGI's dynamic. Asks Nick "When are you guys going to f***"
They giggle, Nick: 'She';s cool probably tomorrow" Nick leaves
Amanda: "Something is up with that .. he's like A-Sexual.. he sticks his own p***s into his own V****a"
Andy: "agreed"
Amanda: 'He flirts with anything but once they show interest he backs off major"
Andy: "It's telling he's setting off everyones red flag.. I did not want him to win that HOH"
Everyone Leaves.. Amanda says that she feels good about their alliances and we're they are set up.
McCrae thinks that Amanda is acting like she's pi$$ed at him. Amanda is hung up on the way she may get edited for the show. She knows how they make people look.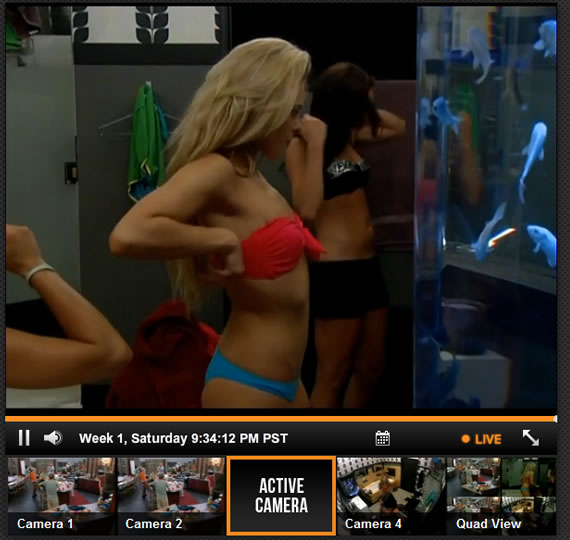 They get Alcohol the girls plan on heading to the hot tub..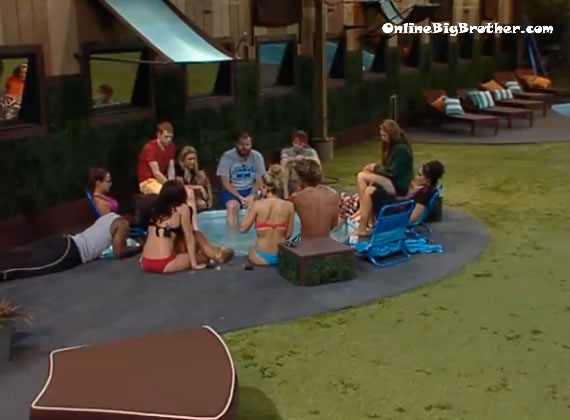 Share it YO!!
Tweet