POV Holder:
Kaitlin
Next POV
July 20th
POV Used
YES
POV Ceremony
July 22
HOH Winner:
Helen
Next HOH:
July 18
MVP:
Elissa
Original Nominations:
Kaitlin, Aaryn, Spencer (MVP)
Current Nominations:
Jeremy, Aaryn, Spencer (MVP)
Last Evicted Houseguest
David, Nick
Have Nots
Judd, Jessie, McCrea, Amanda
7:32pm Jeremy and Helen HOH
Jeremy is campaigning to Helen saying he has the number he just needs Helen and Andy onboard. He's talked to Andy and Andy thinks it's a good idea he just wants Jeremy to talk to Helen first.
Jeremy proposes and new super friends alliance, "I will be a soldier for y'all"
Jeremy says that Spencer and Howard are his targets. He is certain that that they are working together. Jeremy can be used to take them out.
Helen brings up that Spencer and Howard have lied to them since day one.
Helen: 'Here's my thing with you.. I need the attitude to change.. if i'm even going to entertain this.. the attitude needs to change"
Helen says she's here to compete not for the drama.
Jeremy pleads with her tells her he's targeting the same people they are he will get Spencer and Howard out for them.
Jeremy swears he won't target Andy and Helen
Helen: "You have to tell me you will never come after me"
Jeremy: "I will never ever ever put Andy and you up"
Helen: "and Elissa"
Jeremy: "yes and Elissa"
Helen: "At least until we get to final 4"
Jeremy: "y'all can put me in your back pocket I will fight fight fight for you"
Helen: "and your attitude will be gone.. Jeremy pompous out the door.. I want you to be yourself but I don't want you to be an A$$hole"
Jeremy says he's already started being himself this past week
Helen: "it's only been 2 days"
Jeremy: "I'm telling you I will fight fight fight to win and i'll put up Howard and Spencer"
Helen tells him he still would have to do what's best for his game if he won HOH.
Jeremy: "what's best for my game right now is I'll be on your side.. I will not go back on my word"
Elissa comes in
Jeremy: 'Elissa i'm glad you are here"
He wants to talk to her about game play Helen says she should hear him out.
Jeremy says they've had rough past.. he means it when he says he will not be going after her. He points out that he's the only person that has kept his word in the house they know they can trust him.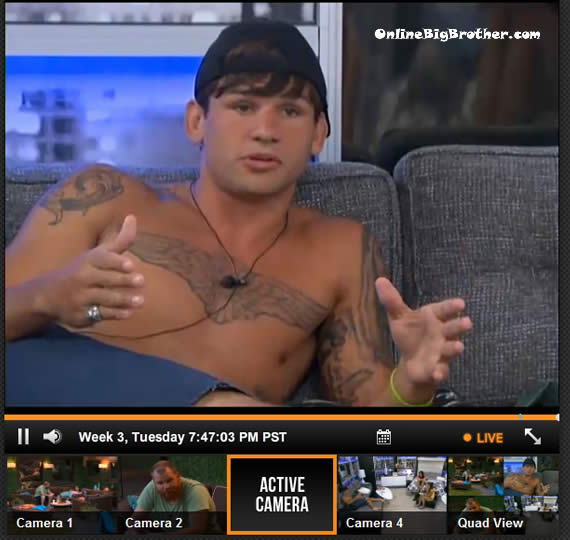 Jeremy: "Unless it comes down to us three I will never come after you again"
Jeremy: "I have not lied and will not lie .. I will cut down the attitude … I am solider for y'all I would give my left testicle to stay here"
Helen says if it comes down to Helen, Elissa, Aaryn, KAitlin and Jeremy who would he put up.
Helen: "Everything we share here is private "
Elissa: "don't you think we deserve to be here more than aaryn"
Jeremey says if thats the deal that has to be made to stay in the house that is what he'll do
Elissa and Helen both say Aaryn should go over spencer.
Elissa asks him if she came to him last week and proposed the same thing that he's proposing to her what would he say to her. Jeremy says he's always been up for talking game they know that . He reminds her she never came to them last week when she was on the block. If she had they would have taken her proposal serious.
Elissa says if they made any deal with jeremy aaryn would have to go. Elissa thinks he should start campaigning against Aaryn instead of Spencer. Jeremy says he won't do that he's just going to campaign to stay.
Helen: 'I feel bad for you Jeremy because Aaryn ruined your game"
Elissa mentions how Aaryn is walking around being all nice and
Jeremy is almost out the door. They tell him how much Aaryn has messed up his game. The wine fight was caused by Aaryn etc etc.
Helen tells him honestly it's too much of a gamble to keep Jeremy now that he's almost out of the house. He's such a strong competitor.
They both tell him that the person Jeremy is right now is the person he should have walked into the house being. Helen says this doesn't go outside this room but if you stay you are playing for Judd, McCrea, Elissa, Amanda and Andy. Jeremy says he'll do whatever for one more week.
Elissa: "Who should go home this week"
Jermey: "Aaryn now"
Helen: 'If we keep you here and get you out in three weeks will you be mad at me"
Jeremy: "Helen I'm not mad at you now"
Elissa asks him if he Kaitlin is good for his game, if she left would his headf be more in the game
Jeremy says his head is in the game.
Helen says her loyalty is Judd, And, Elissa, McCrea and Amanda. she adds those people are higher on the totem poll than Kaitlin
Jeremy says you can bring Kaitlin into this room right now and i'll tell you all if i'm safe this week I will choose Helen and Elissa over her in final 4
They tell him they'll talk to the house and figure out what they should do. Jeremy doesn't think Jessie and Candace will vote for them to stay.
Helen says Kaitlin and Gina have to be convinced to vote out Aaryn.
Andy joins them
8:00pm Kaitlin and Andy
Kaitlin tells him she is still hanging out with Aaryn but they are not working together. Andy says Aaryn's ship has sailed the best thing for Kaitlin is to cut her loose.
Kaitlin says her plan is to do what Andy and Helen want because she's on her own now and she's not going to stick her head out
Andy says good because her agenda is aligned with the house. Andy mentions that the only way Aaryn will get put up is if Howard or Candace wins HOH.
Kaitlin mentions that Aaryn is thinking they can get the power in the house but she's not thinking clearly because they don't have the numbers and because of the MVP they can never get the power again. Her only option is to stick with them. Kaitlin mention how close Howard and Candace have gotten.
Andy tells her he's done a lot of shady things but nothing he's done has put Kaitlin in danger.
8:34pm HOH Andy and Helen
Helen says he brings compelling argument.. he basically said he will play for us. I told him there are other people in this house that have been really loyal to me and i'm stickin with him..
Helen: "I'm going to tell him before the vote.. worry it's not going to happen"
Andy says Jeremy is just telling them what they want to hear. Helen wonders if they can trust him.
Helen: 'We can't trust him can we Elissa"
Elissa: "No.. he did the same thing with my hat.. "
Andy: "Too little too late"
Elissa: "It sucks because he does seem like a nice person.. how can someone be night and day like that"
Helen: "The pro is he can win competition and he promises he would never put us up"
Helen: "the con is this whole thing can blow up in our face "
Helen: 'we don't really need him at this point"
They agree they are set up too good right now they don't need Jermey anymore.
(Jeremy is still going home )
8:39pm hammock McCrea and Amanda
McCrea brings up if someone from the other side of the house wins HOH howard is going to try and flip the house. McCrea thinks Howard will put up him and Amanda. Amanda thinks Candace will be pissed at howard she will never let him do that. McCrea: "She won't care he'll explain what's going on and she'll be like OK BOO"
Amanda thinks that Kaitlin will target Howard and Candace because she's close to Andy and Andy can sway them. She's certain Andy will keep them safe. Amanda points out that you are supposed to target the people that is targeting you that is the way you play the game. They wonder about Elissa's vote. Amanda says it will be either Aaryn and Spencer nominated when Elissa wins the MVP.
McCrea doesn't think it's a guarantee Kaitlin will not put up the people targeting her. He points out they are dealing with players that aren't smart.
They are worried they could be caught next week and don't have the votes to stay.
McCrea: "Sounds like it'll be a 5/5 vote next week if that is what happens" (Howard wins HOH.. they are assuming they have Gina's vote)
Amanda thinks they have Gina on their side she told her she will vote to keep them over Aaryn and Kaitlin.
Amanda just doesn't see Kaitlin and Aaryn siding with Howard and since they have Gina there isn't anything to worry about. McCrea keeps telling her Kaitlin will side with Howard.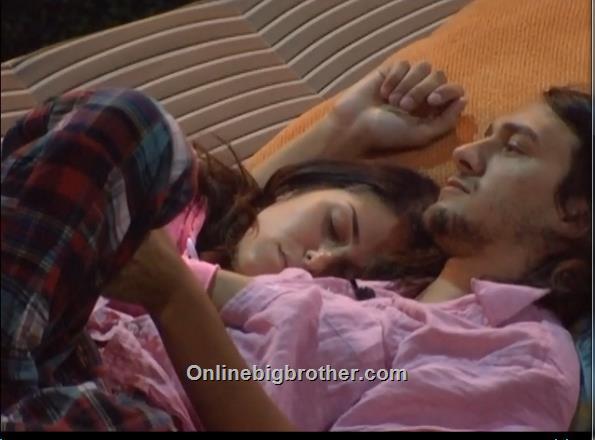 [polldaddy poll=7248812]