POV Holder:
?
Next POV
?
POV Used
?
POV Ceremony
?
HOH Winner 1:
Amber
HOH Winner 2:
Devin
Battle of the Block Winner
Hayden & Nicole
Next HOH/ Next BOB
July 10/July 4
Original Nominations:
Devin's Noms (Pow Pow & Brittany) Amber's Noms (Hayden & Nicole)
Current Nominations:
?
Have Nots
?
POV Players
?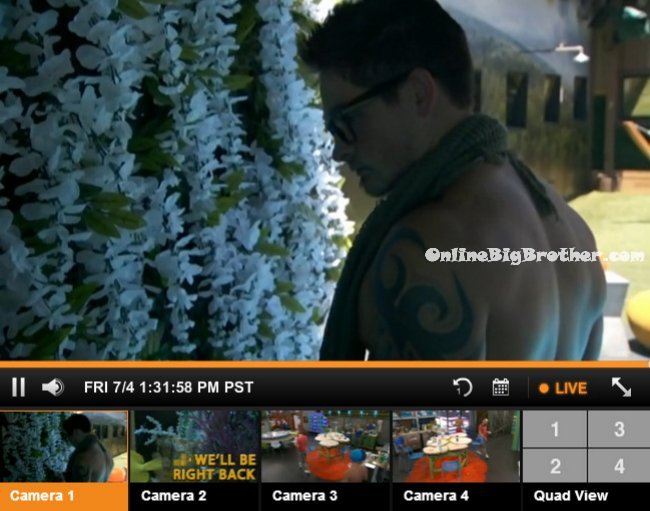 See what they can't show you on TV! -Try the Big Brother 16 live feeds for FREE!
1:15pm Big Brother wakes up the house guests. When the live feeds return – Caleb is out in the backyard walking around. Donny is sitting on the bacyard couch. He tells Caleb they can do magic out here! (Production setting up and taking down the competitions) Caleb says yeah it's crazy. Zach joins Donny on the couch. Donny asks what was wrong with you last night? Zach says I was wired. Donny asks you take a dump? Zach says yeah. Zach asks so if Pow and Brittany are on the block who do you want to go home? Donny says well I don't know. Zach says you don't have to tell me. Donny says theres one I would like to stay because we've grown close. BUT there's some bullies in the house where I would want to go the other way (Keep Brittany) just so the bullies don't get their way all the time! Zach says I feel the same way! What are we going to do about it?! Donny says we're going to do something! Just not until after the veto. Then maybe some big bad someone will get backdoored.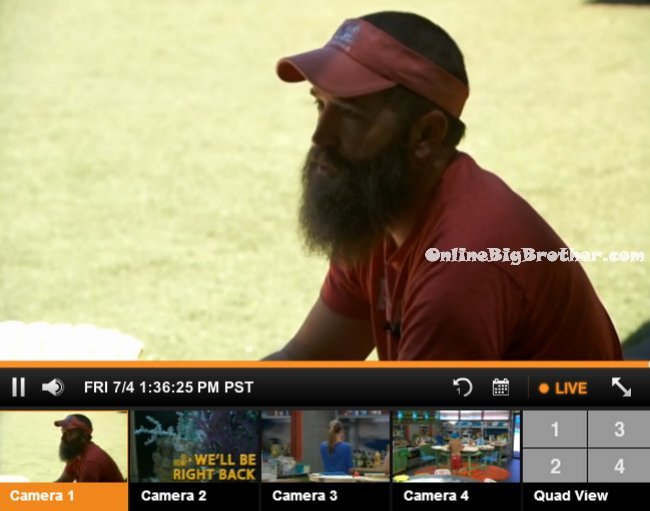 1:40pm -2pm Up in the HOH room – Caleb is crying. Devin consoles him. Caleb says it can't be like this all day. Devin says you let it out, don't feel bad about it. If you don't want to go down there, then stay up here all day. Caleb gets up and heads into the HOH bathroom to blow his nose and wash is face. Devin says I just want to thank you for everything you've done for this country! I will never understand the things you've seen and been through in serving our country. Never feel bad about the emotions you're feeling right now. It takes a real man to be emotional BRO! Caleb says I think I want the red bull! Devin tells Caleb to bring his stuff up here. Caleb says these freaking diary room sessions. Devin asks did you already have one today? Caleb says no. Deivn says you can always buzz in there just to talk to someone. You can talk to me too and I'll listen. I want say anything to anyone. Frankie comes up and asks Caleb if he wants to talk about it. Cabel says no, nothing to talk about. I think we all know. Frankie says a lot of great people fought for this country. Caleb says that this afternoons wake up music was the national anthem, he says that he was outside when it was playing and he was balling his eyes out. Devin gets called to the diary room. He tells Frankie that he doesn't want anyone other than the squad up in the HOH room. I don't need people sucking up to me.
See what they can't show you on TV! -Try the Big Brother 16 live feeds for FREE!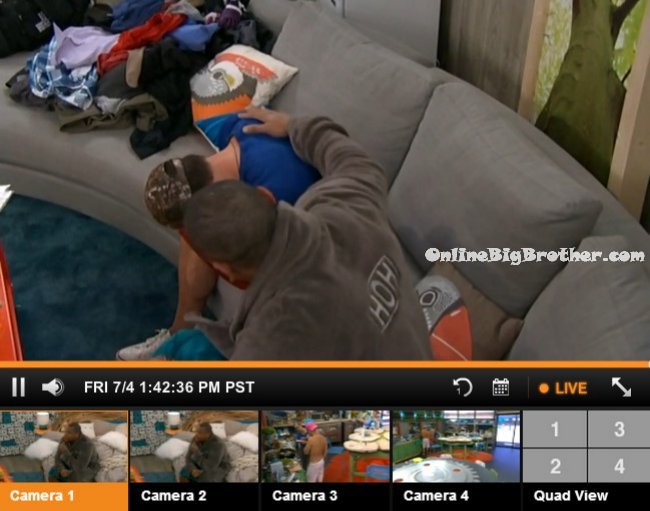 2:10pm – 2:25pm In the kitchen – Brittany asks Pow Pow who she thinks Devin would backdoor. Victoria? Pow Pow agrees. Up in the HOH room Caleb continues to cry into a towel. Caleb talks to Frankie about how he wants everyone to know that he is ex-military just so no one says anything stupid. Caleb says but I can't do it, there's no way. Frankie says that he would be honoured to be his ambassador. I am honoured and proud to have you as my friend and for what you & your family has done for this country. Caleb says I think everyone has a right to know ..why I'm such a tough cookie. Caleb says that he's been in bars before and people start talking bad about the military and things get ugly. Caleb says that his dad had it the worst of all of us. He got shoot a few times. My brother just got back from Afghanistan too. Caleb says if you can just make an announcement to everyone to watch what they say. Frankie says he'll go tell everyone now if he wants. Caleb says sure, I'll just stay up here and watch on the tv.
2:25pm – 2:40pm Frankie goes downstairs to gather the house guests to make the announcement to them. Frankie gets all the house guests that are awake to go the the bathroom. He fills them in on why today is hard for Caleb and for everyone to just be conscious of what they say around them. Frankie then says that he has a special announcement that he has white and blue glitter!!
Big Brother 16 Live Feed FREE TRIAL – Use the FLASHBACK feature to watch everything you've missed!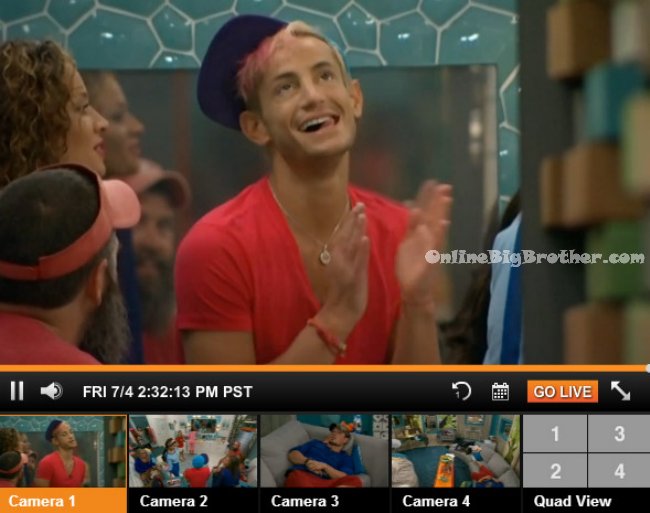 2:45pm -3pm Out in the backyard – Donny and Amber are talking. Amber comments on how she didn't want the responsibility of nominating people, all she wanted was the letter and stuff from her family. Donny tells her that she is free from it now, you don't owe the people you nominated either. They saved themselves. Amber says and at the same time I put myself in jeopardy. Donny tells her that she done good. Frankie and Christine join them. They talk about Pow Pow acting different. Amber wonders if its because I nominated strong players to beat her in the battle of the block. Frankie tells Amber that she can't worry about it and needs to play her game. Frankie says I think Pow Pow is just feeling weak and abused. But it can work for her.
3:10pm – 3:30pm In the kitchen tells Nicole that he felt bad about them having to go up. Devin says and then I saw you guys studying with the rice all night and it had nothing to do with it. He tells her that will never never ever happen again. Nicole says yeah I know. And I would have buzzed in more if I had thought we were in trouble. Devin says just know we were all ready to fight for you two. I just feel bad for Hayden too you know. Devin says and I had a plan with Pow Pow to throw that competition. Just so you know the only deal I made with her was that I would pull her off if I won the POV. Pow Pow comes through the kitchen and Devin asks her if she wants some of what he's making. She says maybe. Or Tacos! Devin says I don't know how to make tacos! Pow Pow says there's instructions DUDE! DAMN! Devin thinks the havenot competition will be today. Pow Pow doesn't think so on the 4th of July.
Out in the backyard – Caleb, Frankie, Christine are talking. Frankie and Christine talk about Amanda Zuckerman from Big Brother 15. Frankie says I loved her in the beginning. Christine agrees. They talk about how her game went down hill because of her relationship with McCrae. Caleb says it says a lot about her that she didn't care he was only a pizza delivery boy.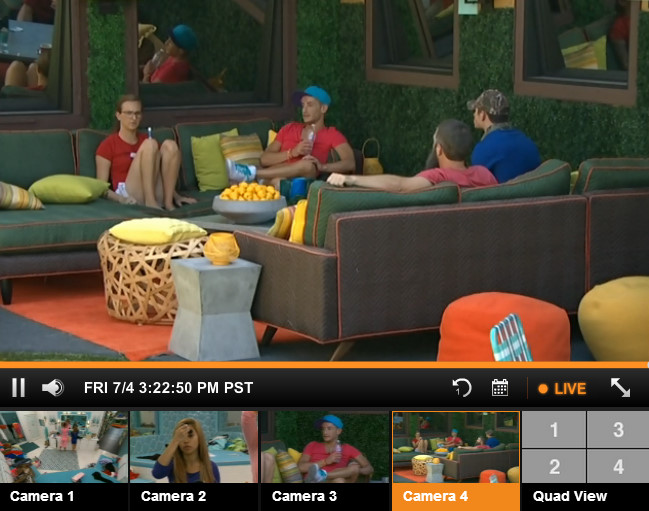 Alliances 
Bomb Squad = Frankie, Caleb, Devin, Cody, Derrick, Zach, Amber, Christine
Fragment of bomb squad no name  = Christine, Frankie, Cody, Derrick Zach
Sub alliance of the Bomb Squad = Derrick, Cody, Zach
Double Ds = Devin, Donny
Bed buddies = Nicole, Christine
Final 2 Deal Zankie= Frankie, Zach
Defunct alliances
TheCrazy8s = Frankie, Donny, Joey, Paola, Devin, Amber, Nicole, Cody
El Cuatro = Paola, Amber, Joey, Nicole
Where the vote is 
?
Stay connected and interact with other Big Brother Fans on our Facebook page.
And Follow: @BigBspoilers and @Dawgsbigbrother on Twitter for the most up to date spoilers.
[polldaddy poll=8164185]