POV Holder:
?
Next POV
?
POV Used
?
POV Ceremony
?
HOH Winner 1:
Amber
HOH Winner 2:
Devin
Battle of the Block Winner
Hayden & Nicole
Next HOH/ Next BOB
July 10/July 4
Original Nominations:
Devin's Noms (Pow Pow & Brittany) Amber's Noms (Hayden & Nicole)
Final Nominations:
?
Have Nots
?
POV Players
?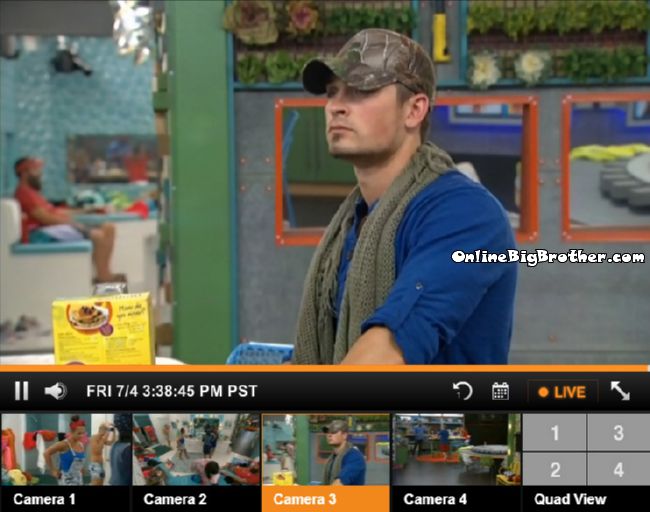 3:34pm Caleb, Devin and Nicole (house guests coming and going)
Caleb asking Nicole if she's started working as a nurse yet. Nicole hasn't. Devin mentions how they are all safe for another week it feel great. Caleb says he's thinking about what to do next thinks he might make a record. Caleb mentions going back and doing some medical "stuff" again.
Devin says when his daughter was born he drove 32 hours straight no sleep to see her. He ended gettign a serious ear infection. "You have to sleep it off"
Caleb says he studied kinesiology starts to describe the different types of fluids you can have in your ear.
Devin brings up his friend that did 9 years in the service and got seriously wounded in his legs and got a purple heart. The guy works at the Harley Shop with Devin. Caleb starts describing army life and the benefits if you get wounded.
Caleb – "My dad is a purple heart.. Kds college is paid .. medical is paid.. everything is paid.. because you are wounded in combat.. if they serve in two different wars like Desert storm and iraqi freedom you can get 2 purple hearts"
Caleb – "My daddy got shot twice but he was fine.. he sits at home making 4 grand a month chilling at home"
Christine – 'People like that deserve it"
Caleb mentions now things are getting really bad for VA there's long wait lists, "They try to take care of their veterans though"
Devin talks about Harley davidson school where you can get a "Phd in harley". Devin's buddy "He's top tier he knows everything mechanical.. watch the show he's the one throwing me the balls in the batting cage"
Devin – 'I don't like liquor dude.."
Caleb – "In my army days man me and the army guys used to drink 30."
Caleb – "I can drink 30 bud lites and it doesn't do a thing"
Frankie – "When I drink I drink to be shit faced.. I drink to be obliterated .. I don't drink 3 beers.. no.. I've stopped doing that now I don't drink at all"
Caleb says before he use to get on stage in nashville he use to drink but it started to mess with his performance so he stopped all together.
Christine says her boyfriend doesn't drink before he performs, "His voice.. he sounds like an angel"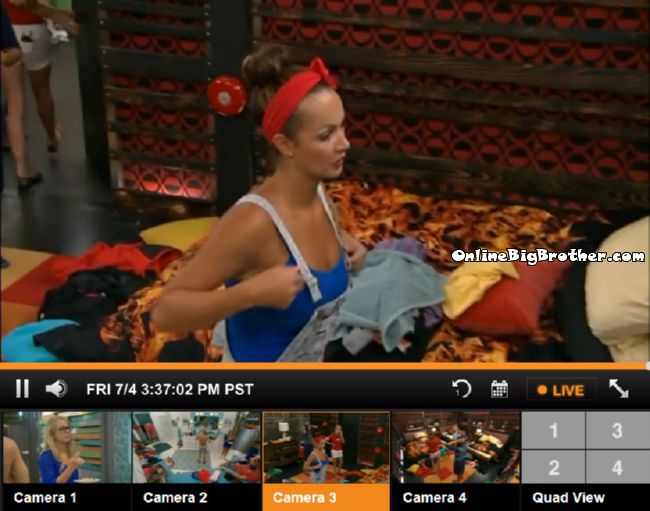 3:37pm Fireroom
Brittany says nobody in the house has any interest in hooking up this year. (Unless Cody asks her of course ;) )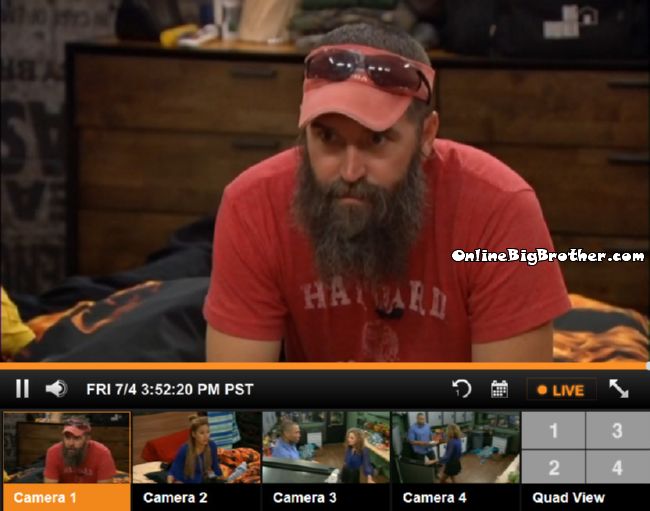 3:52pm Fireroom Donny and POWPOW
Donny saying it's a good day. POWPOW hopes she can win the POV tomorrow just so she can win something. POWPOW starts talking about wanting real cowboy boots. Donny suggests getting fakes they are a lot cheaper, $75 vs $400
Donny – "I've never worn Cowboy boots"
POWPOW – You like to be comfortable
Donny – I'm a flip flopper
POWPOW That doesn't sounds good in this game
Donny – "I'm a flip flopper"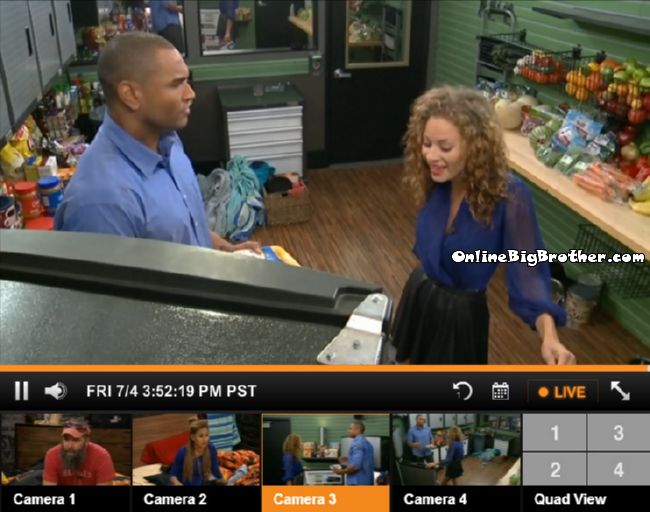 3:52pm Storage room Devin and Amber
Devin is saying if Brittany wins POV he will put Victoria up. If He wins POV he will use it to save POW and put up Victoria. He wants Brittany gone.
Amber wants POW to stay
(Devin got to nominate first)
Amber says Brittany came up to her and told her to put her up with caleb instead of Devin putting her up. Amber is glad Devin got to go first.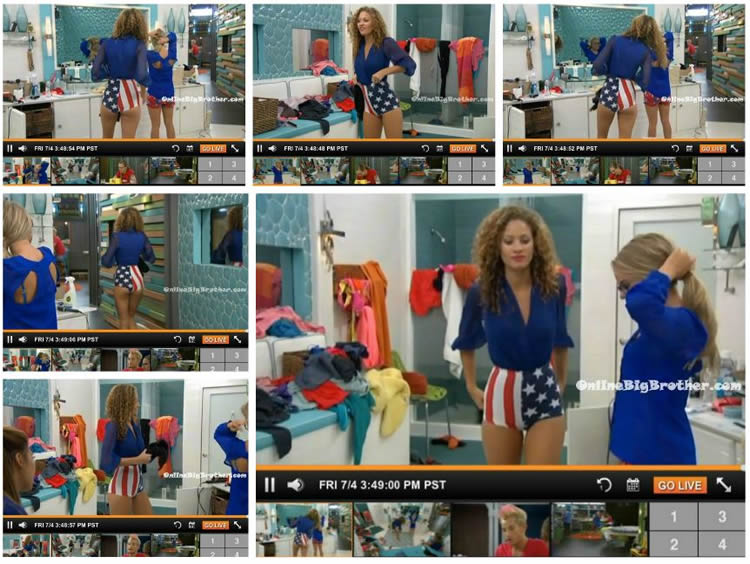 Ambers PATRIOTIC POW POW SHORTS
Try the feeds for free.. help out OBB and get them using one of the links on this site. You can go back and watch everything we showed on this site. A live feed subscription comes with access to the Big Brother Archive letting you rewatch from day one. It's a pretty sweet setup!
Live Feed subscription signup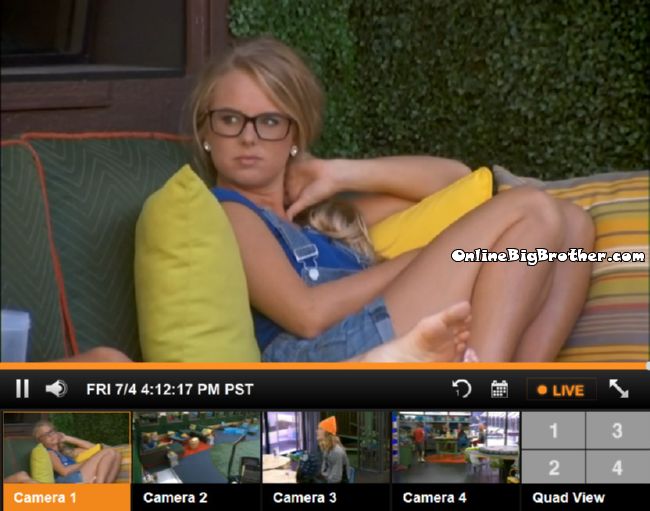 4:13pm Backyard Nicole and Amber
Missing home, Nicole says her dad has only taken 4 days off work since he's been 18 years old, One for when she got the Big Brother key, and for his kids graduations. She says he works in road construction but, "He's in charge but still does all the hard labour" feeds cut.. When the feeds come back the houseguests are on indoor lockdown.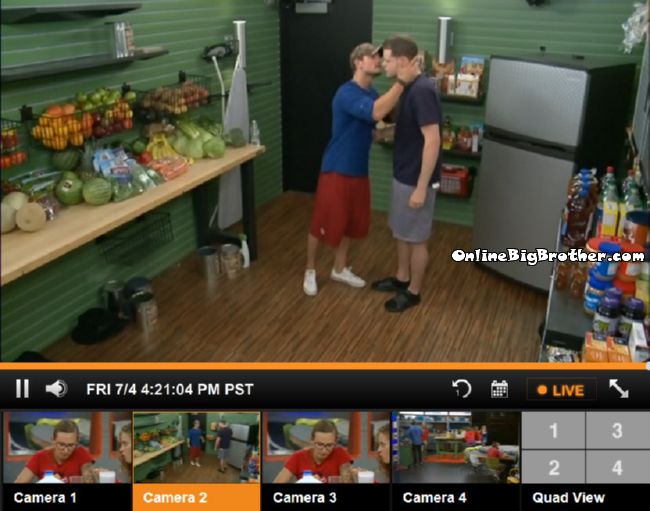 4:20pm Caleb and Derrick Storage
Caleb saying how down he is. "You Know I was deployed right.. thinking about my buddies.. it's going to be a hard day here and there"
Derrick says when the "Song" came on this morning he started bawling. "I'm going to go in the DR and see if they will play one song for his buddies
Caleb says
Derrick – "You've earned the right to do so buddy"
Caleb – ":Amber came up and hugged me and said thank you for what You did"
Caleb says he hugged her back but should have just kissed her (See image)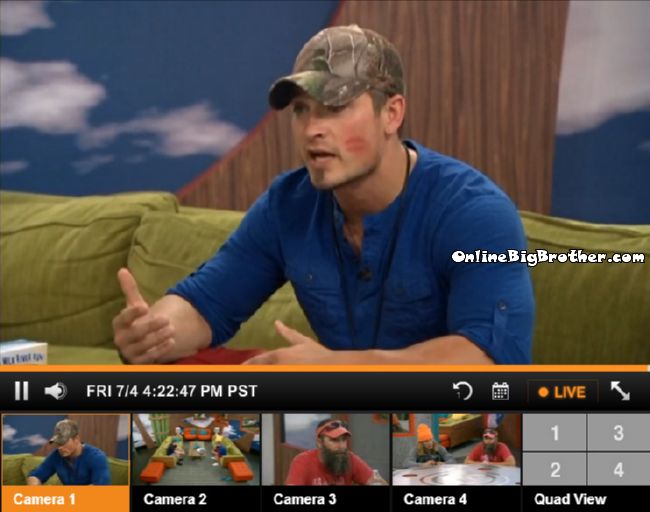 4:27pm They head to the living room (Notice the Amber's lipstick on Caleb's cheek I doubt he'll ever wash that off) )
Caleb saying they are going to go down in BB history if they can keep the bomb squad rolling. Derrick warns him it will get much harder before it gets easier.
Derrick – "You're a good dude buddy.. I have no qualms if you win it"
Amber joins them.. chit chat. Derrick goes to get a banana Amber says gross and leaves. Caleb – "She's hates bananas the texture.. I love em"  Derick like them to..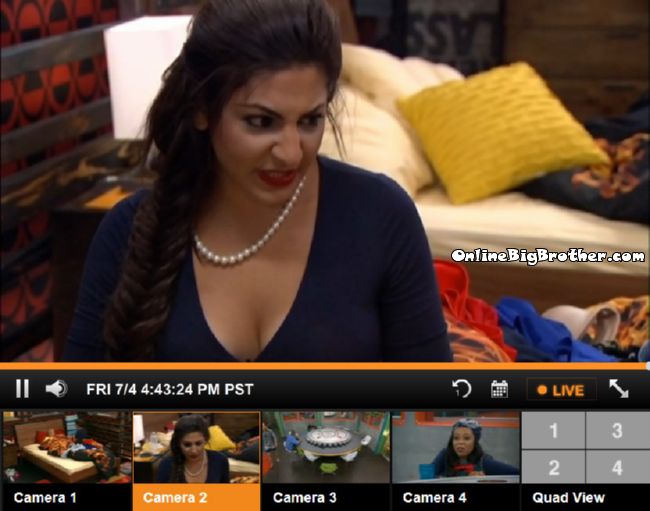 4:43pm Fireroom Victoria and Frankie (POWPOW sleeping in one of the beds)
Talking about mean Devin is to Brittany.
Victoria – "How would he like it if someone treated his daughter like he treats Brittany"
Victoria points out Brittany and Derrick don't walk around mentioning their kids every 5 minutes
Victoria – "He knows he's doing bad things he's trying to hide it "
Frankie – "it's just an excuse"
Victoria – "he shoves it in everyone's faces.. I hate him "
Frankie tells them they have no power they don't go declare war on the most powerful person when they don't have an army" He points out that's what Joey did and look at where she ended up.
Frankie – "it makers me so nervous.. I feel so bad.. I feel like it will come around.. it's all karama .. there will be a moment"
Victoria mentions how excited Caleb was when Devin won. "I feel like they run this house":
Frankie – "they do.. it would have been so different if cody won"
Victoria – like black and white
Victoria asks her who's going home "the little one for the big one". Frankie says they want the big one gone.
Frankie sad hev never heard what Devin said to Brittany but he say it and he didn't like it.
Alliances 
Bomb Squad = Frankie, Caleb, Devin, Cody, Derrick, Zach, Amber, Christine
Sub alliance of the Bomb Squad = Christine, Frankie, Cody, Derrick Zach
Sub alliance of the Bomb Squad = Derrick, Cody, Zach
Double Ds = Devin, Donny
Bed buddies/nicotine = Nicole, Christine
Final 2 Deal Zankie= Frankie, Zach
Where the vote is 
?
[polldaddy poll=8164185]