POV Holder:
Shane
Next POV:
July 28 (Saturday)
POV Used
Yes
POV Ceremony
July 23rd (Monday)
HOH Winner:
Frank
Next HOH:
July 26 (Thurs)
Original Nominations:
JOJO and Shane
Current Nominations:
JOJO and Danielle
Have Nots /Slop
Willie, Shane, JOJO, Ian
Coach Competition Winner
Janelle
Next Coaches Competition
July 27 (Friday)
Last Evicted Houseguest
Kara, Willie
10:06pm Cam 3-4 Danielle, Ashley and Shane

Shane saying it's 6 on 2 next week so him and Danielle better get ready to win some competitions, "Frank and Boogie going right to the top".
Ashley brings up that she doesn't trust Wil or Joe anymore, she's starting to suspect she's the bottom of the totem poll.
Shane points out after what Wil did to Kara he's not sure about him anymore.
Ashley: "Wil and Joe don't give a fuck about me.. they're using me"
Shane explains there are 8 players and 4 coaches it's not a big stretch for CBS to mix up the player and get the coaches to repick. Shane is hammering the point that the coaches are running this game 100%. Ashley agrees, She still loves Janelle.
Ashley says that Boogie never even talks to her. Shane: "Of course he doesn't he doesn't need you right now" Ashley: "I don't trust Ian worth Shit he's conniving.. and vindictive" Ashley pesses them to get rid of Ian, "Get rid of Ian now Get rid of him before he's too powerful". She plays up his performance in the last POV and says that physically everyone is underestimating him.
Shane says if he wins HOH he'll put up Wil and Frank the 2 strongest of either team. Shane doesn't trust joe but he's not the bigger threat right now. AShley: "I DON'T TRUST JOE AT ALL.. he's the type of person that goes around and tells people all your shit"
Shane tells them what will happen next week, Janelle will grab Danielle and they will use those 4 players (ash, joe, wil, dani) to go after Boogie. Shane each side will take out the other side one by one and the Coaches will keep their top picks safe with the coaches challenge.
Shane points out to her he's Loyal 100% he's proven that and he has also proven he can compete. If she has his word she knows he'll go the distance. He's shown that with Willie.
Shane and Danielle explain to her that there isn't enough days for the coaches to come back. They are convinced it's not going to happen. Shane thinks at the very least someone may come back but to have the coaches dropped into the game that isn't going to happen.
Ashley: "How do you feel about JoJO leaving?"
Shane: "It sucks she's in my alliance and a huge physical threat"
Shane tells her that he knows he gone unless he win HOH but he's down with Ashley, Danielle, Jenn and himself final 4.
Ashley and Shane agree that Joe is going to get caught in a big way he's floating around the house spreading lies. Ashley: "he's like Shelly". Shane tells her that Joe is going down in this game. Ashley says she doesn't trust her team and she feels like she made a big mistake keeping Frank.
Ian joins them
Ashley wonders why she got the immunity.. Ashley thought it was a way for Janelle saying that the totem pole positions for the players players didn't exist. Shane thinks it's because Ashley made a call that helped Janelle so Janelle was rewarding AShley. Ian mentions that this is how he sees it to. Ian says that only once a player on Big Brother won chasing the power every other time the person that won had to make a stand had to make at least one big move. Shane points out how Joe, Jenn and Wil are all huddled together looking at them.
Get The Live Feeds for your iPhone or Android Phone! Comes with a regular subscription to the Live Feeds Subscription Link
10:30pm Cam 1-2 Wil and Jenn
Jenn relays the conversation that occurred in the Bathroom where Ashley was crying about missing Kara and she told them that Ian and Frank have a final 2 deal. Wil is pissed at Ashley he says he's had enough with her. Jenn says a week ago she would of thought that Ashley's was only acting stupid but now she feels like Ashley really is stupid. Wil agrees. Wil is very pissed about this he races into the bathroom to talk to Janelle. Starts ranting that they've given her the key for the week she's safe why is she pulling this shit. At one point Janelle grabs him and closes his mouth shut.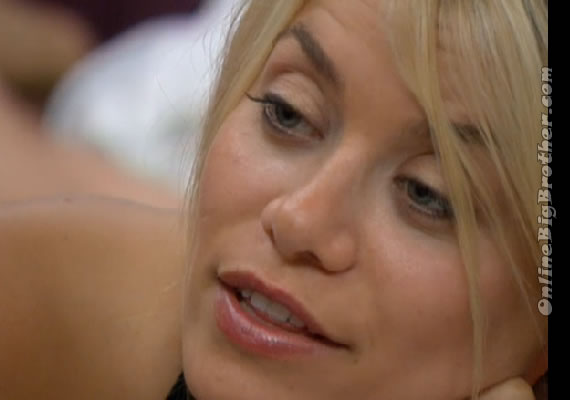 10:58pm Cam 1-2 HOH Janelle, Wil, Frank and Ashley before wil and Janelle join them, they have a conversation where Frank told her there was no Final 2. Ashley believed him. Frank says he's still on board with the final 6 alliance and he'll never hide anything from her so anytime she wants to talk feel free to talk to him. Janelle and Wil come up and confront Ashley with what happened in the bathroom. Ashley plays it all down says that she talked to Frank and knows there is no Final 2 between him and Ian. Janelle asks her why she was crying in the bathroom, Shelly Ashley denies that she crying she feels like the entire thing was blown out of proportions. Ashley starts putting some heat onto Jenn saying it didn't happen like Jenn said. Janelle leaves. Ashley starts complaining that she doesn't know what to do anymore.. she can't talk to Janelle people get pissed, she can't chat with Shane or JOJO because people get pissed she feels like the entire house is working together except for Daneille, Shane and JOJO.
Feeds cut in and out..
Frank says he trusts Wil and Ashley more than he trusts Jenn and Ian.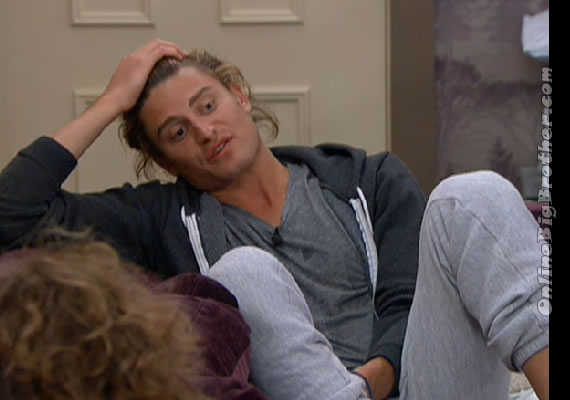 11:32pm Cam 1-2 HOH Wil and frank Wil starts to slamming Ashley. Wil and Frank want to take out Ashley and Jenn soon both of them are pissed.. Frank: "This is too much game for her" Wil: "All you have to do is smile for 2 weeks and act pretty"
Janelle comes up with cookies.. Wil says he's calmed down "apparently she's here for a real world summer". Janelle asks him if he trusts her. Wil says no. Janelle gets pissed tells him that she trusts AShley and he needs to as well.
11:41pm Havenots Ashley, Britney, JOJO and Shane Ashley keeps shooting straight tells them that she was confronted by Wil and Janelle and thank god frank was there because he was sticking up for her. Ashley says that she wants the team switched up. She says that Wil is ruthless.
Share it YO!
Tweet