POV Holder:
Shane
Next POV:
July 28 (Saturday)
POV Used
Yes
POV Ceremony
July 23rd (Monday)
HOH Winner:
Frank
Next HOH:
July 26 (Thurs)
Original Nominations:
JOJO and Shane
Current Nominations:
JOJO and Danielle
Have Nots /Slop
Willie, Shane, JOJO, Ian
Coach Competition Winner
Janelle
Next Coaches Competition
July 27 (Friday)
Last Evicted Houseguest
Kara, Willie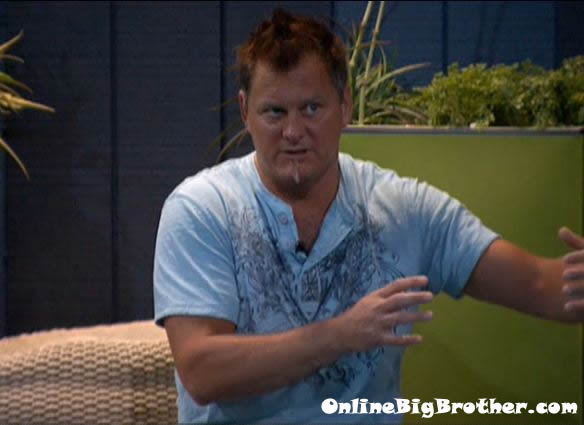 12am Joe and Wil are sitting around the hot tub talking about Ashley. Joe says do you understand what we are in here for? Wil says Ashley go be in the real world. I had sympathy for her up until yesterday. Joe says Mmmhh Hmm. Wil says first of all I fu*cking saved you're a$$ at the first competition and then you go around and you turn your back on us. If she had been put up, I swear she would be gone. Joe says that he had to tell her was going in and saying Kara. She is definitely the bad link in our chain. Wil says she really is. Joe says because she is not trust worthy, we can't trust her. Wil tells her that they had to tell her to put a filter on it, you can't go up to Jojo and Shane bit*hing about Frank and Ian having an alliance in front of Jenn. Britney joins them. The conversation turns to talking about Jojo. Britney says that she feels bad for her because she feels left out, like the other night with the dance. Joe says that Jojo and Willie came from the same rough backgrounds. Wil says that even last week she didn't make much of an effort to be with the rest of us. Britney explains how being on the block and being a have-not you feel uncomfortable around people and lonely.
Superpass Live Feeds: 3 Day Trial!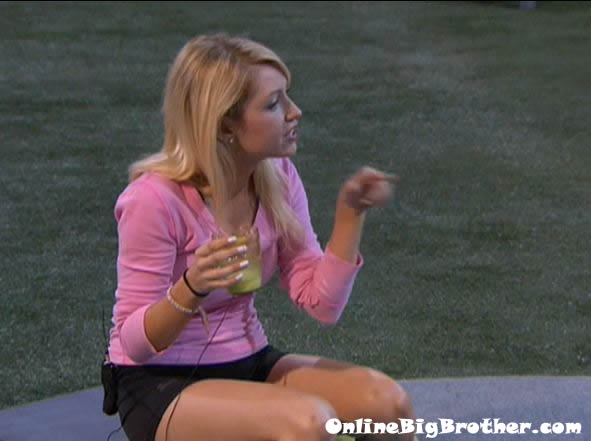 Jojo, Ashley and Shane are in the storage room talking. Jojo tells Ashley that she doesn't trust Janelle. JoJo says she only trusts Ashley and Shane and Britney. JoJo says everyone wants to keep Danielle because she's easy to beat. She says that Danielle doesn't have the strength and heart that she has. JoJo says she shouldn't go out this early. Ashley agrees and says she hates this. Ashley thinks Janelle is trying to ruin her game. Shane asks if they think the 3 of them can make it through the game. JoJo says they should break from their teams. Jojo says that they don't know if they can trust Frank. Shane says he trusts Frank, but Frank tells Janelle's team everything. Ashley says that she is not going to work with Janelle anymore and that she knows it will make Wil turn against her. Ashley says that Janelle is a bully. Shane says Britney has never given them bad advice. Ashley says she wants to keep Jojo and get rid of Danielle and Dan. JoJo says she can protect Ashley more than Danielle could. Ashley says she has a feeling Danielle is going home. Ashley leaves the room. Shane tells Jojo that having Ashley might get them through another week. Britney and Ashley come into the have-not room. Shane says that he wants someone to tell Frank that Joe went through his bag. Britney says yeah, but it can't be JoJo or Shane that tells him. Ashley says she will. Jojo tells Ashley to get Ian on board. Ashley says all Janelle cares about is winning. Shane says that Ashley needs to get Ian to agree to nominate Joe, Wil or Jenn if he wins HOH. Shane asks Ashley if she's being for real with him and JoJo about all of this, She says absolutely. Ashley says that she can't stand how obnoxious Janelle is. Shane says picture Janelle's face when Joe and Wil go up. Shane tells Ashley that her team will be upset with her for going against them, but Janelle won't let them put Ashley on the block because she won't want to lose a player.
Watch what happens, AS it happens: Big Brother 14 Live Feeds!
Subscribe today for your FREE 3 DAY TRIAL!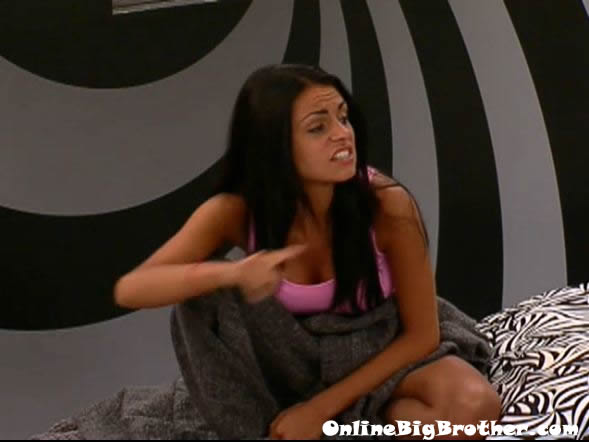 12:40am Dan, Mike and Ian are up in the HOH room talking. Ian says that there is some dirty playing going on and he doesn't like it. Dan asks what happened. Ian tells them about someone upsetting Ashley by telling her Ian had a final two with Frank. He says that Ashley was hurt because she thinks Ian is just dragging her along. Ian says that Ashley is so wonderfully cute and naïve and that she believes the rumor. Ian says that he is sad that she believes it. The conversation turns to talking about past seasons. Britney joins them. Britney feeds the fish in the HOH room. Britney says to Ian, if I tell you something do you promise not to tell anyone else? Ian says yeah! Britney says you're my favorite person in the house. She asks him what he thinks of the cast?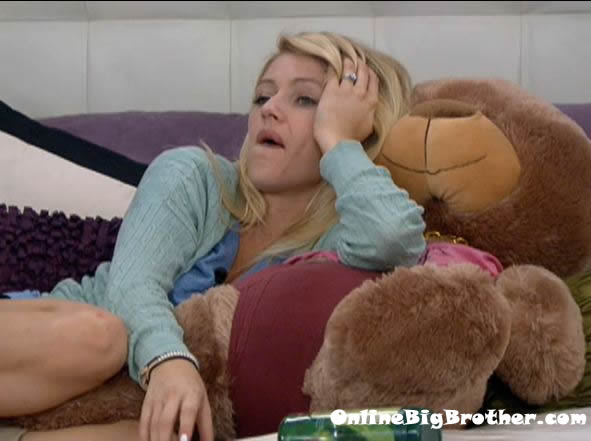 Britney tells Ian if you were at home right now, you would hate half this cast. Ian asks Mike, you think? Mike says well think of the half dim wits. Ian asks me? Britney says no, people that don't know the game. Production thought Shane would hook up with one of the hotties. they thought Jojo would mix things up and she hasn't, etc. Britney asks Ian if he thinks someone can have an attractive butt crack? Ian says yes. Ian says that he thinks Kara was totally attractive. Boogie says awesome, I love your honesty. Britney asks Ian if Kara is the hottest woman you've ever seen? Ian says yeah, over Ashley. Ian then ranks the girls in the house from the hottest to the least hot: Kara, Ashley, Janelle, Danielle, JoJo, Jenn, Jodi. Mike is surprised that Ian thinks Danielle is hot. Ian calls Jodi prehistoric. Mike says minus the personality and smoking, Jojo is hot.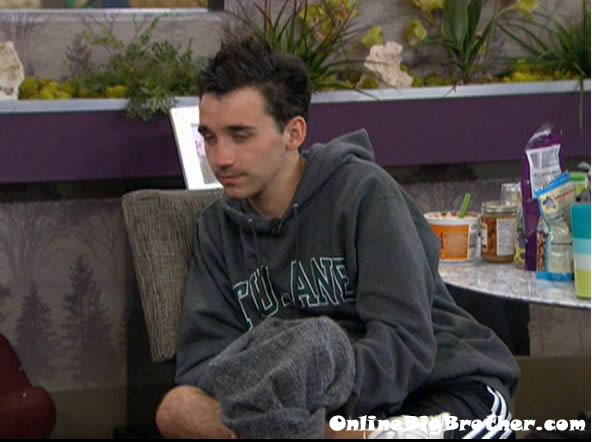 Re-Watch ALL THE DRAMA on FlashBack: Big Brother 14 Live Feeds – 3 Day Trial!
1:15am
In the have-not room, Shane, Jojo are talking. Shane says Joe and Wil will be panicking tomorrow since they know Ashley has been in there with them game talking. Ashley says let them dig their own grave. Ashley is pissed at Jenn because she told the whole house about Ashley crying over Kara. Shane tells Ashley not to talk game to anyone, just be agreeable. JoJo tells Ashley not to let Janelle change her mind and control her. Shane says that it would be awesome if Kara comes back into the game. Ashley says that Kara probably hates her. Ashley leaves the room.
1:30am Danielle and Ashley are lying in bed talking. Ashley asks what can Jojo do for me? Danielle says she was afraid JoJo had changed Ashley's mind. Ashley says there is nothing Jojo can say to make her change her mind, she's sticking to the plan. Ashley tells Danielle that Jenn is acting weird towards her. Danielle says not to worry about it. Ashley's tells Danielle about how Janelle and Wil ambushed her in the HOH about her being upset about Kara. Ashley says Janelle is protecting Wil. Danielle tells Ashley that she's got her. Ashley says they have each other. Ashley says that she wishes she had gone against Janelle last week and kept Kara. Ashley tells Danielle that Janelle always said Kara was Dan's top racehorse, and that Dan was protecting Kara, and not Danielle. Ashley says that Janelle is mean and that she plays dirty. Danielle asks Ashley to promise she won't vote her out. Ashley says she isn't voting her out.
2am – 3am Frank, Ian, Wil, Joe, Janelle and Dan are sitting on the backyard couches talking about Willie. Ian talks about how hard Willie tried to get him to vote with Willie. Janelle says that she was irritated at how Willie hounded Ashley. Janelle says that she heard Shane and Jojo have a secret showmance. Ian says that he sleeps in have-not room with them and says they flirt and play, but nothing's going on. He says Shane flirts more with Danielle. Dan goes to bed. Frank says that he wonders if new newbies will be introduced into the game. Joe says that he still thinks the newbies will be re-shuffled. Frank says if Julie announces Jury this Thursday, they know for sure no one is coming back. Joe heads to bed. After Joe leaves, Wil makes fun of Joe saying that he invented this and that. They talk about how surprised they are that Rachel wasn't a coach and wonder why Britney was picked. Janelle tells them that Shane needs to go. Then conversation ends and they all head to bed.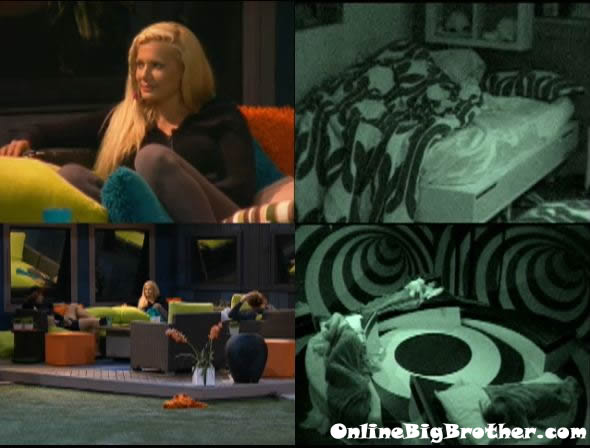 Share it YO!
Tweet