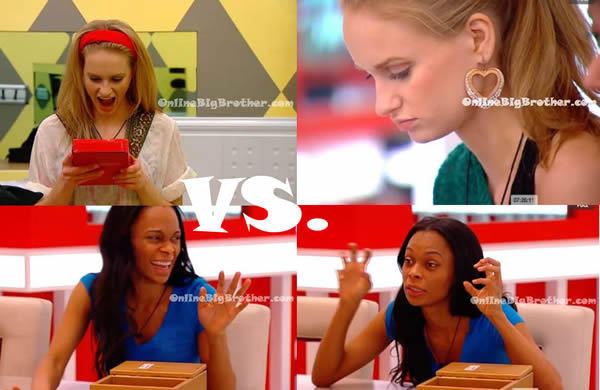 Rachelle winning Head of Household who would have thought.. Was it really Rachelle that won though? It was actually more like Sabrina with Rachelle being given a front row ticket to watch. Sabrina talked Rachelle into nominating IKA who's in her core alliance as the replacement nominee. By doing this Rachelle bought herself the 6th position in the first five alliance and effectively hammered the last nail in the coffin of the girls alliance. (Sarah hammered the first nail) Was it worth it? perhaps… girls alliance has always been unstable and rocky with regards to their loyalty.
Initially Ika never campaigned to stay in the house until Big Brother instructed her in the diary room to fight to stay in the house. However even after campaigning to Kenny she still figuring there was no way to convince people and so she proceeded to cause chaos. Getting in a shouting match with Sabrina and calling Heather all sorts of nasty names. IKA soon figured out that Sabrina is a snitch but at that point the only person left to talk to her was good ol Adel. Ika's Fight post
Arlie is playing one of the stronger games. He's still in good with the first five alliance and is now forming a new alliance composed of the outcasts (Heather, Adel, Jon, Neda). Having the house split he's essentially off the radar completely, however, this can all change "with one word" (as Kyle would say) but as of right now he's sitting pretty.
Deli Meatball seems to be the fans favorite. He's vocal about going after the power players, he's wise to all of Sabrina's bullsh!t and is taking a more relaxed fun loving approach to this game. Everyone loves an underdog and Adel is someone who is drawn to come to the aid of another outcast or underdog. Deli has been vocal about his plans for the HOH and wants his entire alliance to adopt the same policy. He wants Kenny/Sarah up with Andrew going up as the replacement. He's stated that he will warn Andrew, Allison and Sabrina if the Veto is played Andrew is going up on the block. He talks of threatening them that he'll use his power (fake power) so if Andrew wins the POV and takes down Kenny, he will put up Allison or Sabrina as the replacement. Ultimately Kenny is the primary target, Andrew secondary and Allison tertiary.
Sabrina, when she's not picking her nose, she's scheming with Rachelle or spreading rumors at a rapid rate. In the past this worked for her and garnered her the best position in the house much like the position Arlie has now. Sabrina was sandwiched between the two main alliance, Girls on one side, first 5 on the other. Either it was her fear of losing Andrew or her loyalty to first 5 that caused her to get IKA out this week. With IKA almost out the door Sabrina moves to wanting Adel and Allison out next because they both interfere with her love/Alliance with Andrew. Sabrina is being targeted by a lot of people in the house, She's annoying everyone which is starting to catch on but luckily for her there are likely a couple HUGE targets that will go before her.
Andrew/Kenny, Everyone but Sabrina/Rachelle/Sarah would try to take these guys out. Their safety rest on who wins HOH and POV not the best spot to be in but as Adel has said "These are TITANS" Kenny seems to have more heat on him than Andrew at this point in the game.
Neda and Jon, They're in the hot seat right now. If the first five get power again one or both of these players will be nominated. Jon knows something is up, His alliance knows something up, "There's been rumblings in the house" to get him out.
Sarah, She's trying to play both sides like Arlie but is really only close to Kenny. She has begun to form her backup alliance with Arlie and it will be interesting to see who she ultimately gravitates too going forward in the game. Her game will rise and fall as Kenny's game does. She will find likely find herself nominated as a pawn if Adel's side wins the power though.
Heather, Last week I think I said no need to worry about Rachelle she won't win HOH.. well she won HOH so the same could happen with Heather. If Heather wins HOH expect her to either pull a Deli Meatball or put up two girls (Allison, Rachelle or Sabrina) with a backdoor option for a big player.
Rachelle will do what Sabrina tells her – It's a given, don't expect anything new from her unless Sabrina leaves.
Allison, This years first flop? The vast majority (Over 70%) of people on our poll agree. She hasn't done anything other than kiss Andrew. (Seriously WTF) To add insult to injury she just recently professed her regret into the microphone to her boyfriend that she left back home. Saying "So sorry Aaron, it's a game. I miss you. F**K! I hate myself. I'm a terrible person. A terrible f**King person."
Where do I see this game going? No Idea but I can tell you once I know the HOH winner.. Tonight is going to be big night!


Twitter Spoilers
From people who attended the filming of the episode.
Ika was evicted 8-1 (Adel was the only one to vote to evict Heather)
Viewers are Head Of HouseHold – voting will be open until 10pm Friday
Spoiler Source: @hamsterwatch
My Predictions
IKA goes home with all the votes against. (Maybe Deli will vote to keep)
Confirmed results
Evicted house guest ?
Andrew, Sarah, Arlie, Sabrina, Big Jon, Neda, Allison, Kenny vote to evict IKA
Deli meatball votes to evict Heather.
By a vote of 8-1 IKA is evicted from the Big Brother Canada House.
New HOH is ?
New Twist Canada is the HOH.. it's the second twisto twist of the season..
House guests are told about this twist!!!
[polldaddy poll=7919957]