POV Holder:
Allison
Next POV
?
POV Used
Yes
POV Ceremony
March 24
HOH Winner:
Racehlle
Next HOH:
March 27
Original Nominations:
Allison & Heather
Current Nominations:
IKA & Heather
Last Evicted Houseguest
Paul, Kyle, Anick
Have Nots
Adel, Sabrina, Heather, Arlie
10:10pm Storage room Sarah, Kenny and Jon
Searching around the storage room they find Heather has hidden some food. It's not a secret to all that this is Heather secret stash of treats.
Heather – 'I want to have some when i'm not a have nots"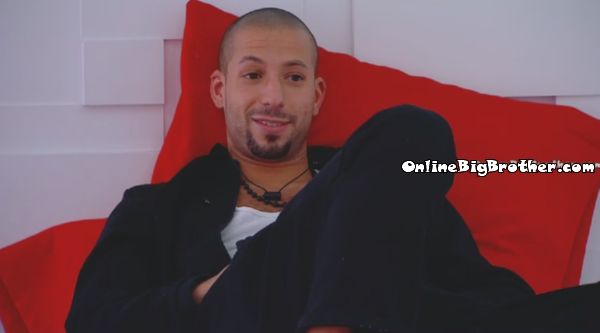 10:21pm Adel and IKA bedroom
Adel tells her Arlie thinks he's the biggest target in the game because he stuck with IKA, "I don't give a f** I have my card i'm staying with a bunch of b1tches.. I'll fake a$$ card all these idiots"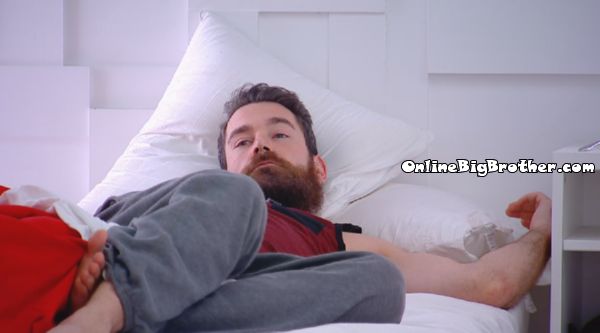 10:30pm Sarah and Kenny
They don't think Sabrina was lying her mind just snowballed during her confrontation with IKA.
Kenny – "Basically she came out.. freaks out said this whole situation happened and Big Brother Was like… umm NO you're lying"
Sarah – "Maybe it'll at least stop her from doing that again"
Kenny – "Hopefully .. but ya she just needs to realize IKA is trying to get a rise out of people.. stay away from her"
Kenny – "Ika is just trying to stir up the pot and bring prople down with her.. I don't even look at her now I don't even look at her in the eye"
KEnny says Jon is being 'So stuck up his a$$" now.
Sarah saying everytime she goes somewhere Jon is right there. Sarah – "I think I got him off the Andrew train"
Kenny – "How"
Sarah – "he brought it up again.. I told him if he's loyal to Kenny right now is the wrong time to go after Kenny's allie"
Sarah thinks Jon realizes he doesn't have the votes and he's loyal to kenny things should be OK moving forward.
enny – "It's crazy that soon it's going to be time for that shit"
Sarah says they have Heather, Adel, Allison, Neda before it's Jon Racehlle and the first of 5.
Kenny asks who should be the first person in first 5 to go. Sarah thinks Andrew, Kenny agrees.
Jon comes in
Kenny saying Adel is the type of person that wants to be needed that's why all the soon to be evicted people cling onto him because they need someone and Adel likes that.
10:50pm ALLISON'S SHOWMANCE REGRET – Andrew and Allison are on the couch talking. When Andrew leaves to go to the bathroom.. Allison whispers into her mic – So sorry Aaron, it's a game. I miss you. F**K! I hate myself. I'm a terrible person. A terrible f**King person.

10:50pm Havenots Heather, Arlie, Adel
Adel is telling them about the IKA/Sabrina fight. Adel explains Sabrina sat near IKA so she turned around and said "Is there a reason you are sitting there"
Sabrina said 'You think you are intimidate me cause you shoulder checked me on the stairs"
Adel – "IKA like B1Tch shut up we walked by each other by accident we bumped .. we said sorry and I kept going it was nothing now you act like I shoulder checked you.. B1tch you keep lying in this game"
Adel – "she kept calling her a b!tch.. and then Sabarin goes you don't scare me ya ya you don't scare me"
Adel -"Then IKA said go do something productive and get your fat a$$ on the treadmill you're always whining and complaining about your weight then go work on it stop sitting here and creeping behind me."
Adel continues saying Sabrian lashed out "You're a cruel evil evil woman
Adel – "IKA replies b1tch please I don't care what you think "
Why don't you go cry like you always cry about Andrew and the new girl.. and you're crying about the lies you're spreading .. lying and crying lying and crying"
IKA told Sabrina B1tch you're lucky i'm not in the game anymore cause I would put your a$$ on the block. Sabrina yelled out "You're threatening me.. you're threatening me"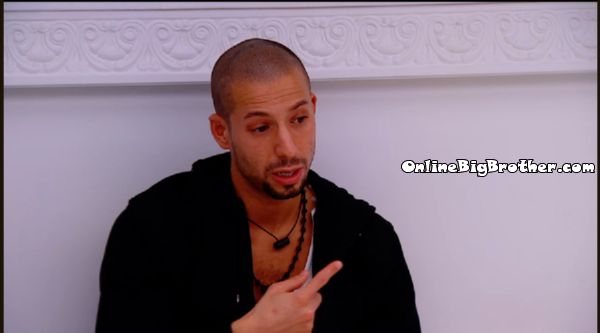 11:10 have nots Heather, Arlie and Adel
Telling Heather not to bother packing anything. Heather says she still will pack a few things
Arlie says he won't pack if he was Heather and if he went home he would just say I'm donating my stuff to the those, "you can do that"
Adel – "I'm winning this HOH and a power player is getting out of this f** house"
Arlie says it's a bad game move for him to stay in the have nots for such long periods of time he's going to go mingle.
Adel points out that Arlie is a smart player, "He's got a good chance of winning this game.. i would say him and jon but now Jon is in trouble"
Adel explains how IKA said she liked Adel, Neda and JOn during her challenge yesterday then SAbrina took that and told everyone repeatedly.
Adel tells her this helps Heather's game and it doesn't matter for him because he's got his card. Adel mentions how he already told everyone if he goes up he uses his card and puts the hOH best friend up in his place.
Adel says when he opened the door to let IKA in after her challenge he told her "Oh my god IKA you just got topaz'd"
Adel says he hopes god forgives him for having so much anger inside toward a person. Adel hasn't disliked someone this much in a long time, he thinks the type of person Sabrina is inside the house is same person as outside the house
Adel suspects that Arlie is a doctor, "He's so smart. the hair … the balls… It's so out of his character he's loving it.":
Adel says his plan is to put Sarah and Kenny up. He's going to tell Andrew if the POV is played the house will demand he puts him up as a replacement nominee. This way Andrew, Sabrina and Allison would all fight for POV not to be used.
Adel says after he makes his move it will be five vs five
They talk about everyone that is shunned, Heather mentions how Neda is getting shunned now.
Adel – "Neda is f**ked… Big Jon is shook … there's rumblings all around the house.. not from our side but their side
Heather wonders who started that
Adel – "Andrew is tripping about it"
They start talking about IKA shredding the letters and taking the money instead of giving the letters to the house guests. Heather heard people in the bathroom say they would have changed their vote if she took the photos.
Adel says they have to get Sabrina out before Jury, stresses how much of a nightmare Jury will be with Sabrina in it.
Adel – "Don't you think everyone is sick of Sabrina to or am I just tripping"
Heather says she wants to target Sabrina because she f** up Heather's game, but someone told her to take out a bigger player. Adel says they have to get the numbers on their side, "We just have to get to that point"
Heather is nervous what she would do if she wins. Adel – "My plan should be the alliance's plan"
Adel – "Me you and Neda have to play the same thing" adds that Arlie and Jon still have the guys alliance to fall back on. Points out how everyone has 2 or 3 alliances and they have nothing .
Heather wants to take out Kenny because she heard him say in the storage room that the guys have to say whatever it takes to keep the girls and pick them off one by one.
Heather – "Who do i out up"
Adel – You can't put any of our vote sup:"
Heather =- "I was thinking Rachelle and Sabrina"
Heather says the problem with her plan is if POV isn't played Sabrina will go home and that isn't her plan.
Adel thinks if Racehlle/Sabrina win HOH next week they'll put up her and him, "they don't think you and NEDA are strong"
11:55pm Sabrina rolls in picking her nose (No joke) Heather and her start talking about Big Brother not letting people into thee house that have a STD.

(Video is uploading it's long)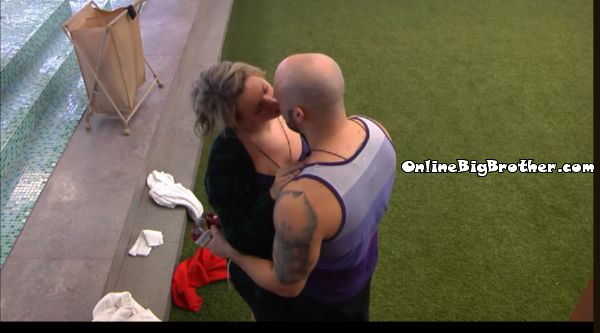 11:58pm Showmancing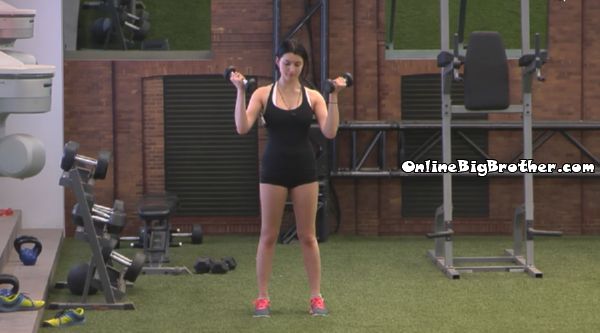 12:20AM Rachelle working out
12:23am bathroom Adel and Arlie
Adel tells Arlie his plans if he wins HOH. Put Kenny and Sarah up and replace any nominee with Andrew.
Adel counts the votes Heather, Neda, Jon, you. the other side will have 4 as well and he'll break the tie.
Adel will scare Allison and Sabrina telling them if they use the Veto Andrew will be going up., "The day before I'll show them my card"
Adel really wants Kenny goen says once he's out of the game Andrew will go next. Sabrina and Rachelle nobody likes them.
Arlie thinks they can pull it off if they win HOH. They have the votes as long as Heather and Neda don't get "shifty". Arlie concludes that he doesn't see that happening noir does adel, Adel says "They are holding on by the skin of their teeth"
1:00am Sabrina and Arlie
Sabrina – "Neda … no offense but she's completely useless.. no offense she's a nice girl a person like that doesn't deserve to be in the final three"
Arlie says Neda won't make it to final 3
Sabrina calls Rachelle and Neda "Serious floaters"
Sabrina adds.. Allison is stupid, Jon is paranoid city, Heather is useless.and Adel only attaches himself to sinking ships
Rachelle never talks game
Sabrina – "Does anyone talk game to you"
Arlie – "Jon doesn't talk game to me.. he just wants to make jury and have fun.. he's paranoid that the guys are after him"
Arlei explains that Jon hasn't told him he wants to take out the guys but that would be stupid for Jon because Arlie spends all his time with Kenny and Andrew.
Sabrina asks about Adel.
Arlie says Adel think they are buddies and he asks Arlie to keep him safe.
Sabrina says Jon, Allison and Adel are trying to get Andrew out.
Sabrina saw Adel and Heather whispering in the bathroom the other day.

(Video coming it's long)
[polldaddy poll=7916437]
[polldaddy poll=7912780]