POV Holder:
Allison
Next POV
?
POV Used
Yes
POV Ceremony
March 24
HOH Winner:
Racehlle
Next HOH:
March 27
Original Nominations:
Allison & Heather
Current Nominations:
IKA & Heather
Last Evicted Houseguest
Paul, Kyle, Anick
Have Nots
Adel, Sabrina, Heather, Arlie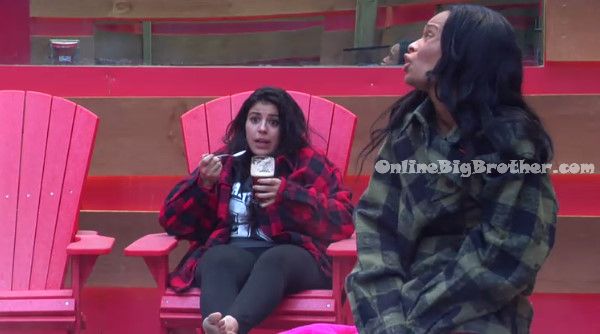 5:10pm – 5:30pm In the bathroom – Sabrina tells Heather that she wasn't mad at her when the incident in the kitchen happened. Sabrina explains what happened again where she was making her slop cookies for everyone. She says that she had the sugar in her hand and was about to pour it when Adel grabbed it out of her hand and poured it into his water to make sugar water. She says that she wanted to bash his face in with a hot pan but knew she would be evicted. Heather tells her that she's proud of her for not going off on her. Sabrina leaves the bathroom and heads downstairs. On the way down Ika bumps into her and Sabrina goes down into the kitchen to complain about how she just bumped into her. Ika and Adel head out to the hot tub room and Sabrina follows them. The living room crew are worried theres about to be a fight. Out in the hot tub room – Ika asks Sabrina if there's a reason she's out there with them. Sabrina says what I can't get some fresh air! Sabrina asks her why she bumped into her in the hall. Ika tells Sabrina to shut that F**K UP!! Ika tells Sabrina that she is lucky she won't be here because she would put her a$$ up on the block so fast!! SHUT the F**K up!! Yu're lucky I won't be here! I will f**King do you and your pet in! Sabrina says are you threatening me! Sabrina says you're embarrassing your children. IKA says SHUT THE FUCK UP! SHUT THE FUCK UP SABRINA!!! IKA tells Sabrina to walk her fat a$$ out of the room! Sabrina gets up and storms inside… and goes off about what just happened! (It's awesome Sabrina is livid!) Sabrina tries to get into the diary room but can't. She starts to go upstairs and then stops to tell everyone about how Ika threatened her. Sabrina tells them about how Ika threatened her that if she stayed she was going to put her up on the block. Andrew tells her that if she believes she was threatened she should go into the diary room and tell them. Sabrina tells them that Ika told her to walk her fat a$$ out of the room .. Sabrina then yells I WAS A MODEL YOU F**KING WH*RE!!! BIG BROTHER THEN CUTS THE FEEDS….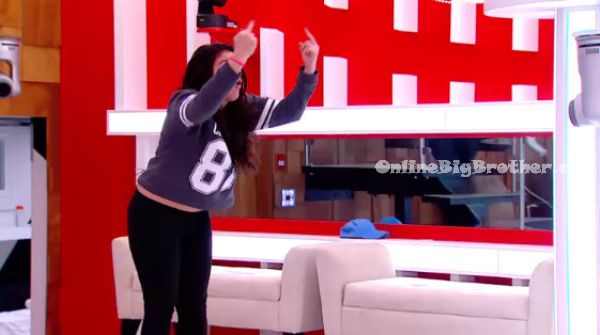 5:50pm Ika says that she won't bash her (Sabrina) around Adel any more because it's amping him up. Adel says it's okay. Ika says Sabrina plays this game too personal. Ika says you know what makes me sick.. the way people are treating Heather .. is the exact same way that I acted towards Paul. It makes me sick the way I was. Ika says I am a strong person but if you had gone out that door I don't know what I would have done. Ika says Sabrina would self-evict if she had to do 2 weeks on slop. The only reason she's fine is because BB gave us those rewards.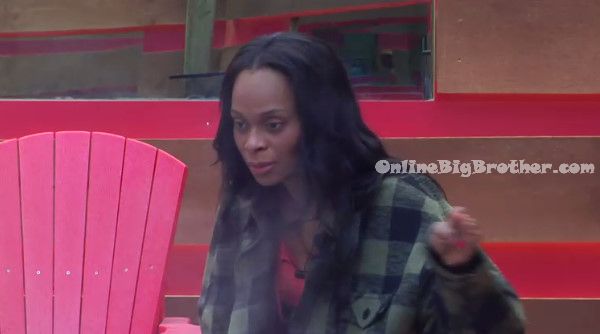 6pm Jon and Neda are doing laundry and talking about the Ika/Sabrina fight. Jon says that he wouldn't be surprised if Ika didn't really say those things. Neda agrees and says that she can't wait to get out so watch it for herself and see just how much Sabrina lied.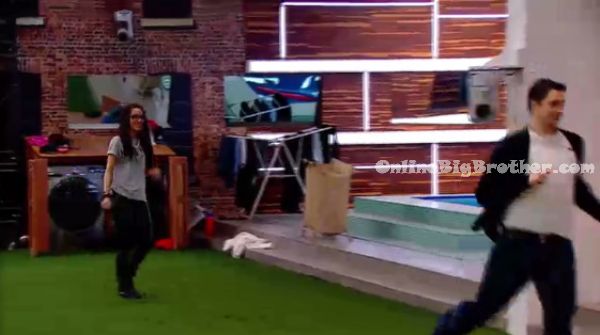 6:15pm – 6:30pm In the bathroom – Ika is freaking out because she thinks she might have gotten a cold sore. She says "OH MY GOD I WILL F**KING DIE!!" She keeps touching it and looking in the mirror. She says it better not be from sharing chap stick! She starts asking Adel if people use the Vaseline by putting their fingers in it and sh*t. He asks her if she got a cold sore. Ika says I don't know. Adel looks at it and says that it's not a cold sore .. it doesn't look like that. It looks different. She asks what is it, is it a pimple? What? Adel thinks it could have been from what she ate and how it was too hot. He tells her to just not touch it or she'll irritate it. Adel tells her to stop mentally f**king with it!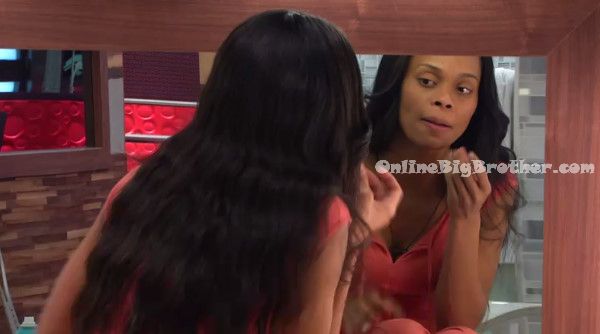 6:35pm – 6:55pm In the living room – Andrew says I am really worried about Sabrina. She's not out yet. Sarah and Kenny tell him that its better that she's in there right now and how she is probably just talking it out and calming down. Andrew asks you don't think she could get kicked out for that? Kenny says oh no, not after she was threatened like that. Soon after Sabrina comes out of the diary room. They ask her to talk to them and she says no, I'm just going to go upstairs. She heads up stairs and walks by the bathroom where Ika is doing her make-up. Ika laughs and says I'M A BOSS! Sabrina then heads back down to the diary room and comes back out and sits by Andrew. He asks her if she's fine. She says yes. Rachelle starts asking questions about the diary room / fight and Sabrina says that she's not allowed to talk about it. Big Brother tells them not to talk about production.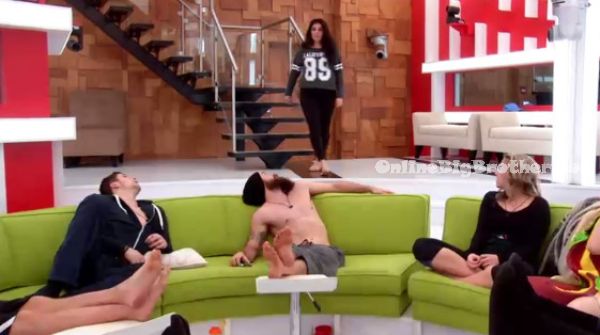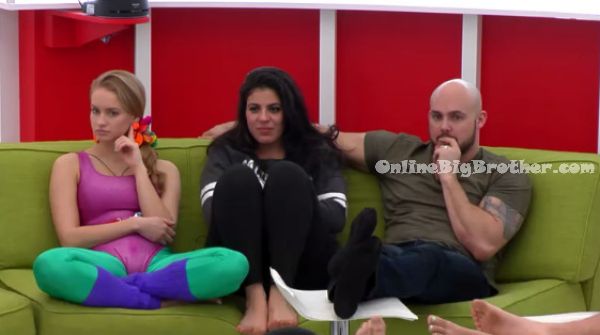 6:55pm Ika gets called to the diary room. She heads down and goes in and then Big Brother blocks the live feeds…
7pm – 7:15pm The live feeds come back to JOn, Kenny, Arlie and Sabrina out in the hot tub room talking about her fight with IKA..
Stay connected and interact with other Big Brother Fans on our Facebook page.
And Follow: @BigBspoilers and @Dawgsbigbrother on Twitter for the most up to date spoilers.