POV Holder:
?
Next POV
April 6th
POV Used
?
POV Ceremony
April 8th
HOH Winner:
JILIAN
Next HOH:
April 11th
Original Nominations:
?
Current Nominations:
?
Last Evicted Houseguest
GARY
Have Nots
Gary, Peter, Topaz, Emmett (used Slop Pass)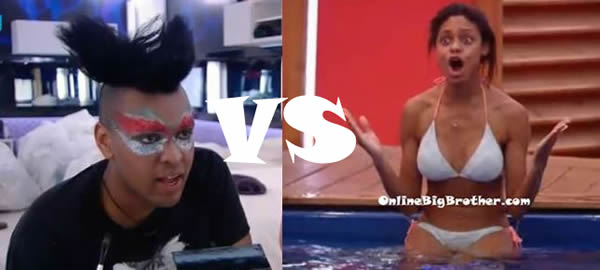 Big Brother Canada Live EVICTION Episode: April 4th, 2013 @ 10pm ET/PT
On the block for eviction tonight are: Emerald "Topaz" Brady and Gary Levy.

PREDICTION: GARY is evicted. Both Topaz and Gary have been very calm this week as each of them figure they are staying. We will see quite the reaction from Gary if he is evicted this evening. The house dynamic will change if Gary is evicted tonight as he brings a lot of excitement and personality to the house.
For the "Shield" Alliance to be safe this next week, Alec or Peter need to win tonight's Head Of Household competition. Peter has been cautioned he is being viewed as a floater, so it will be interesting to see if he tries to win tonight.
As there have been a lot of Quiz & Physical Competitions lately, it is likely that tonight's competition will be an endurance.
Who do you think will win tonight's HOH Competition?
SOCIAL Media Spoilers: Gary was evicted by a vote of 5 – 0. Tonight's HOH Competition is an endurance. Next week is another Double Eviction.
Actual Results:
Jillian votes to evict: GARY
Alec votes to evict: GARY
Emmett votes to evict: GARY
Peter votes to evict: GARY
Talla votes to evict: GARY
As tonight's vote is an odd number of house guests voting Andrew will not need to break a tie vote.
By a vote of 5 to 0 GARY is the 8th house guest evicted from the Big Brother Canada House!
THE NEW HOH IS: ?
As it's an endurance HOH competition we will find out who wins on the live feeds when they are turned back on. From the looks of it, this competition could go all night..
11:10pm The live feeds are still showing the Hush Hush screen..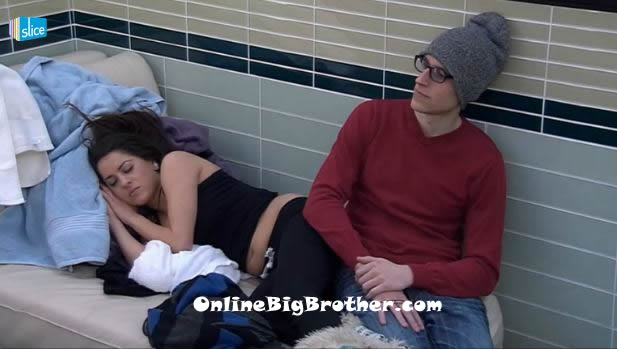 11:32pm – 11:55pm The live feeds come back and everyone is in the bathroom wanting to shower. Andrew hugs Jillian and tells her congratulations. JILLIAN WON THE ENDURANCE HOH. Topaz and Alec are in a shower together. Talla wonders if there will be a competition tomorrow. Peter says yeah it will be a have/havenot or luxury competition tomorrow. Andrew says 8 people gone, 7 remain. Alec tells Topaz that she is safe. He tells her that he talked to Jillian and says that she wants Andrew out. Emmett, Jillian, Andrew, Talla and Peter head into the bed room. They are all freezing cold. Big Brother tells the house guests that they are restricted to the bedroom wing of the house. Andrew and Peter talk about how Gary got evicted by a 5-0 vote and he didn't even realize he was going home. Meanwhile back in the bathroom Alec high fives Jillian.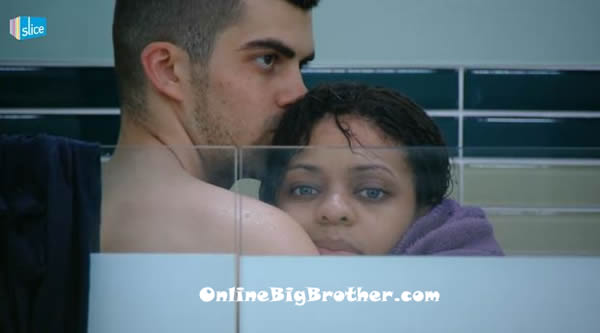 11:55pm – 12:05am In the havenot room Alec is trying to warm up Topaz. Meanwhile in the bedroom: Andrew says well she (Jillian) is the queen of endurance! She's got a bit of stamina in her. Jillian says that she feels like she earned that one, that one was sh!tty for sure. She says that she was so cold and her teeth were chattering. I am a cold wimp. Peter says no you are not, you just proved that for staying up there for 3 hours! Andrew says if Jillian gets the HOH I guess she will be sleeping up there alone tonight, since Emmett is a havenot for at least another day. Andrew comments on how Jillian almost fell off at one point. They talk about how their arm or hand had to be touching the poll. Andrew comments on how they weren't allowed to turn around facing the wall either. Andrew says that he gave Emmett a hug after and Emmett told him not to stop hugging him because he was so warm. Andrew says that it was a bit awkward because Emmett has a huge package. Talla says AWKWARD! Andrew says what it is giant, haven't you seen him walking to the bathroom in his shorts …it looks like he is smuggling a kilo of cocaine down there.
Video is uploading:

12:05am – 12:20am In the havenot room. Topaz is telling Alec how during the HOH competition Jillian and her both didn't want to drop. They talked about offering each other safety but neither was ready to drop yet. She says that they then offered to keep each others partner safe as well (Topaz wouldn't nominate Emmett or Jillian if she won and Jillian wouldn't nominate Alec or Topaz if she won.). Topaz says that she asked Jillian who she would nominate and she says that she said she would put Talla and Andrew up on the block. Alec tells Topaz thank you for making a deal to save him as well. Meanwhile in the bedroom: Andrew comments to Peter alone in the bedroom that Jillian must have made a deal with Topaz for her to drop. Peter agrees. Andrew says yeah and obviously Emmett is safe too. Peter says yeah so that leaves four potential nominees. They talk about how Alec and Topaz are super close now all of a sudden. Andrew asks Peter if that break up was fake, because that would be a d!ck move! Peter says he has no idea and if so then he was lying to me too. Talla joins them again and starts talking about it smelling like farts. She starts dancing for them.
Videos of these conversations will be posted here:


12:20am Big Brother switches the live feeds the hush hush screen… Jillian might be getting her HOH room.
LINK TO Watch the live stream of tonight's episode: HERE
Stay connected and interact with other Big Brother Fans on our Facebook page.
And Follow: @BigBspoilers and @Dawgsbigbrother on twitter
[polldaddy poll=7012892]