POV Holder:
?
Next POV
April 6th
POV Used
?
POV Ceremony
April 8th
HOH Winner:
JILIAN
Next HOH:
April 11th
Original Nominations:
?
Current Nominations:
?
Last Evicted Houseguest
GARY
Have Nots
Peter, Topaz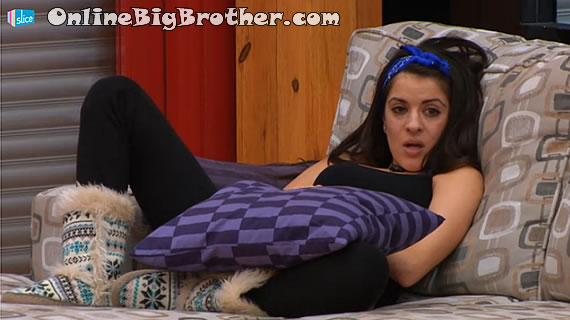 12:43AM Kitchen Talla and Andrew
Talla mentions that during the HOH competition Topaz was saying she would put Talla and Andrew up if she won.
(audio from Cam 1-3 is leaking into audio from cam 2-4 so it's tough to hear the Andrew and Talla conversation)
Andrew: "I like to drink diet pepsi because it contains aspartame the thing that makes people grow.. every week another person goes think of it you get more air time"
Andrew: "Remember when he told Gary to clean up his slop and he just sprinkled glitter on it.. I hope when he sees Gary he pours glitter on his head"
Andrew: "Congratulations we made it to the seven" They drink down their pepsi's
Andrew comments how exhausted must be from the competition. She's either worried, tired or both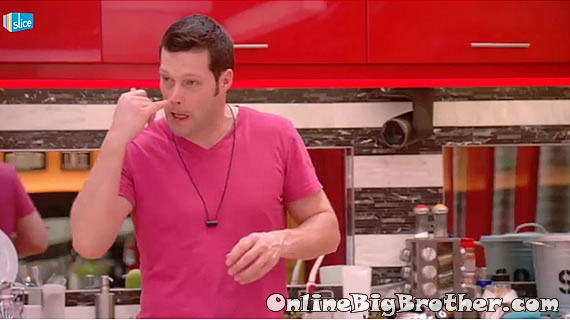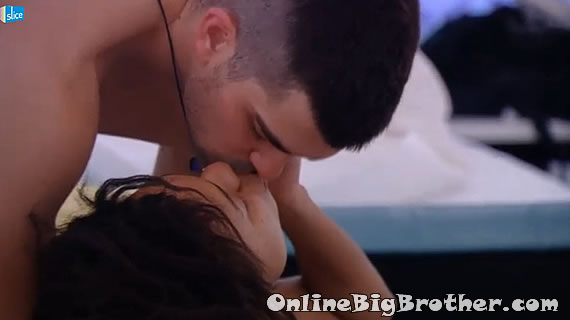 12:44AM Alec, Topaz and Peter putting away clothes
Showmance is very much back in effect publically. Topaz: "It started off a cuddlemance to a showmance to a brokemance to nomance to re-mance" (Kill me now mance)
Alec: "we don't jump back into re-mance from nomance.. maybe a slowmance"
Peter: "Re-mance goes back into Showmance"
1:09AM HUSH HUSH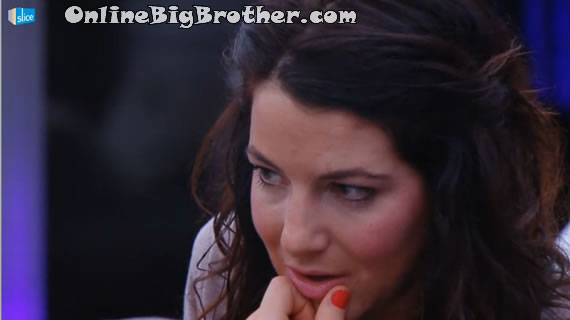 1:16pm Emmett and Jillian HOH
Jilian: "Do you think that is true that Alec and Topaz were going to put us up.. "
Jillian: "Cause I made that deal and i'm not going back on it.. I'm not putting topaz up.. I'm keeping my word to her"
Emmett: "But you need to put Alec up"
Jillian: 'I'm keeping my word I don't want to be called the villianest villian"
Jillian: "I'm thinking Pete and Alec… right at this point I know we have all week"
Emmett: "You want to put up Talla or Andrew"
Jillian: "No.. "
Jillian says that Talla is on their side she can tell by how Talla was acting during the HOH competition. During the Comp talla was looking at her the entire time relaying to her how she was doing. At one point Topaz had closed her eyes and talla looked at Jillian and mouthed that she couldn't hold on for much longer "She was going to die". All of a sudden Topaz opened her eyes and Talla says to topaz "I can do this all night" (LOL Talla is officially awesome)
Jillian: "She trust me enough I want to keep her" Emmett says that Talla new she was safe this week with Jillian but with Topaz there was a chance she would go up.
Emmett: "I only trust her as far as i can chuck her. which isn't far.. (Topaz)"
Jillian says she can trust Topaz right now.
Emmett says if Topaz had won the HOH he would have gone up for sure. Jillian doesn't think the final 4 they had with Pete and Alec wasn't legit. Emmett agrees but think she needs to talk to Pete beforehand and smooth things over with him. Bring up how things with Alec aren't as good anymore because he lied to the entire house about his thing with Topaz.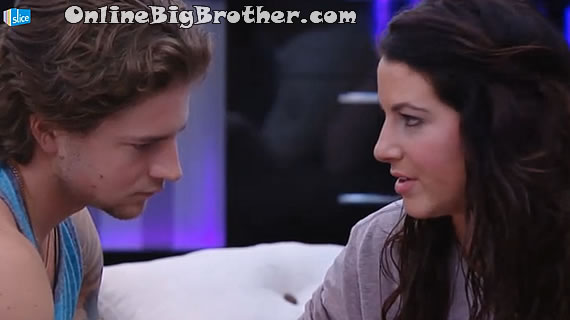 1:40pm Bedroom Peter and Alec
Alec says the play is to tell Jillian to put up Talla and Andrew and if Andrew wins the POV they will get Topaz to go up and they can vote Andrew out.
Peter:"I don't think we can be so passive as we usually are"
Alec: "If Andrew wins HOH next week he'll put up Topaz and myself"
Emmett joins them
Alec: "This week Talla and Andrew.. is that the Plan"
Emmett: "I don't know I have to talk to Jillian"
Alec goes through the deal between Topaz and Jillian.
Alec: "I'm really worried about Talla"
Emmett: "I dontt think she's going to put Talla up man"
Alec: "Why why"
Emmett: "CAuse they're talking and stuff"
Alec: "I told you today that Talla is going to put you up "
Emmett: "You heard that from Talla?"
Alec: "YA.. she told me she would put up people that can win competitions.." Alec says that basically mean Jillian and Emmett
Emmett: "Who would Topaz put up"
Alec: "Jillian and Andrew or Emmett and Andrew"
Emmett: "You and Topaz back now yo all good"
Alec: "Yeah.. it'll continue until we have to cut her.. that was all so she would talk to Andrew"
Alec is worried that Jillian isn't strong with the final 4. Alec: "I'm not into Topaz .. I will cut her final 5"
Alec: "I do think she's back on our side.. and I can push her to do things"
Alec: "Who do you think Andrew or Talla this week and POV isn't played"
Emmett: "I don't know they both have their strength"
Alec: "I am fine with Talla or Andrew and the following week we get the next person out"
Emmett: "I don't know what they are doing.. drinking wine" (The girls are drinking wine"
Alec: "That is what Talla does she gets close with the HOH.. I like how well this has worked out"
Emmett: "The pieces are coming together"
Alec says as far as he is concerned Emmett and Jillian can decide who goes home this week. Alec: 'Talla and Andrew next week is a big problem"
Emmett gets up says he's going to talk to Jillian
Alec: "Talk about the deal to I want to know if Topaz is lying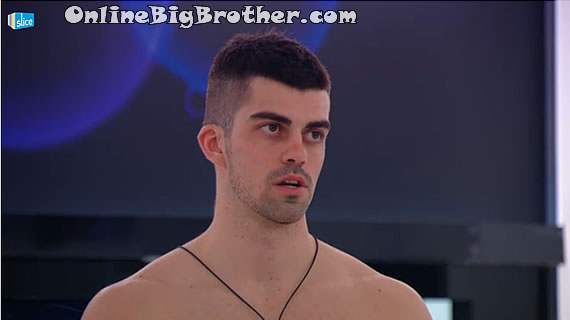 (Video Uploading)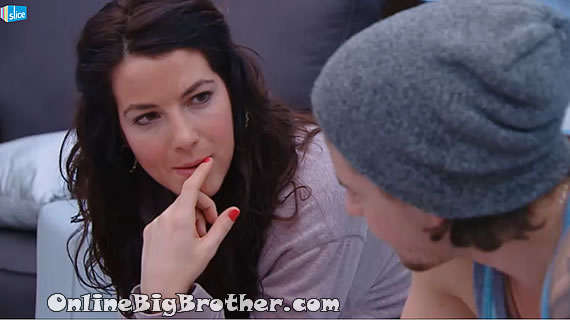 2:00AM HOh Emmett and Jillian
Emmett: "Did you tell topaz you were putting Talla and Andrew up "
Jillian explains that during the comp Topaz told her she was going to put up Andrew and Talla. Topaz asked Jillian what she was going to do and Jillian said the same. Jillian: "But that is all I could say at that point.. what am I going to do put up Peter and Alec.. I had to say that to get her down.. I had to say that right. "
Emmett: "Yeah it's a game.. They think you are going to put up Talla and Andrew now."
Emmett: "I just need to beat Alec in the F**** Veto"
Emmett says to not tell anyone they are a pawn yet..
Jillian: "Talla says pond"
Emmett: "She's an absolute idiot.. she's the stupidest girl I have ever met in my life… She's got 4 brains cells just bouncing around in her head… I swear to god.. it's an act noone is that stupid"
Jillian: "what's so bad about it.. it's funny.. She's a girl I had to pick someone for the alliance.. who else should I have picked"
Emmett: "Danielle.. Suzette" (Oh please no)
Jillian laughs at him suggesting Suzette
Jillian tells him he has to start being nicer to Talla now that they are going to war with The shield.
Jillian says Emmett can put all the heat on her for these nominations.
Emmett: "Alec are topaz are back together"
Emmett: "Going to be a stressful Veto"
They agree that the best course of action is to say that JIllian made a deal with Andrew last week to stay off the block. When Alec asks about Talla she can say that Talla is the only girl in the house that you are close to.
Emmett says that Alec and Peter are very quiet when he walks in the room. Neither of them trust Alec/Peter anymore.
Jillian: "It's going to be a tough week.. biggest move we'll have to make"
Jillian :"Best case scenario Topaz doesn't get to play"
Emmett: "If Topaz wins and takes off Alec then you'll need to put up Talla or Andrew"
Jillian starts to suggest that she puts up Andrew and Peter that way she keeps her word with Topaz and if the POV is can back door Alec. Emmett doesn't know.. thinks it's risky because if Alec wins the POV she'll have to put up Topaz.
Jillian: "Ohh this is so stressful"
Emmett: 'It's Big BRother how cares.. if you want to lie you lie"
Talla comes in and starts talking about drinking wine.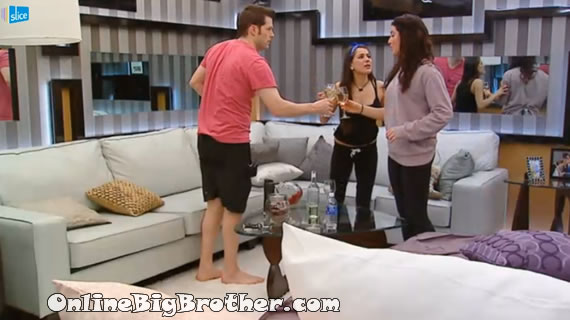 2:40AM HOH Andrew, Jillian and Talla
Andrew and Talla are in the HOH briefly before JIllian comes up. They are both wondering why Jillian invited Alec and Topaz. Jillian comes up and they figure it was Peter that was saying JIllian wanted to have a party in her room so everyone wanted to come up.
Jillian tells them it is never going to change their four.. They need to get rid of all three of them. Talla: "With us four playing you know how much fun it'll be we won't be ruthless.. and doing things like they did" (Alec and Topaz)
Talla is bouncing off the walls with excitement.. maybe it the alcohol maybe it's game I dunno but she's super excited to me in a final 4 with Emmett, Andrew, and JIllian.
Jillian tells them straight up Peter and Alec are going up, she doesn't know what she will say to them.
Jillian isn't going to go back on her word with Topaz. Talla: "She wanted your a$$ out"
They all agree that Alec is the main target this week. Andrew brings up if Topaz wins POV and takes Alec off then they still can get Peter out. Worst case the vote will be 2-2 and Jillian breaks the tie. Andrew: "If Topaz uses POV.. you put me up.. and it's Emmett and Talla to vote for me and Alec and Topaz to vote Peter"

(Video Uploading)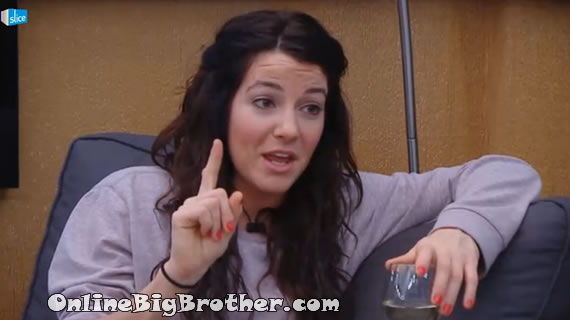 3:00AM HOH Jillian and Topaz
Jillian asks her if she knew she was staying this week. Topaz had a good idea.
Jillian tells Topaz she is not going to put up Topaz she will keep her word. Jillian: "Peter is in my head"
Topaz: "At this point i'm fine with that.. he's had a free ride"
Jillian: "I'm close with Andrew I can trust if he wins he won't put me up"
Topaz: "Talla for sure"
Jillian: 'Yeah probably"
Topaz says that Andrew is a strong player and Talla is a fighter. They are both surprised how well Peter did today, it was obvious he was really trying to win this time.
Topaz: "How are you feeling about Talla"
Jillian: "She's hard to read"
Topaz: "We call her the jumper.. she's been doing that like when Andrew was HOH"
Jillian: "Is she like a floater"
Topaz: "No a floater is Peter"
Jillian says she can sleep easy tonight cause Topaz isn't going on the block.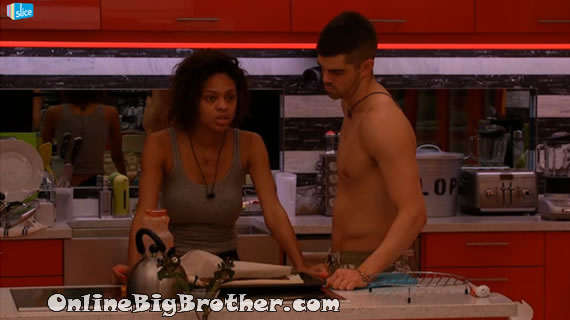 3:12AM Topaz and Alec
Topaz tells him Jillian doesn't sound like she's putting Andrew up. Alec: "Well if she's not putting you up and not putting Andrew up who's going up" Topaz kind of dodges the question says that Talla will go up and she's just trying to

(Video Uploading)
3:32AM HOH Jillian and Talla
Jillian says she will put Topaz up if Laec/Peter win the POV.
Jillian also calls Topaz a jumper
Talla is pissed at Topaz for throwing her name out as a nominee.
(Video Uploading)
Stay connected and interact with other Big Brother Fans on our Facebook page.
And Follow: @BigBspoilers and @Dawgsbigbrother on twitter
[polldaddy poll=7012892]