POV Holder:
Emmett
Next POV
March 30th
POV Used
No
POV Ceremony
March 25th
HOH Winner:
Alec
Next HOH:
March 28th
Original Nominations:
Aj & Suzette
Current Nominations:
Aj & Suzette
Last Evicted Houseguest
Tom & Liza
Have Nots
No Havenots this week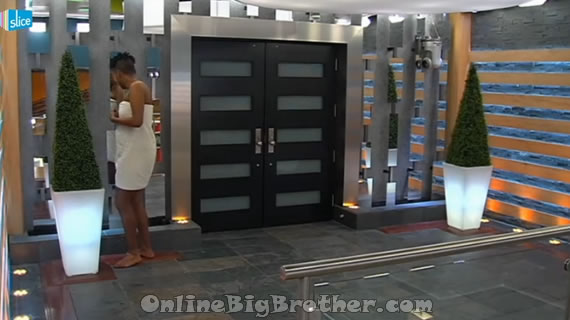 9:30Am Gary walking around the house… grabbing some camera time and working on his brand.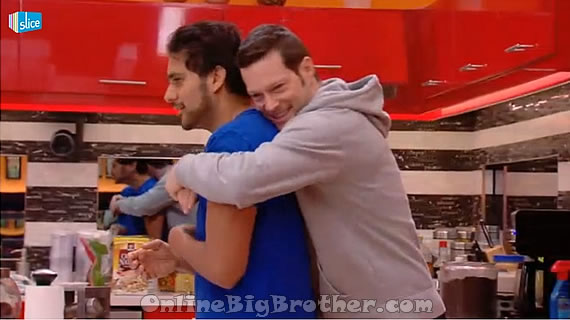 9:20am Kitchen
Andrew: "8:59 is the time on the microwave" (hmm it was 9:20AM when I heard that)
Andrew: "Hey AJ you woke up last night to ponder"
AJ: "Pondered.. with nicotine in my head?"
Andrew: "I've smoked before.. you were up at night… working on your eviction speech"
AJ: "I couldn't sleep"
Peter: "Aj… you are on the blocK:
AJ pretty much says he just woke up for a smoke wasn't working on his speech.
Peter and Andrew comment how unbelievably messy the Kitchen has become. Andrew: "I'm sure glad everyone is now doing their own dishes" Peter: "I've never seen it so bad"
Andrew about tonight expected HOH endurance competition "I'm going to be bleeding out of every orifice before I drop.. I'm going to sh!t my pants"
Andrew jokes that he'll slip and drop in 30 seconds and AJ will be hanging on beside him laughing. Peter: "No AJ will drop off to save you"
Alec up at the balcony "Going to take one last dump in the HOH room"
Andrew: "Take it in the bathtub"
Andrew starts talking about the movie "King Pin" Andrew says he's only seen it a couple times but explains the plot to AJ and Peter (Only couple times!! i've seen it 100 times lol it's great)
Aj: "You talk about it like you've seen it a lot"
Peter: "It's a pretty unique movie easier to explain than something like The Departed"
The movie Inception is brought up, Peter tells them it was all about Film Making "It's an analogy about film making"
(Emmett is in the corner not saying much.. "Milk Brooding" )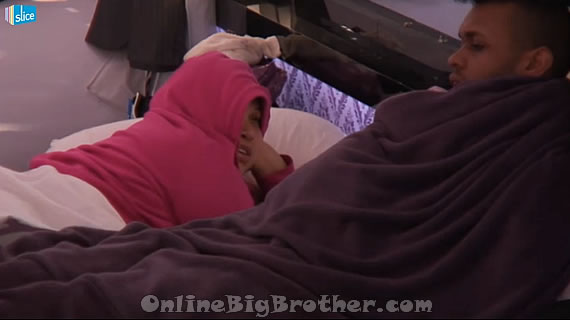 9:52am Bedroom Suzette and Gary
Suzette: "Don't need to treat me like dead man walking.. i'm just going home.. don't gotta be like that guys"
Suzette: "Last night they were trash talking Danielle and Tom…"
Gary: 'What were they saying"
Suzette: "She's a grade A b1tch.. they said you were cool with sending Danielle home"
Gary says all he told Jillian was "If you wanna keep your man good thing you got her (Danielle) out right now.."
Gary: "If Danielle was still around she was going to get Emmett.. She's (Jillian) serving up Shania Twain.. Danielle is serving Carrie Underwood.. for real"
Suzette: "Everyone is so mean in this house.. I really underestimated how mean people are in this game"
Gary reminds her that when people attack Suzette they are attacking Suzette Big Brother not Suzette in the real world..
Suzette: "I'm a character in a game.. we'll see how things play out.. the good news is I can watch sh1t from the comfort of my own home.. you gotta win HOH tonight"
Gary: "I'm going to win HOH.. I have to win HOH.. gotta eat light"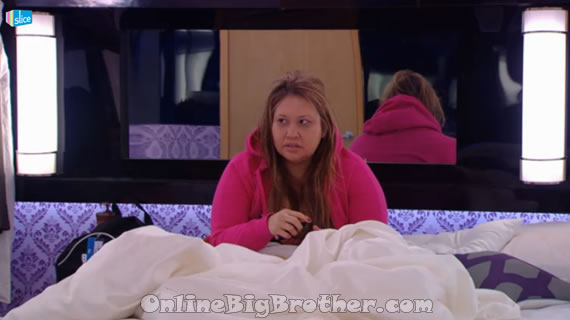 Gary asks her for some of her makeup he says they will let her pick more up. Suzette says yes Gary give her a giant hug
Gary: "I don't know what to say to Emmett about the Milk"
Suzette: "I wouldn't say anything… I can't believe he threatened you"
Gary: "He said if you want to beat teh best you have to play the best"
Suzette: "He's got a temper man"
Suzette mentions all the bar stories Emmett use to tell her about when he would get into fights..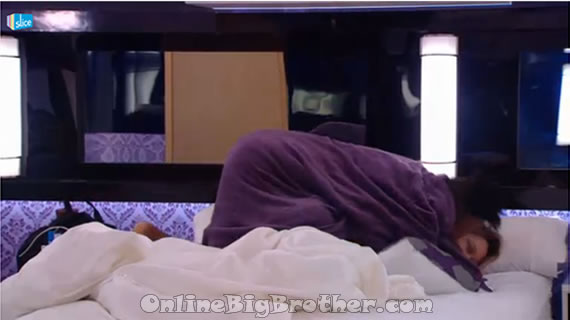 Gary says he's going to win the HOH and put up someone strong, "Gotta get some strength outta this house.. put up Andrew.. maybe backdoor Talla" They start to complain that there is no milk for cereal because of Emmett.
Gary: "you know what he said to me when I tried to confront him about it.. he said Tough T!tty"
Suzette: "People get mad at us for complaining but all THEY (rest of the house) do is complain"
Gary: "I know all they do is complain"
Suzette says she hasn't been herself, "can you imagine if I confronted people about the things they say to me.. it would get ugly"
BIG BROTHER: "Houseguests this is your 15 minute warning the house will be off limit in 15 minutes"
Suzette starts to complain about the people in the house getting mad and fighting about useless things..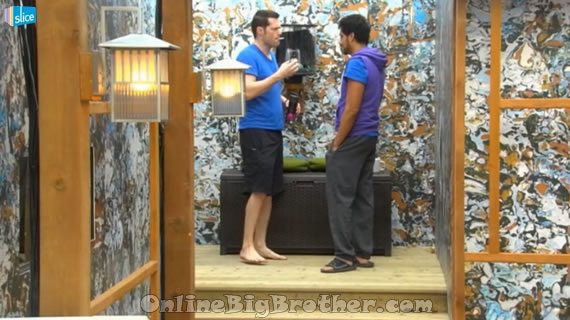 10:30AM Aj smoking and talking to himself
"I didn't anticipate liking some of these people"
"Your 32 you know what works and you know what doesn't work"
"I know I'm safe but at the same time.. I don't know anything.."
Andrew comes by for a drag.. 'You nervous?"
AJ: "No.. "
Big Brother tells them they have 3 minutes until lockdown..
Andrew says he's gotta go he's got a "giant Sh1t on board"
"Tom told everyone who his target was why tell Alec you are after Topaz.. they have been together since day one… "
"I don't think people believe me when I say I was trying my hardest.. so i stopped trying.. there was some veto competitions I knew I wouldn't win.."
"We're all going to get frequent flyer miles from all the guilt trips.. good I didn't say that in the Diary.. her one hour pro bono radio show.. (He laughs a bit) I'm sorry I'm being an a$$hole… I don't think i'm better.."
"I never have to hear those phrases again" (Hey boys.. etc etc..)
AJ rambles on about a lot of stuff.. Says he won't be devastated if he leaves next week because he's had a great time.
Aj heads to the air hockey table Talla is happy because she just beat herself at A Game.. (LOL T3S4L)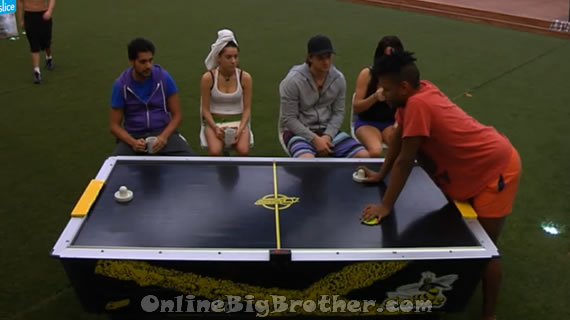 10:51AM we got a lot of air Hockey until the next HOH is played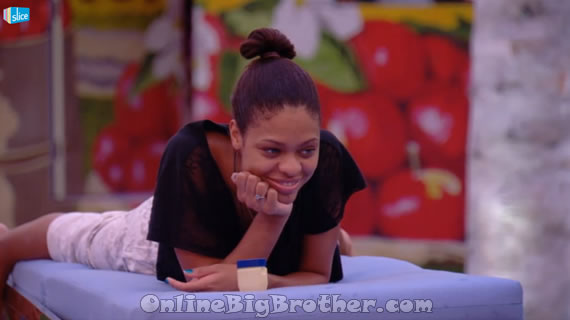 11:08am Topaz, Gary and Suzette Gary and Suzette are trying to talk Topaz out of going back to school when Big Brother is over. Suzette: "You gotta strike when the anvil is HOT" Gary: "Your going to have modelling gigs.. go to school later" Gary wants to do a pride tour, one night he'll do Gary Glitter another night he'll do Zoe..
(LOL great advice.. because like every other Big Brother Alumn you are going to have a high paying job as an actress, model, and singer. All this time I thought BBCAN wasn't full of modelling wannabes that is turning out to be false. From my recollection Topaz, Gary, Suzette, Danielle have all talked about using their massive BIg Brother fame to get inroads into show biz)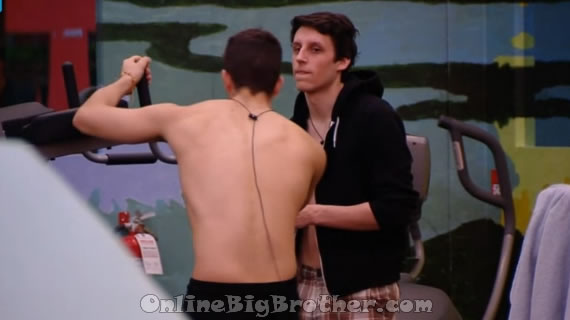 11:10AM Alec tells Peter that people like Andrew are starting to notice that he's really not doing anything in the game. It might be a good idea for Peter to win something cause right now he's being called a floater.
Peter: "I can do that"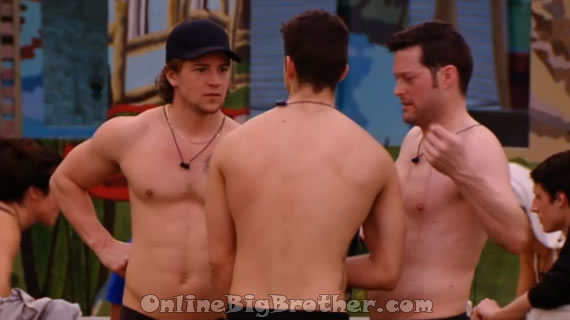 11:14AM bros talking about Suzette and Garry talking about becoming famous
Alec starts to impersonate Suzette "I know a lot of producers.. Gary is going to be a rap star" Andrew: "Nope not going to happen"
Alec: "That's why they like each other all they do is talk about being famous" Emmett: "I'll lose my limbs before I let him win"
Stay connected and interact with other Big Brother Fans on our Facebook page.
And Follow: @BigBspoilers and @Dawgsbigbrother on Twitter for the most up to date spoilers.
[polldaddy poll=6985048]