POV Holder:
Andrew
Next POV
April 6th
POV Used
No
POV Ceremony
April 1st
HOH Winner:
ANDREW
Next HOH:
April 4th
Original Nominations:
Gary & Topaz
Current Nominations:
Gary & Topaz
Last Evicted Houseguest
Aj
Have Nots
Gary, Peter, Topaz, Emmett (used Slop Pass)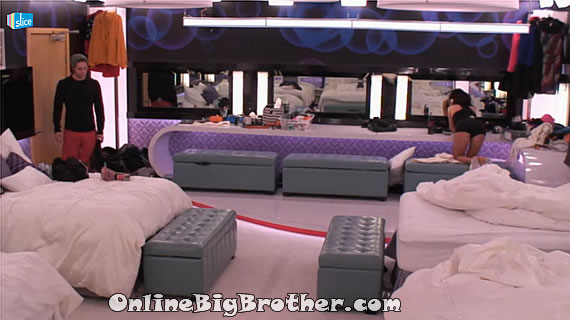 9:40AM bedroom Emmett and Jillian
Emmett says they are closing the backyard soon. Jillian thinks it could mean endurance. Talla bounces in they tell her to go get her "Smoke-iratti"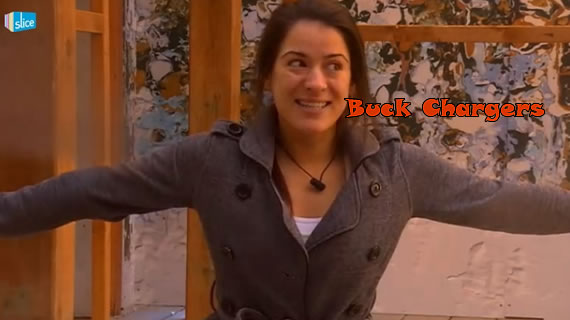 9:43AM Stooge war room Andrew, Emmett and Talla

Talla: "I hope you guys are not screwing me over… I hope this doesn't bite me in the a$$ "
Andrew: "We are not.. those guys are"
Talla says what they are doing is really bad. She adds that Alec has been going around the house trying to get Andrew out. Talla explains that Alec said Topaz and Andrew will go up but he'll tell both they are pawns. Alec also told her if the the POV was used that Emmett would go up. Andrew heard that Jillian's name was also being thrown out there as a pawn.
(Talla talking a mile a minute sometimes hard to understand her)
Talla mentions that Alec is telling her he's never lied to her or tried to do her harm. She wants to know if Alec has been shading with Emmett, "Didn't he slip up last week with you Emmett"
Emmett: "He's making deals with everyone"
Talla: "how is he making deals.. final 4 deal is he choosing Peter over Topaz"
Andrew: "Thats always been the case for Alec/Peter was always his number 2"
Emmett: "You have to act like you are working with Alec.. if it's you and him in the endurance he needs to feel safe enough to drop.. he will drop"
Talla: "I know.. I'll tell him he's safe.. OPPS .. I won't say anything" (Check out the screen capture below for the expression on her face)
Andrew says if Emmett, Jillian or Talla win HOH they have it set, "It's a numbers game and it'll be 4 vs 2 after next week"
Talla: "I'm nervous today but i'm also really excited because I have that much faith that we're going to make this happen"
Andrew explains to her if there is a twist and GAry steps down Andrew will be put up.. they all need to vote out Alec. Emmett points out to her that the house is now divided it's them against Alec and Peter. They have to win HOH this week is critical.
Talla says she's named their alliance "The Buck Chargers".."Cause we're charging and we're buck" (LOL) Talla runs off "Now I have to go Poo.. oh sorry that was gross"
Andrew: "She could be playing us like she's playing them.. but oh well" Emmett: "Nothing we can do"
They start chatting about the possibility about their being a double eviction. Apparently Peter is convinced that there is one coming up. Andrew doesn't think so he runs the numbers there is 3 weeks left and 6 people the final week is always 4 players and is condensed. Andrew: "But we don't know shit.. anything could happen"
Andrew is a bit worried that he works in a office with 300 people he hopes that people are going to be supportive of his time in the Big Brother House.
Indoor lockdown called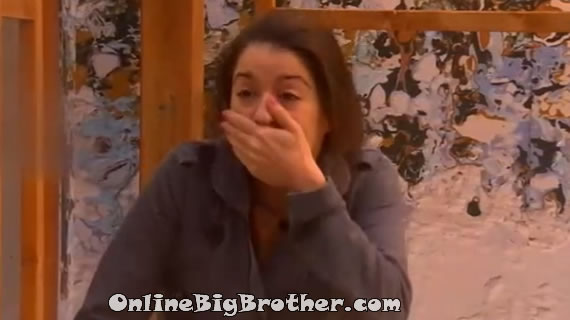 (Video uploading)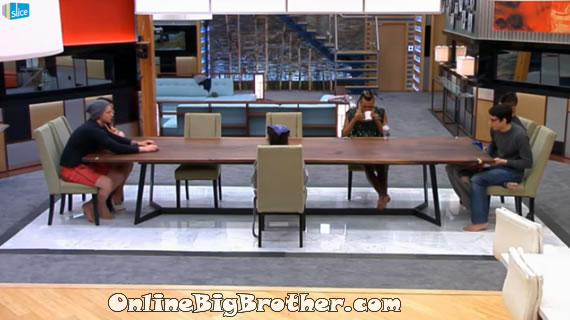 10:25am
Indoor lock down. Andrew up on HOH listening to music the rest of the house playing on the kitchen table. (It just occurred to me that the Big Brother Canada table doesn't shrink in size as houseguests are evicted like the US one)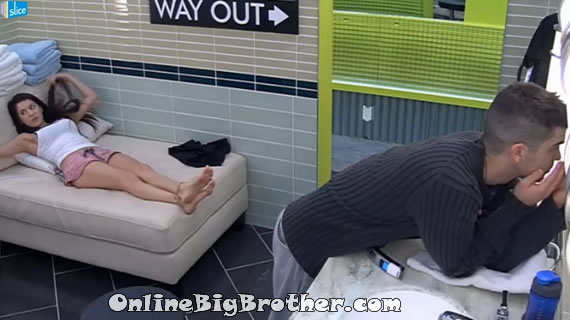 10:30pm Bathroom Alec, Peter and Talla
Alec: "Do you know yet who you would put up if you won?"
Talla: 'Who would you want me to.. I'm scared.. it's not like I have my ideas.. today is the start of week 7 there is 3 weeks left.. I have to make smart moves for me.. who is legit who wants to work with me and who doesn't"
Alec: "well me and Peter will have your back.. no matter what you do"
Talla: 'I know.. and Topaz"
Talla explains that there is a lot of things that can happen.. HOH and POV she'll have to weigh the options
Alec: "We can take a lot of heat off you.. "
Talla: 'What do you mean"
Alec: "If you do that move you can blame it on us.. I'm a strong target" (I think the move is to put up Andrew and a pawn maybe Jillian)
Topaz walks in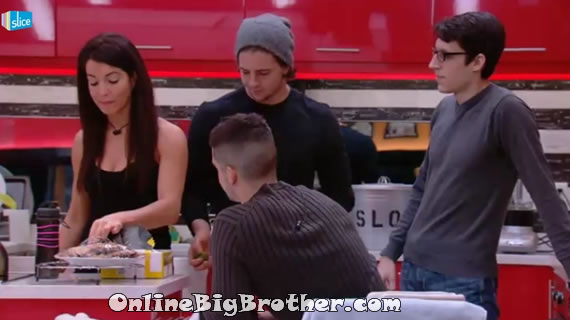 10:45am Kitchen Emmett, Jillian, Peter and Alec
Alec asking them what would they want if Peter wins HOH and puts up Talla and Topaz.
Alec: "Would you still want Topaz gone"
Emmett: "What will Topaz do? "
Alec: "I think I can convince her to put up Andrew"
Peter jumps in and tells them they have to get rid of their biggest threats now.
Jillian :"I agree with that"
Peter: "if we want the four of us to be standing in the end we need the biggest threats out"
Alec: "So what's the plan what are we saying"
Peter: "I will put up Topaz and Andrew.. I told Talla I wouldn't put her up"
Alec: "Would you guys do that as well"
Jillian never gives a straight answer Emmett keeps his mouth shut.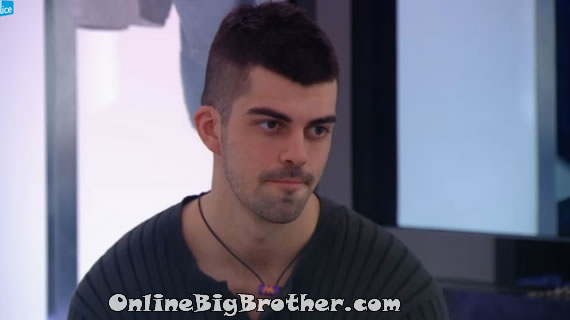 11:07AM Bedroom Alec and Gary
Gary relays his conversation he had with Talla. He thinks Talla trusts Alec, "I don't think you had her but you have her"
Alec: "They have such a strong 3 Emmett, Jillian and Andrew.. it doesn't make sense for her to go over there.. they live 5 minutes away from each other"
Gary: "it'll be 4 against 3"
Alec: 'And Andrew can't play"
Gary: "we need to keep on her.. you do the straight good looking guy thing, I'll do the gay thing and Peter can do the flirting thing so from all angles we can massage her"
Alec: "Do you think Jillian and Emmett have a good relationship with Talla"
Gary: "Emmett doesn't.. but I he's really trying hard through JIllian.. I have a good relationship with Talla"
Gary says he knows he's not going home so he's trying not to get emotional with Topaz.
(Gary really thinks he's safe this week.. )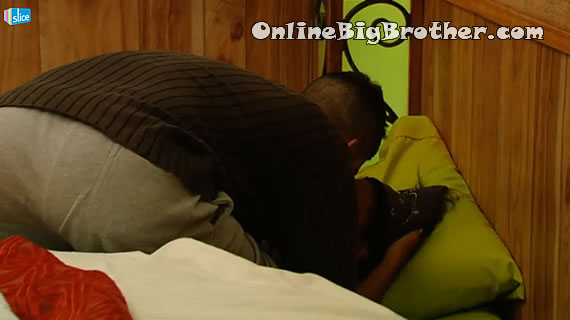 11:17am Have nots Alec and Topaz Topaz says she's really worried about a twist and Gary will be saved. Alec tells her not to get stressed about things they have no control over. They start to kiss and he leaves..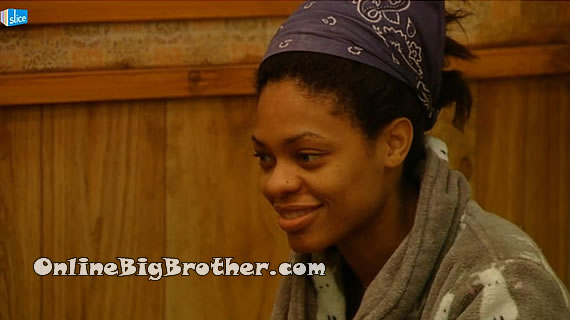 11:41AM Have nots room Emmett and Topaz
Topaz talks about how screwed over she was during her HOH.
Topaz is convinced there is a twist tonight. She talks about doing some research about the season in the Slice website and some things they talked about on the site have not happened on the show yet.
Emmett thinks they need to always be prepared for a twist. (I think BBcanada better lay off the twist before this season is considered a joke like BB13)
Topaz doesn't trust Andrew, "I think he's hilarious.. "
Topaz calls Talla a "Jumper.. says he's all over the place"
Topaz thinks Alec and Peter are a pair
Topaz trusts Alec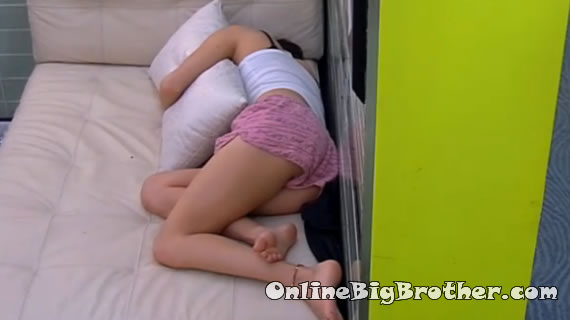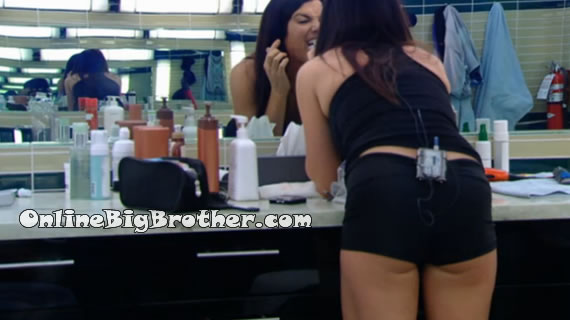 12:07pm Talla Sleeping Jillian cleaning her teeth.. Big Brother Canada Camera people zooming in on the bums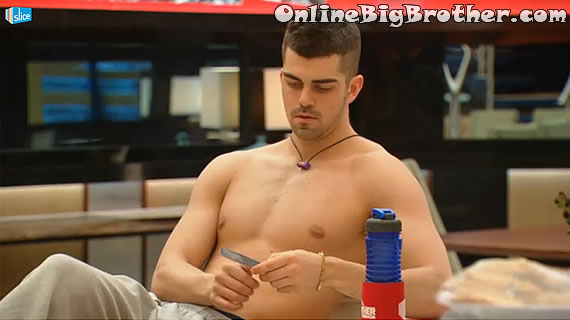 12:20pm Kitchen Alec and Andrew
Andrew talks about his father you was diagnosed with pancreatic cancer and died 23 days later. He will be in the house during the 5 year anniversary of his father's death.
Andrew: "I'm the prince of darkness guess what you are going to die.. You live to die"
Andrew: "My Dad was an amazing man and my mom was an amazing women.. My Dad made the family and my Mom made the family.. my dad was like AJ couldn't cook a meal .. my mom and dad were best friends:
Andrew: "My old man said he had no regrets when he died.. he lived a full life. "
Chit chatting about life..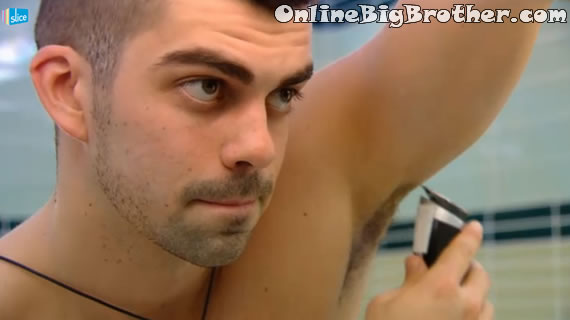 12:42pm Drew.. err I mean Alec is shaving all the hair from his body. The other houseguests are sleeping..
1:20pm HUSH HUSH
1:55pm HUSH HUSH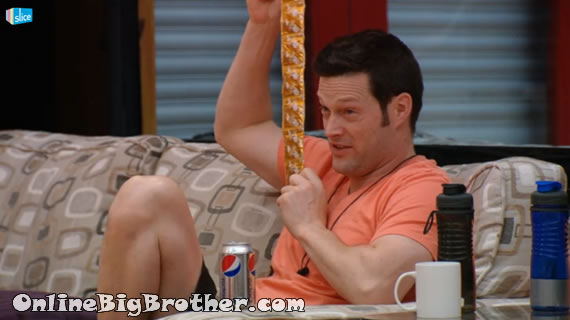 2:00pm
Feeds Back Everyone is up and about. Gary and Topaz are putting on makeup working on Gary's brand. The rest of the house is in the kitchen talking about lunch
Random conversations going on..
Emmett: "They said they turned the cameras off for an hour"
Gary complains about how hard it is to pack his stuff.. he's missing some of his clothes.
2:30pm HUSH HUSH again
3:11pm HUSH HUSH
4:50pm HUSH HUSH
Stay connected and interact with other Big Brother Fans on our Facebook page.
And Follow: @BigBspoilers and @Dawgsbigbrother on twitter
[polldaddy poll=7012892]