Check out our BB19 Ranking Grid. . rank your houseguests here
Paul used the Veto ON josh. Nominations are Cody, Alex and Ramses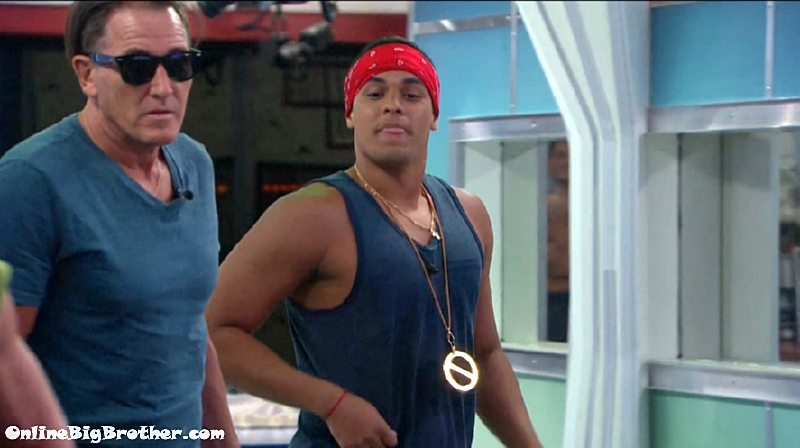 11:33am JOsh and Jessica fighting
Apparently Josh had some big Speech..
Josh – hop your a$$ outta here.. who's going to look like the biggest fool
Jess – you do buddy, cause you're such a pawn on either side of the house
Josh – perfect perfect.. I'm a floater but you're going home next week
Jess – baby I can go home I'm not scared but you're literally a pawn on both sides of the house and everybody is using you like right now
josh – but if I go home you're going home before me so I'll own it..
Josh – If I'm a pawn send me home but they'll go home before me, I'll be happy babe.. if you got home before me I'll be happy.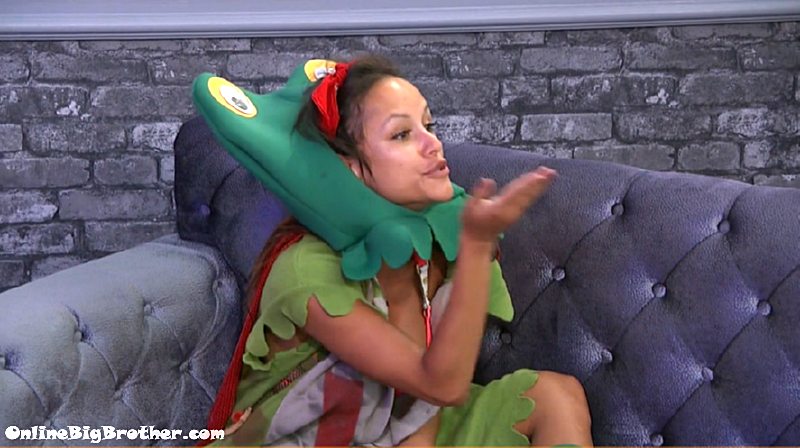 Jess – f*g bring it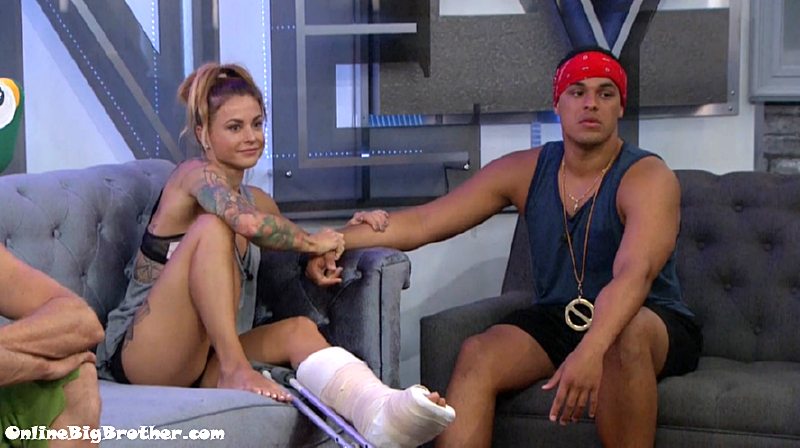 11:38am Xmas giving Josh a motivational speech
Thanks Josh for sticking up for her.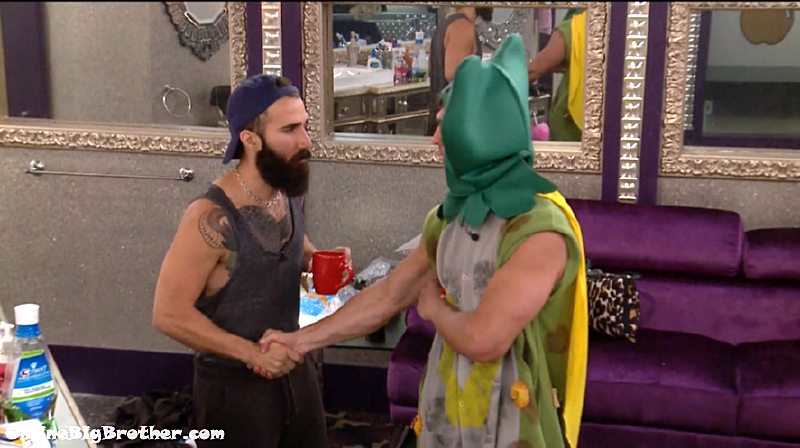 Paul thanks Cody for keeping it Civil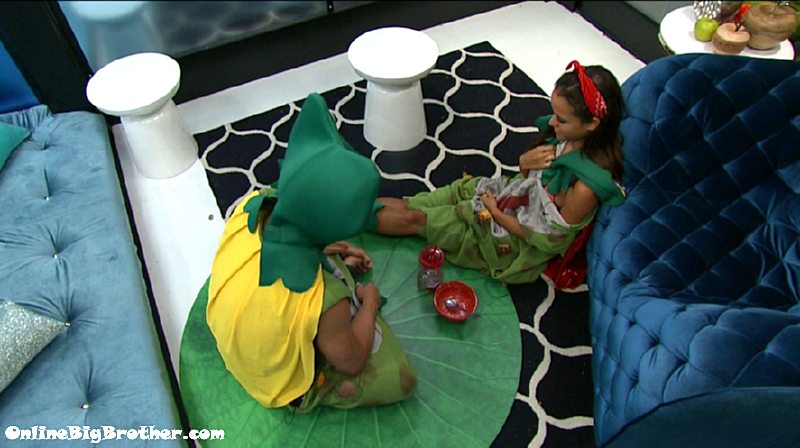 11:39am Jessica and Cody
Josh you know we know he's getting backdoored… no need for a hero speech you had nothing to do with it. They complain about Josh calling them meatball all the time.
Jessica calls Josh "Mr Cry" says he cried day 2 through 7
Laughing about Josh wearing diapers.. Jessica says she's going to ask him everyday if he needs his diaper changed.
Cody says he can't tell if Josh is on their side.
Jessica – they're using him.. he's a dog for them.. Did you hear Paul?
Jessica- Paul sit down, and he sat down.
Jessica says he'll get used by people because he's weak minded.
Cody tells her not to get in arguments with Josh anymore because it'll just turn into him saying the same things over and over..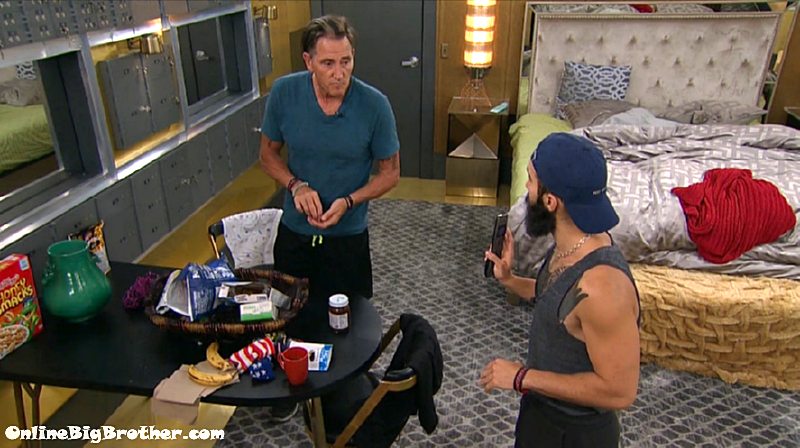 11:47am Paul and Kevin HOH
Paul says Ramses is telling people that Kevin is giving him information.
Paul calls Ramses a "prick"
Kevin – I tell him nothing.
Paul – I need you to do me a favour it'll put both of us in a really good position.. During the vote this week I need you to vote to evict Ramses.
Paul – the votes going to come out weird and People will be like who the f*** did that.. It'll add confusion
Paul – trust me if you do this you'll see the chaos
Kevin – no problem
Paul says don't tell anyone just like the 25K that Kevin got from the first temptation. Kevin says he only told Paul that he got that money.
Paul says Christmas is going to "intimidate" Jessica right before the HOH competition so she can't perform
Kevin – whatever you say I'll do.. you'll see. .
Paul goes on about him and Kevin are the only "rock and rollers" in the house. "breaking pool cues over people"
Kevin – all I want is me and you in the finals.. .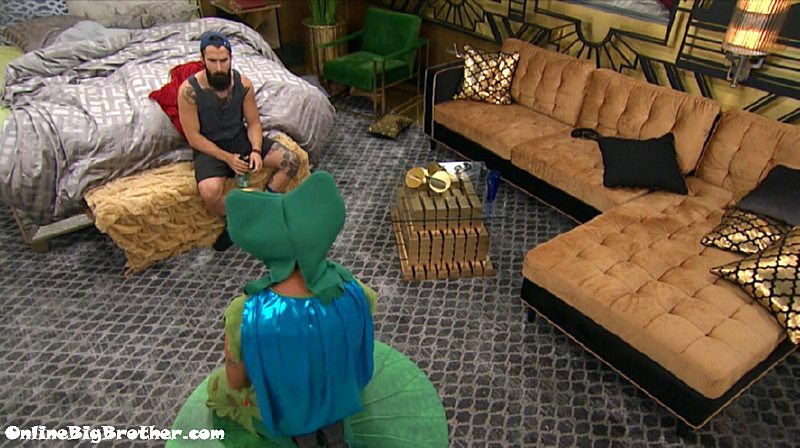 11:57am Jason and Paul
Paul – you gotta be careful you have eyes on you.. because of the sh1t you did and how you acted..
Paul says by Jason hanging out with Cody and Jessica it's making him a target. "I've played this game before"
Jason says Ramses has got to go. Calls Ramses a twerp for still trying to convince people that Kevin flip on Thursday.
Paul says the best thing for Jason's game is to win HOH and put Jessica/Ramses on the block.
Paul – I've played this game before..
Paul goes on to explain why Cody's agenda is to get Paul out of the game.
Paul now going on that the odds are stacked against him.
Paul says it's impossible for him to win the game. All people have to do in the finals is say he played the game before nobody will vote for him. (the funny thing is Paul was final 2 with a vet and lost I can't believe none of these idiots have countered him with that)
Paul tells him to treat Cody and Jessica like they have the plague.
Paul – I've played this game before.. the people that don't think I'm wise are stupid
Jason – I want to scratch your back every chance I get
Jason says he knows Christmas got the temptation. She told him she thought he would enjoy it and Jason is enjoying it. Just doesn't like being forced to be with Cody and Jessica.
Jason – why the f*** do I have to be mean to them.. they're going home
Paul – the paranoia..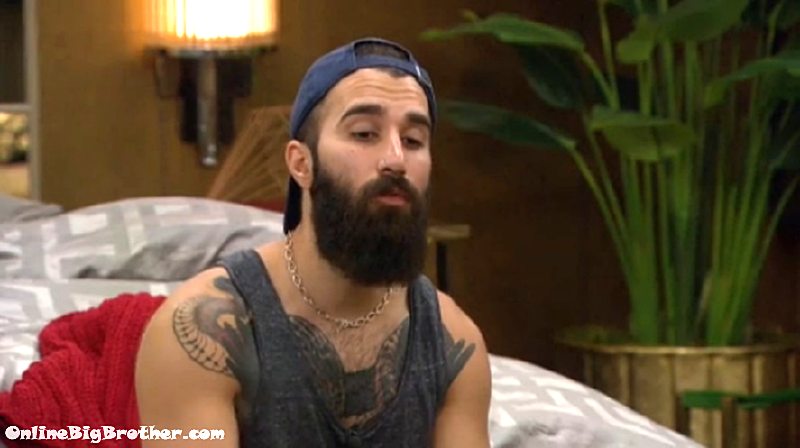 12:25am Paul and Dom
Paul – 80% of the people in this house are stupid
Paul – I don't think he's (Jason) smart.. if there was a mental cop thrown his way he would short circuit
Paul now claiming that 80% of the conversation with Jason was him just talking at Paul.
Paul says he's been planting the seeds in Jason to go after Jessica and Ramses.
Paul says he kinda wants Ramses out before Jessica. Dom does to says with Ramses it's personal because of what he's done in this game.
Paul – Ramses is a better competitor and he's sneaky as f*
Links to the ranking system
Rank your house guests here
For those of you that like Statistics here are some expanded reports.