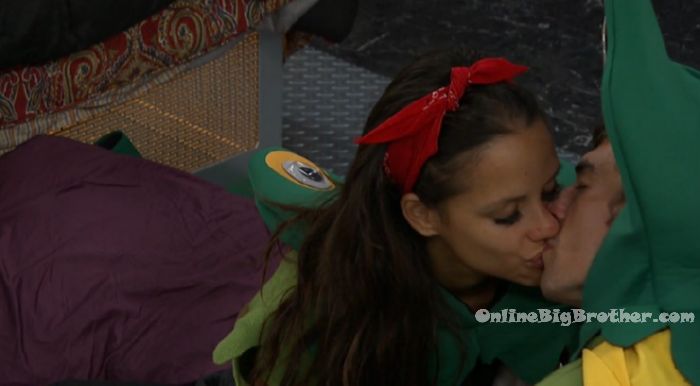 Check out our BB19 Ranking Grid. . rank your houseguests here
9pm Havenot room Cody and Jessica.
Jessica – if I was to win HOH and take out Christmas at least if you had to do a battle back she would have to forfeit. I would have to keep that in mind of who I evict so that it would be an easier process because you would come in and have to be ready to play HOH. Cody – I'd be fine. Don't worry about how I have to compete against. Jessica – the best case scenario would be to take out the strong players that .. Cody – you could take out anybody. Jessica – oh please let there be a battle back. It would be great because they took away your opportunity to fight. It would be great for you story. Cody – everything is supposed to happen the way it supposed to happen.

10pm Bedroom –
Matt, Raven, Christmas, Mark and Elena. Chatting about random things. Christmas – I think we're going to be the most favorite cast of all time. Paul – favorite is a strong word. Maybe craziest.
10:10pm Big Brother opens up the backyard. In the bedroom. Christmas asks Kevin – Where are you going? Why are you so dressed up? Kevin – I'm going to catch an Uber down to the club and get a couple drinks.
10:30pm The house guests head out into the backyard. Josh and Jason play a game of pool. Paul starts working out.
See what they can't show you on TV Try the live feeds for FREE!
11pm Cody and Jessica head to bed in the havenot room.

11:40pm Backyard – Rmases and Christmas.
Christmas – did you have a better conversation with Paul? He was pissed. Rmases – I want to but I can never get him alone. Christmas – at some point you just have to say hey can we have a chat? Ramses – I know and I don't want him to be so pissed at me that the whole plan changes. You know what I mean? Christmas – I'm pretty certain that isn't going to happen. Ramses – I just don't want to be on his bad side. That was not my intention. It really wasn't. I hope you know of all people. I'm not going to BS people. Christmas – I think the issue is, is that there was some kind of an agreement to throw it and.. Ramses – and it looked like I didn't. Christmas – this game is all about trust and deals. And obviously the people that you can't trust get booted out quickly. This week is a prime example of Cody screwing everybody. Talk about who you would put up. Make a really grand gesture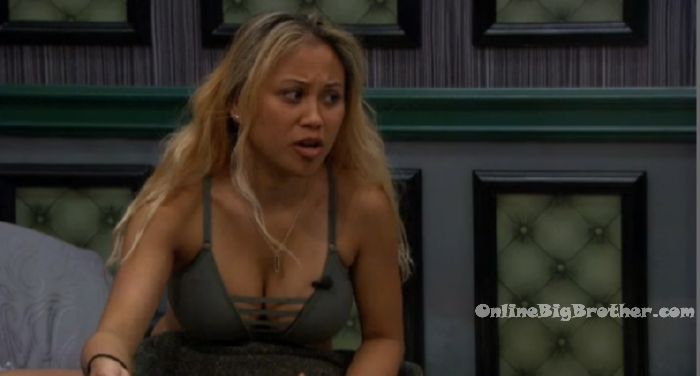 11:55pm – 12:05am Bedroom – Alex and Jason.
Alex – I cannot stand Jessica. She didn't come down here for two weeks and now all of a sudden she wants to be friends with us?! And she's mean. Jason – yeah. Alex – what's his name heard you guys talking about battle back again. Jason – who? Alex – you and Cody. If you were, stop it. Jason – I have no control over it, if they want a battle back then.. Alex – yeah but don't talk about it. Jason – WHY?! Alex – because people are listening to you. Jason – I said it wouldn't happen. Alex – it doesn't matter. He is still trying to pawn off that it was you who flipped and they think it was him too. They said that he (Kevin) didn't. I feel like he wouldn't lie to us about that. They are saying that he (Ramses) flipped and he (Kevin) didn't. Jason – bullsh&t. Alex – everyone likes you but Christmas doesn't. Jason – I know she's a fake b***h. Alex – I know but she is the one that is trying to headhunt you. Make friends with her. Make her think that you like her. She's desperate for attention. Jason – I know and every guy knows that too. Alex – any kind of attention. She said he (Jason) voted against me and lied about it. He's done! I'm not on their radar any more and you have to get on that level too. Don't let them hangout with us. We just need to get up and leave. Especially when he is out, that will just seal your fate. Jason – oh I'm not going to talk to her when he is out. Alex – she will sink our ship. Jason – I will not f**king talk to her when he is gone. Jason – I said that I wouldn't vote against Cody. Alex – they want it to be a landslide. Jason – so I should vote against him? Alright, I'll just tell him I'm voting against him. Alex – yeah it sucks. That's why I'm still on the block so I don't have to vote. I would feel bad about it too. Alex – I am pretty sure they want it to be a message to him (Cody).. like you f**ked up and they want it to be unanimous. Jason – its not going to be unanimous. Alex – yeah but if its two votes, they're going to think its you wanting him to get back in a battle back and you'll be f**Ked. Even this little prick (Josh), I don't think he will f**k on them.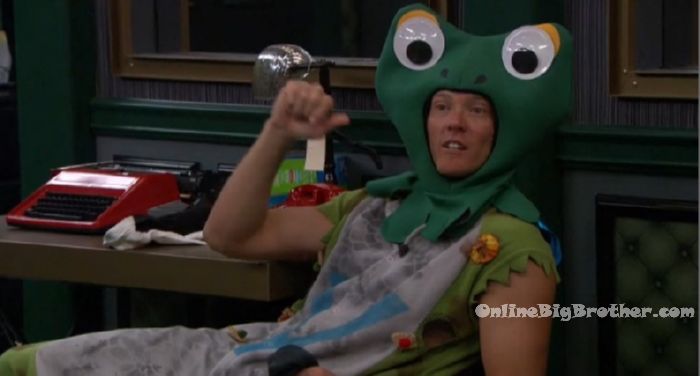 12:05am – 12:30am Bedroom. Alex and Jason continued..
Alex – right now Matt likes you. He wants to pull you on this side. And you can over take Matt in a competition. Jason – so if I won HOH who would I put up? Ramses and Josh? Alex laughs and nods her head. Or f**king Christmas. You can get her out too. She is f**king stirring the crazy pot and they're all buying it. Alex – the more you are whispering with them (Cody & Jessica) the more they become super anxious about it. Jason – why are they so scared?! Alex – because this game is a game of paranoia and deception .. and historically the people that are whispering are the ones that win. How many seasons have you watched? Jason – almost 2. The last one (BB18) and 16. And I started 12. Jason – so I have to start s**king everyone's d**k. Alex – Yeah. YOu have to s**k all their d**Ks. Especially the girls. At least until we get to jury. You're really good at being friendly. Jason – but they're so full of sh*t. Alex – stick with the plan. Make them think you're with them and then we'll take out the people we want. Jason – sometimes I wonder if I even want to make it to jury. Its just something that goes through my head because what's the point of sitting in jury. I gave up a lot of money to be here. I can't get that back but I can start booking shows.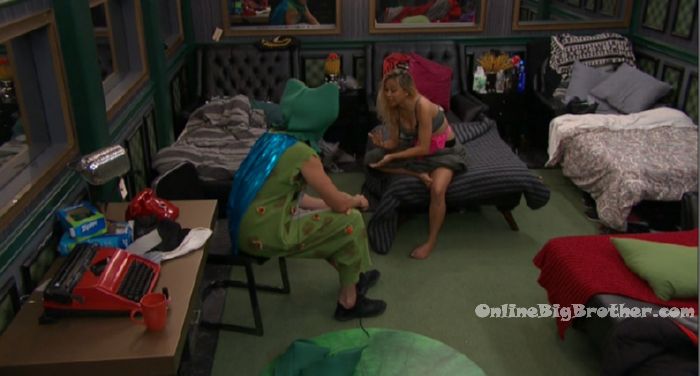 12:40am
Kevin tells Jason that he would never vote against him or Alex. Jason – Alex just told me tonight that Ramses was saying that it was you who voted Christmas off and not him. Kevin – why does he keep saying my name. The vote was 8 – 4. It was the first week, I think the vote is irrelevant.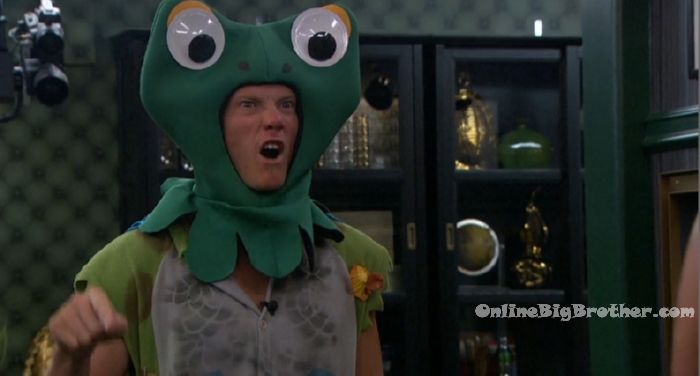 1:15am HOH room. Paul and Kevin.
Kevin – what's his name (Jason) says that Ramses keeps telling .. trying to convince Alex that I was the one that voted against Christmas. I said listen what does it even matter anyways. Cody was going to hurt Paul. Paul and I have developed a relationship. And Paul is friends with Christmas. How do you expect me to turn against Paul and Christmas. Paul – we have Jason convinced it was Ramses and not you. So I'll shut him down. I've got you. Remember the 25 thousand… I convinced everyone that Ramses has it. That was me .. so I got you. Don't worry about it.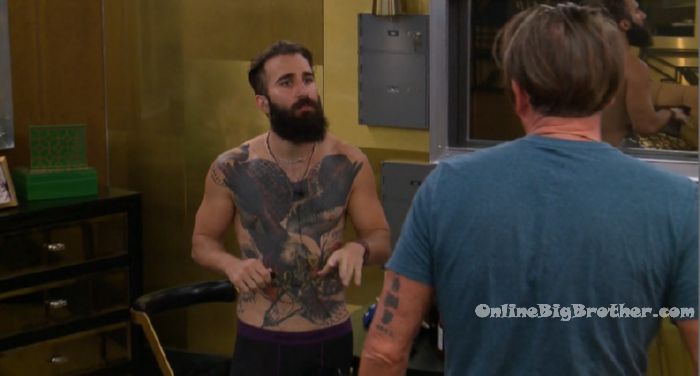 1:05am – 1:35am Kitchen – Alex and Christmas.
Alex tells Christmas that Jason's would put up Ramses and Jessica. Those are his targets. I told him that he has to vote Cody out. It has to be a 10 – 1 vote. Christmas – that is a start but its not enough. Christmas starts talking about Jessica attacking her. I was ready for an all out brawl. Alex – that would have been so great for tv. Christmas – how are you going to attack someone that has a freshly broken foot?! Alex – I don't even know why they (casting) picked her. We're good looking enough. I think she was a last minute decision. Cody could have had the strongest position in this game. Christmas – I'm not floating but I definitely don't think I am safe long term. I don't have a ride or die, I don't have a showmance, I have a broken foot.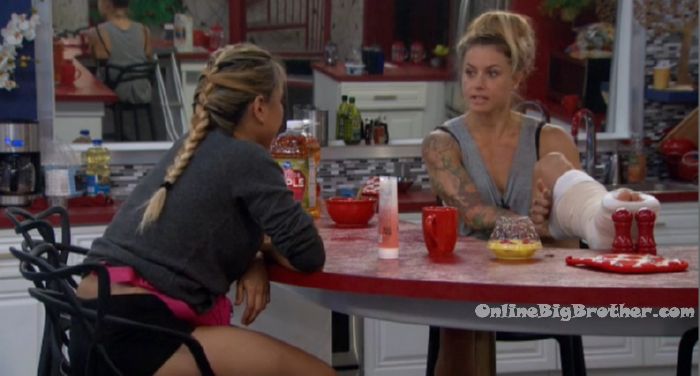 1:40am – 2:35am Backyard by the hot tub. Elena and Mark are talking about their ex's. Mark doesn't know if he's ever been in love before. She talks about how she's guarding herself from letting herself from getting too close to him.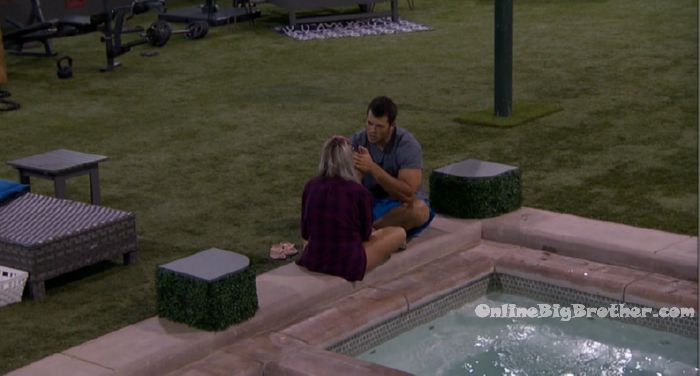 1:45am – 1:50am Kitchen. Alex, Christmas, Paul.
Alex brings up how when she was in the kitchen with Christmas, Cody was opening the fridge with his middle finger. Christmas – it was towards me. It so passive aggressive. Alex – the only thing that could mess things up is if Jess wins, Ramses wins or Josh wins. Paul – Josh is fine. He is a wildcard but he will listen to what I say especially after this week. She (Christmas) is going to drop a bomb on Jessica after he (Cody) leaves. Christmas – psychological warfare. Paul – do you not remember how she freaked out. Alex – you think she is going to freak out. Paul – yes! Christmas – I think she is going to be emotionally distraught with Cody leaving and then me saying something "I hope he waits for you, do you think he will?" Alex – something better than that though because I feel like she will leave him. Christmas – maybe something like "Did you start your clock because Cody gone and your time is limited." I could open the door when Cody leaves. Paul – I wanted to do that. Christmas – Josh is going to call him meatball.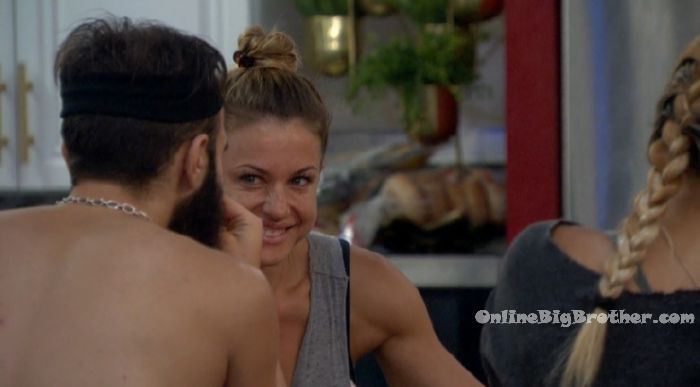 2:10am – 2:20am In the lounge room – Alex and Josh are giving each other advice. Alex tells Josh that you can't have any emotions in here. Josh tells her to not be snappy about things like the ice. Alex – the best thing you can do is play the best version of you. Josh and Alex head to bed.
Links to the ranking system
Rank your house guests here
For those of you that like Statistics here are some expanded reports.