Big Brother 18 is almost here and like every year twitter accounts emerge claiming twists and casting rumors galore. This year the main ones seem to be focused on returning house guests and coaches. There's also a healthy dose of villains and heroes type rumors, but this is usually the most common one. The returning houseguests one is being repeated by many sources. However I suspect it's people just having fun. As for scheduling we find out tomorrow about the cast and probably withing the next couple days Julie Chen will go on a tour with ET showing us the house. At which point buckle up, I hope you are ready. Here's how the start will go down.
Get your feeds via a OBB link we benefit from this and you pay the same Subscribe now to CBS All Access

Monday, June 13 (6:00am PST) | Big Brother 18 Cast reveal
Monday, June 13 (8:00am PST) | Big Brother 18 Cast reveal on the live feeds ** This has been delayed until Tuesday **
Tuesday, June 14 (11:00am PST) | Big Brother 18 Cast reveal on the live feeds
???? House photos released along with the Julie Chen ET tour
Wednesday – Friday, June 15-17 | Houseguests move in and spend a week off camera
Wednesday, June 22 (8:00 PM PST) First Episode ** 2 Hours long **
Thursday, June 23 (9:00 PM PST) Second Episode
Thursday, June 23 (10:00pm PST) Feeds start
Friday, June 24 Afterdark premieres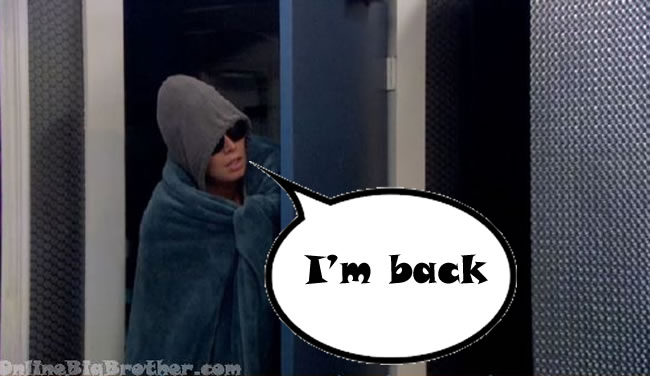 Rumor Mill
Bunch of rumors running around.. It's a Big Brother tradition.
4 returning players (2 male 2 female) entering the house with 10 newbies. There will also be 2 houseguests that share a secret relationship or generally special in some way. Reality Blurred is mentioning a coaches twist. With A Listing the returnees as follows Audrey Middleton:BB17, Derrick LevasseurL:BB16 (recent tweet from Derrick pours doubt on this), Vanessa Rousso:BB17, Ian Terry:BB14 (A twitter post by Ian places some of this in doubt.. )
6 -8 returnees
Villains vs heroes vs super fans scenario (This rumor is especially terrifying because it mentioned Frankie and Amanda returning .. as a hero no less)
Amanda tweeted that this years cast is all new
No coaches but 8 returnees and a cast of newbies by the names of Tiffany, Paul, Mike, Claire, Ana, Ken, Sal, and Ebony.
Some rumors have the returnees in pairs
– Danielle & Shane (BB14)
– Amanda (BB15) & Lisa (BB3)
– Nicole (BB16) & Hayden (BB12)
– Frank (BB14) & Kaysar (BB6)
Jordan Parhar from Big Brother Canada 3 says the returnees are Frank Eudy (14), Nicole Franzel (16), Da'Vonne Rogers and James Huling (17) citing trusted sources.
Jordan Parhar tweeted The siblings of alumni were Paul Calafiore and Tiffany Rousso and there is no coaches
Julie is not going to tell the players the vote count this season. Only who has been evicted. (a great idea)
JEJO (I made this one up, why not)
Amber Borzotra from Big Brother 16 locked her twitter account which means of course she'll be a returning houseguest
Jackie Ibarra from Big Brother 17 has pulled out of the Big Brother 18 premiere party reason given a new job. Or Could be she a returnee
The notorious twitter account "Corneroffice" tweets on some egg account the returnees are Frank (BB14), Nicole (BB16), Da'Vonne (BB17), James (BB17)
It's all madness and I love it.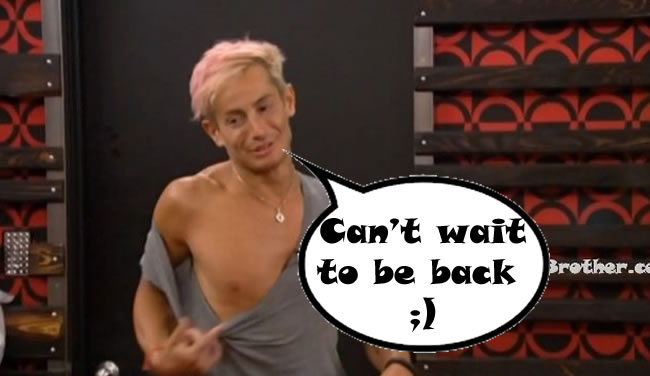 2016 Live show dates
June 30
July 7, 14, 21, 28
August 4, 11, 18, 25
September 1, 8, 12, 14, 21
If you haven't seen them already check out the few pictures of the house that have come out. Showing a international theme and a new pool. The international theme kinda coincides with the Julie Chen promo pictures shown below.
CBS Big Brother promo pictures featuring Julie Chen.
In case you're asking how we're doing… Just the calm before the storm. We'll post the cast first thing tomorrow morning.
Audrey, Shelli and Clay doing Clay's laugh #BB17 @DawgsBigBrother pic.twitter.com/rx65cOJss9

— OnlineBigBrother.com (@bigbspoilers) July 13, 2015
Enjoy more animated gif posts here
Updated
Ugh.. something is up.. looks like we won't find out about the interviews until 1pm on Tuesday. Reasons I've read
1) Someone dropped out
2) Orlando incident
From CBS facebook post it appears the Orlando shooting is the cause.
Big Brother fans: In light of the recent tragedy in Orlando, ?#?MeetTheHGsLive? will not be streamed live today. Cast interviews will be available to CBS All Access subscribers Tuesday at 4pm ET/1pm PT. We appreciate your understanding.
#MeetTheHGsLive will not be streamed live tomorrow. Cast interviews will be available Tue 4pm ET/1pm PT to #CBSAllAccess subscribers.

— Big Brother (@CBSBigBrother) June 13, 2016
Update 2
Cast reveal is set for 1pm PST but there has been some "leaks" on the internets. No idea where people get these or if they are legit.
Pilar Ibarra (Relation to Jackie BB17?)
Callie Borzotra(Amber from BB16 sister?)
Bella Zimmerman (relation to Ginamarie from season 15?)
Paul Calafiore (relation to Cody from BB16)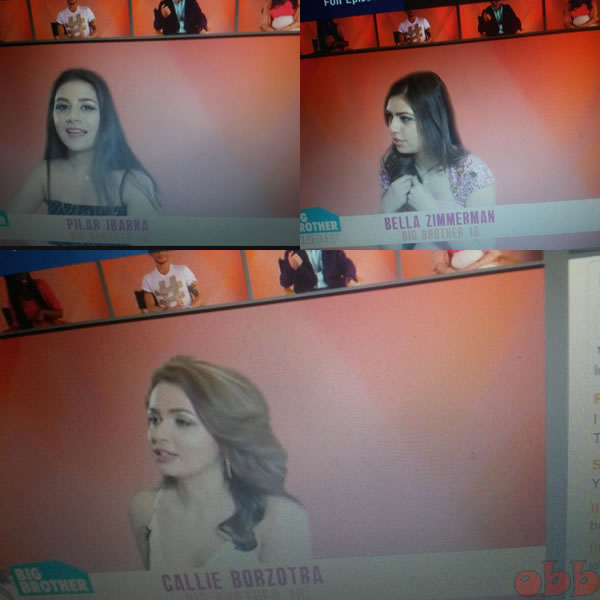 Ginamarie tweeted this out teasing about a damily member being on the show.
Could there be a relative of mine on Big Brother 18. I guess we'll have to wait and see ???? #bb18

— GinaMarie Zimmerman (@GinaMarieZ) June 14, 2016