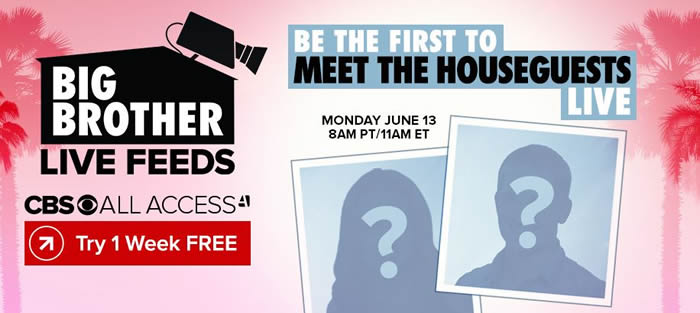 Get ready for Big Brother Season 18! The premiere is just under two weeks away so now is the perfect time to subscribe to the live feeds. By signing up today you'll be able to watch the cast reveal on Monday, June 13th plus you'll have access to all the other exclusive content. Be the first to meet the new House Guests, with your host Jeff Schroeder. On Monday, we'll officially know whether the rumors circulating around were true or false. This will set the record straight as to whether we'll have a full house of newbies or if this season will be the second all stars. It could even be a mix of big brother alumni and new house guests. Either way we'll know for sure who's moving into the newly redesigned house.
Stream the reveal live on Monday June 13 at 8am PT/ 11am ET only on CBS All Access.
Test out the Live Feeds FREE for 1 Week
WHY SIGN-UP FOR THE LIVE FEEDS THROUGH ONLINEBIGBROTHER
By signing-up for the live feeds through one of the links on our site you are helping support all the spoilers we provide all season long at no extra cost to you. Its just one of the ways you can help support all the hard work we put into the 24/7 live feed updates.