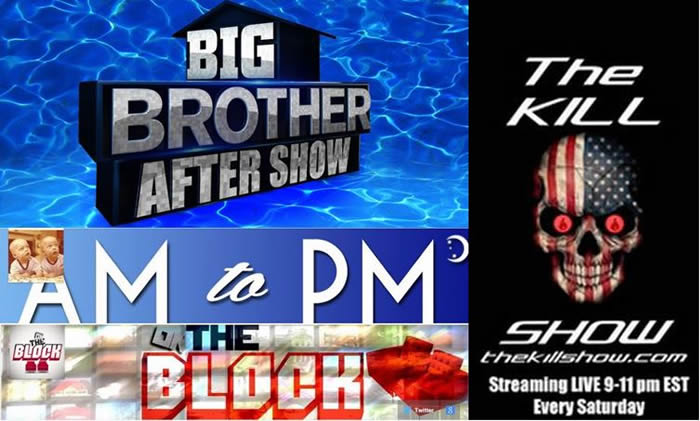 The Big Brother After Show
Episode 8 – hosted by Kevin Zelman, Ryan Hooks, Ashley Iocco (BB Season 14), Jen Johnson (BB Season 8) – all super fans! This weeks special guest via Skype is Audrey Middleton.
Subscribe to: The Stream TV on YouTube
On the Block
With hosts Spencer Clawson and Mccrae Olsen from Big Brother 15.
Follow them on twitter: @OnTheBlockPod, @mccraechum, @SpencerBClawson
"On the Block with Spencer and McCrae" is a Big Brother podcast dedicated to not wasting our audience's time with bullshit! We've played Big Brother and we know how to break it down! We do 3 weekly episodes on Monday/Thursday/Saturday @ 9:30pm CST. In addition to our weekly episodes we do "Game Rundowns" with each Houseguest, so that week can dig deep into each player's time in the house. These episodes are TBA. Our podcast is free because we want every Big Brother fan worldwide to watch us, enjoy us, and maybe even learn from us! Because one day you could be walking through that front door!
Subscribe to them on YouTube: On the Block
Clay Honeycutt talks about the Double Eviction and who he wants to win the game:

Jason Roy | Game Rundown
Fan favorite Jason Roy joins the boys to discuss his Big Brother game! He talks about his first week as co- HOH, Audrey, Dark Moon, Vanessa's game, who he thinks will win, and much more!
Subscribe to: On the Block on YouTube

AM 2 PM
Twins Andrew Monaghan (Big Brother Canada 1) and Pete Monaghan. Life got in the way this week and unfortunately they did not have enough time to make an episode this week. They likely had too many jars this week. Stay tuned for their next episode.
Been out of action the past few days so no #AM2PM this week. Is Vanessa staying for sure? @hamsterwatch @bigbspoilers @DawgsBigBrother

— Pete Monaghan (@Pete_Monaghan) August 12, 2015
Subscribe to: AM 2 PM on YouTube
How to Watch Big Brother AM 2 PM Special Episode – In this special Episode of AM2PM, Pete tells you about some great ways to get into the Big Brother community.

Watch the NEXT WEEK of the Live Feeds for FREE! Click here for your: 1 Week Trial
The Kill Show
Featuring our very own Simon from onlinebigbrother.com, Simon and Ken from the Kill Show talk Big Brother. Streaming Live 9-11 EST every Saturday ThekillShow.com
Past Kill Show episodes with Simon:
August 8th, 2015 episode: