POV Holder:
?
POV Competition
Aug 15th
POV Used
?
POV Ceremony
Aug 10th
HOH
Liz
Next HOH
Aug 17th
Original Nominations:
Johnny Mac and Becky
After POV Nominations:
? and ?
Have Nots
Vanessa, Johnny Mac, Steve
1:55pm Big Brother blocks the live feeds and switches to the highlights for the nomination ceremony to take place.
Becky and John were nominated.. John is not taking it well
3:09pm Storage room James and Austin
Austin about Jmac – He's flipping out he looked at me like he was going to kill me.. He's losing it dude
Austin and James complaining about Jmac being a downer because he is a have nots. Austin points out it was his turn "there's nobody left"
3:11pm HOH Julia and Liz
Liz – Sorry bro, not sorry, You're my main target
They are both scared that Vanessa is going to fill Jmac's ear
Liz "Drinking wine in the afternoon it's so Miami"
Liz – I feel like a peace of shot after my speech
Liz says Austin is doing all the dirty work everyone thinks Austin is running things , "I want Johnnymac outta here"
Liz – LIfe is stressful yo in the BB house..
Liz cheers to her nanny "Happy friday"
Liz explains that Johnymac hasn't talk game to her since day one he only started last night when she was HOH, "Becky is kinda not my target she's handling better than he is"
The twins are concerned about Vanessa talking to Jmac all the time.
Liz is pissed off at Austin says he never wins anything.
Julia – "I'm happy you won because I don't think I could beat Johnnymac"
Liz – Who else could I have put up Julia.. we need to think about next week.. if we can make a connection with James and Meg.."
Julia feels bad about Becky
Liz – I'm not putting up Steve he's my baby brother nobody is touching Steve. .. there was no other options. .this is freaking me the f*** out.
The twins do not trust Vanessa. They call Vanessa 'Audrey" saying she's playing all the sides of the house.
Liz says she wants Becky to go after Vanessa. they can't go after her because she's done too much to help them.
[envira-gallery id="128367″]\
3:28pm HOH Twins
Liz – For our game what do you think of James
Julia – as a backdoor ya
Liz – Becky will always go after Vanessa
they agree to tell Austin they drank all the wine .
Liz – I feel like one of us could make it.. I will 100% split it with you
Julia – we don't need to talk about that right now
Liz – we're in a really good spot
Julia – He's just a guy you don't really like that much
Liz Umm hnmm
Julia – You need to play that up and tell him you really like him
Liz – I love that you are telling me this tat is what I've been telling you that the entire time
Julia says she realizes they are still in the game because of Austin
Liz agrees
Liz- He said he's not playing for first.. your a idiot because I am
The twins don't trust Vanessa but will not target her.
Julia – she plays the victim card too much she doesn't care about anyone.. she's a 30 years old women.
Liz – I'm not taking out f****g James.. I'm not going after James at all.
Julia suggests they put u Meg as the pawn, "She's the ultimate pawn .. I'm sorry"
Liz- You're the Victoria of the season
Julia – I wouldn't give her that, Victoria is the worst
Liz – what is Austin doing
Julia – Liz please we're having twin time
Liz – No he's making me food
Julia – oh
They laugh
Liz says the goblins are backdoor targets Becky and John are front door targets.
Julia – I really respect Austin's advice.. he's super smart and has seen every season.
Julia – Vanessa, i'm not believing anything she says it goes in one ear out the other.
The twins are saying they know Johnnymac is playing the "I don't care" game and must be super popular with the fans because he's called into the Diary room. They want "America" to know john is the most boring player in the BB house.
They agree Austin needs a beard but he needs to shave the pony tail beard.
3:40pm HOH Jmac and Steve
They are talking about vanessa denying she was the person that spilt the 8 person alliance when Jmac know it was her.
Steve – you were in the room at the time
Jmac – I know
Jmac – they'll send me home over James.. I win more
Steve – I'm not so sure.. win anyways but i'm not so sure
Jmac – Meg will keep him
Steve – we're talking about you and James on the bloc
Steve – there's six votes.. the tie breaker will be in your favour you need 3 three.. you need me, you have the other twin and you need Austin..
Steve- Becky will vote to keep you.. I think you're safe..
Steve – Win
Jmac – that whole double evacuation deal was it Vanessa's idea or your idea
Steve – I would be lying if she wasn't involved but it was my deal.. I couldn't connect with her (Jackie) I tried just couldn't
Jmac – Is vanessa Trashing me right now
Steve – She just went up there to listen to music
Steve says Jmac is not leaving this week, "I'm sorry if you and Becky get split up.. I think you're good.. still win it"
Steve – how are you emotionally
Jmac says he's good he just can't talk to Vanessa anymore
Steve – who will you go for this week
Jmac – if I had to I would probably.. Vanessa and austin
Steve saying he feel like a idiot (for the double eviction.. Steve is playing up he made a mistake taking out a goblin)
Jmac says if the POV is punishments he's taking them all
Steve – I don't think it will be
Jmace – it wouldn't be tonight it'll be tomorrow
Steve – Yes
Jmac – if houseguests choice..
Steve – I don't want to make any commitments, let's talk about that later tonight.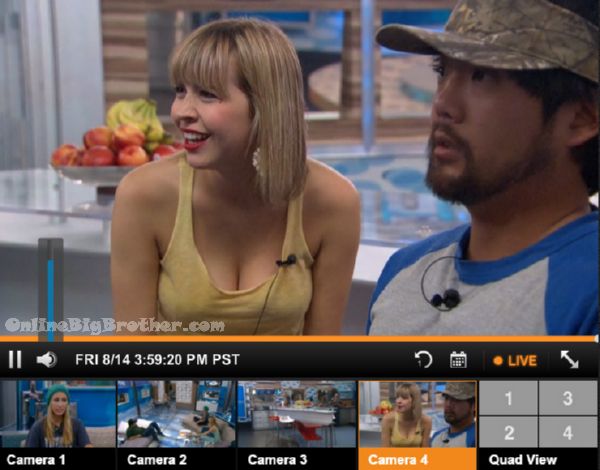 3:56pm James and Meg
James – I'm scared Vanessa will flip targets she does that might go to me
The goblins are pissed that Becky keeps calling them a group in public.
Meg – She really need to stop doing that
James – Johnny Mac tried to throw me under the bus
Meg – I know that
James- We'll james said we're part of his crew
james- we gotta watch what we say
Meg – they have nothing to lose anymore
Meg – this week is not going how I expect
James – I never thought we would be working with Vanessa
They laugh that jason is throwing "shit" at the screen
Meg says she trusts Austin
James – Austin has a good feeling about you and me both
austin comes down tells them Vanessa is upstairs blowing a fuse.
James- why is she trying to run your HOH
Austin explains that Vanessa wants to put target ahead of her
Austin says Jmac is full cocked right now for the Veto
Meg – He's good at random crap
4:00pm HOH Vanessa, twins, Austin and Steve
Vanessa blowing a fuse says she's scared of Johnymac. Vanessa adds that jmac was calling her a bully. There's residual anger towards her, "Johnny can't get past it I've explain it to him multiple times.. He's so stuck on it
Steve – So why is he mad at you
Vanessa – if you can tell me I would love to know I don't know it's irrational
Steve – You had nothing to do with his nomination
Steve – How did you get involved with his at all
Vanessa saying that jmac is telling her one thing IN private than the opposite in public, "I'm sorry I did give you the opportunity to come clean in private.. I pull people one on one into a room I don't handle thing publicly.
Liz asks them all to leave the nominations the same
they agree.
Vanessa – My target is Becky Johnnymac is acting weird
Liz says becky and Johnnymac are very strong in competitions the reason she put them up is for her personal game
Vanessa – you're letting the house deiced which one you want to go home
Liz – we'll see tomorrow.. f Johnnymac keep acting like this irrational and emotional I want him to go home
Vanessa – I think he's a fun guy and probably a good person
Steve sounds like he want them to tell him what Steve needs to do to be safe this week
Vanessa says Steve if he wants to give jmac advice tell him to stop sleeping so much and start talking to people in the house
[envira-gallery id="128379″]
4:16pm Have nots Jmac and Meg
Jmac – I caught her in a lie that's why she's freaking out and she's going to say I'm lying because i'm the last one left
Meg says the other side is starting to turn on Vanessa, "That what I got the sense after talking to them last night.. I don't know what their target is this week"
Meg says Austin only cares about the twins he doesn't care about Vanessa.
Meg suggests Jmac throws Vanessa under the bus, "I'm having the sense she's not running the house this week"
Jmac caught Vanessa on a lie that she sore on her mother about
Jmac ask her who he should pick for houseguests choice..
Meg suggests James
Jamc is worried if james uses it on him then Meg will go up, "Steve doesn't want me to pick him"
Meg – why not steve
Jmac – He's freaked out about everything.. he f****d up
Meg – He's getting away with everything
Meg says Steve is the best choice for POV
Jmac – He needs to get permission to use it on me.. there's no good person to pick for me
Meg – it's hard cause anyone could go up
Jmac- ya they won't put Steve up
Meg – who do they want to go home
Jmac – it's her speech Becky and I are most likely to win sh1t
They talk about vanessa trying to make a deal with Meg during the double eviction while Meg was crying
Meg says Austin is a odd one "But when I talk to him I feel pretty good.. I don't know where his head really is"
Meg – She's (Vanessa) done some bad stuff to them
Jmac – really
Meg – She doesn't tell them things and she was going to backdoor him
Jamc – they are still bitter from that
Meg – more and more keeps coming out.. it was all her plan
Meg asks "Why does she have it out for you so bad
Jmac – Because she knows I know SHe lied to me, That whole fight with clay happened because.. he did something stupid and I had to take the blame for it but it all stems from this thing I got her one.. I just haven't told anyone
ALLIANCES:
Goblins/Gremlins = Jackie, James and Meg
Generals = anyone allied with Becky
SOS = Steve and Vaenssa
Rockstars = Steve and Jmac
? = Becky, Shelli, Jmac, Steve
Freaks n Geeks = Austin, Twins, Steve, Vanessa
AUS-Twins = Austin, Julia and Liz
"Brass Tacks"  Gobins and Austwins
The new "Brass Tacks" = Aus-Twins, Meg, James + Vanessa
"The Scamper Squad" – Aus-Twins, Vanessa, Steve
[polldaddy poll=9025485]
Share it YO!!
Tweet