POV Holder:
?
POV Competition
Aug 15th
POV Used
?
POV Ceremony
Aug 10th
HOH
Liz
Next HOH
Aug 17th
Original Nominations:
? and ?
After POV Nominations:
? and ?
Have Nots
Vanessa, Johnny Mac, Steve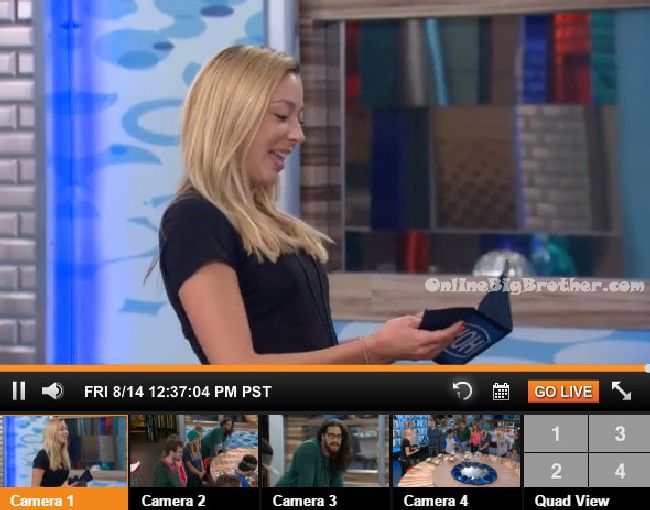 12:07pm – 12:35pm Big Brother blocks the live feeds for an HOH lockdown. When the live feeds return the house guests are heading out of the HOH room to find the havenot extra food on the kitchen table. The havenot extra food is pork chops "Pork-Slop". Liz says we're going back into rotation. She then picks the havenots – Vanessa, Johnny Mac and Steve! Liz asks if Meg would eat the pork chops if she was a havenot. Meg says no. They try to get into the storage room but realize its locked and that production is stocking it with new groceries.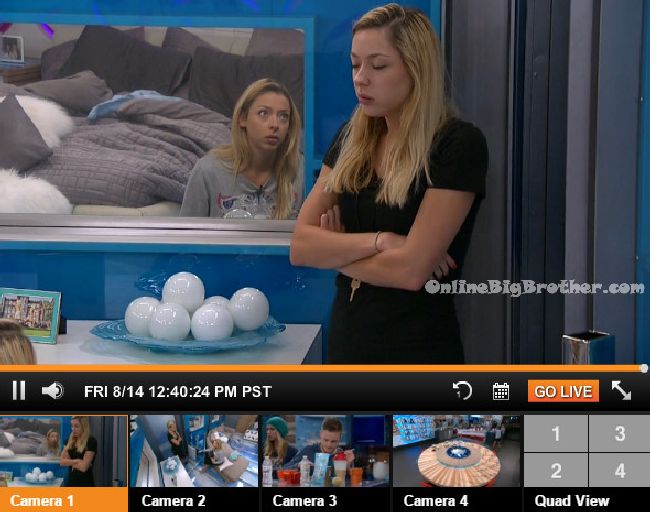 Production stocking the storage room @bigbspoilers #bb17 pic.twitter.com/t5tz9ncDtH

— Dawg (@DawgsBigBrother) August 14, 2015

12:50pm HOH room – Julia talks to Liz. Julia says that she is worried that Austin just wants to get out Johnny Mac because he thinks Johnny Mac will go after him. Liz asks so what to you suggest? Julia says I don't know. I just wanted to throw that out there. Austin joins them. And says that he told Becky to come up. Meg joins them. Austin tells her they need to talk to Becky again and them after. Meg says that Steve told them he felt like he made the wrong decision (putting her and Jackie up during the double eviction.) Austin tells Meg that Becky told us stuff and earthed some things about Vanessa. Not that we're targeting Vanessa but we don't want to do her dirty work. Becky joins them. Austin says before we talked to you we thought you might be going up. But you changed a lot of things. Becky says brass tacks. Austin says that before the competition last night James told Johnny Mac he was good. Were James, Meg and Jackie going to follow put us up? This is before Jackie. He wasn't going to go after them. He was either going to go after Steve or us. Becky says I didn't know that. Johnny said that Steve told him Johnny not to use the veto. That's all I know. Austin asks was everyone really on board with us. Becky says James didn't speak a word last week. I'm not sure where he is at. I knew at the end of the day Meg and Jackie wanted both Vanessa and Shelli to go. Austin asks Becky if anything they say to her won't go back to Johnny Mac. Becky says it won't I know my life is on the line. Austin says we like you. If we were to go after you whos job are we doing and if we go after her (Vanessa) ..its not our job either. Becky tells them you guys won't touch my block, not one of the three of you. Austin tells Becky nothing can go to JMac because it could go to Vanessa. Becky says she won't share anything. Becky leaves. Austin says he believes Becky will keep her mouth shut. Liz says I am worried if Becky stays and wins that I will go up but at least I would stay over Vanessa.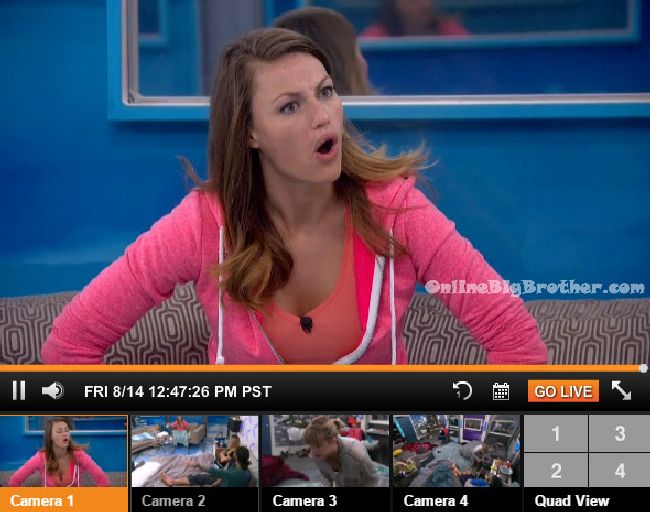 12:45pm Bedroom – Meg and James talk about how they're not sure what Aus-twins will do. James says they probably want to get Vanessa out. Meg says their main concern is that Becky and Vanessa hate each other and don't want to do Vanessa's dirty work. James asks do you think they will put up Becky? Maybe as a pawn? Meg says I don't know. James says I know one of us is going to have to be a pawn next week. We need to win HOH and if we take our John this week we have a good shot at winning. Me, Julia and Becky have a good shot at winning if its physical.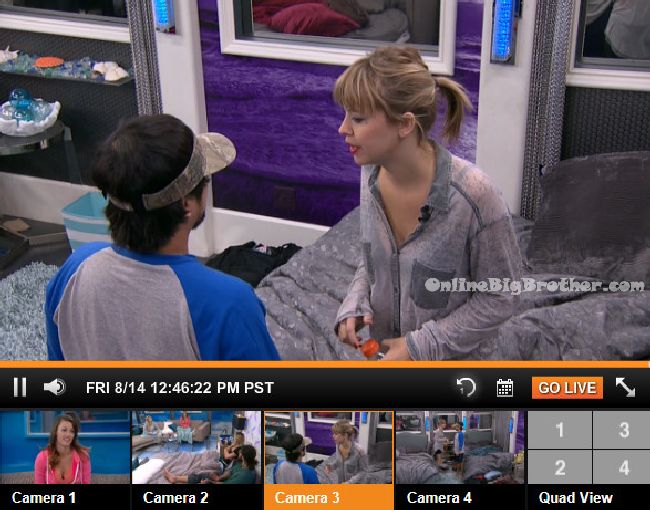 1:10pm – 1:15pm Havenot room – Vanessa tells Johnny that she knows for sure you're not Liz's target. Johnny asks what if she misses her target? Vanessa says then there's a backup target. Johnny says okay. Vanessa says if you go up you only need 3 votes for a tie and 4 votes to stay. You would have my vote and I'm sure you would have Steve's vote. Vanessa asks did you tell them it was okay (you go up). Johnny says no I didn't say anything. They asked if I knew what was going on last week and I said I didn't know. Johnny hints at Vanessa being the one that outed the 8 person when she was talking to Clay and Shelli. Vanessa says it wasn't me. I gave my word I wouldn't tell anyone. Vanessa says literally, this never happened. I have no idea what you're talking about. Johnny Mac says video tape? It's in my brain! I'm show you when we get out. John tries to let it go and says it's irrelevant. Vanessa says No, no, it's very relevant. Johnny says maybe we were talking about something else and I'm just confused. Vanessa says maybe it was about a different 8 person group because there have been three 8 person groups with Shelli and Clay. Vanessa says it couldn't have come from be because it was never an alliance and I wouldn't have said it was. Vanessa says its not cool for you to imply it was me because I didn't tell you. Johnny says I don't know why you're getting mad, I'm just telling you what I think.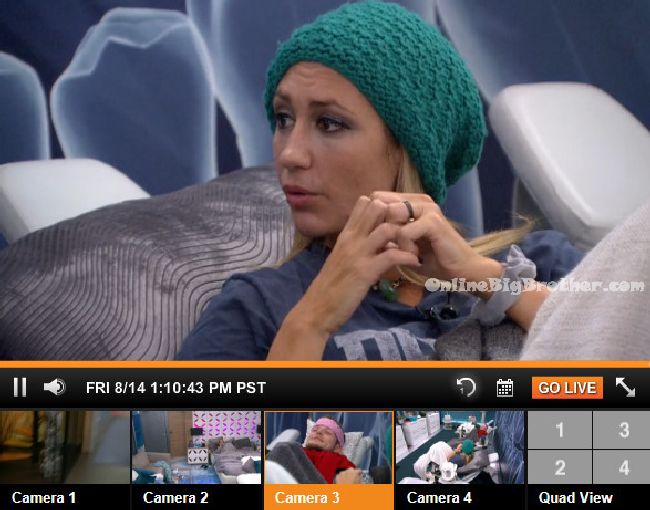 1:15pm HOH room – Meg joins them to talk. Austin says that Becky said all of you guys wanted to go for Vanessa and then you changed your mind. Meg says no, when we came in she had a set decision. We told her we would have her back. Austin asks were you still going to put up Johnny Mac up. Meg says yes .. we were going to put up Johnny Mac and Vanessa. Austin says obviously Becky wants us to go after Vanessa but we don't want to do her dirty work. We want to do this brass tacks. Austin says we can't go after Becky either. Heres the thing we bring in Becky as the 6th and Vanessa as the 6th. They never talk to each other so they will never know. Then let them go after each other. If anything gets messed up then Beck goes home. Meg says Becky knew the whole time I was pro Shelli .. I had to really convince her that you are with us. So if you do put her up she will need some convincing she is the pawn. James says we appreciate you guys looking out for us. Meg says that Vanessa swore on Mel that she wouldn't put Me, Jackie or James up. Austin says then she threw the other one last night. Meg says she makes all these deals and throws things so she doesn't have to go back on all her deals. Austin says that Vanessa is not f**king the bible out of no where. Meg says Putting her straight up will make her less worried. Becky is worried about her face not being up there and being backdoored. I don't think I would do a 6 person thing with her. James says I want to know what I did to Vanessa. I never put her up and tell her things that are incriminating .. things that could get me put up.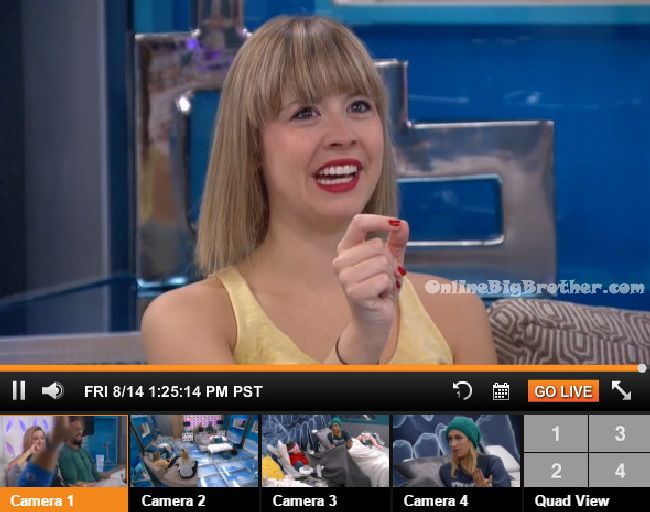 1:30pm – 1:55pm Cabana room – Vanessa talks to Steve. I will give you 1 chance to come clean before this gets out of hand. Did you tell Johnny Mac about what I told you about the 8 person thing? Steve says Becky told me last week. Johnny Mac also told me from Becky. Vanessa says he told me it came from me… so he is trying to throw it on me!? At least you can verify it with Austin and them. Johnny joins then and says hey guys how are we doing? Vanessa tells him Steve just confirmed it came from Becky. Johnny says I heard something similar in the bathroom and figured thats what we were talking about. Vanessa says this could actually hurt my game. Johnny says I didn't tell anyone. Vanessa says you told Steve. Johnny asks don't we trust Steve? Vanessa says we do but I don't want that getting out because it isnt true. Johnny says okay. He then asks if he is going up? Vanessa says I don't know. My opinion on you has always been that you're very trustworthy. Vanessa tells Johnny its pretty safe to say you have a deal with Becky because she broke her word not putting you up. If I tell you anything will you keep it a secret? Johnny says he will. Vanessa tells him what he can do to improve his game. Johnny says it was a bad situation what was I supposed to do. Vanessa says but in doing so you threw me under the bus. Vanessa tells him he should have handled the blow up with James & Clay. Vanessa asks are we on the same page or no? Johnny says yeah. A lot has just gone on and I'm confused. I don't like it when you cry and yell at people. Vanessa says I don't like it when I cry either and yell at people it will never happen with you again. Vanessa then gets up and leaves the room.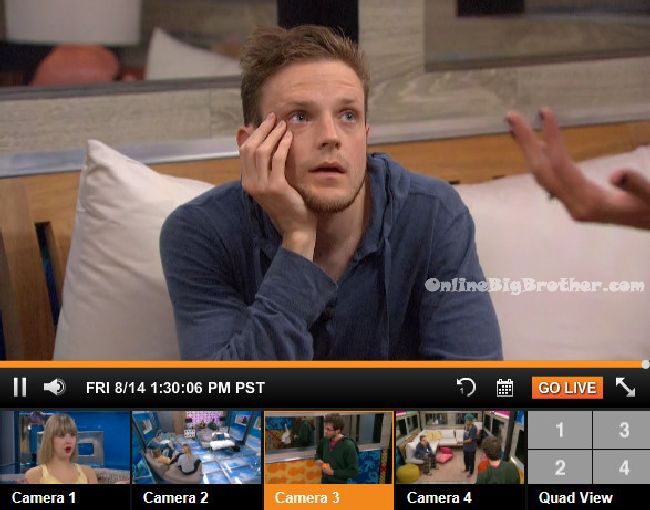 Watch the NEXT WEEK of the Live Feeds for FREE! Click here for your: 1 Week Trial
1:38pm – 1:55pm HOH room – Becky joins them. Liz says what you told us about Vanessa hit me hard. Thank you for that. She (Vanessa) is scary and potentially a backdoor target. Austin says depending on how she reacts to everything. Liz tells Becky that she might have to go up as a pawn. Austin says you're not going and Vanessa isn't manipulating anything at this point. Someone from this 6 have to go up. We have the votes. Becky says you guys I trust. Vanessa I don't. I know where you guys are coming from. As long as Vanessa doesn't strike again. If she goes and says something we will all just compare notes. They agree that Shelli going home was best for all their games. Becky asks if someone else wins will someone take me down? Austin says we are all voting for you. A floater might go home this week but it won't be you. Meg says its so different with jury now. They talk about how Johnny Mac is called to the diary room so much. Meg says he doesn't do anything. Its not like he's team america. Austin says maybe he is … his task is to sleep 24 hours in the house. They all laugh. Meg tells them to not make a deal with Johnny but to say you have his back. Juliz says she thinks Steve is throwing every HOH. Meg says he can also be manipulated like crazy!! Big brother blocks the feeds.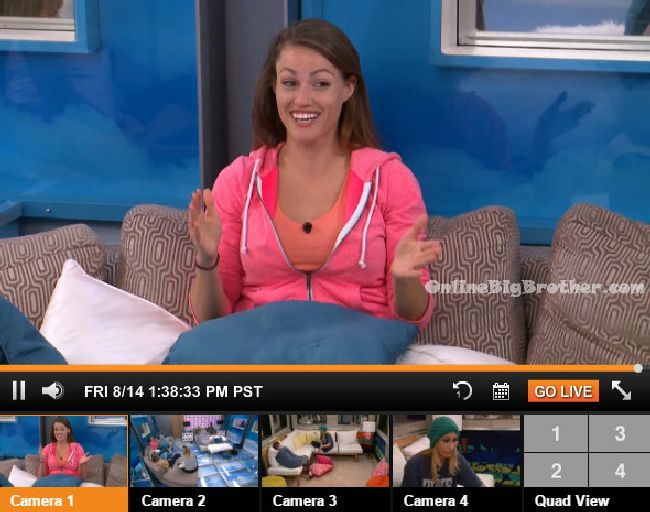 1:55pm Big Brother blocks the feeds .. nominations are likely happening now.
2:50pm Still blocked..
ALLIANCES:
Goblins/Gremlins = Jackie, James and Meg
Generals = anyone allied with Becky
SOS = Steve and Vaenssa
Rockstars = Steve and Jmac
? = Becky, Shelli, Jmac, Steve
Freaks n Geeks = Austin, Twins, Steve, Vanessa
AUS-Twins = Austin, Julia and Liz
"Brass Tacks"  Gobins and Austwins
The new "Brass Tacks" = Aus-Twins, Meg, James + Vanessa
"The Scamper Squad" – Aus-Twins, Vanessa, Steve
[polldaddy poll=9025485]