POV Holder:
?
Next POV
July 20th
POV Used
?
POV Ceremony
July 22
HOH Winner:
JUDD
Next HOH:
July 25
MVP:
?
Original Nominations:
Current Nominations:
Last Evicted Houseguest
David, Nick, Jeremy
Have Nots
Jessie, Candice, Andy, Spencer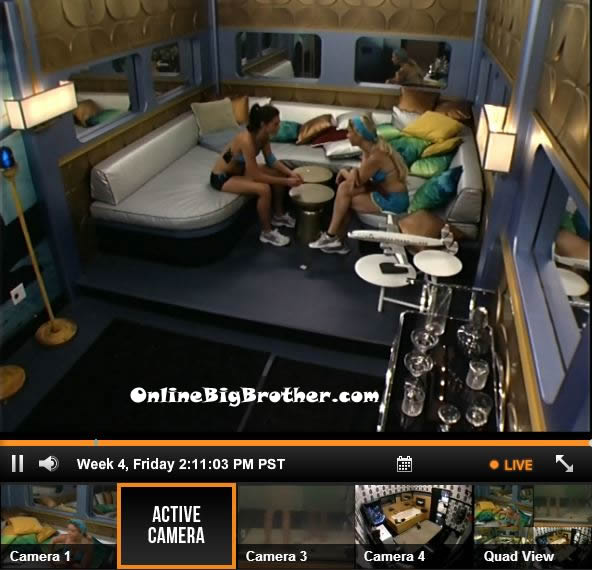 11:33pm – 2:15pm The Big Brother live feeds switch to TRIVIA for the have / havenot competition. When the live feeds return we learn that Jessie, Candice, Andy, Spencer are havenots for the week.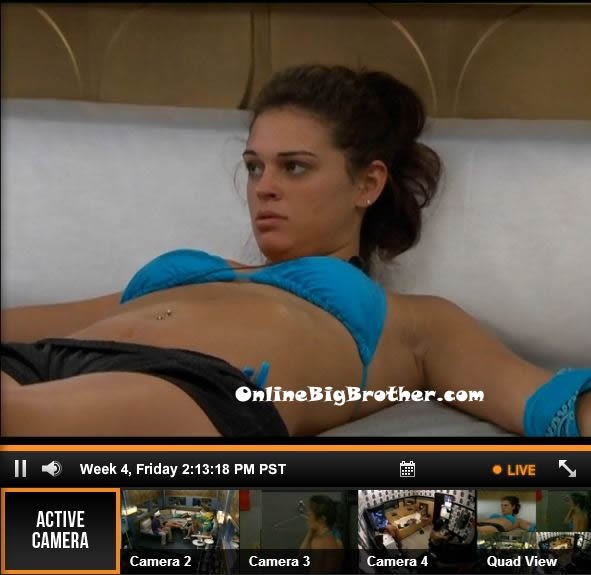 2:15pm – 2:35pm In the lounge room – Kaitlin and Gina are talking. Kaitlin says that she is here to compete. Kaitlin says that just so Gina knows me and Aaryn are going up on the block. Gina says they are just picking on because we are pretty. Gina says they got Jeremy out, they got what they wanted and now they are still coming after us. Kaitlin says that Aaryn is the target this week. Judd joins them. Gina says that this is a game and I am here to compete. People are mad at us because we haven't been have nots. Gina says I already told Andy I would take his spot. Kaitlin and Gina talk about how they already know they are going up on the block. Judd asks how do you know that? Who told you that? Gina says Aaryn. Judd says that it pisses him off that people are saying that because I haven't even made my decision yet. He says that he is afraid because of the twist that Julie mentioned. Kaitlin says that Aaryn twists peoples words. Judd asks did Helen tell you that too? Gina says no I haven't heard that. Andy comes in and says that the nomination screen is up. Nominations are today. Andy and Gina leave. Judd talks to Kaitlin alone and tells her he might put her up as the pawn. Judd tells her that he thinks Elissa will get MVP again and she will put up Aaryn. Judd tells Kaitlin that she is not a target and that if he wins veto he will take her off. Judd says that she is good and says she won't go home. Judd tells Kaitlin that a person on the block might get a power and if that happens then we can work together. Stay close to Gina too, closer than Aaryn just in case she gets a power and doesn't know how to use. Kaitlin says she will. Kaitlin says if you have my back, I will have your back. Kaitlin leaves and Spencer comes in. Judd tells him that Kaitlin is fine with being a pawn. Spencer asks Judd if Elissa does get the MVP she will probably wont to put up me or Howard, so can you try and make sure that doesn't happen. Judd says he will. Spencer leaves and McCrae comes in to talk to Judd. McCrae asks if Judd is thinking of back dooring Helen? Judd says oh no that would be dangerous. Judd talks to him about putting up Kaitlin and Gina as pawns. McCrae is trying for Judd to put up Howard as the target or to be back doored. McCrae asks Judd if he is sure Elissa as MVP would put up Aaryn over Spencer? Judd thinks Elissa would put up Aaryn. Meanwhile in the bedroom Andy talks to Kaitlin about how Judd is thinking of putting her up. Kaitlin says that Judd is worried about the twist. Andy says that we should just play the game like normal because we don't know what the twist will be.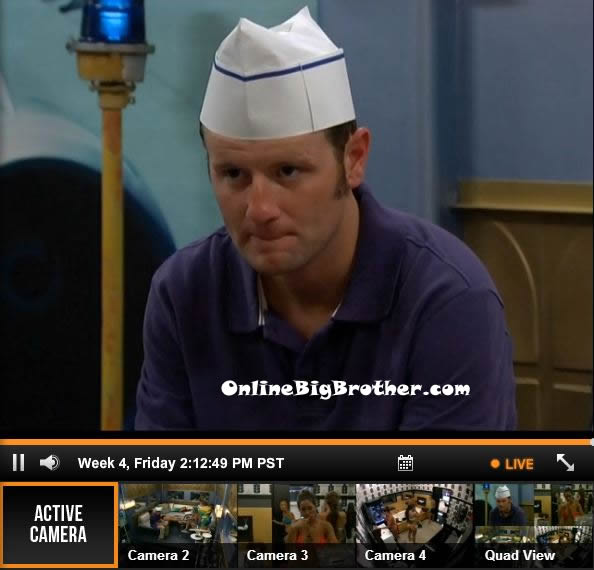 2:35pm Amanda comes into the lounge room to talk to Judd. Amanda is pushing for Howard to be put up on the block. Judd isn't so sure. Judd says that neither Howard or Spencer would put me up. Amanda says Aaryn has no one, it would be better to get out Candice than Aaryn. Candice tells Judd that he should be trying to get out the strong players. Amanda tells Judd that it is completely up to you. Judd asks Amanda if she will stick by his decision. Amanda says she will. Amanda says that she thinks Elissa will put up Aaryn. Amanda is trying to convince Judd to put up two strong player and let the MVP put up a weak player. Judd says that if Elissa doesn't work with us on this then she needs to go. Amanda agrees. Amanda tells Judd she would put up Aaryn and Kaitlin… she says if any of them win veto then they back door Howard. It's a big move for you if you get out Howard. Judd then talks to Gina and tells her that he is thinking of putting her up as a pawn. Gina immediately gets defensive. Gina says pawns go home. Gina starts talking about how Jessie has gone around to all the guys in the house. Judd says that he just wants someone up as a pawn that he can trust.. like if it is a coup d'etat. Gina says I don't even know what that is…if you want someone to trust then put up Jessie. Gina says everyone thinks that I am out of focus because of Nick but look I won today. Judd says that he isn't sure yet, if I don't put you up will you have my back the rest of the game. Gina says yes. They shake on it. If I don't put you up that will show my loyalty to you. Gina says that she is down.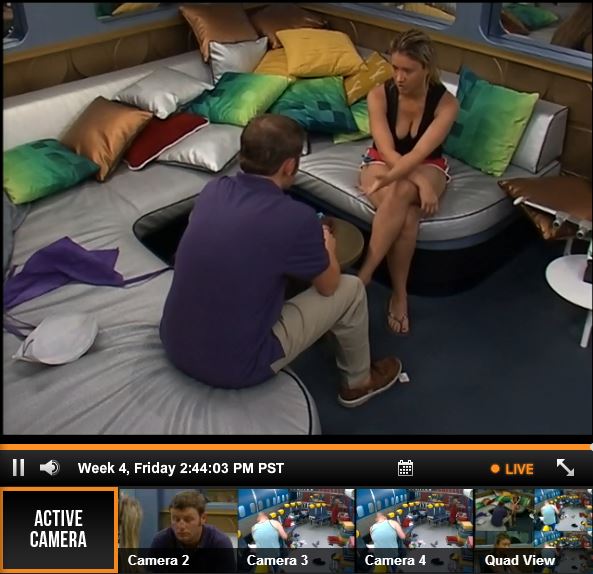 2:50pm In the havenot room – Howard, Spencer and Andy are talking about the havenot food. Apparently they will get to eat dried mango and something else as have nots. Spencer says being in this room together we can stay good with each other. We have each others backs.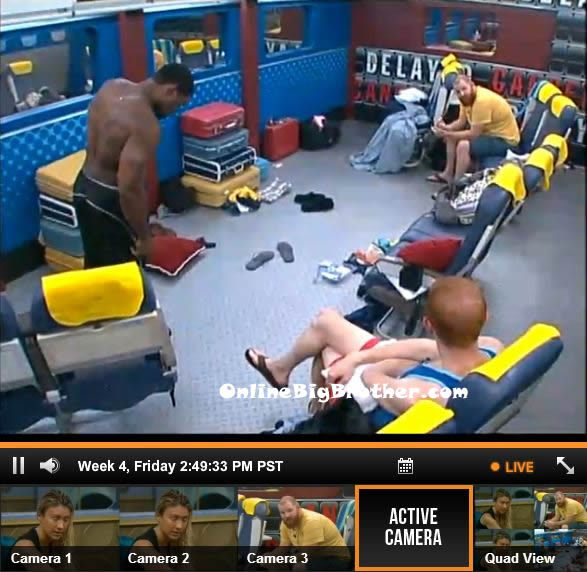 3pm Judd talks to Candice and asks her who she would want to go up. Candice says either – Aaryn, Kaitlin or Gina. Judd then talks to Aaryn. He tells her that he is 95% sure that if Elissa gets MVP again she will put you up. I think it would be safer if I put you up rather than let Elissa put you up. Judd says that he thinks it will be easier to take Aaryn off the block if he puts her up. He says that if he wins veto he will take her off. Aaryn asks if Elissa said she would put me up. Judd says that he thinks she will. Aaryn says that if you do take me off, I think Elissa would put up Howard in my place. Aaryn questions why Judd won't put up Gina. Judd says that Gina will go bat sh*t crazy. Aaryn asks so everyone in the house wants me to go home? Judd says some people. Aayrn asks who should I be nice to? Judd says be nice to Elissa and Helen. Aaryn says so they want me to go home? Judd says well ELissa will probably be MVP so be nice to her. Aaryn says she would rather go up against Gina than Kaitlin.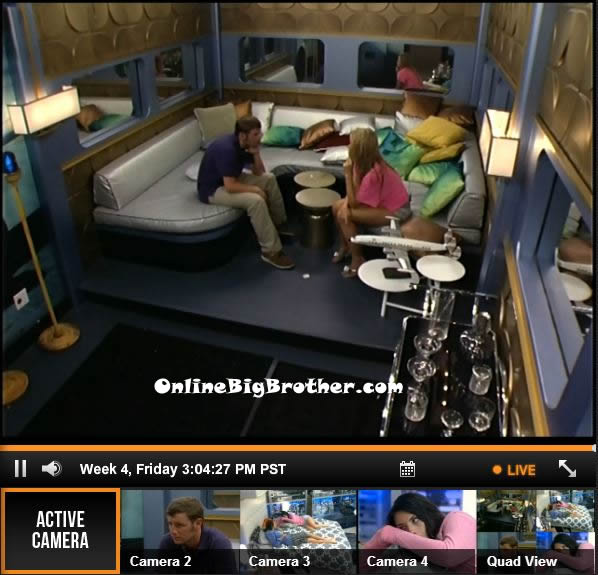 3:10pm – 3:15pm Judd then calls Elissa into the lounge room. He tells her that he was thinking Kaitlin as a pawn, Gina will go ballistic if she goes up as a pawn so I asked her if I don't put her up I would want her to vote with me how I want each week. Judd says that he is thinking of putting up Aaryn and Kaitlin. Judd asks Elissa if she gets MVP will she put Gina up? Elissa says or Spencer. Elissa says as long as Aaryn is up then ya. I would rather Aaryn gone than Kaitlin. Aaryn is so much more unpredictable. Elissa says that Judd can't listen to Jessie about wanting to get out Kaitlin because she had the conflict with Jeremy. Elissa says that Aaryn is just way more manipulative. Judd asks Elissa if she has his back and wants to work with him. Elissa says she has Judd's back and has since the beginning. She says she trust him more than anyone. Judd tries to convince Elissa not to put up Spencer because he is trying so hard to work with me.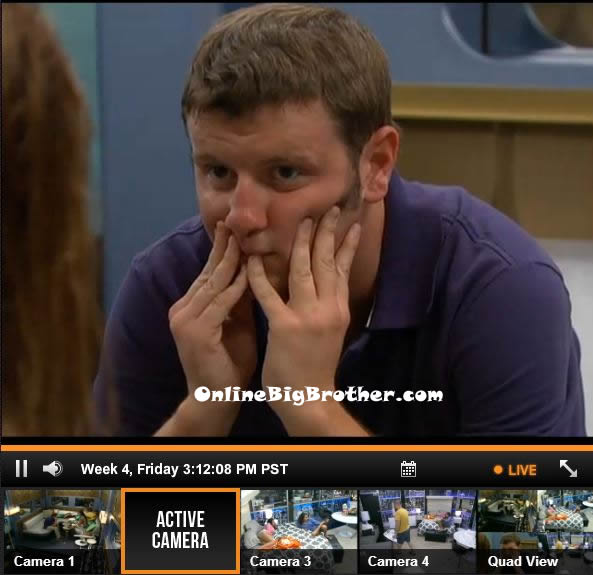 [polldaddy poll=7260936]