POV Holder:
?
Next POV
July 20th
POV Used
?
POV Ceremony
July 22
HOH Winner:
JUDD
Next HOH:
July 25
MVP:
?
Original Nominations:
Current Nominations:
Last Evicted Houseguest
David, Nick, Jeremy
Have Nots
Jessie, Candice, Andy, Spencer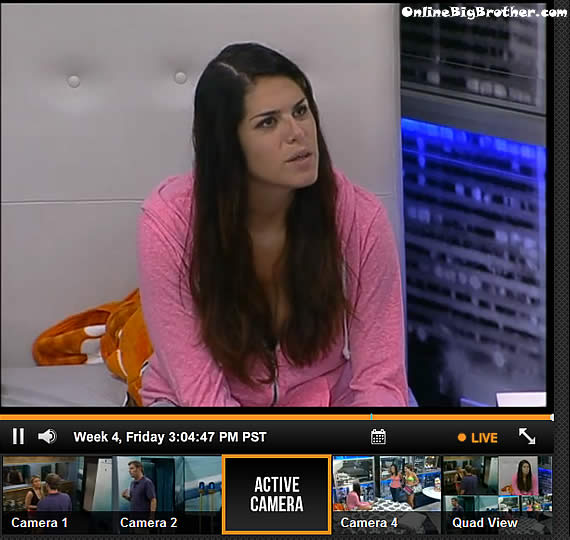 2:53pm HOH Amanda, Helen and Elissa
Amanda is thinking that MVP twist will mean it's going to someone else so they can't risk not putting Aaryn or Howard up in case MVP goes to someone else. Amanda thinks because it's been going to the same person CBS wants to change it up.
Helen says she talked to JUDD and he's wanting to put up Kaitlin and Gina. They're all groaning over the thought. They don't want him to do that they want to get rid of Aaryn or Howard this week. Preferably Howard.
Elissa says she wonders if it is going to go to the biggest villain or the worst player. (It's already gone to the worst player for three weeks JK.)
Helen: "It has to be Aaryn or Howard it cannot be Kaitlin"
They agree the number one target is Howard then Aaryn followed by GM
Elissa: "Jessie wants Kaitlin gone over Aaryn"
Helen: 'And she's talking to Judd"
Helen says Howard and Aaryn have to go.
Helen: 'I wanted to be low key this week"
Amanda: "We have to stick with the knock outs and Jessie isn't a knock out":
Elissa: "she thinks she's part of an alliance"
Helen: 'She thinks she's part of the house" (Jessie isn't a superfriend anymore)
Amanda stresses they have to get to JUDD before the nominations and make sure he puts up Aaryn or Howard.
McCrea joins them and the girls leave
Amanda says she thinks the MVP will go to someone other than Elissa so they cannot risk not putting Aaryn or Howard up.
McCrae and Amanda cannot understand why JUDD won't do it to them it doesn't make sense gamewise. McCrea doesn't get his logic that JUDD is going to get blood on his hands if he puts her up
Amanda in overdrive trying to get Aryn and Kaitlin up.
Amanda: "He can't be a pu$$y about this we have the votes.. he's the HOH"
Feeds switch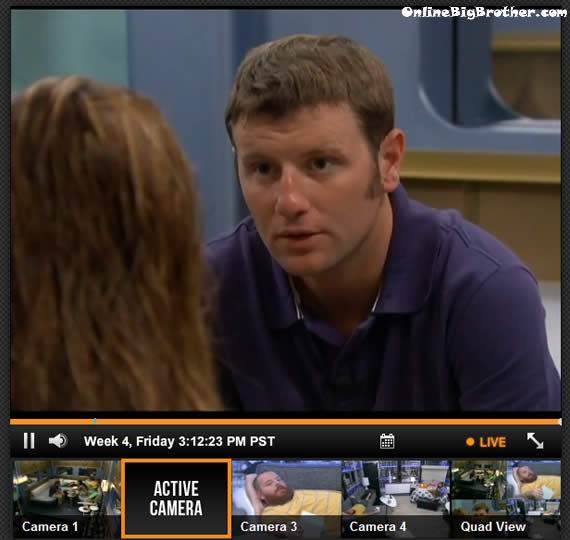 3:10pm JUDD and Elissa Cockpit
JUDD saying almost everyone he's talked to say KAitlin and Helen have a deal. He's also heard that Elissa will put Aaryn up if he doesn't. JUDD says if he puts Aaryn and Kaitlin up he doesn't want Elissa to put up GM because he wants to use her as a replacement nominee. He does not want to put Howard or Spencer that is too big of a move for him right now.
Elissa says she would put aaryn up if she knew she had it but she doesn't know so she's saying she'll put up GM or Howard.
They agree they can trust each other and are friends.
Elissa: "I'll be friends with you for the rest of my life"
JUDD says he's putting Aaryn and Kaitlin up and doesn't want GM as the nominee.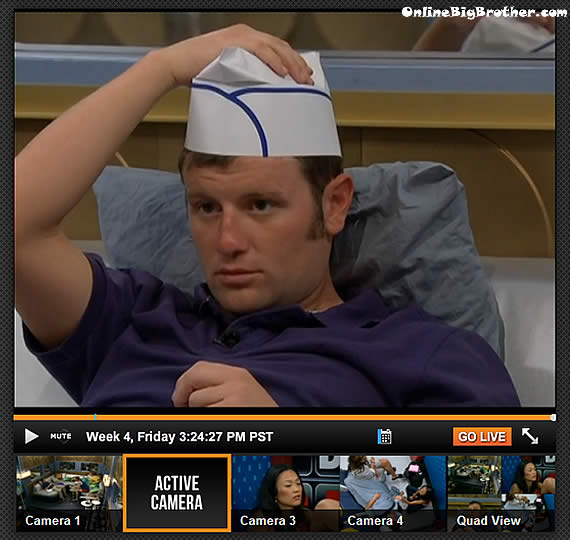 3:19pm Cockpit Andy and JUDD
They are talking about who his targets is. Judd wants to call the group together and they can figure out who is the biggest threat is. Judd thinks Kaitlin is strongest in competitions and has the most friends.
Andy asks him if Elissa will put up one of them, Andy, McCrea or Amanda. JUDD doesn't think that is going to happen, he's confident there will be no surprises with Elissa's MVP. JUDD doesn't want to nominate GM because it will just cause more friction between them. He's fine with Elissa putting her up.
JUDD: "Maybe I can back door someday I'll have to see how the VETO goes"
Andy isn't sure that Howard is the best target because even though he's strong he's not coming after them. Andy points out that Aaryn is trying really hard to break up their group.
JUDD is worried about getting out another guy he's feeling like there is a girls alliance in the house.
Andy: "There is no way Helen and Elissa would form an alliance with Kaitlin"
JUDD says that he's heard that KAitlin and them made a deal.
Andy explains they only told her she was safe for a week if she used the POV last week.
JUDD: "Helen told KAitlin I was going to put her up"
You can re-watch ever second on the feeds using their flashback feature.. It's super easy to use click this link for a free trial —> Subscribe to the Big Brother Live Feeds
3:24pm Gina and JUDD
Gina: "Are we backdooring someone is that why me and Kaitlin are going up"
JUDD: "I told ELissa if she got MVP she wouldn't put you up. in return I want your vote this week"
Gina says yes
GM: 'I'm in beast mode right now"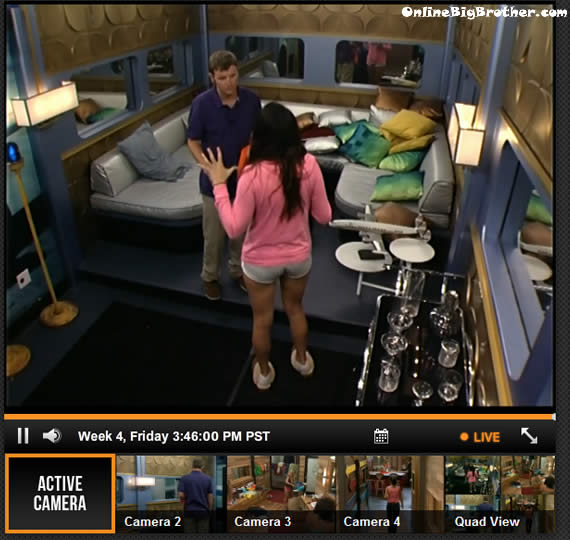 3:46pm Cockpit Amanda and JUDD
JUDD tells her he's going to put Kaitlin and Aaryn up and he's asked Elissa to not put GM up. "She can put Howard up"
Amanda his happy about his plan.
Amanda likes the nominee choices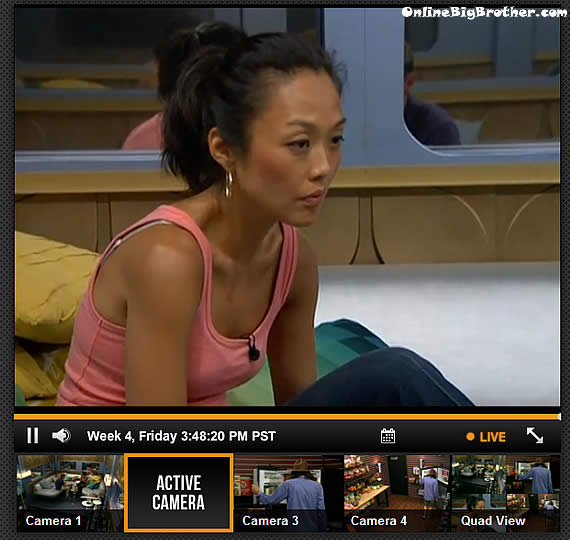 3:49pm Cockpit JUDD and Helen
JUDD tells her the plan Kailtin/Aaryn go up if POV is played GM is the replacement. MVP can put up a pawn.
JUDD: 'Lets just make this a easy week and get one of the girls out"
Helen likes the nominee choices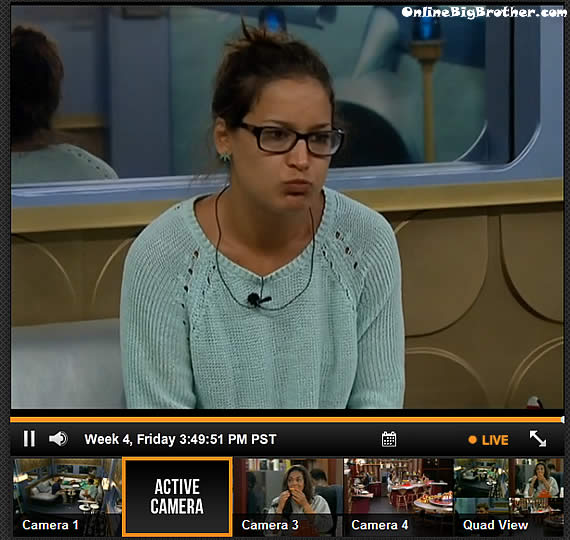 3:54pm Jessie and JUDD cockpit
Tells tells her the plan..
JUDD: "This week i have no big targets on me"
Jessie likes the nominee choices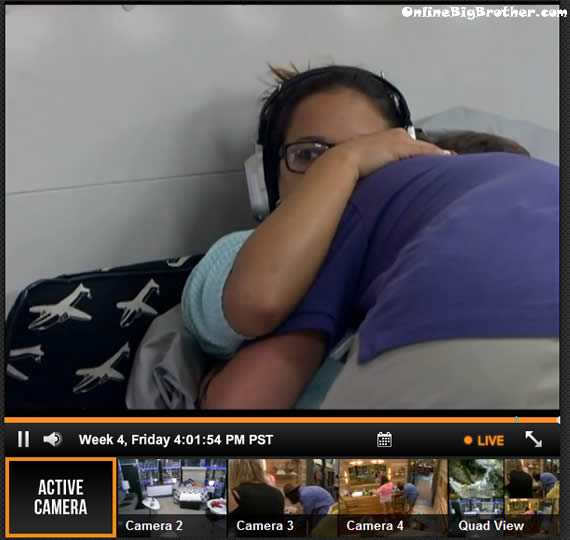 4:00pm HOH Jessie, Elissa and JUDD
JUDD is worried that the special power is something that the fans will vote and he's worried it's going to mess up his game. Elissa wonders if it's a Pandora's box.
Jessie says she would not open Pandora's Box "Not this week"
Elissa would open it for sure "I could not not open it"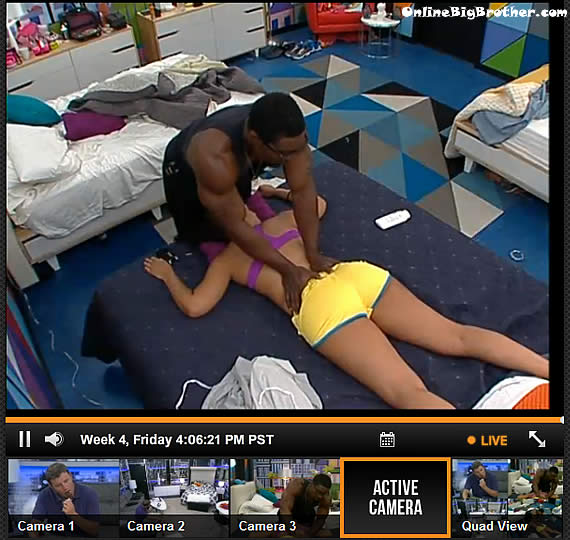 4:08pm Howard and Candace
Howard's telling her they need to start distancing themselves otherwise people will start targeting them as a pair. He needs her to get close to the girls and he'll work the guys.
He says that Jessie is really upset because of what the girls have been saying to her. Candace mentions how it sucks for Jessie becuase she was going to spend the week in the HOH and now she's a hav nots.
Howard is rubbing lotion on her back he thinks the lotion stinks. "It says lavender.. that's a colour not a scent"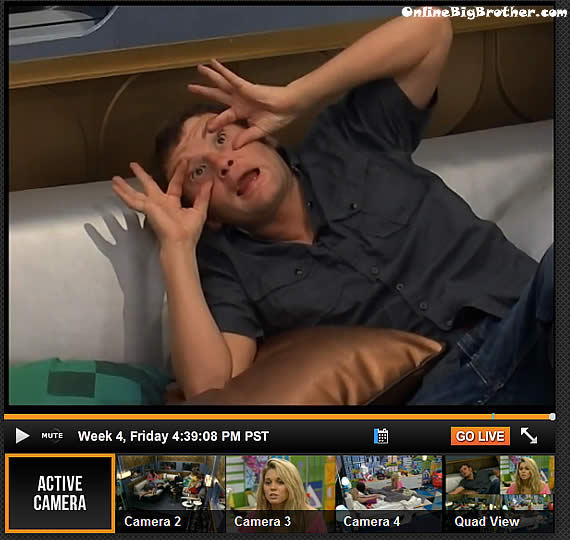 4:24pm Cockpit Andy, McCrae and Andy
Talking about JUDD and Elissa's nominations and how JUDD doesn't want to backdoor Howard.
Amanda: "I'm like NO you are putting up Howard or everyone is gunning after him"
Andy: 'He doesn't want to put up his":
Amanda: "NO.. HE HAS TO"
Andy says he wants to get rid of KAitlin or Aryan this week
Amanda is freaking out about this keeps saying that Howard is after their group. JUDD is making a big mistake
Amanda says that JUDD has to backdoor Howard and if he doesn't he has 7 people gunning after him
Andy: "I'm never going to GUN after him"
Andy says getting rid of Aaryn won't piss anybody off. Amanda start in on how big of a threat Howard is compared to Aaryn. Aaryn is alone and Howard has Spencer and Candace.
Amanda: "If he doesn't backdoor howard when he has the chance to my mind is going to explode"
Amanda blames the difficulties they have with JUDD on Jessie she calls her a idiot
Andy points out that JUDD has been talking to Elissa a lot.
Amanda says they don't want to leave it to Elissa to BAckdoor Howard like last week, "She probably won't".
Andy says that Candace, Howard and Spencer are not targeting JUDD so he can understand why he doesn't want to make a big move like that.
Amanda: "The house wants Howard gone.. blame it on the house"
Andy points out that JUDD is a bit worried about the twist if he takes out Howard than Candace gets a power and is out for blood.
Amanda says JUDD needs to stop being a pu$$y .
JUDD joins them
Amanda: "Thank god you're here.. come in"
Amanda says Howard is going to target JUDD and Jessie because he wants to break up the couples.
Amanda tells him there are only 2 people that will mind if Howard goes home. Spencer and
Andy thinks that Helen, Ellissa and himself can work on candace and get her to realise Howard is using her.
Amanda says that Elissa will put up Spencer with her MVP they just have to make sure that JUDD puts up Howard when the VETO is used.
Amanda drills into his head why Howard is a target, Andy also tosses in a lot of comments about how scary and bad Howard is. McCrea stays silent.
Amanda: "This irritates me that you want a girl going home.. why should it matter there is no girls alliance I swear" Andy mentions that the girls all hate each other.
Andy adds that Howard uses religion to entice people, he's the ringleader of the other side.
JUDD: "I just don't know where Howard's head is"
Amanda: 'You'll never know where his head is he's full of Sh!t.. don't you agree"
Andy: "Definitely"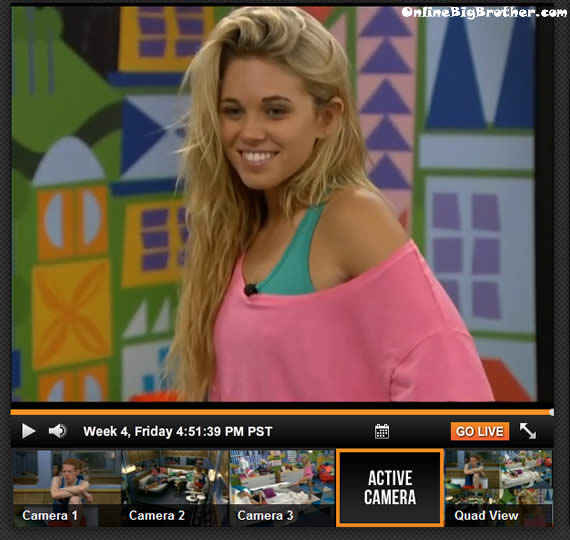 4:30pm bedroom gm and Aaryn
Aaryn saying that they are probably all going to be nominated
GM: "I feel like it's us three and everybody else"
Aaryn says it makes sense they will pick us off one by one it's easy. She doesn't think that is a good long term strategy.
GM :"they won't have anyone to count on to win big things"
Aaryn says the final 6 are Amanda/McCrea, Helen/Elissa, Candice/Spencer. She thinks Andy, Judd and jessie will be killed him off .
Gm points out that they all lost their halfs. Aaryn: "If they are going after showmance why don't they go after McCrea now.. or Howard"
GM: "Pretty people.. aren't they suppose to win things" (LOL omg )
Aaryn: 'Not when it's your competitors .. " She points out that they voted out the three hottest guys.
Aaryn says she is not targeting Elissa at all why the f*** does she want her nomianted
Aaryn looks at the camera "Please someone tell me I don't know"
FYI Feeds are on trivia Next update will have the nominations
[polldaddy poll=7260936]