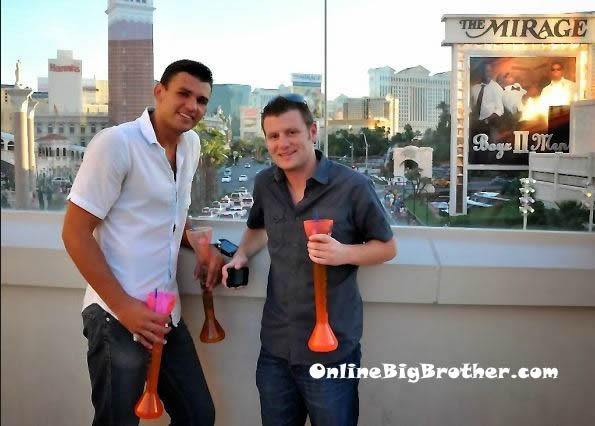 After just over a week since the finale the cast of Big Brother 15 have just begun to digest how the fans viewed their experience inside the BB house over the last 3 months. While some are in denial about their words and actions others have taken ownership of their mistakes and are trying to grow from the experience. Below are a number of new interviews and articles about the cast since they've left the Big Brother world.
During the BB15 wrap party a number of the Big Brother Canada season 1 cast joined the party and got mixed up in some of the drama. Apparently there was some drama between Big Brother Canada house guest Alec Beall and two Big Brother US house guests Jessie Kowalski BB15 and JoJo Spatafora from BB14. Allegedly Jojo liked Alec and got jealous when Jessie and Alec got together. Some of the drama spread to twitter when Jojo started attacking Jessie.
Jessie wrote:
"Please help us clear up a rumor about jojo and Alec being together when we started hanging out in Vegas.."
Alec responded:
"Well that's ridiculous!! The whole thing with Jojo was a joke!! We thought it would be funny to mess with people and play a prank that we were together and that we were moving down to la together, we were never actually dating!! I'm sorry, i feel horrible!!!"
Big Brother 9's Parker Delon's letter to Ginamarie
Ginamarie's video apology:

AfterBuzz with BB14's Ashley:
In this show, host Ryan Allen Carrillo and guest host Ashley Iocco interview Andy Herren, Kaitlin Barnaby, Jeremy McGuire, Liza Stinton, and Aaryn Gries.

McCrae & Amanda – McCrandaMafia Exclusive Interview
Part 1:
https://youtu.be/OFQ4F3WSYYw
Part 2:
https://youtu.be/18FvnQf0XzY
Extra Pre / Post Footage:
https://youtu.be/UDiSdAEJ1KU
Jessie Kowalski on KFDM Morning Show:
https://youtu.be/A6Wy1izxyVQ
Photos from the Big Brother 15 Wrap Party
More Facebook photos
After the FINALE Interviews: Part 1
Britney Haynes from Big Brother 12 & Big Brother 14 blogs about her gratitude to the fans for the support they have received after learning their baby was diagnosed with cancer. Together For Tilly
Use the Big Brother Live Feeds to FLASHBACK to SEE what they can't show you on TV:
BB15 N!p Sl!ps / N*des
If you enjoyed the live feed updates this season, please consider donating. Simon and I work 24/7 all season long to keep you updated on everything that happened inside the BB house. ANY amount is greatly appreciated! Your donations go directly to paying the server and bandwidth fees required to run this site.