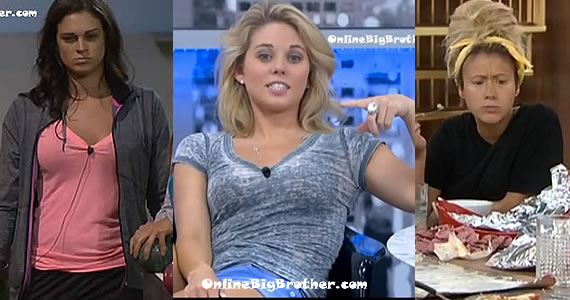 State of the house
Last week my gripe was the MVP twist going to Elissa every week. This Thursday my gripe is the superfriends running the house. The house is horribly stacked against anybody but the superfriends. Most of the strongest players in the game are in that alliance, they have the majority of numbers and the twist has gone their way 3 out of 4 times. Make sense they are running the show. Still it's becoming boring as f*** for a fickle fan like myself. What I want to see is some of the superfriends in the hot seat and after almost a month of domination it's about time. All we need is Howard/Candice/Spencer to win HOH and the house will explode into a weekend of 24/7 madness. CBS wants this, I want this, do you?
MVP twist
The MVP twist going to Elissa week after week is lame, we established that last Thursday. Having America vote was a good idea but in the end it resulted in a pretty boring week. Where do they take this twist now? If they go back to the regular format Elissa will win it and nominate Aaryn which is nothing too exciting. It goes without saying that the show would benefit if someone new got the MVP. Just look at how much drama it caused last week when Elissa was nominated by America.
A BB15 miracle
We cannot say that Elissa has no game anymore, she's proven herself to be at least a mid-tier player. Yes she's annoying, acts like a malfunctioning robot and is nasty to the other girls. She's starting to play the game like the rest of the house has been doing we can put the no game argument to bed. In my opinion the superfriends drag Elissa's likeability down if she went rogue it would be great fun to watch.
What is the final word?
POWERSHIFT, POWERSHIFT, POWERSHIFT – That's all I want to see! If Helen wins the HOH then please let Howard win the MVP. If Howard Wins the HOH then heck give him the MVP and POV just so he can take one superfriend out.. just one that's all I'm asking.. Knock Helen down a peg. Helen is fast becoming this season's most annoying house guest. Her game is solid yes, but she's poison to listen to on the feeds.
VOTE DAWG!
Images of what the competition will loo like
You can re-watch ever second on the feeds using their flashback feature.. It's just like a DVR and is super easy to use. click this link for a Free Trial —> Subscribe to the Big Brother Live Feeds
My Predictions
Kaitlin goes home (sad 🙁 )
HOH is anyone's games. I wouldn't be surprised if Spencer or Andy won it
Confirmed Results
Jessie votes to evict Kaitlin
Amanda votes to evict Kaitlin
McCrea votes to evict Kaitlin
Howard votes to evict Kaitlin
Spencer votes to evict Kaitlin
Helen votes to evict Kaitlin
Elissa votes to evict Kaitlin
Candice votes to evict Kaitlin
Andy votes to evict Kaitlin
Evicted Houseguest is Kaitlin 🙁 damn
New HOH is Aaryn (Holy f****)
America gets to vote the 3rd nominee again..
[polldaddy poll=7277150]