POV Holder:
Elissa
Next POV
July 20th
POV Used
YES
POV Ceremony
July 22
HOH Winner:
JUDD
Next HOH:
July 25
MVP:
AMERICA
Original Nominations:
Aaryn, Kaitlin, ELISSA (MVP – America)
Current Nominations:
Aaryn, Kaitlin,
Last Evicted Houseguest
David, Nick, Jeremy
Have Nots
Jessie, Candice, Andy, Spencer
(FYI – The live feed time stamp is messed up again and behind by 21 minutes.)
11:38am – 12:55pm The live feeds switch to TRIVIA while the House Guests are on an HOH lock down. When the feeds return, Judd, Helen and Elissa are in the kitchen. Judd and Elissa talk about it being a no floater season. Elissa brings up how Porsche Briggs got in trouble for putting ex-lax in the slop. Elissa thought it was to help her go to the bathroom but Judd thought it was to mess with people. Judd heads to the havenot room and dumps his dirty laundry in the corner of the room. Andy jokes that Judd when from the HOH to the havenot room. He says that it is so nice of him to give up a bed tonight to sleep in the havenot room. Judd laughs and leaves. Andy and Spencer talk. Spencer tells Andy that he really hopes he wins HOH tonight. Andy agrees and says he really wants a letter from his family.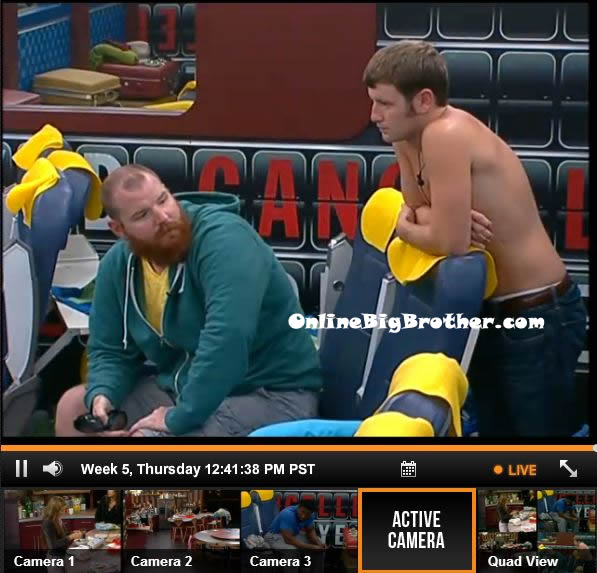 1pm – 1:25pm Judd comes back and tells Spencer that he thinks it really a good idea not to tell Kaitlin she is going. Spencer and Judd joke about telling Gina she is staying at 5:40pm right before. Judd leaves and Spencer tells Howard that he thinks Judd is the mole. Spencer says I think we need to kiss Amanda/ McCrae and Helen/Elissa a$$. We need to act like their lap dogs. Howard says I think the same thing. Howard asks who do you think Amanda and McCrae want out. Spencer says they want the girls out. Spencer then tells Howard that he is making Amanda and McCrae nervous. They say that you don't talk to them about game and they don't talk to you about game. Spencer tells Howard to talk to them and tell them you will be a loyal number for them. Spencer tells Howard to tell Amanda and McCrae that you can control Candice. Howard says that Candice is her own woman. Spencer says I hate Amanda's fu*king guts. Spencer talks about his conversation that he had with Amanda and McCrae. Judd comes back in for a second and tells them he asked in the diary room that we can't tell someone they are going home. It's against the rules. Judd leaves. Howard and Spencer continue to talk. Howard says that he will go and tell Amanda/McCrae that we are willing to all 5 work together. Spencer says us and Candice. Spencer says that this works well because people think we have beef with them so others won't suspect it. Spencer says Howard can do what he wants. He says later in the game it will probably be easier to work with Helen and Elissa. Spencer says I am just going to lay low and work with them .. if I get HOH them I am going to drop a bomb. But for now we need to join them before we have the numbers to beat them. Spencer tells Howard I want you to be here, and I want to work with you till the end. Spencer says I would like to see how Helen is voting. Howard says he thinks she is voting out Kaitlin. Spencer says I don't like word submissive but it more like rope a dope. Spencer says when the time comes I will put them up and cut their heads off. But if we start making waves now we will be at home watching because no one trusts us after the moving company sh*t. Spencer says tell them everything they want to hear that you will work with them, do what they want and be a vote for them at the end. Just tell them that you have Candice under control. They will feel better if you tell them that. Spencer says I am going to stay in Andy's back pocket so that he will fight to keep me here. Spencer says that Amanda is a power freak that wants people to be submissive to her, so until it gets down to the 9 I will be that way until we can go after them. Howard tells Spencer he appreciate him talking to him. Spencer says we just need to play the way it is not the way we want it to be. Spencer says since we think Judd is the mole we can't tell him who we want out. We can only tell him stuff that we want to get back to Amanda and McCrae like that we want to work with them, which will strengthen our bond with them. Spencer lays down to take a nap. Howard starts reading the bible out loud.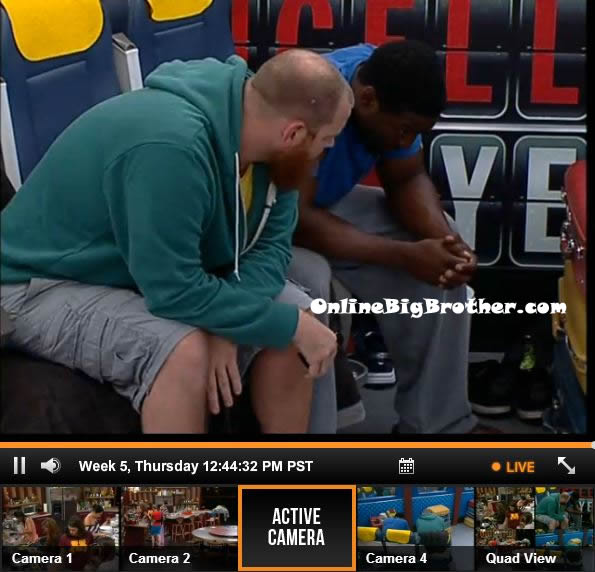 1:25pm -1:35pm Amanda says who wants to play a game I used to play in high school. "Punch the gay boy!" Amanda then chases Andy through living room punching him. In the kitchen the house guests are talking about random things and eating. Elissa comes through with Ginamarie's hair extensions in and pretends to be her.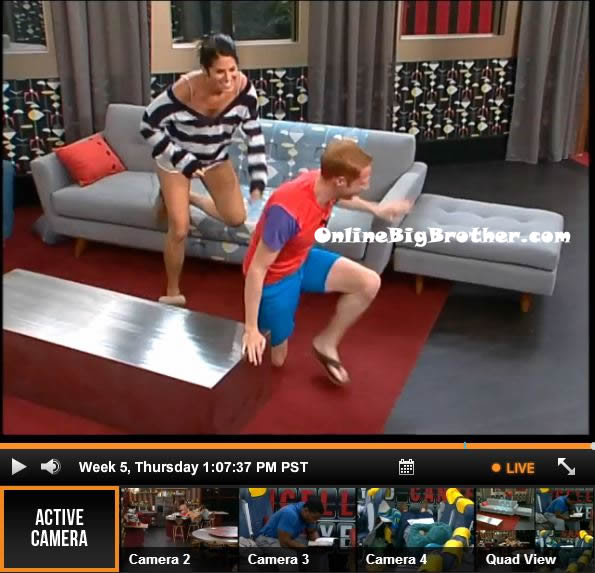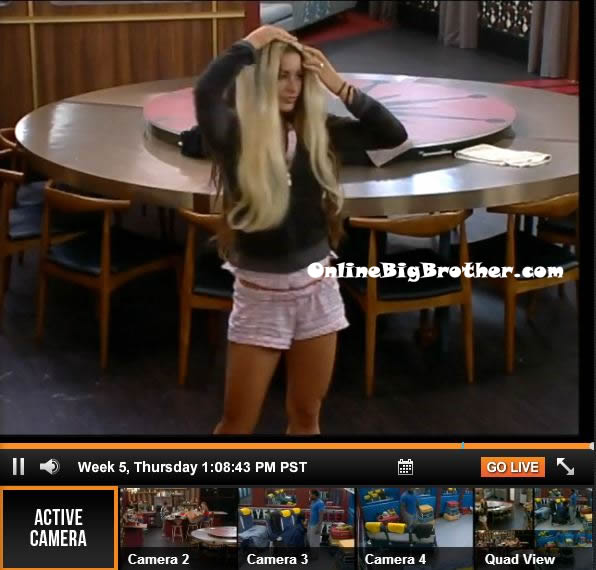 1:35pm Judd talks to Candice about how he feels really bad about not being able to tell Kaitlin that she is going home. He says if it was someone I didn't like it wouldn't matter but we're friends. Judd says it's all part of the game though I guess. Judd asks Candice to wake him up if he isn't up by 3pm.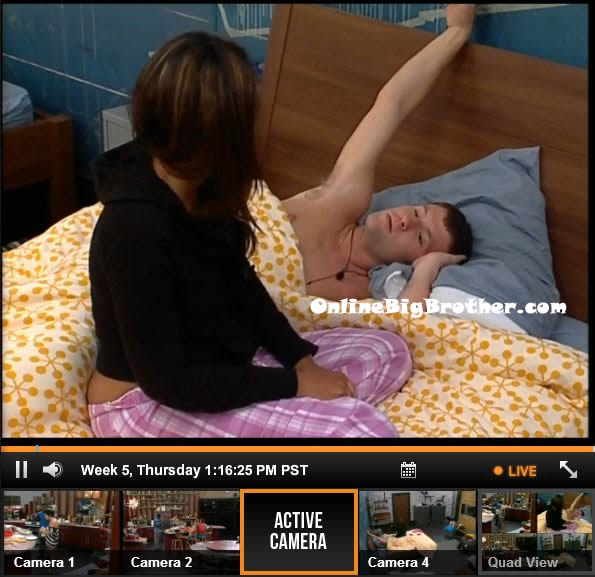 2pm – 2In the bathroom – Aaryn, Amanda, McCrae, Andy and Jessie are talking and getting ready. McCrae is in the bathroom asking them if he should keep his moustache. Amanda says hell no, shave it all off. I don't want them asking you about our relationship with you having a moustache. Jessie / Andy put cotton balls in Andy ears and nose. Andy heads into the kitchen and Candice asks him if he is bleeding from every orifice. He says you said not to pick my nose. Aaryn tells McCrae he looks like someone who wants to take a moustache ride. McCrae asks who wants to do some p*rnos! Andy says wait what is a moustache ride?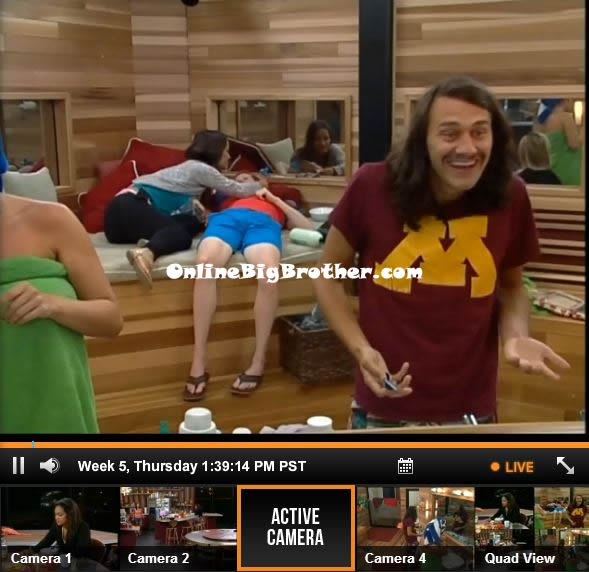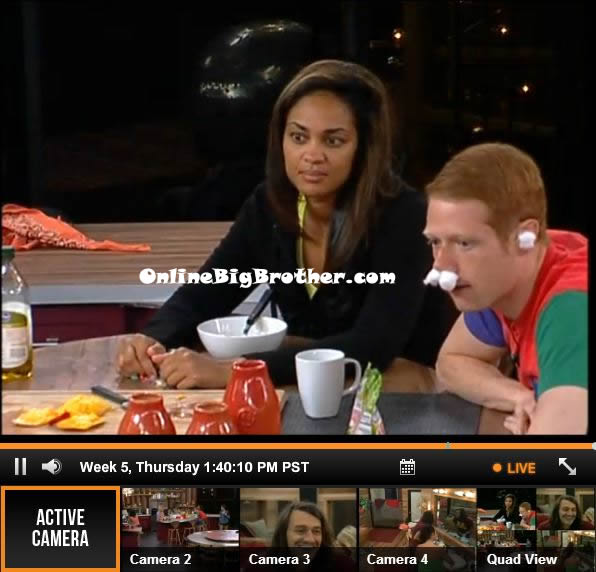 2:15pm Amanda keep hounding McCrae to shave off his moustache. Andy tells her to leave him alone he is his own person. McCrae heads to the bathroom and shaves it off.
Aaryn "McCrae looks like someone who wants a moustache ride" McCrae "who wants to do some PORNOS" @bigbspoilers #bb15 pic.twitter.com/fkvWsnkS7l

— Dawg (@DawgsBigBrother) July 25, 2013
2:30pm – 2:35pm In the lounge – Helen tells Howard that everyone is voting out Kaitlin. She says that it is better she goes because they can always get Aaryn out next week. Helen tells Howard that Kaitlin is a better competitor and needs to go. Helen tells Howard that she found out that Kaitlin told Aaryn she was going to use the veto anyways and just manipulated me to get whatever she could out of me. I originally felt bad for her having to use it and we actually almost kept Jeremy because of it but I am so glad we didn't. Helen says that she feels used! Helen says we have to get Kaitlin out her here. Helen says that Kaitlin also has told people that she is coming after me and you. Howard says WOW! He tells her that he appreciates her telling him that and they leave the room.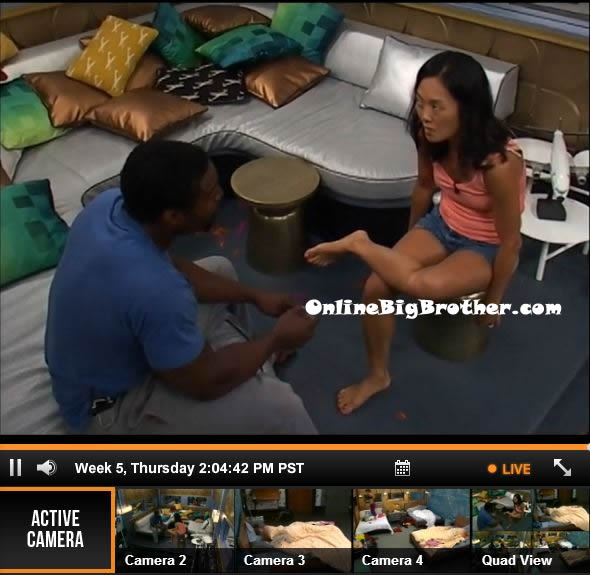 2:50pm Kaitlin asks Andy if he can you help her with her speech. Andy says start by thanking your friends and family for their love and support. Big Brother changes the camera to a different room. In the next bedroom – Helen comments to McCrae and Elissa that Kaitlin is trying to talk to me and I keep trying to avoid her. Helen leaves the room. Elissa asks McCrae I wonder if my husband is proud of me. McCrae says of course he is, especially for you putting yourself out there. Elissa says that Rachel had a great job as a chemist before and coming in here it ruined her life for a year. McCrae talks about watching what he says because he doesn't want to get out and people hate him. Elissa talks about Rachel and how shes a nice person. McCrae says that he liked Rachel on her seasons and was glad that she got redemption on her second season.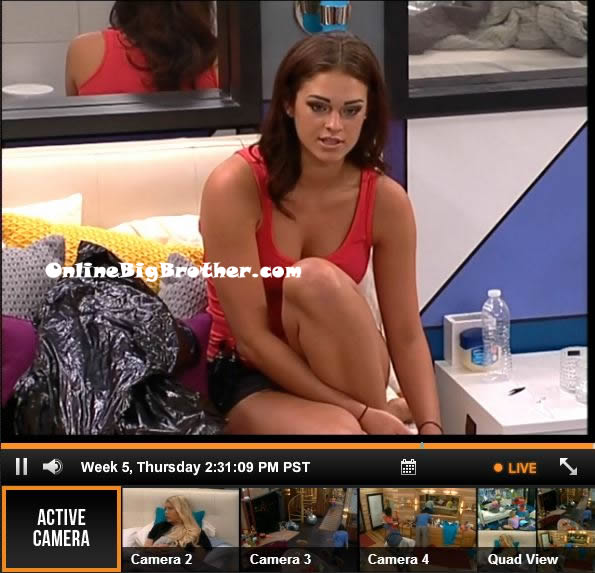 3pm – 3:20pm In the lounge room – Helen tells Kaitlin that people have told me that you are coming after me. She says that I was told that Jeremy told you to come after me. Helen says that I've heard that you were going to use the veto any ways and that you were just going to use me for everything you could get. Kaitlin says I never said any of that! Helen says that also there was the rumour that you were in an alliance with Howard/Spencer/Gina/Judd. Helen says I assume that everyone is voting out Aaryn because that is what they have told me. Kaitlin says that Howard doesn't even want to vote for me to stay because he doesn't want people to think the alliance it true. Kaitlin says that is exactly what Amanda wanted to happen. Helen says that Andy, Elissa and I are on the same page about getting Aaryn out and we could all go down in flames for keeping you. Kaitlin asks if Amanda was the one that Helen heard this information from. Helen says it came from 2 people one was from your side and no the other wasn't from Amanda. Kaitlin asks if it was Aaryn. Helen says she won't say. Kaitlin says that Amanda threatened me and told me if I didn't use the veto I was going home. Helen says that someone also told me they heard you in the bathroom telling someone that you were coming after me. Helen says they had no advantage to telling me that. Kaitlin says whether you are working with Amanda and McCrae or not, You, Elissa, Amanda & McCrae are the most powerful people in the house. Kaitlin says if I stay and I find out who voted against me I am coming after them. Helen says that Spencer's response to the fake alliance was why would I make an alliance with people on the block. Helen says that tipped me off because he has no one else to make an alliance with and if he knows Aaryn is going home of course he would make an alliance with you and Gina.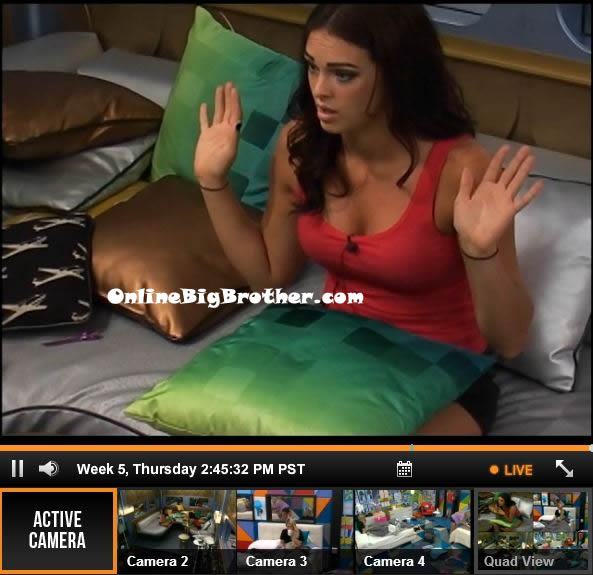 3:20pm The live feeds switch to TRIVIA…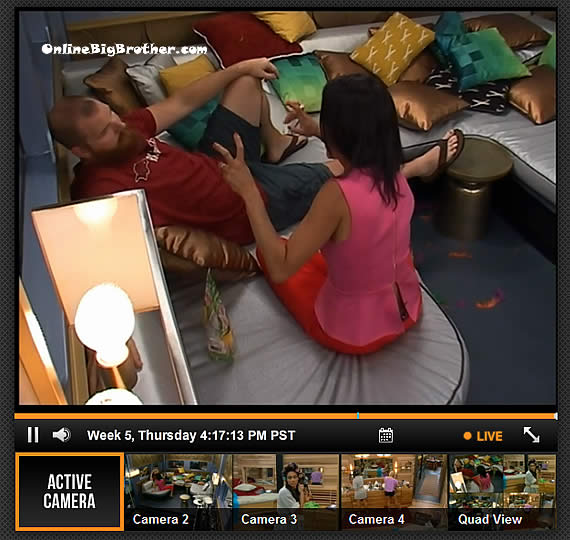 4:23pm Cockpit Helen and Spencer
Spencer says he wants to vote with the house. Are you f**** with him. Helen swears she's not the house is voting out Kaitlin. Helen says she tried to protect Kaitlin and so did Elissa. She says it's someone else that really wants Kaitlin out. Helen points out that her and Elissa are not as powerful as everyone thinks. Spencer is just worried he's going to get screwed in the end and vote against the house. Helen: 'I am voting Kaitlin out.. It pains me.. If the house votes out Aaryn we are both screwed" Helen tells Spencer she really likes him and he and Andy will be her guy friends in the house. Helen again says she fought hard to keep Kaitlin but couldn't pull it off. There was only so much she can do. Helen pointed out all the blood on her hands from the past few weeks she needs to lay low and can't push things.
Helen says the plan after this week is to get Aaryn and GinaMarie out. She warns Spencer that the showmances are going to start becoming a target. Mentions Howard and Candice but leaves out McCrae and Amanda. Spencer brings up there are bigger showmance couples in the house.
Helen says she's not planning an plotting against him. Spencer says she has his loyalty and allegiance.
(They are both lying through their teeth)
5:04pm Andy joins them Andy says that Kaitlin is getting scumbagded tonight He shrugs. Helen says her and Andy tired so hard to keep Kaitlin in the house but couldn't do it.
Spencer: "Andy I love you dude"
Andy: "Thank you"
(Feeds switch)
5:08pm Bedroom Howard and Aaryn
Howard tells her he's got a feeling she's staying. If she comes out of this on the good end he wants her to remember what him and Spencer said to her. (The deal to work together)
5:13pm JUDD, Andy and Helen Cockpit
She tells them Spencer was worried that the vote was going to flip against him. Helen says she told Spencer that the three of them have his back. Helen just told him this because she didn't want him to come after her and Andy if he wins HOH
Spencer walks in "Hey are the clippers in there" ..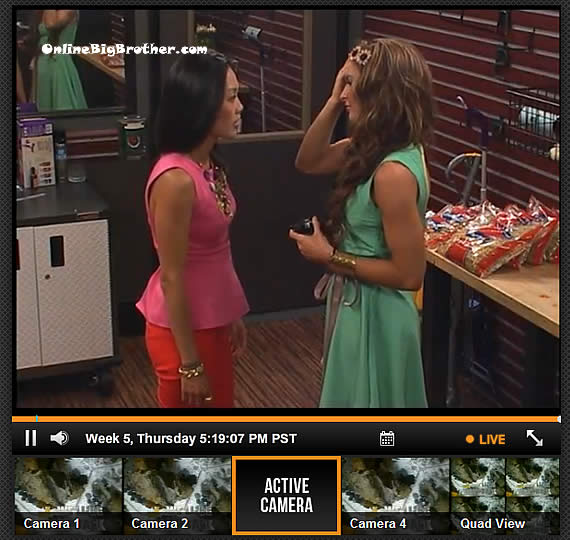 5:42pm Storage room Elissa and Helen
Helen is saying that Candice is working with Aaryn she also think that Aaryn has a deal Amanda. Helen says that the house knows about the deal to get Aaryn to throw the HOH she thinks it was Amanda. Helen mentions that it was obvious Candice is working with Aaryn because she didn't fight hard to keep Kaitlin over her.
Elissa: "Why can't we vote her out today"
Helen: "We can't"
Helen: 'I'm so mad i'll put Amanda and Aaryn up on the black together"
Helen doesn't want to go against McCrea so early. She's thinking they should keep Howard and Spencer a bit longer because they will go after Amanda and McCrea for them.
[polldaddy poll=7268963]