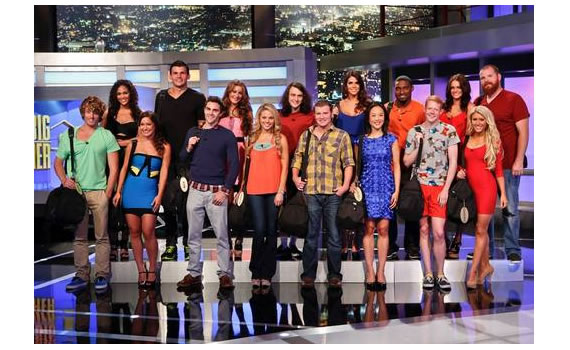 With only 4 players left in the HOH comp Julie chen game them the option to jump off and have a one in two chance to win a Never Not Pass which excepts them from being a have nots for the ENTIRE SEASON! David jumps down first and doesn't get it. Jeremy is the second to jump and wins the Ticket. McRae starts telling Nick he's safe this week if Nick drops and hands the HOH to McRae. The show cuts to the Diary Room where McRae informs the camera he's just telling Nick what he wants to hear becuase he feels he needs this HOH to stay in the game. Cut's back to the HOH Competition with McRae and Nick still hanging on. McRae: 'I swear I like you.. I think me and you will work well together.. " McRae adds that there is "No Way" Nick is going up on the block "Not even Backdoor.. No Nothing.. Nothing.. I swear to God.. On my life on anything" Nick drops after 4 hours. McRae wins the HOH
Feeds start at 9pm PST! Get your feeds from Onlinebigbrother.com to support the site. Every feed sale helps this site out!
Julie Chen reveals the MVP Twist to the house guests
"For the first time in the history of Big Brother.. There will not be 2 nominees every week… There will be three nominees every week"
"The HOH will only nominate two houseguests"
"the third nomination will be made by someone in this room"
"Here's how it works.. Every week America will vote for the houseguest they believe is playing the best game.. That person will be name The Big Brother Most Valuable player and they will make that weeks third nomination"
"This BBMVP will be informed their status in secret and he or she will also make their nomination in secret.. They have no obligation to ever reveal their identity"
"The player that the MVP nominates will be revealed right before the Power of Veto Competition each week "
Rough sketch of how the shows will go
Sunday's show = Have Not competition and nominations.
Tuesday's show = MVP reveal and Power of Veto Comp
Wednesday's show = Live vote, Eviction and HOH
Keep in mind that the feeds will reveal much of this days before the episode is aired.

Thanks to quirkydude for providing these videos!
[polldaddy poll=7209194]