POV Holder:
Shane
Next POV:
July 28 (Saturday)
POV Used
Yes
POV Ceremony
July 23rd (Monday)
HOH Winner:
Frank
Next HOH:
July 26 (Thurs)
Original Nominations:
JOJO and Shane
Current Nominations:
JOJO and Danielle
Have Nots /Slop
Willie, Shane, JOJO, Ian
Coach Competition Winner
Janelle
Next Coaches Competition
July 27 (Friday)
Last Evicted Houseguest
Kara, Willie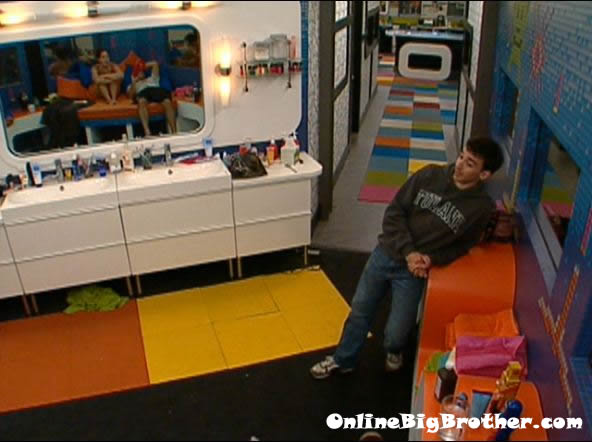 12am Ian comments that another day is over and that they made another $107 dollars. Shane asks if he actually calculated what they make a day for being in the Big Brother house? Ian says yeah, it is about $107 a day. Ian says that he would like to take Michelle Noonan out on a date but only if she didn't try any funny business. Janelle asks like what, strip down and try to bang you? Janelle says that she thinks that would be a good possibility. Shane and Jojo head to bed in the have-not room. JoJo and Shane are alone in the have-not room talking. They talk about playing the game for themselves vs. playing for your coach. Shane says that he values Britney's opinion but he isn't going to blindly follow what she tells him to do. JoJo says that they need to make that clear to Ashley that she needs to play for her best interests and not Janelle's. Jojo says that her and Ashley are going to talk again tomorrow. They decide to go to sleep.
Sign-up for the Big Brother Live Feeds and get the MOBILE Feeds for FREE!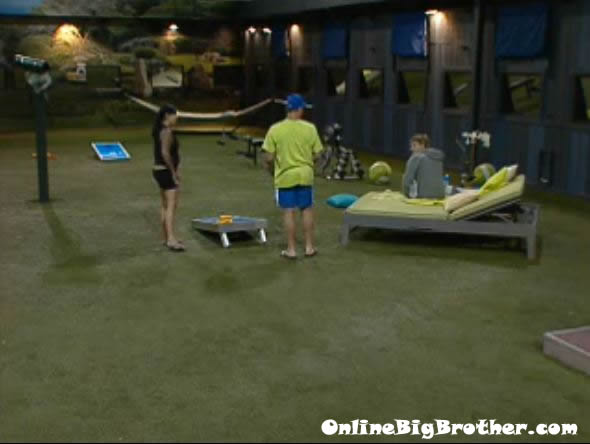 Watch what happens, AS it happens: Big Brother 14 Live Feeds!
Subscribe today for your FREE 3 DAY TRIAL!


12:45am – 1:15am In the backyard, Jenn is watching Wil and Joe play the corn hole game. Janelle joins Jenn on the backyard couch. After their game ends, Janelle and Wil head over to the hammock. Janelle says that she is just trying to think of all of the options. She says that Dan worries her. I don't want to mess up on getting him out now while we have the chance. Wil says that as long as Shane is in the house he doesn't really have a chance to win competitions. Janelle says that she is really nervous of Frank and Boogie's relationship. She says that they are really tight. Janelle is surprised to hear that Wil says that he trusts Frank. Wil says that he doesn't think Frank would put him up. Janelle says that if Boogie told him to, he would. Wil says that Danielle isn't going to put us up if she wins HOH. Janelle says but is she ever going to win HOH? I don't think so. Wil talks about how Ashley is starting to become a liability to them instead of an asset. Janelle agrees. Janelle says that his week do not trust Boogie. She says he is a millionaire and doesn't need the money he is just here to win the title. Wil says that next week they could get rid of a floater like Danielle. Janelle says no, we can't do that, it will leave us in jeopardy for the next part of the game. They speculate on how the next twist is happening on Thursday. Wil says that if Jojo stays we're fu*ked! He says that if Joko goes then Britney and Dan will be down to just one player each. Janelle comments on how she is nervous about the twist because Boogie works out 3 hours a day.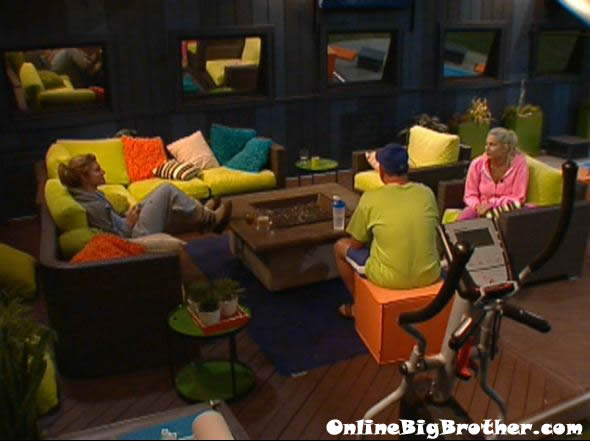 Janelle and Wil head back over to the backyard couch where Joe is sitting. Janelle comments again on how nervous she gets watching Boogie working out 3 hours a day because he thinks he's coming into the game. Joe tells her that she can beat Boogie, you've done it before. Janelle says that she wonders if Dan will actually work with them. She then says probably not. Wil says that we could put up Ian and Jenn. Janelle says that she thinks they should leave Jenn alone for now. They tell Wil that Jenn really likes him. Janelle says that Ian, Boogie and Frank are really tight. Joe says but Jenn isn't a part of that team. Janelle says that he is but she isn't. They agree that Jenn knows that those guys would cut her at any moment. Joe says that next week we have to get Shane out. Janelle and Wil agree. The conversation turns to guessing what the twist will be. They talk about the coaches entering the game and they wonder if Frank would break away from Mike. Joe says that Frank thinks he can beat us, so he will stay loyal to us. Wil thinks that Jodi or Kara are going to come back. Wil and Joe talk about how they can't trust Ashley. Janelle tells them that she will tell Ashley that talking to the other side will come back to bite her.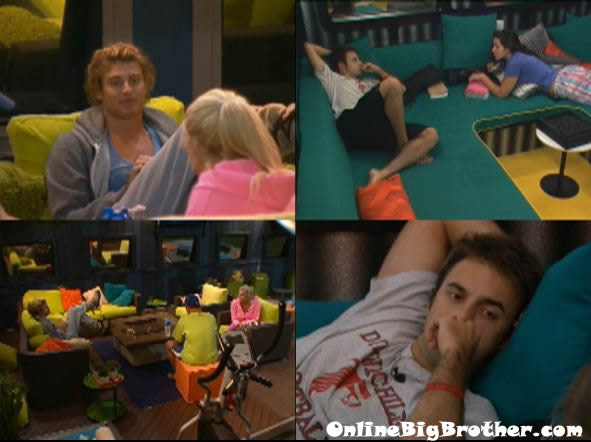 Superpass Live Feeds: 3 Day Trial!
1:30am
Dan and Danielle are talking in the Arcade room. Dan tells her that she needs to win the HOH this week. Danielle says that she thinks it would be better for Shane to win it. Dan says that he think Shane will nominate her. Danielle disagrees. Dan brings up that he was worried she was drinking in the HOH room with Britney and Ashley. Danielle says that she was being a fake drunk. She says that she knows what she is doing. Dan tells her to talk to Frank tomorrow to find out where his head is at for the votes. Danielle tells Dan that she thought he spent all his time with Kara and that people said she was he race horse. Dan says that she and Kara needed two different things and that he coaches to win. Dan comment that if Britney is down to one player, she will crumble. He says that she is too negative and he can't be around her. Danielle says that she topped up Britney's wine glass and only put a tiny bit in her own, and that's why Britney got so drunk. Dan says he was annoyed at Britney when he was trying to getting Danielle to drink water so she wouldn't be hung over and Britney thought Dan had pulled Danielle away to talk game. Dan says that he started to tell her to shut up and let me coach my player, and for her to go coach Willie. He says oh right that's why Willie's gone, because you didn't coach him. They both decide to head to bed.
1:50am – 2:15am Joe, Wil and Janelle continue to talk out in the backyard. Joe says that he feels like he is playing for second place. Janelle says that she doesn't believe that's the truth. She says Joe has a good argument if he were to go to final two with Frank. She says Frank is unemployed and has no wife or kids and Joe has four kids. Joe says he wants to win the game on his merit and not because he has four kids. He says that he will take the win either way but he would like the votes because the other house guests thought he played a great game. Janelle says that she thinks Joe will win HOH this week. Wil says that he hopes he wins HOH the week he is at his breaking point because it would mean that much more to him. Janelle says that she doesn't want Ian winning it. Joe wonders what Shane would do if he won. Janelle says his target is Frank. Wil says that even if one of their team got put up they would have the votes to save their teammate. Janelle comments on how it might be time for her team to get blood on their hands. Wil says he is ready to get dirty. They talk about Ashley being a sweet girl. Wil says that she is sweet, but out to lunch. They agree that they will put up Shane and Ian if they win HOH. And if Shane wins the Power of Veto they will nominate Frank as the replacement. Wil and Janelle say to then vote out Ian. Joe disagrees and says that Frank is the bigger target. Wil comments that they are getting to far ahead of themselves and they all agree to go to bed.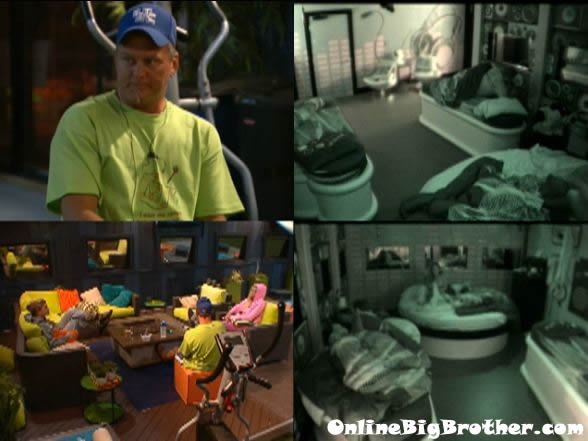 5:40am All the house guests are still sleeping..
Share it YO!
Tweet