POV Holder:
Shane
Next POV:
July 28 (Saturday)
POV Used
Yes
POV Ceremony
July 23rd (Monday)
HOH Winner:
Frank
Next HOH:
July 26 (Thurs)
Original Nominations:
JOJO and Shane
Current Nominations:
JOJO and Danielle
Have Nots /Slop
Willie, Shane, JOJO, Ian
Coach Competition Winner
Janelle
Next Coaches Competition
July 27 (Friday)
Last Evicted Houseguest
Kara, Willie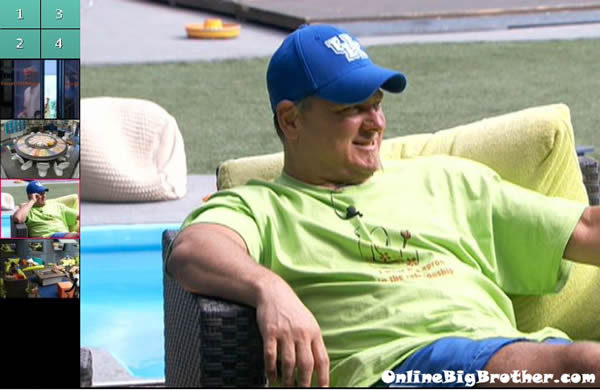 8:45am Jojo is awake and in the backyard smoking. At 9am Big Brother wakes up the house guests. Joe, Shane and Jojo are talking in the backyard. Joe tells Shane that right now it's you, me, Frank as the targets. Joe says that he would rather be at the end with Shane. If we can come up with a deal, I would honour it. They comment on how Frank is only looking out for himself. Joe tells Jojo that she might want to throw out to Frank that getting out Daneille get out Dan and give the coaches a 33% chance. Mike joins them on the backyard couch. The conversation turns to talking about dogs.
Watch what happens, AS it happens: Big Brother 14 Live Feeds!
Subscribe today for your FREE 3 DAY TRIAL!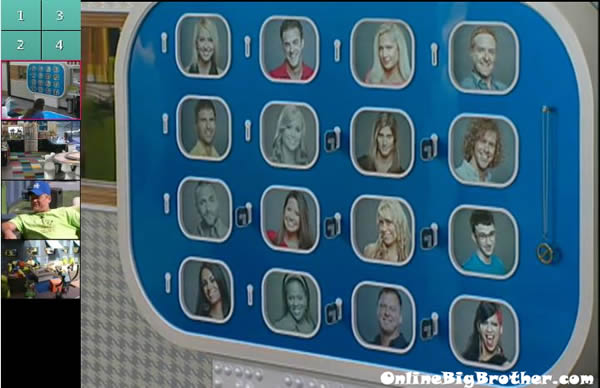 9:30am – 9:55am Wil and Danielle are sitting at the kitchen table talking about what the tomorrow's HOH competition will be. Wil thinks it will be the putt-putt competition. They talk about how if its that type of comp, anyone can win it. Meanwhile in the backyard, Shane, Mike and Joe are talking. Shane tells them about his house flipping and personal training.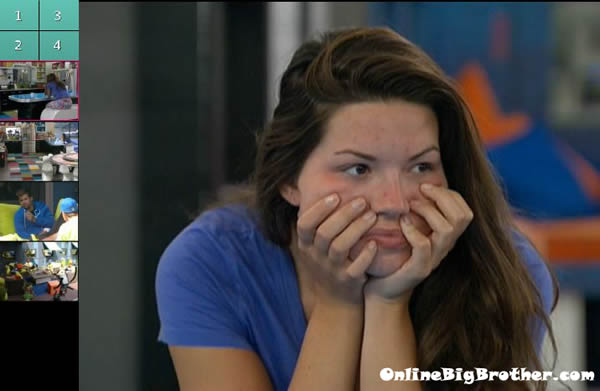 Mike tells Shane that he hopes he wins HOH this week. Shane tells Mike that Joe and Wil want to get Frank out. Mike says that she thought this would happen soon, and that he knew Joe would throw Frank under the bus. Shane says that Joe is just going to follow whoever is in power. Mike says yeah and he's coming to you because he knows you have a good chance at winning this week. Danielle comes out into the backyard. Shane says that he is on to her, that he knows she isn't a teacher because teachers don't sleep in this late. Danielle says I do in the summer when I don't teach, and I don't normally stay up till 12. Shane tells her he is just bugging her. Mike heads inside.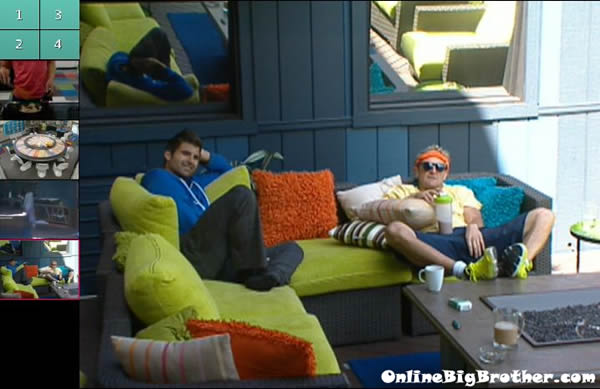 10:10am – 10:25am Danielle asks Shane which way he is voting. Shane tells Danielle that he hasn't made up his mind yet, but will listen to see what the house says today. Shane tells her that the house wants her out to get Dan out. Mike comes back out. Shane says that Ian commented how the have-not shower wasn't that cold, so Big Brother turned it down another 5 -10 degrees. Ashley and Mike start working out by running around the backyard. They start laughing at how Ashley runs. Ashley says that he she stayed immobile for too long, she is all messed up. She says that he butt doesn't work properly. Ashley says that she feels like a car crash victim that is learning to walk again for the first time. She says that she feels like Lance Armstrong coming back with one testicle.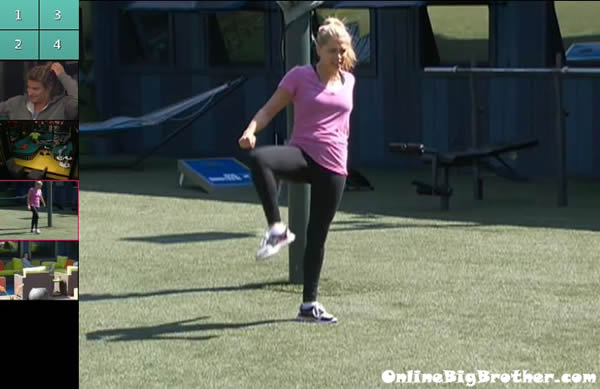 10:30am Joe and Wil are in the arcade room talking about the HOH competition tomorrow. They talk about how they need to stop telling Janelle things and that Ashley is a liability to them. Wil brings up how he and Joe need to make a deal with Frank and Ian. Joe and Wil discuss how they don't want Frank out but that they want Janelle to think that they do. Wil says that next week we have to get out Shane or Ian. Joe says it all depends on the twist, the twist always happens week 4 … they may speed that up a week though because of what happened to Willie. They break up the conversation and leave the room.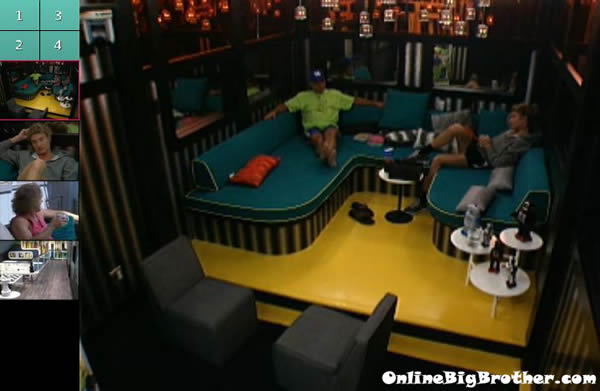 Britney and Jojo are whispering in the kitchen. Jojo brings up how Frank needs to know that Joe went through his bag. Britney tells Jojo not to start anything because why would Frank trust you. Look what happened to Willie when he told Frank too much information. It's not necessarily in your best interest to give up a lot of information. Britney then instructs Jojo what to tell Frank to tell him that he is safe next week. She tells her that the decision to vote you or Danielle out has nothing to do with you ..it's about Dan or no Dan. That's why you need to be careful about saying too much. Britney says that she will talk to Frank later this afternoon and then she can talk to him after. Britney and Jojo head outside.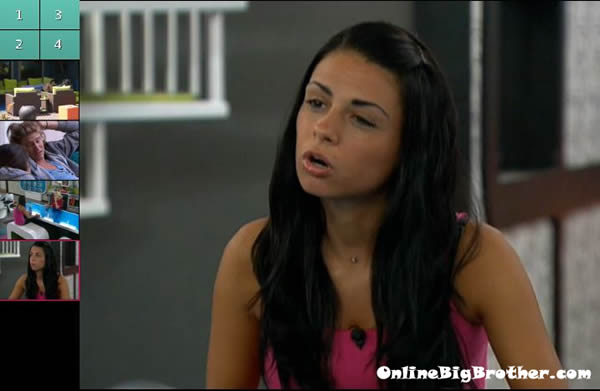 11:20am – 11:50am Frank, Joe and Shane are working out in the backyard. Joe tells Frank that he was talking to Wil this morning and that they are ready to get Ashley out. Frank agrees. Joe says that they don't need her upsetting the regime like that. Meanwhile Jojo heads into the have-not room to take a nap. Ian is in there trying to still sleep. Frank and Joe finish up their workout. Ian joins Wil out on the backyard couch. Ashley, Mike, Dan and Joe are in the kitchen talking and eating.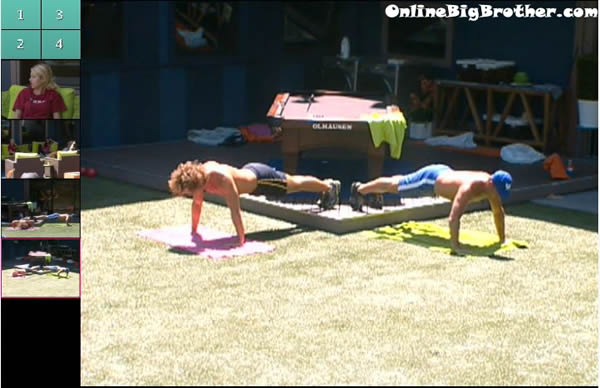 12:10pm In the bathroom, Shane is talking to Danielle. He tells her that they only argument against her is that by voting her out they also get Dan out. He says that there are also good points to get Jojo out too. She is throwing people under the bus and you aren't. Danielle starts getting snippy and tells him that he is probably telling her the same thing. She wonders if Jojo talks bad about her that you are there laughing about it too. Shane says that he is and that he doesn't tell Jojo the same thing. Shane tells Danielle that he tried to save both her and Jojo at the same time by telling Frank that he should back door Wil and get him out. Shane tells her not to tell anyone. Shane leaves. Janelle joins her on the bathroom couch. Danielle tells Janelle that it's stressful having people going around talking about you behind your back. Ashley starts braiding Danielle hair. They start talking about people snoring. Ashley says that people snore because they're fat.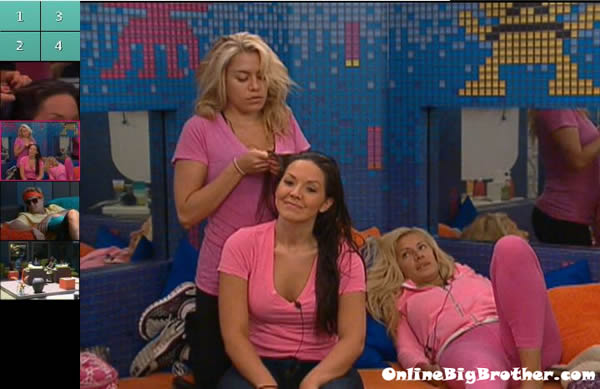 12:45pm Meanwhile out in the backyard, Dan, Britney, Joe, Ashley, Ian and Mike are talking about random stuff. Ian tells them about how a guy once had a red paper clip and traded up until he had a house. The conversation turns to talking about when the market when upside down and people started walking away. Joe talks about how he had a 50/50 business partner who took his whole idea away from him because he didn't have a dime to fight it. They continue to talk about random stuff. Britney asks if Mike will open up any more clubs in California. Mike says no, its too hard to make any money right now. She asks him what his next venture will be? Mike says he and his partner are already working on a deal in Istanbul.
Share it YO!
Tweet