POV Holder:
Shane
Next POV:
July 28 (Saturday)
POV Used
Yes
POV Ceremony
July 23rd (Monday)
HOH Winner:
Frank
Next HOH:
July 26 (Thurs)
Original Nominations:
JOJO and Shane
Current Nominations:
JOJO and Danielle
Have Nots /Slop
Willie, Shane, JOJO, Ian
Coach Competition Winner
Janelle
Next Coaches Competition
July 27 (Friday)
Last Evicted Houseguest
Kara, Willie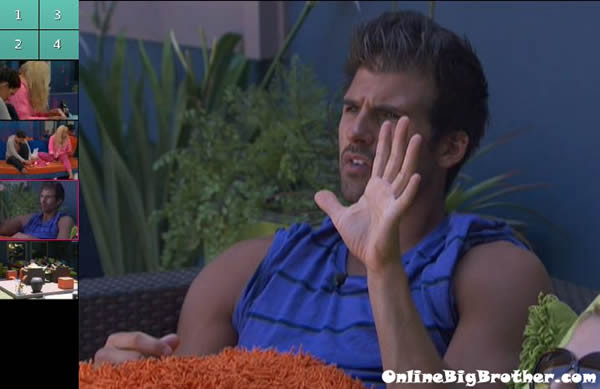 1pm In the bathroom Janelle and Dan are talking. Danielle says that not once has Dan told her what to do, he gives me advice but.. She says I think he is really scared of Boogie. Janelle says that she is too, he works out like 3 hours a day. Janelle and Danielle continue to do their make-up and nails in the bathroom. Meanwhile out in the backyard the conversation turns to talking about DWI's and DUI's. The talk turns to music. Dan brings up a story about a guy that left the band Fall Out Boy a week before they blew up and got super famous.
FREE Big Brother 14 Live Feeds: 3 Day Trial!
1:30pm – 1:45pmAshley asks Mike if he has ever been paid to make an appearance. Mike says that Canada pays the best for appearances. He talks about he and Dr. Will got paid $7000 each to make an appearance in Edmonton, Alberta in Canada. He says that it was an all-girls Q&A thing, where when they came out on stage it was like Insink '99. Mike says that when they got back to the hotel Dr. Will had a note under his door saying I am married, but not this weekend with her phone and room number. Meanwhile inside the kitchen, Janelle, Joe, Danielle, Wil, Jojo, and Frank are talking and joking around. Joe says how funny would it be if Willie was America's Player and he went out week one. Janelle says that Willie was too crazy to be America's player.
In the kitchen, Janelle, Wil, Ashley, Dan, Mike and Frank are talking. The talk turns to pregnancy. Wil asks her if she ate her placenta. Janelle says ewww… no… I did take a look at it though ..it was purple, red and this big.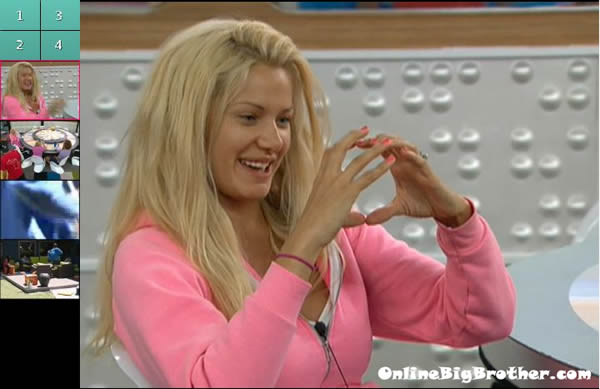 225pm
In the living room, Janelle and Ashley are doing a workout routine. Mike and Dan are up in the HOH room watching them and laughing. Mike asks what are they doing some sort of bad sorority workout routine. He says this is something that you would see at Senior Frogs in Mexico. Mike asks what does Danielle ask you about? Dan says that he is just telling her to relax and that last night it was worrying him because she was a little glassy eyed. He says that he told her to He says that she wouldn't talk to anyone without asking me about it first. Dan asks if Danielle needs to be campaigning. Mike says no, all she needs to do is win HOH and focus on putting up Janelle's line of players. He says that anyone would want to be in the finals with her. Britney joins them and says I thought you guys were watching Brazilian Butt workout. They start watching it again. Danielle joins them for two seconds then starts to leave. Dan goes out of the HOH room and yells at her to go back everyone is watching. Dan says that live feed sales are at an all time high because of them.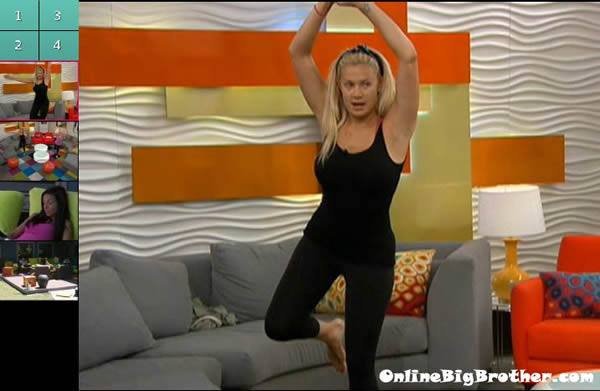 2:40pm
Mike asks Dan and Frank if they are going to go the distance without rubbing one out. Frank says that he isn't going to unless Britney is going to throw out her wedding ring. Dan says that he isn't going to do it in the house. Britney says that she overheard Enzo rubbing one out in bed one night. She talks about how Lane would shower and do it pretending to wash his hair and ears. Mike asks Britney if she is more sexual or her husband? Britney says that he is, he is so handsy … she has to sneak to the shower …and as soon as he hears the water running ..he is all of a sudden dirty and jumping in with her. They continue to watch the workout routine. They make fun of how bad Ashley is especially when she said she used to be a cheerleader. They speculate that Ashley got shot by a sniper and that's why she's so bad.
Watch what happens, AS it happens: Big Brother 14 Live Feeds! Subscribe today for your FREE 3 DAY TRIAL!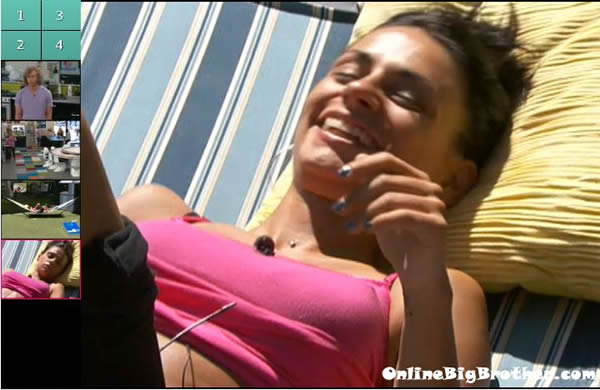 2:30pm – 3pm Meanwhile Jojo and Shane are talking in the hammock. Jojo keeps going over and over again about what she will tell Frank and how they should keep her over Danielle. Jojo comments on how Janelle has a Miss Piggy nose. Shane tells her to stop, don't start making personal attacks. You are better than that. Jojo says that it's not like she isn't ripping me apart in the diary room. Shane says just don't start personally attacking people. Jojo says oh I'm just saying it to you. Jojo says that this season needs her, she has so much more game to play. She says that she is going to get in some verbal fights with people. Jojo comments on how she still needs to make out with him (Shane). Shane says yeah, we should do massages tonight. Two cameras switch to the HOH room where Frank, Dan, Mike and Britney are talking about music and other random stuff. The other two are on the kitchen. Janelle, Danielle continue their workout in the backyard.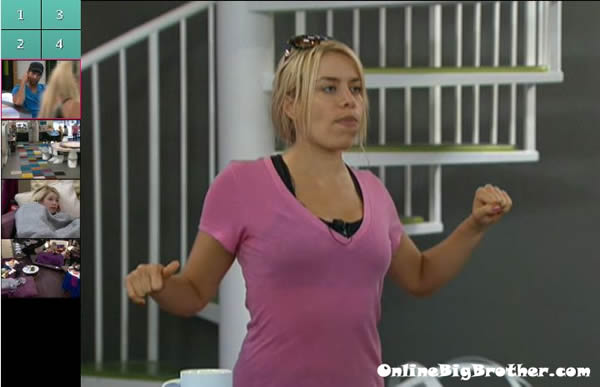 Share it YO!
Tweet